Cover Story
Meet the New Dean
Michele Moody-Adams is a moral philosopher and a strong advocate for undergraduate education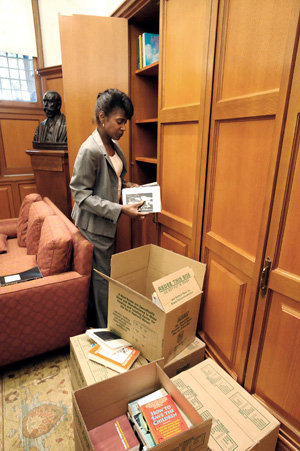 Michele Moody-Adams had much to unpack as she settled into the Office of the Dean in Hamilton Hall. photos: EILEEN BARROSOFor the first time in 15 years, an academic year begins at Columbia College with someone other than Austin Quigley in the main office in 208 Hamilton Hall, the dean's suite. Who is Michele Moody-Adams, the 15th Dean of the College? What is her background, and what are some of her thoughts and views as she begins this new chapter? To find out, and to introduce her to the College family, CCT editor Alex Sachare '71 journeyed to Ithaca, N.Y., to interview Moody-Adams on June 2, roughly one month before she officially would start at Columbia.
First, the basics: Moody-Adams comes to Columbia after nine years at Cornell, where she was the Hutchinson Professor of Philosophy, director of the Ethics and Public Life program, and, for the last four years, vice provost for undergraduate education. She graduated from Wellesley, was a Marshall Scholar at Oxford, received her M.A. and Ph.D. in philosophy from Harvard and taught at Wellesley, Rochester and Indiana prior to Cornell. Her title at Columbia, according to the online directory, runs 24 words and two initials: Dean of Columbia College and Henry L. and Lucy G. Moses Professor; Vice President for Undergraduate Education; Joseph Straus Professor of Political Philosophy and Legal Theory.
On this cloudy day in early June, Moody- Adams has her feet firmly planted in two worlds. As she busily completes her responsibilities at Cornell, she's also trying to learn as much as possible about the culture at Columbia and preparing to move to New York City with her husband, James Eli Adams, who joins the Columbia faculty as a visiting professor in English and comparative literature, and her daughter, Katherine, who begins ninth grade in September.
Moody-Adams' office on the fourth floor of Day Hall, Cornell's main administration building, is the picture of academic clutter. Two walls are lined floor-to-ceiling with books; more books, magazines and papers cover a table and are stacked on the floor. For three hours, in her office and later during a lunch that is occasionally interrupted by well-wishers, Moody-Adams talks candidly about her influences, her devotion to undergraduate education, her allegiance to the Core Curriculum and her love of roller coasters.
For the many Columbians who are just beginning to get to know you, how would you describe your strengths?
I think I'm a very effective leader. I get things done. I like to set goals that I formulate in collaboration with other people I need to work with. So I'm collaborative, but I like to set goals and I like to get a sense of what it takes to accomplish them and to make sure that everybody's time is being well used. The goal part is really important.
I have a very deep commitment to the values of a liberal arts education, and so many of the goals I'll have coming into the new position will be associated with that commitment. What do we need to do to keep the College as wonderful a place as it is? And where we might want to make changes, what changes are going to be most important and how are we going to accomplish them? But setting those goals is a collaborative thing and I think of that as a real strength, that and the willingness to do what is necessary to get things accomplished, to really follow through — those would be the main strengths I have.
I'm easy to get along with, but I have strong opinions. I know when to voice them and I know when to hold back, at least I think I do. I think I come in with some strengths that will be especially good for the College at this time. It's a time of challenge for every institution of higher education, and I'm not afraid of challenge — maybe that's a fourth strength that I have. I'm also willing to change my mind if it's clear that I don't have enough knowledge to make a judgment.
What are your pet peeves? What really annoys you?
My pet peeves, ooooh, that's actually harder. People who are unwilling to accept that they might learn something from someone they don't expect to learn from, if I could put it that way. When I teach a class, for example, I assume that even the most inexperienced student in the subject — whether it's a first-year student or somebody who isn't a major or a new graduate student if it's a graduate course — is someone who I could learn something from. I worry about people who think that their expertise in some area makes it unlikely that they can learn something from somebody who isn't an expert. That unwillingness to be humble is a real pet peeve of mine, and it actually grows out of the things that drew me to philosophy in the first place, a Socratic vision of knowledge and of the good, in some sense, that you need to be willing to explore difficult questions along with other people in a collaborative endeavor to find out what the right thing to do is. That doesn't mean that you don't sometimes have to act without input from others, and that you might not actually be making a mistake if you didn't. My pet peeve, though, is people who, because they have expertise, assume that they can disregard the knowledge of others who might not seem to be experts.
When I give lectures on ethics and science to some of our researchers on campus in the Ethics and Public Life program, I've talked about the hubris of expertise — that's a phrase that helps make sense of what really bothers me. Even if you are an expert, you might still have something to learn from those who are not, and maybe your expertise is better applied in the world if you are willing to be open to at least reflection from others. I like to try to live that in my own life, as a human being and as a scholar, and I would hope others would, too.
I suppose a second pet peeve is people who think that you can't be an accomplished scholar or researcher and also a good teacher, that accomplishment in scholarship and research have to be incompatible with commitment to teaching. That can come from both ends. It can come from people who assume that if they take time out from their scholarship and research in order to teach, somehow they will be endangering their ability or their capacity as scholars. But I find I'm frequently enriched by the teaching I do, even when it takes time out from my scholarship. And then there are people on the outside of the academy who assume that if you are committed to your scholarship and research, you cannot also be committed to your teaching.
Your field of academic expertise is moral philosophy and ethics. What drew you to that, and do you plan to continue to teach — particularly undergraduates — at Columbia?
I gave the Ph.D. recognition ceremony speech here just two weeks ago, and I talked about this. At some point in my childhood, maybe I was 9 or 10, I met somebody who had grown up in very challenging circumstances, and who — according to some then influential social theorists — had every reason to be fundamentally anti-social and angry. He'd been through a lot in life. Yet he was one of the kindest, most decent people I've ever known. I wondered what this all meant.
It was in the middle school years that I began to be amazed and astonished at the human capacity for morality. Think of what it's like to hold a baby in your arms. They're bawling and they're self-involved — it's not that they're bad, but you get the sense that they could never care about anything but their own desires of the moment. If things go right, whatever that requires, they can grow up to be people who can act against self-interest at some moments, they can learn to care about people they've never met and maybe never will, they can even be concerned about distant generations; they can ask about what needs to be done to take care of the environment for future generations. That's an extraordinary thing, and I got that sense very early on.
I grew up in a neighborhood that was on the border of real urban poverty; my family was modestly comfortable, not well off, not poor, just modestly comfortable. My parents were schoolteachers. I didn't know growing up that I lived on the border of one of the most disadvantaged neighborhoods in the country. But I would encounter people, sometimes in a social setting or in a store or in school, or students whom my parents taught in schools that were less well-off than mine, who were just the salt of the Earth. They would have every reason to be bad people, according to some of the theories of what makes people good, and yet they were good people, and what could make that possible? What are the social conditions that you need to ensure exist? What kinds of familial experiences do people need? And how is it that somebody who maybe has had a very bad life, not just socioeconomically but who's had maybe serious health challenges or maybe they lost lots of loved ones when they were young, how do they manage not to become bitter? What is it about the human capacity to be a good person? What makes a person capable of leading a moral life? That drew me early on.
My parents were members of a Unitarian church, the First Unitarian Church in Chicago near the university, where the minister was very intellectual and had the congregation read things like Martin Buber and Søren Kierkegaard and Paul Tillich. So we had these books or excerpts from them at home and I would pick them up at 10 or 11. Then, in high school, in AP French and a few other things, you could read existentialism, and we had a world literature course and I remember reading some Plato. I started to feel that philosophy was the thing that would help me figure out what was so mysterious about morality. For awhile, I thought it would be a career as a minister, a Unitarian minister, but it was philosophy.
So again, it was just that sense of wonder at the human capacity for morality. It really is an extraordinary thing, and I haven't lost that sense of wonder. I was talking with several students after the speech and they said, "So, do you still feel that kind of astonishment?" I do, I do, and sometimes at my own failings. Even in your own case you have to be astonished sometimes at what you think might allow you to do the right thing, if you're doing it. It's a mysterious, wonderful capacity.
Columbia College is renowned for its Core Curriculum, which after 90 years is a bond for alumni of all ages. What is the place of a Core Curriculum in a liberal arts education, and how do you see Columbia's Core evolving in the near future?
The Core Curriculum rep­resents the kind of education that is crucial for anybody who values the liberal arts. You preserve the best traditions of thought that have helped to inform the best of contemporary culture; you read and think about the best of cultural production in arts and humanities and literature; and with the introduction of the Global Core, which I believe is what we're calling Major Cultures now, you are asked to step outside Western tradition and ask what have other cultures added to the stock of knowledge that enables us to lead good lives and to create constructive social institutions.
I happen to think that even in the 21st century, the ability to grapple with these kinds of texts and these traditions of thought — to think critically about them, to ask what's good and bad about them, where they succeed, where they might have said or done things differently — is indispensable in modern society. That's a function of who I am and what appeals to me intellectually. It's intrinsically valuable. It has a kind of instrumental value that as a species, particularly as a society within the species, we can't afford to overlook. It generates critical capacities, a kind of appreciation of language, an appreciation of history and of social forms, of human experiments in how to lead a good life, that we can't just jettison or do away with. I will do everything I can to protect the Core, the best of the Core, and much of what remains and has been handed down through the decades is the best. Obviously there will be questions asked about how we weave in non-Western cultures as respectfully as possible, given everything else we're asking students to read.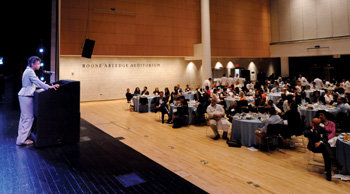 Moody-Adams was the keynote speaker at a retreat for University and College development and alumni relations officers on July 15. I also think — I've had many discussions about this, particularly with alumni of the College in the last couple of months — that if you are an educated person in the broadest sense of the liberal arts tradition, a knowledge of the fundamental ideas that have made science develop the way it has and of the contemporary accomplishments in science is another crucial element. I understand that there are institutions of higher learning that preserve the humanistic dimensions of what we call the Core and don't necessarily see science as being quite as central as I suggested, but I think it is. You can't be a constructive contributor to contemporary political society unless you know at least a little bit about science. You can't think critically about every contemporary accomplishment in science, but you at least have to know whom to go to, whom to trust as an appropriate critic and judge of whether the science is being used properly or thought about properly in social policy. That means you need to be aware of who the great thinkers in science are and who is producing the best of science now. So I think there is a place for science in the Core, and that there will be a continuing place for the Core in the education of people who want to be productive citizens in the 21st century.
I went to a liberal arts institution [Wellesley] that didn't have such a tightly structured path to getting a liberal education. But I think that I probably did most of what the Core asks students to do. So I value it greatly and will continue to.
The College also is known for its policies of need-blind admissions and full-need financial aid. How can these be sustained in the current economic climate?
My hope is that we in the College, and I would hope everywhere else in the undergraduate experience but especially in the College, are able to live up to the promise of need-blind admission and commitment to full financial aid as needed. Your ability to succeed at a place like Columbia shouldn't be limited by your family's income, insofar as we can help. The ideal of accessibility to this education for everybody who is capable and who is willing to do what they need to do to succeed is crucial. We have a duty to live up to that promise as fully as possible, and it's not an easy one to live up to. It's a major commitment on the part of an institution. It's one of the hardest things we have to do in higher education, but it's one of the most important. It requires a partnership with loyal friends of the College and the University to help us live up to that commitment as far as is feasible for them.
All the other things we value about higher education are undermined or in some way challenged if we can't get competent and committed students into the halls of higher learning to go out into the world and make the changes or preserve the traditions that we value, whether they're social or economic or legal. So it seems to me, we need to do what we can to remain committed to the promise. We need to be able, in the academy, to continue to articulate the value as clearly as possible. I also think that we need to be willing, insofar as we do it in a way that doesn't distract us from performing our mission, to justify to others who want to know, are we in fact educating students as well as we say we are? Can we show that we are equipping them in the way we say we are equipping them to be constructive and productive citizens in the 21st century?
Columbia is known for its diversity and for the opportunity it has represented for several generations. Perhaps more so than any other Ivy, it has been a place for the first members of their families to go to a private college. Can you speak about the importance of maintaining that accessibility?
It's very important. Now that we talk not only about socioeconomic diversity but of the diversity of ethnic and national origin, of religious affiliation, of culture and tradition, I think it's almost obvious that the best that we can do for our students and for the intellectual community at Columbia as a whole is to ensure that we bring to campus as diverse a population of scholars who are prepared to succeed and who have the will — those two things go together.
But we have to make sure that we've thought carefully about what we mean by prepared to succeed, and that is something I've struggled with in my 25 years in the academy. Test scores tell us some of it, grades tell us some of it, but sometimes there are other facts about a person's record in school or intangibles that might add to our ability to determine that they're prepared. Once we've determined that, it's good for the campus as well as for the scholars who are brought to campus wherever possible to value diversity. Even in the sciences, at least some really good theorizing has suggested there may be solutions to problems and even ways of articulating problems to be studied that will be lost if we don't ensure gender diversity, diversity of ethnic and religious affiliation, socioeconomic diversity. There are ways of formulating questions, even of seeing something as a datum to be explored or investigated, that just may not appear as valuable to someone if they haven't had a certain kind of life experience.
Now, life experience isn't everything. People have to be prepared to succeed and they have to be willing. Those two features of a person's characteristics are things we always have to be attentive to in our admissions criteria. I'm not against the SAT, I have no problem with it, but I happen to think that if you're only looking at test scores and GPA, there may be things you will miss about a person's qualifications to succeed at Columbia.
At Cornell, one of your roles was vice provost for undergraduate education. What were the responsibilities of that position? What achievements in that role are you most proud of?
I like to divide the main responsibilities of the role at Cornell into five broad categories. The first is that I was charged to help in the development and preservation of a number of living-learning initiatives on campus that encourage faculty and students to extend the reach of the academic experience into the residence halls. These are meant to bridge the gap between the classroom and laboratory on one hand and the residence hall on the other. We have separate living-learning initiatives for freshmen, who all live in one part of campus, we have some for upperclassmen, we have some for fraternities and we have some for students who live off-campus.
A second set of initiatives involved a series of academic support services, some of which were aimed solely at underrepresented and socioeconomically disadvantaged students, but not all of them. We have a number of academic support services that are meant to help students, say, from first-generational homes or certain kinds of socioeconomic disadvantages. There might be supplementary instruction that's given to them. But some of these are aimed at students generally.
A third set of initiatives was aimed principally at the first-year experience. These involved attempts to enhance the academic experience at Cornell from the very moment students get here. One is a book project that involves giving incoming students a book to read over the summer; that's been one of the major parts of this role that I absolutely love. In a way it's a very small-scale Core Curriculum, and I mean very small-scale.
A fourth set of initiatives is focused on upper-class students. I helped oversee several programs that enhanced opportunities for undergraduate research on campus and for civic engagement in and out of the classroom, as well as various other field learning experiences.
A fifth set of responsibilities involved working to ensure the integrity and continuity of the undergraduate experience on a very complex campus. We have seven independent and autonomous undergraduate colleges, some of which are very applied in nature, basically preparing students for a particular career, and then we have Arts and Science, which is more like the College. Some students want to take programs that require them to cross college boundaries, and we have been slower as a campus than we might have been in finding pathways to ensure that students are able to do that. I've worked with all the undergraduate deans on initiatives that have helped to do that. And then I've worked with that same group on a number of initiatives involving policy changes, policy revisions that were meant to ensure that students had to the fullest extent possible a uniform experience on campus — standardizing practices across the colleges, things like advising, even when it comes to students in distress. We are responsible for 13,000 undergraduate students, so we worked through ways to rethink the way in which Cornell applied its interpretation of the FERPA [Family Educational Rights and Privacies Act] policies so advisers could notify families when it seemed crucial to protect the student. And it really worked. It's one of the more important things that I think we accomplished.
Individually, one of the things I accomplished was to help start a new center for teaching excellence that comes out of some older programs that reported to the vice president for student services. We revised, revamped and rethought a series of functions that focus on teaching for faculty as well as TAs, brought them all into one center and helped it to grow in ways that are really are going to do great things for Cornell. Maybe it isn't the most important accomplishment, but it's one of the ones I'm proudest of.
I've worked with ROTC — they reported to me — and we helped them solve a number of problems that had prevented some of their staff from having full access to Cornell benefits and so forth. I think they're happier than they've been in a long time. Students would come to me and say, "How could you do this?" The answer was that the University had a mandate as a land-grant institution to continue to welcome ROTC on campus. And since students were no longer required to complete the ROTC program, as they had been in the first part of the 20th century, the university believed that ROTC's presence on campus could be consistent with its policy on diversity. Since ROTC cadets and midshipmen were on campus, we also decided that it was important to make them feel part of the community. Frankly, one element of that was that future military officers would be exposed to a diversity of opinions in the community, including arguments that challenged the military's policies regarding gay and lesbian Americans.
One of my favorite stories, in fact, is that one of the young cadets whom I got to know in my first year here has a sister who I think will be a senior at Columbia College. He said, "I'll be sure to have my sister look you up." I feel fully proud that I helped to make that group of people feel that they were welcome on campus. They may not be welcome on every campus, and I understand that.
It may not be fair to ask you this before you even start at Columbia, but since we spoke about ROTC, I will: Should Columbia have ROTC?
I believe deeply in faculty governance. I respect the will of the faculty that for this moment in history they've spoken what they believe to be is best for Columbia, and I will abide by that. That doesn't mean that I can't imagine a time when it might be appropriate for Columbia to welcome the ROTC on its campus, but I'm going to respect the will of the faculty. I understand the grounds of their decision and I will respect that, despite the fact that I have family members who went to college because of ROTC. I have my own personal opinion about "don't ask, don't tell," which I'm not ready to discuss right now. I personally wish we could have a military that would welcome everybody who could do right by their country, but we're not there yet, I'll just put it that way.
At Columbia, in addition to being Dean of Columbia College, you also will serve in the newly created position of vice president for undergraduate education. What is your charge in this role?
I want to be cautious here, because my sense is that it is still evolving. There's a new education policy and planning committee, and my understanding is that this role that I am assuming has responsibilities that are still evolving, in part because the former dean helped to set up the new role. I know that some of the responsibilities are going to flow out of what he already was doing. Some of them are going to build out of collaborations that already have begun between Austin Quigley and Nick Dirks, who worked very hard to create a kind of newly constructive relationship between the College and Arts and Sciences. But I'm still learning the history, too. I've been working my way through Stand, Columbia, and I actually did what you would never let students do: I started with 1968 because I wanted to understand the recent history and I wanted to understand the autonomy of the schools. You know, this [Cornell] is a very decentralized place, and I get the sense that in some different ways Columbia is equally decentralized — budgetarily, in the sense of authority over curriculum and hiring and so forth. There's a lot to learn, and I don't want to claim knowledge that I don't have. But some of that knowledge will be necessary to understand what is demanded of the person in this new role, and I'm working on it. I'm talking constantly with College administrators, with administrators in Arts and Sciences and Engineering and General Studies.
The relationships between the College and the other schools that grant undergraduate degrees seem to be evolving. Where do you see that going, or if it's too soon to say, is exploring where that may go part of what makes this opportunity attractive to you?
Absolutely. I get the sense that there is a kind of energy on the campus for a renewed commitment to really making undergraduate education the centerpiece of Columbia. Columbia has marvelous, extraordinary graduate programs in Arts and Sciences, all of the professional schools are extremely strong, highly ranked and well thought of, and it has a wonderful set of opportunities that it offers to undergraduates. But given all the ways in which a place like Columbia could leverage the strengths of the varied undergraduate programs, I'm not clear that it has gotten to that place yet. There could be synergies developed between Engineering and the College, between General Studies and the College, between Barnard and the College. That will be a challenge. You're in new territory, but in a way coming in as a new person, with several other new leaders in key positions, there may also be a receptiveness to change in a way there might not have been.
Walking over here, I was thinking about all the varied institutions I've been at, starting as an undergraduate at Wellesley. I say that because I taught at my alma mater as well as being an undergraduate there. I've had the liberal arts experience at a small undergraduate college. I was at Oxford, so I've had international experience. I did my graduate work at Harvard and also was a TA there, so I did learn a little bit about the undergraduate experience there as well as the graduate experience. And then I've taught at four very different kinds of institutions — Wellesley; Rochester; Indiana, a big, public school; and then Cornell, an Ivy with a public mission. So I've seen a lot of different ways of organizing the undergraduate experience and offering quality programs to undergraduates who want to go out in the world and do good things. And I've had administrative experience at more than one level. So I'm hoping that that experience, as well as specifically what I've done as vice provost, will put me in good stead.
Cornell has roughly 13,500 undergraduates in a student population of about 21,000, which is a pretty significant percentage. Columbia College has about 4,200 undergraduates, growing to about 4,400, in a student body of about 25,000, a very different proportion. How do you ensure that the priorities of this relatively small College and the needs of the undergraduate students don't get lost in the vastness of the University?
That's a very good question. I don't yet know as much about the functioning of Columbia as I need to know to give you a final answer on that. I am going to tell you that it has to be uppermost in my mind constantly. That's the sense I get of the importance of that title, vice president for undergraduate education. I don't know about the extent to which I will have any voice outside of Arts and Sciences in discussions about the place and the value of the College and undergraduate education at Columbia, but I hope that's what that title means — that there will be some opportunity for me to be a voice for undergraduate education. That's my understanding of why it's no longer associate vice president, but rather vice president. I'm a very outspoken person, and I will keep the values and importance of the College out front.
Part of what will be crucial will be encouraging the graduate and professional schools, as much as is feasible, in enriching the life of the College, whatever that might mean. It may not mean teaching students, as not every professional school at Columbia can be part of that, but have we figured out how many of them can be, and to what extent? How might interactions between the graduate schools and the undergraduate units enrich what they're doing? That's something we were just beginning to discuss here on this [Cornell] campus.
Although you grew up in Chicago, the schools you've taught and worked at have been in smaller cities. Please talk for a moment about coming to New York, and the role you see the city playing in the life of the College and the lives of College students.
Part of the reason many students come to Columbia is because they have an opportunity to have a classroom that's as big as New York if they need it. I understand that when they do the Music Humanities and Art Humanities courses, there is a clear commitment to making sure that the richness of the city enriches the curriculum. That's important. I didn't grow up in New York, but I grew up in Chicago and took the city bus to high school every day. My field trips were to the Art Institute of Chicago, the Field Museum of natural history, all the richness of the cultural life of the city. So I know what it's like and I know why it's important to be willing to encourage students [to avail themselves of the city's resources], to the extent that you also encourage them to be mindful of the fact that it is a big city and they've got to have city smarts and street smarts, and those I've got a whole lot of. I grew up right around the University of Chicago, so that's another way in which I understand the sense of an institution within the city. I think that's part of the appeal of a place like Columbia, in addition to a great education being provided by the University itself.
To be honest with you, I marvel at the fact that I spent 18 years of my professional life not in the city, and I loved them — "not in the city" is the wrong phrase, make that in smaller cities. I had a marvelous experience at Wellesley, which had the added benefit of being a 45-minute bus ride from Boston. One of the attractions of Oxford is that you're an hour by train from London, so there's theater, there's music, there's cultural life. That's a major attraction for me.
You know, the kind of quasi-cloistered life of the scholar still appeals to me. You asked me earlier if I wanted to teach. Obviously I do, although I don't expect I'll be able to teach in the first year. I am set to give a couple of big lectures, including one for the sophomore class in Contemporary Civilization in October. Of course I want to teach, and I actually would want to teach first of all in the Core and in the CC curriculum in particular. It wouldn't be an insurmountable challenge for me to get up to speed on that; I could do that in a relatively reasonable amount of time. But I don't intend to do that in the first year, I think that would be short-changing everybody. I also hope to keep my scholarly life if not fully active then somewhat active. But it's hard to do all three — the administration, the teaching and the scholarship. I also want to try to enjoy life just a little bit (laughs).
What role should alumni play in the life of the College?
In one sense, they are the embodiment for our students of what can be possible with a Columbia College degree. That's a very important role they play. If there are mentoring programs that exist, or are not yet in existence, I would hope to encourage that. That's something I'm extremely interested in developing and supporting. Of course, the loyalty of Columbia alumni in supporting us with gifts where that's appropriate, or with time, such as the volunteers who are active in the recruitment of students, I think that's crucial.
Moody-Adams says one of her primary goals is maintaining and enhancing the Core Curriculum as the foundation of a College education. I also would like to find new ways to get the faculty as involved as possible. I talked with Geoff Colvin '74, '77L, the president of the alumni association, who was part of the dean search committee, about interactions he's had with faculty that he thought were good but were limited in some ways. At dinner one night, he said he never had as many heartfelt conversations with faculty as he had had as part of that search committee. There must be things we can think of, new kinds of interaction between faculty and students and faculty and alumni. I'd like to be part of a system, with faculty who are willing, to develop innovative ways to help alumni to feel connected with the College in ways that go beyond, "Did you give money to the College Fund?" Interact with faculty, listen to a talk about their research, spend a couple of days attending a short class of some kind. There are many interesting ways to get alumni involved with faculty, and I look forward to doing that.
What is one thing about you that our readers would be surprised to learn?
Let me think a minute … One thing I hope to do before I get very old is learn how to fly a plane. But more than that, I want to jump out of a plane with a parachute. I've been begging for this for the last few birthdays. Now, don't tell my insurance company that. At some point, I also want to drive a race car, on a closed track, of course.
I love roller coasters; I think it's the same experience. Even at this advanced age, when we go to amusement parks, my daughter and I are the most liberated fans of the tallest roller-coasters, the fastest, the ones that whip you up and down. I find my neck and back don't take it as well anymore, I can only do so many, but I absolutely love the feeling of sort of falling free. That is something that does surprise a lot of people I work with. People who see me mostly in a work setting sometimes see me as quiet and serious and associate that with a different kind of personality, and they're wrong. I absolutely love roller coasters. I don't know what it is, if there's something physiological about it. Otherwise I'm a pretty bland, grounded person.
I'm also going back to an interest in photography that I had when I was young. My father was an advocate of photography; we had a darkroom in our basement when I was growing up. Now I'm more into digital; for Mother's Day I got a digital SLR. Now that you don't have to develop pictures in a darkroom but you can see them right away on your computer, it really is much easier to pursue that hobby. Of course, there's nothing like the old fashioned way, and if I get time I will get back to it. The subtle changes you can make with developing and printing, you can do some of that with the photo software, but there's an artificial connection to it. There's not that tangible feel that you get when you develop and print something.
Finally, projecting five or 10 years ahead, how would you evaluate your success or failure as Dean of the College?
I think it would have to do with the Core — the health of the Core Curriculum and the extent to which, in the process of trying to make revisions where they seem necessary, we've managed to preserve the essence of the Core and all that has been good about it in the time it has been in existence. It needs to adapt, perhaps, to what modern social, political and economic life require us to understand about the world. But there is some constant that the Core also provides to our understanding of human experience, the traditions of human achievement. That would be a major one, seeing that the Core is in good shape and genuinely preparing people to be productive citizens in contemporary life in the way I think it should continue to do.
A second way is that given the demanding nature of the Core Curriculum and then the major requirements, is there sufficient room in the undergraduate experience at Columbia for the right kind of international experience? If we manage to give due attention to the importance of giving our students an international perspective, without demanding too much of them academically so that they can't finish in a reasonable amount of time or sacrificing other academic and intellectual values that we know matter, that would be a second measure of success. Are we sufficiently international in outlook without sacrificing these other values that we need to maintain?
A third one is going to be, did I help ensure that the College is able to survive in good shape in a time of challenge and come out stronger? That's obviously not the responsibility of the dean alone, others will be involved, but I'll be part of that. We need to rethink and reshape and sort of revise the way we do some things, but also continue to do everything that we do well. This was part of what I was talking about when I addressed the Ph.D.s here a few days ago. They were sitting in this hall with their beautiful red gowns, about to pick up the highest degree the university gives, at a time of great challenge. I think we have to be honest and say there is a lot of change afoot in the academy. Some of it probably needed to occur even before the downturn in the economy, maybe people were trying to do too many things — at my institution maybe there was too much building — and maybe you need to rededicate yourself to the core of the mission of higher education. There may be some institutions, small liberal arts institutions for instance, that perhaps will not survive. But we as a nation have a system of higher education that we hope will remain the envy of the world. Will we be able to preserve these forms of academic experience, even if not in all 3,000 institutions that exist now, but somewhere in the academy? I think Columbia offers a great opportunity, great professional and graduate programs but also an honored and highly valued undergraduate program. Will we have preserved that in the way we should for generations to come? That will be another important goal to start with, and a measure of success down the road. Occasionally I worry about that. I have a couple of friends who became deans last year, and it's a difficult time to be in any kind of leadership position in higher education. There was a long time of expansion when you could count on resources going up, your endowment going up. The world has changed, but you can't stop doing the really important things in higher education that you know you need to do. Educating talented people to go out and do good things in the world — that's never going to stop being important. Will I have left the College in sufficiently good position to continue to do that well? That will be a measure in these challenging times. It's a challenge for everyone.
A fourth part of it is, can I be personally, and in my role as dean, sufficiently inspirational for people who want to do something good through getting an education at a place like Columbia? Can I be an inspiration for what is possible? That's not about just can I be an inspiration to people who look like me, but to people who think there still is a role for going to college and learning and getting a degree and asking "what does the world need me to do and how can I make the best use of my talents?" In that way I hope I can continue to be an inspiration, because that is an important thing to ask. When I talked to the Ph.D. students at this event, I was telling them it's fine to say there are not a lot of jobs, but if you come out with a good degree, even with all the changes, you need to give it a good try. If you're called to something and you're well-trained to do it and you are willing to make sacrifices, you should be willing to take the risk. Now I did say in my remarks, even with a great degree from a great school, if you don't feel you've got the calling, you need to re-think whether it's the right life for you. I like to say, whenever I'm trying to be inspirational, make sure you feel the things you are inspired to do are really the things you couldn't live without, particularly if they're challenging, because it's not going to be easy.
These are challenging times. But we're going to come out of it. The world will not look exactly the way it did in 2007, and maybe that's not a bad thing. You hope that people who are in distress economically will get out of it, you want that to happen. But I don't know that you need the kind of excess that as a culture we encouraged people to seek or to value just for the sake of it. If there's a slight reordering of people's priorities and values, that wouldn't be a bad thing for us culturally.