Features
Photo Driven
Damon Winter '97 wins Pulitzer Prize for photos of Barack Obama '83's Presidential campaign
By David McKay Wilson
Photos and Captions by Damon Winter '97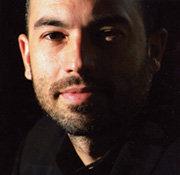 Damon Winter '97 Photo: Béatrice de GéaIt was a seemingly innocuous request: Columbia sophomore Damon Winter '97 asked his mother for a point-and-shoot camera for Christmas to take snapshots to remember his College days.
Instead, she gave him a Canon EOS Elan, complete with a through-the-lens light meter and a zoom lens you could focus by hand. Winter, who won the 2009 Pulitzer Prize for feature photography for documenting the 2008 Presidential campaign, fell in love with the way film captured images. He found an introductory course at Teachers College and began shooting for Spectator. He was so enamored with the way the world looked through the lens that he would occasionally shoot without film when he couldn't afford to buy a roll.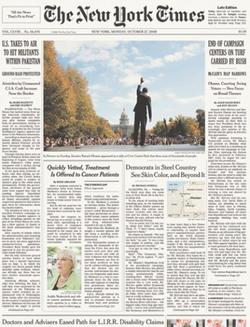 In the closing days of the campiagn, leading up to election day, the crowds kept getting bigger and bigger. This rally in front of Denver's capitol building was the largest of the campaign at that point. I loved the capitol dome in the distance and Obama's outstretched arm, waving in thanks to the people in the proverbial cheap seats, seemingly reaching toward the finish line."Everything we see in the world is a function of how light reflects off it," says Winter one morning in May, when his picture of First Lady Michelle Obama ran on the front page of The New York Times, where he has worked since 2007. "And the camera is a way to see beyond what the eye can see."
Winter's 2008 campaign portfolio provides a glimpse at how he viewed the 2008 campaign, during which he was mostly assigned to cover Democrat Barack Obama '83. Shooting his first Presidential campaign, Winter embarked with instructions that his photos should be 35 percent Obama and 65 percent the enthusiastic crowds that gathered at his speeches.
"The level of excitement was unprecedented," Winter says in his Upper West Side apartment, where he shows a visitor a slideshow of campaign photos on his television screen. "The crowds were as much of the story as what Obama did. You could see Obama in their faces."
The portfolio captures the essence of the historic campaign: black people crying with joy in Chicago when Obama's victory was certain; a woman rapt, listening to Obama, holding an American flag; Obama in shirtsleeves, laughing, at a Florida rally; and the candidate, drenched in rain, his jacket collar pointing up, in Pennsylvania. Several of the pictures are silhouettes, revealing a body's form — or Obama's profile — from light emanating from behind the subject. Others were taken from unusual angles — a picture from overhead of Secret Service men tugging at the arms of an Obama supporter as she hugged him, or one at stage-level of Obama and his daughters running to greet Michelle Obama.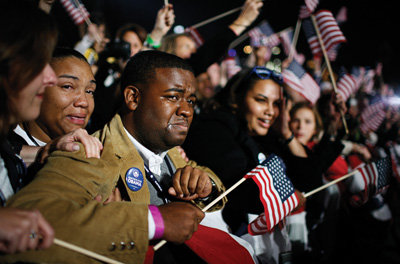 On election night in Chicago, CNN declared Obama the projected winner and the crowd of millions went wild. This man broke out in tears of joy and disbelief. Many photographers were immediately drawn to him. His tears told the story so well of the what this election meant for so many black Americans. "Damon is consistently surprising," says Michele McNally, The New York Times' assistant managing editor, photography. "He is technically amazing, aesthetically flawless and his images have impact. He is very keyed into how light affects mood and tone and how light helps tell a story."
The photographs that won the Pulitzer were taken under the deadline pressure of a daily newspaper while on the campaign trail during workdays that could stretch up to 20 hours. Typical days would begin at 5 a.m. so Winter could get his gear through security and head out to as many as five events, with two to four flights a day. He had two deadlines to meet. The first was for nytimes.com, with images that would appear not long after the picture was taken in the intense competition for breaking news. Then he'd have his feature shots for the next morning's paper.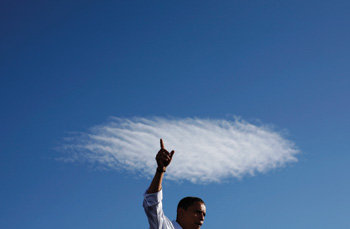 I probably spent half of this rally in Pueblo, Colo., trying to make this shot, as this lone cloud drifted in the distant sky. It doesn't always work out but it is always a joy when you can take a routine assignment, in bad light, and make a photo that goes beyond the obvious. Obama is not a man of big gestures, so it took quite a while to catch him in the right moment to help complete the visual metaphor. "There was pressure to compete with the wire services for timeliness, and then to do something completely different, which was to tell the far-reaching story with interesting and thoughtful images," says Winter, a native of St. Thomas, Virgin Islands. "It was a pretty daunting task."
In late May, Winter returned to Columbia to accept the Pulitzer at the annual luncheon held in Low Rotunda. Returning to Morningside Heights reminded him of those early days with his Canon and his courses in black-and-white and color photography. He shoots mostly in color for the Times, though his June cover photo in The New York Times Magazine, for a story on fathers and sons, was shot in black-and-white.
"Shooting in black-and-white is a treat," says Winter. "It makes you think differently. You focus more on form and composition, and you don't have the color to muddy it up."
I always loved photographing the way people reacted to seeing Obama out on the campaign trail. This was one of my favorites. As the motorcade pulled up to a campaign rally at a high school in Duncanville, Texas, and Obama stepped out of his bus, I chose not to point my camera at him but rather at this scene of elated high school students running, towards us, their forms silhouetted by the setting sun over a dusty field. We feel his presence so strongly in this photo even though we never see his face. By the time he graduated with a degree in environmental science, Winter was Spectator's photo editor, and science had taken a back seat to photography in his post-Columbia plans.
"I saw all the kids doing lab research in the summers, and it never made any sense to me," Winter says. "I did a couple internships at the American Museum of Natural History in 1994 and 1995, and when I asked my boss there for a recommendation, he told me he knew I wasn't really into science. But he wrote me a recommendation and assured me I'd be good at whatever I wanted to pursue."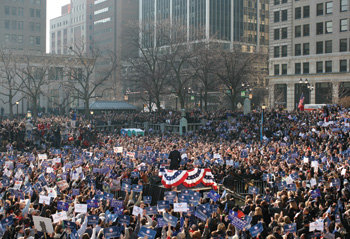 Even though he is just a tiny fraction of the picture, you immediately know where he is and that it is Obama. His posture at this rally in Wilmington, Del., that little lean, the dressing on the stage, Obama surrounded on all sides by supporters ... this is what I imagined a rally might look like during the time of Kennedy. Getting a foothold in the highly competitive field of photojournalism wasn't easy. After graduation, Winter applied for internships at 35 daily newspapers — and was turned down by every one. He did land an internship four days a week at Newsweek, doing photo editing and research. The other three days he freelanced for the Associated Press. That led to internships at the Ventura County Star and The Indianapolis Star, but he still did not have a permanent job.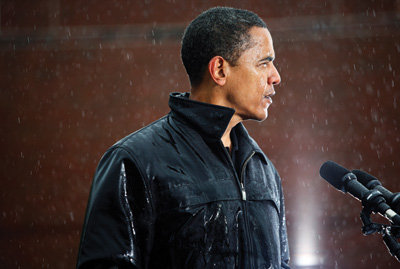 This is Obama at his strongest and most defiant. He, along with thousands of supporters, endured a frigid downpour in Chester, Pa., on the same day that his rival John McCain canceled his event in Pennsylvania due to 'inclement weather.' It is a photo that almost wasn't made, as both New York Times photographers covering the event that day missed the campaign motorcade, got lost in traffic and almost missed the event. After taking an eight-month trip around the world with his camera and many rolls of film, Winter landed another internship at The Dallas Morning News, which finally led to a full-time job. After five years in Dallas, he moved to The Los Angeles Times. Winter was a Pulitzer finalist in 2005 for his photographs of victims of sexual abuse by a priest in a tiny village in western Alaska. His success in Los Angeles brought him back East in 2007, when he joined The New York Times.
His Pulitzer in hand, Winter continues his work at a time of consolidation and cutbacks in the newspaper industry. Like other Times employees, he took a 5 percent pay cut this year. But he moves forward, optimistic that stories will continue to be told, and he wants to illustrate them.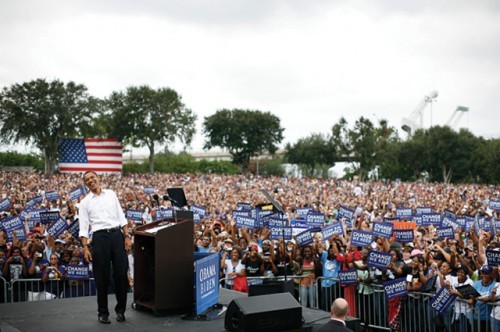 A political rally can sometimes feel like the most cold and impersonal of events. At this rally in Jacksonville, Fla., Obama took the stage and shared a moment with a crowd of tens of thousands that made us all feel like we were just sharing a laugh with an old friend.
In late June, Winter was just back from a four-day shoot in Brazil's Amazon basin to chronicle life on the edge of the rainforest, where ranchers want to clear the rainforest to provide more land for grazing. He was there with a reporter writing a story about a project that would pay ranchers to refrain from cutting down the trees. Winter's trip was the kind of investment in news that the Times continues, despite its attempts to save money.
"It feels like a really scary time, and everybody is scrambling to keep doing the work we've been doing," he says. "You've got to keep your fingers crossed and hold on as long as possible."