Within the Family
Thanks for Your Feedback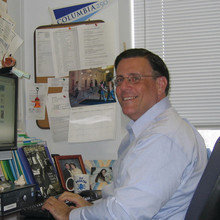 Thank you to all who provided feedback on our experimental online-only July/August edition, either in response to the request in my last column or by filling out the survey we sent shortly after publication. Your feedback will go a long way toward helping us decide future publication policy.
For those of you who have not yet sorted through your summer vacation mail and e-mail, we did not publish a print edition of the July/August issue of Columbia College Today, instead offering our normal content only online (our magazine has been available online as well as in print since 1999). Although this was environmentally friendly, that was not the reason we did it. The reason was money.
As I explained last issue, each unit of the College has been asked to scale back its budget in these difficult economic times. Publishing a magazine is a costly undertaking, and printing and postage represent a major portion of those costs. In order to permit the College to devote a greater share of its resources to its core mission of academic affairs and student services, we decided to publish one issue online only. We also determined to make our best effort to gather reader feedback, in order to better inform future publishing decisions.
The feedback is still being compiled, but so far it has been fascinating, as I hope the sampling printed in this issue's Letters to the Editor reflects. Many of you who contacted us directly were upset by the loss of the print edition and asked us never to repeat this experiment, while others were perfectly happy to read the magazine online in the future and urged us to save money and trees by not printing. Interestingly, responses seemed to cross generations; we received e-mails from alumni who graduated in the 1950s and 1960s praising the online delivery, and others from alumni in the 1990s and 2000s saying they preferred a print edition — not all, to be sure, but enough to buck the stereotype.
We conducted an online survey in late July to obtain further feedback. We received 835 responses in the first two days after it was sent out, and of that initial batch, only 25 percent said they had read our online-only issue, even though 74 percent said they usually read every issue of CCT. Class Notes is the section liked the most, with 77 percent reporting "like a lot." Given four options for future delivery of CCT, bimonthly print and online was by far most popular and bimonthly online only was least popular. More than 52 percent of those early respondents checked "dislike a lot" to the concept of bimonthly online-only delivery, showing that at least among CCT readers, print is not dead.
We hope to be able to report survey results in greater detail in a future issue.
Meanwhile, we thank all of you who responded to the survey or shared your thoughts by contacting us directly. Anyone who would like to take the survey but has not yet done so can log onto www.college.columbia.edu/cct/survey. We value your feedback, and it will help us determine what we do in the future, because CCT is, after all, your alumni magazine and not mine. Well, it's mine too since I'm an alumnus, but you know what I mean.