Alumni Profiles
Roy Braeger '86 Celebrates Good Times
By Gordon Chenoweth Sauer '11 Arts
When Lincoln Center celebrated its 50th birthday in May 2009, tens of thousands of orange and fuchsia balloons were used for decoration, with 2,000 of them devoted to a 20-foot tall "50." The man responsible for this "kids' birthday party for adults" was Roy Braeger '86, founder and operator of the party-planning company Roy Braeger Events.
Braeger, who works from his design studio in Red Hook, Brooklyn, specializes in event design and production. He is responsible for both the organization and execution of galas, birthday parties, corporate events, weddings — "basically, any occasion worth celebrating," he says.
"On the planning side," Braeger explains, "I coordinate all the vendors, such as the entertainment, caterers, photographers, tent companies, limo companies, DJs, security services and more. On the design side, I create the look and layout of an event. I create the floor plans; design the lighting scheme; and provide custom linens, flowers, props, furniture or anything else the party requires."
With a staff that varies from two to 20, depending on both the number and scale of events, Braeger maintains a diverse clientele of 30 ongoing corporate and private clients, including A&E Television Network, NYU Langone Medical Center and eBay.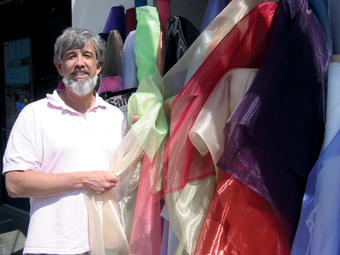 Party planner Roy Braeger '86 with some of the colorful fabrics he uses in designing an event setting. PHOTO: JON COURIEBraeger describes his vision as "combining an East End elegance with a Brooklyn edge." Basically, he says, "That's taking any object that you might find anywhere and doing something fun and elegant with it."
Originally from Southampton, N.Y., Braeger chose Columbia in order to live in Manhattan and credits the College for his intellectual preparation and his exposure to the city. He says, "The first opera I saw was with Music Humanities, and now I do work for the Metropolitan Opera and the City Opera; the first symphony I saw was at Lincoln Center, and now I do Lincoln Center's special events. Basically, Columbia gave me my start here in the city in every area — culture, music, everything."
Majoring in English with a pre-med concentration, though taking many art courses, Braeger believes his design sensibilities also are a product of his College experience. "There is a sense of monumental scale, which is evident in the architecture at Columbia, which is evident in the thinking, which is evident in the implicit position in the world that you're granted when you leave. Big thinking. Big design," he says.
Braeger was accepted to dental school but deferred. He designed a line of handmade table lamps and worked at a friend's Brooklyn design company before starting Roy Braeger Events in 2004. Best friend Jacob Werksman '86 says it was a wise career decision. "Roy went through Columbia trying to convince people he was planning to be a dentist," says Werksman. "I think he has found a more painless way of improving peoples' smiles."
Braeger, who recently finished writing his first book, a horror novel, has not been immune to the economic downturn. "Everything is becoming much more last-minute, and that makes me nervous," he says. And though he has worked hard to "ratchet things up," including opening a Los Angeles office, his optimism is perhaps his greatest rebounding asset. "I have a new campaign, which I state on the home page of my website, called 'get happy,' " says Braeger.
Gordon Chenoweth Sauer '11 Arts is a freelance writer, instructor in Columbia's University Writing Program and M.F.A.-in-fiction candidate.