Alumni Profiles
Elizabeth Craig '07 Monitors Bird Breeding Activity
By Nathalie Alonso '08
Every spring, Elizabeth Craig '07 island-hops between the off-limit islands within New York Harbor — but she's no trespas­ser.
As a research associate for New York City Audubon, Craig is granted access to 18 uninhabited islands that the organization has identified as potential nesting habitats for a variety of colonial water birds. The islands are scattered throughout the East River, Jamaica Bay, Lower New York Bay, Arthur Kill, Kill Van Kull, the Hutchinson River and Long Island Sound. Craig's mission is to survey the breeding activity of several bird species on each island.
"I do feel that I have the best job in New York," says Craig. "Since there is no longer human activity on these islands they have been reclaimed by nature. They truly are little wild patches within the city."
The solitude of the islands makes them appealing nesting grounds for herons, cormorants and gulls. Access to the islands is limited, not only to protect the sensitive habitats but also because dilapidated buildings and other structures pose potential dangers.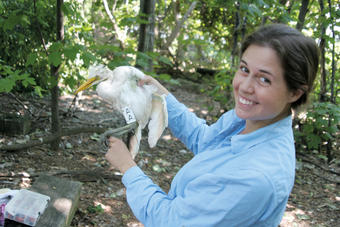 Elizabeth Craig '07 banding an egret in order to track its activity.As leader of the NYC Audu­bon's Harbor Herons project, Craig counts and categorizes the nests, eggs and chicks on each island with the help of a research team composed of volunteers from several organizations, including NYC Audubon, and staff from the New York City Department of Parks and Recreation and the National Park Service. The task sometimes involves climbing trees. In 2009, nine of the islands showed evidence of active nesting colonies.
Craig has worked closely with Dr. Susan Elbin, NYC Audubon's Director of Conservation, on the annual harbor surveys and other related projects.
"Liz doesn't usually view her research projects — or preparing for research, presentations or programs — as work," says Elbin. "She will get up in the middle of the night to be at a roost before first light; she'll learn how to captain a small boat in the busy New York Harbor; she'll volunteer to help colleagues collect data."
Elbin was employed by the Wildlife Trust, another nonprofit, when she agreed to mentor Craig for her senior thesis, for which they designed a project to determine the effects of a growing double-crested cormorant population on the New York Harbor ecosystem.
"Liz was excited about and truly enjoyed urban ecology — not wishing she were somewhere else more exotic," recalls Elbin.
Craig, from Mendham, N.J., has been interested in wildlife since she was a child and was drawn to ornithology during her junior year of high school, when she participated in a semester-long environmental education program in Wiscasset, Maine, offered by the Chewonki Foundation.
"On Saturday mornings we had a bird identification class," says Craig. "We had to learn about more than 100 species before the end of the semester."
During her time in Maine, Craig also became involved with bird rehabilitation. She enjoyed the experience so much that she spent the following six summers working at The Raptor Trust, a wild bird rehabilitation center in Millington, N.J., where she dealt primarily with orphaned chicks of various species.
"For the most part, during the summer my job was to be a 'mother bird,' " says Craig, who adopted a female turtledove that was brought to The Raptor Trust one summer. "Depending on their age, some birds needed to be fed on the hour, every two hours or every four hours up until the point where they could eat on their own."
Craig majored in ecology, evolution and environmental biology (E3B) and recently completed her second year of graduate school at Cornell, where she is pursuing a doctorate in zoology. She is writing her dissertation on the ways in which the winter fish diet of the cormorants that nest in New York Harbor affects their summer breeding success and hopes to embark on a career that will allow her to "have some impact on the management and conservation of these important species."
Craig chose to attend the College because of her high regard for Columbia's E3B program and to have access to institutions such as the American Museum of Natural History and the Bronx Zoo. She nonetheless believes an important part of her education took place not in the classroom but in Central Park, which she frequented to bird-watch.
"By the time I was a senior I was spending a couple of hours almost every day in the park walking around and writing down what I saw," she says. "That's really where I learned most of what I know."
Watch a documentary about and see a slideshow of Craig's work.
Nathalie Alonso '08, from Queens, is a freelance journalist and an editorial producer of LasMayores.com, Major League Baseball's official Spanish language website.