Around the Quads
5 Minutes with … Emlyn Hughes
Emlyn Hughes '87 GSAS is a professor of physics and the deputy chair of the physics department. His research involves searching for new physics at the Large Hadron Collider in Switzerland. Hughes earned a Ph.D. from Columbia and a B.S. from Stanford. He taught at Caltech for 11 years before returning to Columbia in 2006.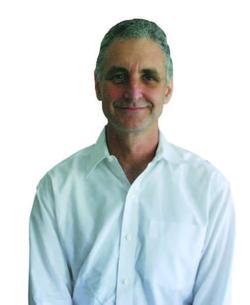 Where did you grow up?
I grew up in New Haven, Conn. My father also was a professor of physics, at Yale.
What did you want to be growing up?
When I was a kid I loved math. I wanted to be a mathematician. My sophomore year of college, during the Iran hostage crisis, I had to register for the draft. My father had worked on the radar effort at MIT during WWII and, as a result, was not drafted. He made the argument that you could end up fighting in a war or you could be a physicist. I fell for it.
What brought you to Columbia?
First of all, New York is fantastic. But one of the real reasons I came was the commute. The future of my field has moved to Geneva, Switzerland. There is a nine-hour time change from California [where I was working] to Geneva. Flying back and forth from New York beats flying back and forth from Los Angeles.
How often do you travel to Geneva?
When I'm teaching, I go every other month, but when I'm not teaching, it's every month. My entire research group is based there.
What are you working on?
I work on the Large Hadron Collider (LHC). It is perhaps the largest science project in the world. The main focus of my group for the moment is looking for something called supersymmetry, one of the ways of possibly detecting dark matter. I have a group of four students and a postdoc who are analyzing data from the high-energy collisions produced by the LHC to search for new physics and new interactions. We hope that we might learn about dark matter. We know from astronomy that 90 percent of matter in the universe is something that we cannot see, but we know it's there.
How many people work on the Collider?
There are several experiments/detectors stationed around the 17-mile ring. The one I work on is called ATLAS. There are more than 2,000 physicists working on ATLAS, and at Columbia, there are five professors working on it. In fact, Columbia co-leads the U.S. ATLAS effort.
What will you be doing this semester?
I will spend a lot of my time in Geneva doing research, and I will teach in the spring. I will teach for the first time in "Frontiers of Science," and I also will teach an introductory course on electricity and magnetism. Since coming to Columbia, I have been teaching the introductory physics course, first to pre-med students and now to engineers.
What are the challenges of teaching an introductory course?
The biggest challenge in teaching a large introductory physics course at Columbia is reaching students with enormously varied backgrounds, especially in terms of their training in math. A typical exam score in my class is 65 percent, and the range of grades extends from 15 percent to 95 percent. As a teacher, I aim for the middle. Given the spread of talents and backgrounds, this makes a large fraction of the class unhappy. On the positive side, the diversity of the class and the broad range of interests make the course much more interesting to a teacher. I truly enjoy the variety of questions that I receive from my students, both in and outside of class.
What is your favorite food?
I love fondue and cheese in general. Greek food with feta is super-high on my list as well.
Are you married? Do you have kids?
Yes and yes. My wife, Ivana, is a lecturer in the chemistry department, and she currently teaches in "Frontiers of Science." We have two children, ages 8 and 5, who go to The School at Columbia. Our daughter studies ballet seriously and our son is learning to play violin. I also have three sons from a previous marriage who all are college-age. My goal is to get all of them to NYC.
What is something your students would never guess about you?
I take violin lessons.
How do you recharge?
Running. I ran the New York Marathon the last two years, and I will run it again this year. I'm 36 seconds away from qualifying for Boston, and I will really be gunning for it this year at the NYC Marathon.
What is your favorite spot in NYC?
The runner's answer is Central Park.
If you could be anywhere in the world right now, where would you be?
St. Moritz, Switzerland. It is a place that my mother went to as a child, before she had to leave Germany. It is one of the most beautiful spots imaginable, a small town built on a lake buried high in the Swiss Alps.
What's the last great book you read for pleasure?
Team of Rivals: The Political Genius of Abraham Lincoln by Doris Kearns Goodwin.
What on your resume are you most proud of?
In research, my greatest accomplishment was co-leading an experiment that made the most precise measurement of the "electroweak mixing angle." This is a free constant that must be measured to understand the Standard Model, our best theory on how matter behaves in particle physics.
Interview and photo: Ethan Rouen '04J
View a video of Hughes talking about the Large Hadron Collider.