Bookshelf
David Rakoff '86 Makes Pessimism Sound Positive
By Yelena Shuster '09
"I feel a little bit like I finally took my top off," David Rakoff '86 says about his new essay collection, Half Empty (Doubleday, $24.95), as we sit in his airy, book-lined apartment in NYC's Union Square. The NPR contributor and best-selling author worries that his most recent work is far more revealing than his first two books, Fraud: Essays (Doubleday, 2002) and Don't Get Too Comfortable: The Indignities of Coach Class, The Torments of Low Thread Count, The Never- Ending Quest for Artisanal Olive Oil, and Other First World Problems (Doubleday, 2005).
"I'm emphatically not a memoirist. I do write personal essays, usually not so much about my life. Half Empty is more about my life," he says. "It makes me uneasy because of the broader cultural development that I see in writing itself. The glut of memoir that's on the shelves right now shows that notions of craft have become secondary to the harrowing nature of the story. I'm far more invested, perhaps far too invested, in being thought of as having a flair for language. I don't want to be known for the particulars of my biography."
But Rakoff, 45, is such a talented writer, and Half Empty such an amusing read, that the addition of essays ranging from his childhood as a short, unpopular "shrimp" to his second bout with cancer are only made richer by the personal detail — he writes as deftly about himself as about any of his other subjects. Whether he's skewering the musical Rent's unrealistic depiction of AIDS or exposing Disney's outdated "House of Tomorrow," Rakoff spares no one from his sharp cultural critique — least of all himself.
Half Empty is full of hilarious stories in defense of pessimism, a subject near and dear to Rakoff's neurotic, self-deprecating heart. When Don't Get Too Comfortable reached The New York Times' bestseller list, his reaction was, "Oh, well, it's not going to be on next week." And when describing its success to me, he quipped, "Look, I'm super-proud of it. It's a lovely thing and it's all about changing the obituary." On his acceptance to Columbia, he says: "I was in the last all-male class to be accepted. The standards were a lot lower — or that's what I tell myself."
Rakoff's essays, which delve into everything from his teenage summer at an Israeli kibbutz to his attending a porn convention on assignment, make self-criticism an art — but charmingly so, where in the end you only empathize with his "shrimpy" self even more. And he's just as charismatic in person as he is on the page. The Canadian native has a natural skill for making strangers feel at home (something he has attributed to his upbringing as the son of a psychiatrist). Within the first minute of arriving at his apartment, he offers me something to drink, sets strawberries and peanuts on the table, and then asks me about my Russian name, when I graduated from Columbia and if I have a boyfriend — all before handing me coffee. Before I knew it, the subject was interviewing me on my own assignment.
Rakoff's career can be traced to his years on Morningside Heights. From Dante to Shakespeare, the books of the Core Curriculum pepper his writing. He credits his CC professor, Constantin Fasolt, for introducing to him the primacy and importance of language; his freshman composition professor, Wendy Graham, for teaching him the value of rewriting; and his Japanese professor, Mary Hue, for instilling in him a dogged work ethic. And because of Columbia's gay-friendly environment, he stopped hiding a major part of his identity when he came out in his senior year.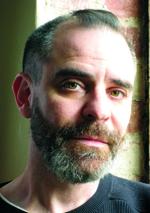 PHOTO: PAUL ROOSIN
The East Asian studies major developed lifelong friends while working on Columbia theater, including Jeanine Tesori '83 Barnard, a composer for the musical Shrek; Alexa Junge '84 Barnard, a writer for Showtime's United States of Tara; and Adam Belanoff '84, an executive producer and writer for TNT's The Closer, all of whom he worked with on The Varsity Show. Rakoff's theater background served him well when The New Tenants, a film he starred in and adapted for the screen, won an Academy Award for Best Live Action Short Film this year.
For someone whose name is said in the same breath as David Sedaris and Ira Glass, Rakoff's rise to literary fame didn't come easily or quickly. His first book of essays was published when he was 36 — after 13 years of working at a full-time job in publishing, starring in downtown theater productions and freelance-writing for everyone from the Times to GQ. Even though Half Empty's subtitle is "WARNING!!! No Inspirational Life Lessons Will Be Found In These Pages," Rakoff insists on telling recent grads that success has no deadline.
"Being young, I remember very, very clearly the extreme pressure I felt to achieve early and prodigiously. There is so very little profit in peaking early. Your life and your experience is richer when you're older," Rakoff says.
"Believe me, I understand the world you're in. I know that you're going to, on a daily basis, or at least weekly, find yourself at a party where a colleague or classmate will say something that will consume you with jealousy and you will feel like you will never catch up. You will catch up. There really is no map."