Cover Story
Student Life
A new spirit of community is building on Morningside Heights
By David McKay Wilson; photos by Char Smullyan
Back in the day, when freshmen like Joel Klaperman '67 arrived on campus in jacket and tie and wore blue beanies during orientation, Columbia College was known as a place for rugged individualists who fended for themselves and took pride in doing so. Klaperman recalls how Manhattan's allure usually trumped on-campus activities. Links between alumni and students were rare at a time when many from the all-male student body commuted to campus from home.
Dean of Advising Monique Rinere takes questions during a summer advising session for incoming students and their families in Lerner Hall.More than four decades later, Klaperman, who hosted a dinner this spring at his home for award-winning seniors and alumni leaders, is contributing to a new spirit of community that has been building on Morningside Heights, where 96 percent of College and Engineering students now live on campus, advisers work closely with students who are now female as well as male (the College went coeducational in 1983), and events and programs are designed to build relationships among students, faculty and alumni.
Driving this transformation is the Division of Student Affairs, which oversees many facets of the co-curricular experience, including student activities, residence life and student advising, as well as parent and family programs, for both the College and Engineering.
Also deeply involved in this effort are the Office of the Dean of the College, the Office of Academic Affairs, the Center for Career Education and the Alumni Office.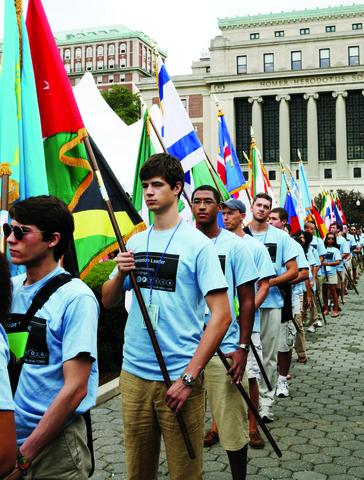 Orientation leaders march with flags from every state and country represented in the student body, part of the pageantry of Convocation.
Of course, the College could not have achieved such success on its own. Many University offices positively impact the student experience, including Housing and Dining, Health Services, Public Safety, Athletics, Community Impact and many more. They, too, have redoubled their efforts in recent years to transform the undergraduate experience into the beginning of a positive lifelong relationship.
The College has made improving the co-curricular experience a priority.
The Division of Student Affairs, which also includes the offices of undergraduate admissions and financial aid, is led by Dean of Student Affairs and Associate V.P. for Undergraduate Student Life Kevin Shollenberger, who has worked in the Student Affairs office since 1999 and became its dean in 2008. He has seen a change in student experience and alumni attitude.
"Surveys found that students here got a great education in the classroom and the Columbia degree carried prestige and opened doors for them, but they didn't feel connected to the institution," says Shollenberger. "Now we also are focusing on the student experience outside the classroom. It has been a definite evolution."
Dean of the College Michele Moody-Adams says the Division of Student Affairs has helped create a campus environment where students are comfortable exploring their intellect, developing social relationships and growing into young adults.
"The various services and support provided by our Division of Student Affairs — from advising to residential programming to support for student activities and student well-being — are all part of our effort to make Columbia College safe for reasonable risks of the appropriate kind," she says. "We want Columbia College students to succeed in the classroom and laboratory, in extracurricular pursuits and in their personal relationships."
Sarah Weiss '10 was an integral part of the community-building experience during her four years at Columbia, serving as v.p., policy for the CC Student Council. With support from Financial Aid, she helped create a weeklong program, called Common Cents, to discuss financial issues, such as what it means to be a high-need student on campus. She brought Columbia students to the South Bronx to work with a housing advocacy group called Mothers on the Move, conducted campus tours for prospective students, was senior coordinator of the Columbia Urban Experience and was on the board of Columbia Hillel, where she helped develop a program on women of faith with students from Hillel and the Muslim Students Association. Weiss also was a student member of the search committee that led to the hiring of Dean Moody-Adams and later helped the dean establish a series of regular, informal meetings with students.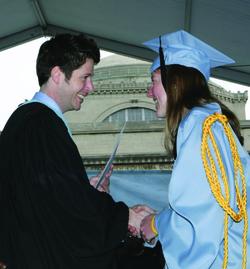 Dean of Student Affairs Kevin Shollenberger presents the Edward S. Brainard Memorial Prize to Sarah Weiss '10 at the 2010 Class Day ceremony.
Weiss speaks highly of the collaborative atmosphere at the College between students and administrators. "You have ideas, you throw them out and Student Affairs latches on," she says. "The spirit of student involvement is really celebrated here."
College offices are working together more seamlessly than ever, but are their combined efforts really working? Are students happier with their co-curricular experience today than in years gone by? One measure of student satisfaction may be found in participation in the Senior Fund, the annual gift that graduating seniors make to the College.
In 1999, only 7 percent of seniors chose to donate to the Senior Fund. That percentage doubled the following year, and by 2002 a majority of seniors were making a gift. Participation reached 71 percent in 2003 and climbed steadily until last year, when a whopping 92.7 percent of seniors donated $18,628 to the Senior Fund, setting records for both participation and dollars raised. While these numbers may be evidence of increasing satisfaction with the Columbia College student experience, what exactly has led to such a great transformation?
For more than a decade, the College has made improving the co-curricular student experience a priority. The effort begins long before students arrive on campus, as admissions officers travel the world to meet with prospective students and their families to introduce them to Columbia. Throughout the admissions process, admissions and financial aid officers work to craft a diverse body of students who are likely to have a positive experience in and out of the classroom. The Office of Academic Affairs supports this process by coordinating with faculty who are involved in recruiting applicants to the College and helping to yield the most promising newly admitted students. And the Center for Career Education works with the admissions office to prepare students for what Columbia offers in terms of internship and career support.
Soon after students receive their acceptance letters, they are invited for Days on Campus, two full days of programming in April that offer the chance to meet students, faculty, administrators and alumni. Events include tours of the campus, Morningside Heights and New York City, sample classes, resource panels and introductions to student activities. There also is a corresponding Perspectives on Diversity event to provide admitted students an opportunity to learn about and experience the diverse campus community in greater depth.
During the summer, Student Affairs partners with the Center for Career Education (CCE) and the Alumni Office to hold advising sessions for incoming students and their families in several U.S. cities, Europe and Asia, a program that has grown significantly in scope and expanded globally in recent years. This summer, nearly 60 percent of the Class of 2014 attended meetings in New York City, Boston, San Francisco, Southern California, Houston, Washington, D.C., Chicago, Honolulu, London, Beijing, Hong Kong, Seoul, Singapore and Bangkok.
At the U.S. sessions, students and family members split into two groups. Students learn from a Center for Student Advising (CSA) adviser about the undergraduate curriculum, academic expectations and degree requirements, how to receive credit for Advanced Placement courses taken in high school and who to turn to if calculus is either too hard or a boring repeat of what they learned in 12th grade. On the role of CCE at these sessions, Dean of Career Education Kavita Sharma says, "We participate in the summer advising program alongside the Center for Student Advising to encourage incoming students to engage in career planning early and frequently throughout their four years."
The Center for Student Advising helps students navigate their way.
This emphasis on advising and support is a theme in the family sessions as well, where family members learn about the College, ways to support their student's transition to college and the city and how to be involved in their student's experience and the Columbia community while still helping their student develop independence and autonomy. "Parents and families are more involved these days," says Shollenberger, citing the growing use of cell phones, text messaging and social networks to stay in touch. "It's no longer just the Sunday night call from the pay phone in the hallway of the residence hall."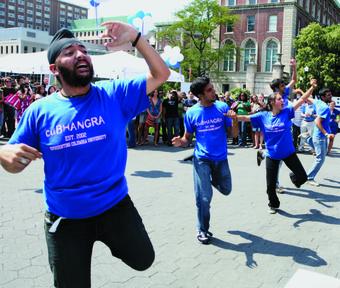 Dancers from CU Bhangra enliven Low Plaza on Activities Day, when many of the more than 300 clubs and organizations attract incoming students to join their ranks.These summer meetings culminate with a new ritual that marks the beginning of the Columbia academic experience: an alumnus/a hands each incoming student a copy of The Iliad, which has been part of the Core Curriculum for decades. Students are expected to read the first 12 books of The Iliad during the summer and be prepared to discuss the poem when Literature Humanities classes begin in September.
When the 1,074 members of the College Class of 2014 arrived on campus in late August, there was no shortage of welcome events. On Monday afternoon, after spending the morning moving in to the residence halls, new students and their families gathered on South Field for Convocation. This formal ceremony welcomed them to Columbia with much pomp and circumstance, including greetings from the deans of the College and Engineering and a parade of colorful flags from each state and nation represented by the undergraduate student body.
Immediately following Convocation, students undertook an elaborate, nine-day New Student Orientation Program (NSOP, pronounced en'-sahp) to become acclimated to the campus and get a taste of the richness of New York City and its cultural scene. NSOP events are practical (campus tours, an introduction to Columbia's libraries and computer system, foreign language placement exams, a "Bed, Bath & Beyond Excursion"), adventuresome (walking tours of many neighborhoods, activities fairs and meet-and-greets with myriad campus student organizations, an open mic night at Roone Arledge Auditorium) and social (outings grouped by residence hall floor, a showcase of campus performance groups, an event aboard the U.S.S. Intrepid).
Thomas Homburger '63, '66L, who hosted a summer advising session at the Chicago law firm, K&L Gates, where he is a partner, recalls the sense that it was "sink or swim" when he arrived on campus from Buffalo, N.Y., in 1959, cocky and full of pluck, but not as well prepared for Columbia's rigorous academic program as many of his classmates. After floundering for a while, he says he was lucky enough to figure out how to swim.
"There was move-in day, a short orientation and classes began," he recalls. "It was an overwhelming experience. After the advising session in my office, I said to my wife, 'It's like night and day.' So much has changed."
Discovering one's pas­sions, and finding the right courses or extracurricular activ­ities to develop them, can be challenging. The Center for Student Advising, working in close partnership with faculty, CCE and other offices, helps student navigate their way. In August, the CSA moved into a much-anticipated renovated space on the fourth floor of Alfred Lerner Hall, consolidating staff previously located in five offices around campus. The new center includes offices, four seating areas, a sun-filled waiting room, a flexible conference space large enough for 70 people and several other conference areas.
The student advising system also has been streamlined, with students assigned an adviser in their first year who stays with them throughout their undergraduate career. Dean of Advising Monique Rinere says it's an improvement over previous systems, in which students were assigned a new adviser each year. In addition to their administrative adviser, students also are assigned a faculty adviser once they declare their major or concentration, usually in the second semester of sophomore year.
With primary responsibility for the undergraduate curriculum, supporting the faculty and upholding the academic policies established by the faculty, the mission of the College's Office of Academic Affairs has been immeasurably enhanced by its close working relationship with the College's Division of Student Affairs and, specifically, the CSA.
"The deans in our Center for Student Advising and the staff of Academic Affairs are in almost daily communication as together we guide and support students through their academic and curricular work," says Kathryn Yatrakis, dean of academic affairs and senior associate v.p. for Arts and Sciences. "From developing strategies, to assisting students who are facing academic difficulties, to identifying candidates for the most prestigious fellowships offered, the close cooperation of the two offices improves the academic experience of all students."
Rinere echoes this thought. "We want to create a seamless advising experience — both academic and non-academic — as we help students negotiate their way through the University," says Rinere, who came to Columbia in July 2009 after working in student advising at Harvard and Princeton.
"Students want to connect with somebody who knows their name."
To this end, advising students for the duration of their time at Columbia gives advisers the opportunity to better know their students, which helps in guiding them in pursuit of their passions. CSA advisers also specialize in connecting them with academic departments, internship and career advisers, and financial aid opportunities. Advisers also point students in the direction of events and programs related to their particular interests. Finally, having a good relationship with one's advising dean or faculty adviser can be crucial when a student needs a letter of recommendation for graduate school, Rinere says.
Isabel Broer '10 says she worked closely with Advising Dean Jay Orenduff during her four years at Columbia, meeting two or three times a semester. Sometimes she would stop by to ask specific questions: what classes to take, the consequences of dropping a class, how to approach choosing a major. Other times, she would stop by just to chat.
By senior year, when Broer was contemplating life after Columbia, she would meet with Orenduff to talk about her interests and potential paths, without worrying that he would push her in any particular direction. She says Orenduff asked questions that helped her reflect on what she was most passionate about, as a way of identifying what she really wanted to do.
Broer decided to teach in inner-city schools through Teach for America upon graduation and then attend law school, eventually specializing in education law. This fall, having deferred her matriculation at Columbia Law School until 2012, she is one of 38 graduates from the Class of 2010 teaching through Teach for America. Orenduff wrote recommendations for both programs and was a reference for her job in the Denver school district.
"I really felt like Dean Orenduff knew me, my work ethic and style, and what I was passionate about," Broer says. "I had no hesitation about asking him for letters of recommendation. I felt his goal was only to have my back, and the backs of hundreds of other students. Dean Orenduff was an adviser and friend, in the truest senses of the words."
Alex España, an advising dean at Columbia since 2001, says the new system was put in place after staff listened to student feedback about previous systems.
"Students told us they didn't want somebody new every year," he says. "These students really want relationships. They want to connect with somebody who knows their name."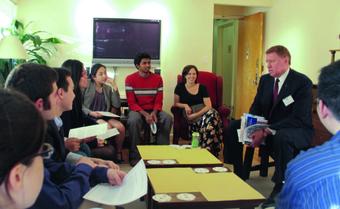 Robert Douglas '70 and Cristen Kromm (on red chair), assistant dean for community development and residential programs, meet with students as part of the Living and Learning Center programming.Students are encouraged to take ownership of the process in order to achieve the best results. Toward this end, last year Rinere led an initiative called Community Conversations on Advising in which she and her staff met with students, faculty, advisers and other administrators to discuss reasonable expectations of both advisers and students in the advising process.
"We hope students develop a number of advising relationships over the course of their time here," says Rinere. "It's not a one-stop shopping experience. They need to develop multiple sounding boards — for study abroad, internships, research and life after Columbia. Students need to avail themselves of the wealth of advising available on campus."
For most students, this includes a visit (or many) to the lower level of the East Campus Building, where the Center for Career Education is housed and career advisers serve the University community in a number of ways. CCE partners with students by providing individual guidance and advising to assist them in understanding ways to explore career areas of interest, make informed career decisions, conduct a job or internship search and develop skills that will enable them to navigate and change careers throughout their lifetimes.
"Collaboration with Student Affairs is essential, as we are all advising and working with the same students," says Sharma, who has been dean of career education since January 2007. "We work with the entire division to ensure that they have a good understanding of the offerings of the center so that they can direct students where necessary and incorporate career advising into their interactions with students."
Improving the experience of Columbia undergraduates beyond the classroom and professional pursuits also has been among the Division of Student Affairs' priorities. In 2009, Shollenberger established a Community Development team headed by Terry Martinez, dean of community development and multicultural affairs, to coordinate the work of four offices — Residential Programs, Student Development and Activities, Student Group Advising, and Multicultural Affairs. "Students had expressed a need for greater coordination of services that support co-curricular life and a desire to foster a greater sense of community," explains Shollenberger.
Martinez says advisers on her team help students develop leadership skills in the College's many student organizations, some of whose banners adorn the ramps in Lerner Hall. They can teach life skills: how to work in a group, plan an event, manage a budget, mediate differences of opinion and ultimately evaluate success. NSOP is one example of a program where students truly own what they work on; its leaders (who apply and are accepted to summer-long positions) spend the entire summer planning the many events listed in the NSOP Schedule Book students receive upon arrival.
"Dean Orenduff was an adviser and friend, in the truest senses of the words."
Student organizations provide a niche for students looking to engage in politics, explore ethnic or racial issues, or perform community service in the greater New York City community. Students of color, for example, participate in a leadership retreat. In another program, called Under One Roof, students learn the skills required of living in a diverse community.
"Because Columbia's campus community is so diverse, part of our role is to help students develop tools so they can thrive in a culture that celebrates differences," says Martinez. "We want students to recognize where biases may exist and to support them in the difficult conversations that often result."
Students are encouraged to not only participate in planned community-building activities but also explore interests that may initially appear outside of their comfort zone.
Carmen McClure '12, a psychology major, discovered her passions through the Double Discovery Center, which serves more than 1,000 high-need, college-bound New York City teens in programs that improve their academic and personal skills. The DDC, which was founded in the 1960s, is not under the oversight of Student Affairs.
Last spring, McClure took DDC students to Columbia classes to give them a taste of college pedagogy. This fall, she'll train Columbia students to work as DDC tutors and will meet monthly with the student volunteers to support their work.
Better communication and collaboration between administrators and students is a key underlying element in the improvement in student engagement.
When Moody-Adams arrived at Columbia in summer 2009, she was interested in establishing informal, unscripted monthly meetings with small groups of students. At about the same time, Weiss had proposed a similar concept to the Student Council. "The dean wanted to meet with students, and Student Affairs latched onto the idea and ran with it," recalls Weiss.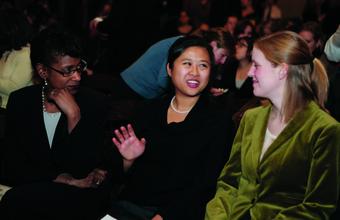 Dean Michele Moody-Adams speaks with former student leaders Sue Yang '10 and Isabel Broer '10 at a campus event last spring.
The concept drew a huge response. Fifteen students were chosen at random from among 600 who expressed interest in sharing tea and conversation with the dean. The teas became a monthly event last academic year, with different groups of students attending each time. The dean plans to continue these informal gatherings with students in the future.
"The teas are not really about airing any grievances or concerns that students may have, though they certainly allow students to do that when they feel so inclined," says Moody-Adams. "More important is that the teas provide a low-key environment in which students can talk about their experiences at the College, about how they see the world and what they care about, and about what things are working well at Columbia as well as what things might need to be examined and possibly changed."
During the academic year, the Community Development staff works collaboratively with students on campus issues and supports several hundred student organizations. Policies on cutting-edge campus issues, such as hosting controversial speakers, drinking at parties and gender-neutral housing, also are developed collaboratively among students and administrators. "There was a time when these issues could have created an adversarial relationship between students and the administration," says Shollenberger, who says his focus in each instance is on developing the best policy for Columbia. "It used to be a very 'we-they' thing on many issues. We are working together now."
For example, Student Affairs worked closely with the Inter-Greek Council on a policy, adopted in 2009, for social events in fraternity and sorority houses. Students wanted to defuse the tensions that arose over crackdowns on drinking by campus security. David Salant '10, an officer of Delta Sigma Phi, said the old policy didn't work because fraternities were forced to hire costly security details and register parties weeks in advance. Rather than adhere to those policies, some fraternity parties went underground, which Salant says encouraged unsafe behavior.
The new policy allows fraternities to register parties five days in advance. The fraternities or sororities name three event monitors for each party to check IDs at the door and distribute wristbands to those 21 and older, who are allowed to drink. A maximum of 75 guests are allowed per party. Alcohol can be served to those 21 and older at a rate of one drink per hour, and parties must end at 2 a.m.
"We got more freedom in exchange for subjecting ourselves to higher standards," says Salant, who now is an equity derivatives analyst at JP Morgan. "We wanted to show them we could run parties that were safe, and that we could be held accountable. It took a lot of faith on their part to trust a bunch of frat boys. We're glad they did."
For Shollenberger, resolved issues like this one have been central in a career in student affairs that included stints at the University of Hawaii at Manoa and American University in Washington, D.C. Developing good relations with students is a key to his success.
"We try to be very visible," says Shollenberger. "We can't just sit in our offices and expect students to come to us."
Moody-Adams says Shollenberger's encouragement of student engagement has paid dividends.
"He respects students and values their active leadership but also understands the importance of creating an environment in which they can remain safe in the exercise of their leadership," she says. "He welcomes diversity of all kinds, and works hard to ensure that students give one another space in which to act on their diverse values and opinions, without harming others."
"Shollenberger respects students and values their active leadership."
With nearly all students now electing to live on campus, the Office of Residential Programs plays an important role in shaping the Columbia experience outside the classroom. Part of the Student Affairs Community Development unit, Residential Programs strives to create an environment in the residence halls that complements the academic and co-curricular experiences students find elsewhere on campus.
Heading up this charge is Cristen Kromm, assistant dean for community development and residential programs. "Living in Columbia's residence halls is a critical part of each student's growth and development as they learn to articulate, and occasionally adjust, their personal needs within the context of community living," says Kromm. "The experiences afforded in Columbia's residence halls today promote students' intellectual, social, emotional, and interpersonal growth and development."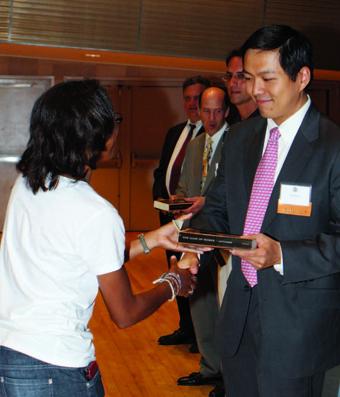 When alumni present copies of The Iliad to incoming students, as Tao Tan '07, '11 Business did here in Lerner Hall, it represents a passing of the torch and an affirmation of the rich tradition of the Core Curriculum.Kromm also notes how important it is to create a welcoming atmosphere where students feel comfortable. To this end, a dedicated team of trained professionals, graduate students and undergraduate students is in place to help residents explore passions and express individuality, while building a sense of community and "home away from home." Resident Advisers (RAs) facilitate conversations about community standards, encourage residents to work together to overcome differences, and, through a variety of programs and activities, make the Columbia residential experience the best it can be.
Mary Martha Douglas '11, who is in her third year as an RA in first-year residence halls, said during the summer that she was looking forward to making Furnald's eighth floor feel welcoming for students who may arrive on campus not knowing a soul and nervous about the upcoming academic challenge.
"I get to be the mother hen and help them branch out," says Douglas, who is living in Furnald this fall after working in John Jay and Hartley the past two years.
In mid-July, Douglas was planning door tags for first-years and beginning work on the bulletin boards. Last year, she created door tags from classic movie memorabilia, with student names emblazoned on replicas of film posters, movie tickets or Academy Awards. "It's good to have something fun to greet them and show them we care," says Douglas, a political science and anthropology major eyeing a career in political consulting.
Douglas also gives campus tours, visits high schools to talk to prospective students and assists with the Days on Campus program in April, when admitted students come for the weekend. She shares that she hoped to arrange a September bus tour of Manhattan and an evening of karaoke at a restaurant for her first-year floormates. She may also take her charges downtown by subway so they can experience walking over the Brooklyn Bridge, or devise a New York City treasure hunt in which they are given clues to find certain locations around the city, like a restaurant in Chinatown without a sign out front.
"I'm a senior this year, so I really have to go out with a bang," says Douglas, whose father, Robert Douglas '70, met his wife-to-be, Barbara, at a Furnald mixer in the late 1960s.
Broer, who was Carman Hall's community adviser in 2009–10, headed a team that built community in that 13-story residence hall and across the entire campus.
"The first-year residence halls bring together such diverse students, from such different backgrounds," says Broer. "It's that diversity that defines Columbia, and it's a great experience to live with such a terrific group of people so unlike yourself."
Helping develop a community feeling in residence halls are faculty-in-residence who live among the students. Robert Harrist Jr., the Jane and Leopold Sweargold Professor of Chinese Art History, is among three faculty living in Columbia residence halls. He moved his family into a three-bedroom apartment with a terrace in East Campus five years ago. There, he and his wife, Weizhi, are raising their 10-year-old son, Jack, who attends the nearby Cathedral School. Harrist says he signed up for the assignment for two reasons: he likes students and he likes hosting parties.
Once a semester, the Harrists will arrange for a study-break party at 10 p.m., with pizza and sandwiches. On one Sunday night a month during the school year, the Harrists also host a dinner party for up to 20 students and faculty at their home, with one faculty member attending to speak with students about his or her academic and professional interests and pursuits. Guests last year included Nobel laureate Martin Chalfee and Dean Moody-Adams.
Harrist says living on campus has rekindled the campus spirit he felt while teaching for a decade at Oberlin College, which is located in a small town in Ohio. He had lived on the Upper West Side for eight years before moving into East Campus.
"Because there's so much to do in the city, that can sap energy from life on campus," he says. "These parties create an occasion to stay on campus. They give students a chance to socialize with the faculty and they help bring Columbia together."
Recognizing the value the faculty-in-residence program brings to campus life, Academic Affairs and Residential Programs are collaborating to select a faculty member to serve as the newest faculty-in-residence and who will reinforce the crucial link between the residential and academic components of student life.
Alumni play an increasingly prominent role in the campus community, thanks in large part to a renewed focus on the connection between students and alumni. Student and Alumni Programs was launched in 2001 as a formal function housed within Student Affairs, with the mission of establishing and strengthening these lifelong relationships and developing greater kinship among Columbians across generations. Students benefit from access to the alumni network, including professional, educational and cultural opportunities, and witness the value of remaining involved as Columbians after graduation.
Alumni play an increasingly prominent role in the campus community.
Student Affairs, the Alumni Office and CCE partner to organize a series of career-focused panels where alumni talk with students about their fields. On occasion, physicians who attended the College will speak about a career in medicine. At an event called Legally Speaking, alumni share their experiences as attorneys. Other panels have explored careers in journalism and the not-for-profit world. These events include questions from students and are followed by a networking reception.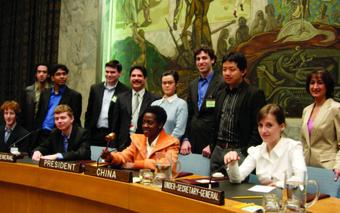 U.N. official Fernando Ortiz Jr. '79 (standing, fourth from left) led students on a behind-the-scenes tour, including a chance to sit in delegates' seats in the Security Council chamber.
CCE also offers students a multitude of opportunities to connect with employers and alumni interested in hiring Columbia students, through the formal on-campus interview program, career fairs, informal networking nights, employer site visits, structured summer internship programs (nationally and internationally) and online tools.
"Students get practical career advice that can be quite helpful," says Kathryn Wittner, senior associate dean of student affairs. But just as important, she says, students get to know alumni and understand the lifetime relationship with Columbia.
In exchange for giving of their experience and expertise to a younger generation of students, alumni feel a sense of continuity and a unique connection to Columbia. "Alumni genuinely enjoy spending time with students and learning about the experiences of a new generation of Columbians," says Wittner.
She adds that not all events are career-focused, and Student Affairs and the Alumni Office partner to plan events and initiatives that connect alumni with students and with one another in more casual settings.
Often this takes the form of a mentorship. College alumni of color may volunteer in a program that matches them with undergraduates of similar racial or ethnic backgrounds, while Columbia College Women, overseen by CCE, matches alumnae with female students. "Sometimes it's based on career interests, other times it's like having a big brother or big sister who can offer practical advice about living in New York," Wittner says.
Alumni and students also frequently meet for social occasions, such as for dinner in residence halls or in alumni homes. Last year, students who were unable to leave campus for the holiday traveled to Westchester to enjoy a pre-Thanksgiving dinner at the home of Rick Wolf '86. Frequently, alumni provide students with behind-the-scenes access to New York City sites, including the United Nations, Lincoln Center, Gracie Mansion, the New York Stock Exchange, Radio City Music Hall and the Metropolitan Museum of Art.
The Alumni Parade of Classes reinforces the connection between students and alumni, affording alumni the opportunity to be part of the traditions of Convocation (when students first arrive to campus) and Class Day (as they prepare to depart) by carrying class banners in the processionals. Having alumni distribute The Iliad to incoming students at summer advising sessions represents a "passing of the torch" and acknowledgement of the traditions of the Core Curriculum, while the alumni presence at the gala Senior Dinner reinforces the notion that a student's time on campus is only the beginning of his or her engagement with Columbia.
Brian C. Krisberg '81, '84L was the head resident in Carman Hall when the College became coeducational in 1983. He became active in the Columbia College Alumni Association more than 20 years ago and was its president from 2006–08. He's now vice-chair of the Columbia Alumni Association and is working to coordinate efforts among the University's alumni organizations.
"Columbia is such a different school from what it was 30, or even 15, years ago," says Krisberg, a partner in the NYC office of the law firm Sidley Austin. "We've come a long way, but there is still so much more that we can do. It's not a time to rest on our laurels. We must continue to connect alumni with alumni, connect alumni with students and support Columbia students through the Columbia experience."
Shollenberger says the increased involvement by alumni is a crucial piece of the community-building effort that has brought the College into the 21st century stronger than ever. It begins with alumni handing The Iliad to incoming first-years and continues with graduating seniors receiving class pins from members of the 50th anniversary reunion class on Class Day. This interaction emphasizes that while students may spend four years on campus, they are lifelong members of the Columbia family.
"There's a growing sense of having an intergenerational community at Columbia," says Shollenberger. "The students learn early that they are part of a larger community — a growing network that supports them now and will be part of their lives in the future."