Obituaries
Dr. Robert N. Butler '49, '53 P&S, Gerontologist and Author
Dr. Robert N. Butler '49, '53 P&S, a physician, activist and visionary, and president and CEO of the International Longevity Center-USA, died on July 4, 2010, in Manhattan. He was 83.
Butler was born on January 21, 1927, in New York. His parents separated when he was 11 months old, and he was raised by his grandparents in Vineland, N.J. Butler served in the United States Maritime Service before matriculating at the College, where he was the editor of Spectator in 1948–49. He credited the College and the Core Curriculum for giving him his start in the academic world and helping him to think broadly across disciplines. Butler continued his education at Columbia, earning a degree from P&S in 1953, after which he did his residency at UC San Francisco. In 1955, Butler became a research psychiatrist at the National Institute of Mental Health, where he studied the central nervous system in elderly people, work that became part of a large study of aging. Butler also helped Ralph Nader investigate problems in nursing homes.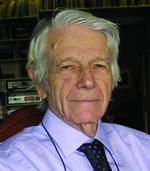 PHOTO: KIM MARTINEAU '97JHe was a U.S. Public Health Service surgeon from 1955–62; had a private practice in the Washington, D.C., area; and was a researcher and gerontologist at the Washington School of Psychiatry from the early 1960s–1976. Butler taught at several medical schools, including those at Georgetown, Howard and George Washington.
Described by many as the "father of gerontology," Butler was the founding director of the National Institute on Aging, in 1975, and won the Pulitzer Prize for his 1975 book, Why Survive? Being Old in America, in 1976. He founded Mount Sinai's Department of Geriatrics and Adult Development in 1982, the first such department at a U.S. medical school. Butler coined the term "ageism" to describe discrimination against the elderly and advocated for them before Congress and the United Nations. He was the first to identify and describe the "life review process," a naturally occurring, universal mental process characterized by the progressive, conscious return to past experience. President Clinton named Butler the chairman of the 1995 White House Conference on Aging.
Butler wrote several books, including Sex After Sixty, co-written with his late wife, Myrna I. Lewis Ph.D. '65 SW, '00 SW; Aging and Mental Health: Positive Psychosocial and Biomedical Approaches, co-written with Lewis and with Trey Sunderland, and The Longevity Revolution: The Benefits and Challenges of Living a Long Life. His most recent book, The Longevity Prescription: The 8 Proven Keys to a Long, Healthy Life, was published in May.
Class president Fred Berman '49 said of his classmate, "Bob Butler was a very special human being who contributed so much to the world about the problems of aging but always in such an optimistic and upbeat way. He was a giant in the field of geriatric medicine, a proud Columbian and devoted member of the Class of 1949. Last year, at our 60th reunion, we honored him for his lifelong dedication to the problems of the elderly. We will miss him greatly."
CCT profiled Butler in January/February 2009. He is survived by his daughters, Christine Butler and her husband, Richard Guest; Carole Hall and her husband, Brooks ("Boots"); Cynthia Butler and her husband, James Gleason; and Alexandra; as well as six grandchildren, including Brendan Gleason '07. Memorial contributions may be made to Robert N. Butler Charitable Trust c/o Cynthia Butler, 3211 Homewood Rd., Davidsonville, MD 21035.
Lisa Palladino