Within the Family
One Last Toast E're We Part
Editor's note: Derek Wittner '65, '68L returned to Columbia in 1993, working for two years in Student Affairs and then moving to the Alumni Office, where he was director of the Columbia College Fund and then v.p. and finally dean of alumni affairs and development. Wittner resigned effective July 31 and now is v.p. for development at the Cooper Union in NYC.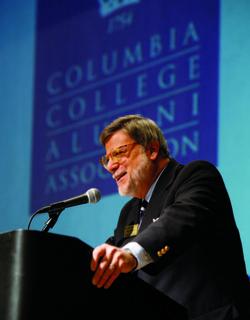 Derek Wittner '65, '68L was a strong advocate for the contributions alumni can make to the life and vibrancy of the College.Wittner is part of a Columbia family — his father, brother and two sons are all alumni — and a strong believer in the integral role alumni play in the life of a school. He reshaped and expanded the Alumni Office, which thrived under his leadership. The College Fund has grown to a record $15.1 million in unrestricted gifts, and numerous professorships, especially in the Core Curriculum, have been added. Alumni Affairs also has prospered, with existing events such as Alumni Reunion Weekend and Homecoming drawing increasing crowds, and recent traditions such as the Alumni Parade of Classes at Class Day and the alumni presence at the Senior Dinner reinforcing the notion that a student's undergraduate years are only the beginning of his or her lifelong relationship with Columbia. Wittner believed in the importance of communicating with alumni — not just asking them for money — and was a strong supporter of this magazine as a cornerstone of a concerted effort to reconnect alumni with each other and the College.
In a restructuring of the Alumni Office, plans are to hire a senior executive director of development and a senior executive director of alumni affairs and communications. National searches are being conducted to fill these important positions.
Alex Sachare '71
---
By Derek Wittner '65, '68L
Not everyone gets to do something for his/her work that fulfills several impulses. In my prior professional life, if success and happiness are measured by economic reward and intellectual challenge, then I would tell you that those two indicies were satisfied. But as I got older, there was nagging at me another unfulfilled impulse. Would it be possible to identify and secure an opportunity to serve a broader purpose?
I could never have predicted at the onset of my musings that I would have the good fortune to become an advocate for education. Were that not sufficient, I would be given that opportunity at Columbia College, the alma mater I share with four family members and all of you. I took up the cause with unbridled enthusiasm and passion, perhaps also with a dose of uncertainty thrown in.
Some 18-odd years later, I can say unhesitatingly that I have felt as fulfilled as I never could have imagined. In the course of witnessing the re-emergence of the College as, in my opinion, the best undergraduate experience in the country, these attributes of my journey — in addition to meeting my wife, Kathryn — stand out:
I have met and befriended an unbelievable number of alumni of all ages, backgrounds and opinions (much like our shared experience as Columbia College undergraduates) as well as students and parents of our students. I never fully appreciated the extent of commitment alumni have to the College and the uniformly held belief that we were offered an unparalleled education rooted in an enduring Core. It did not take much for me to tap into that sentiment, and it accounts for the remarkable resurgence of alumni support you have offered. It is to all of you that the College owes a debt for taking up the cause.
It is not inevitable that one can serve an institution at the right time. The Columbia College of the '70s was a challenge for students, alumni, faculty and administrators. In my tenure, the College was blessed with strong volunteer and professional leadership with ambitious goals. Being held to high standards prevents complacency, and we have certainly not been complacent. I am grateful to have been held to such standards.
Finally, the coincidence of effective volunteer leadership with a more professional approach to serving the College has made progress possible. I was given the mandate and support to identify and hire experienced staff. Susan Birnbaum, Ken Catandella, Alex Sachare '71 and the many members of their staffs through the years have contributed so much to the College's progress; their continuing service speaks to the recognition of their individual capabilities.
I leave to take on the development responsibility at another venerable, albeit smaller, New York educational institution: the Cooper Union. Sharing as it does Columbia's commitment to access as it provides a full scholarship to every student, the transition presents a continuum of values.
So I leave the College as a professional staff member with enormous gratitude. I have learned from you what it takes to make good alumni, and I shall try to follow capably in your footsteps. Thanks.