Alumni Corner
1983
The Beginning of Columbia College as We Know It
By Brian C. Krisberg '81, '84L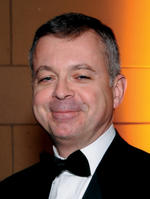 Photo: Eileen BarrosoWhen I applied to the College in 1976, I spent hardly any time thinking about the fact that it was an all-male institution. I think I was pretty typical of the applicants of that era, and I knew Barnard College was across Broadway. How hard could it be to cross the street?
When I finally settled in to 10 Livingston in September 1977, it was a shock to my system. Men and women were for the most part, well, separate, especially during freshman and sophomore years. It was virtually all guys in my Core Curriculum courses and in John Jay Dining Hall. Female Engineering students living in the dorms were a popular novelty. I had so much fun talking to a Marymount student (read: female) for hours at a FIJI party early sophomore year that I decided to pledge.
I suspect no one on campus today talks much about the Fashion Institute of Technology. In that era, we spent a lot of time wondering how many FIT women were going to make the trip each weekend to the pub in John Jay basement, which offered loud music, cheap beer and dancing from 10 p.m.–4 a.m. Thursday through Saturday nights.
The College seemed to wait patiently during my college years for Barnard to come around and merge, but then it reached a point where it could wait no longer. It had to act. It was at a competitive disadvantage with the peer institutions. My friends in the poli sci crowd and I all knew we were receiving an extraordinary education, but couldn't they do something to make it more fun? Heck, even conservative Dartmouth started admitting women in the early '70s.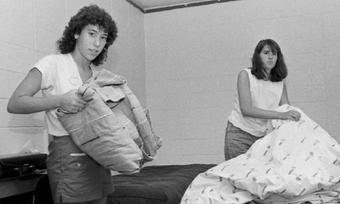 Susan Kraham '87, '92L (left) and Cecily Rhett '87 move into 502 Carman in fall 1983. Photo: Courtesy University ArchivesAfter graduating, I stayed on for law school at Columbia at a time when it was looking for a Carman Hall head resident to succeed the legendary Doc Deming. I applied and was selected. Coeducation at Columbia College was not what motivated me per se. I just felt this was another way to give time and energy to the college that I cared for deeply. I did not fully comprehend the historic change that was coming and the opportunity I would have to witness it when the first fully coeducational class arrived.
The last year of "all male-dom" as I like to say, and my first year as Carman head resident, 1982–83, was not easy. I vaguely remember a massive flood on the sixth floor. The residence hall had been allowed to fall into a state of disrepair.
Everything changed the following summer. The University refurbished Carman and did a great job. Somehow it made the lounge into a welcoming environment where students wanted to hang out and study. New windows. Fresh paint everywhere. New furniture and beds in the rooms. New carpets in the hallways. Upgraded elevators. It was exciting to watch. It got more exciting when the Class of '87 arrived. When I come to campus, which I do often, I make a point of walking through the Carman gates. It brings a smile to my face to think about that late summer day when the great group of floor counselors I had that year and I labored in the heat to move the first-year class, including the first few hundred College women, into Carman.
As school years go, 1983–84 was rather eventful. The football team edged Yale in New Haven, came home jubilant and threw a massive party on 11 Carman, my counselor and quarterback John Witkowski '84's floor (for those who do not recall the name, John went on to play four seasons in the NFL). It seemed like the whole team was there. Little did we know that triumph would be the last Lions victory on the gridiron until Homecoming against Princeton in 1988. The counselors came up with the idea of a Hawaiian party and imported a 70-lb. pig from one of the counselor's father's butcher shop in Delaware, which they proceeded to roast on a makeshift spit in the lounge as the first-years downed a few kegs and partied into the wee hours.
Then there was January 29, 1984, now part of Columbia lore for decades of residence counselors, students and administrators. Loosely labeled the "Dead Body Story," legend has it that on that fateful day, three first-years spotted a rolled-up rug next to a dumpster on West 114th Street, thought it would fit in their room and proceeded to carry it up to the 8 Carman landing outside the elevator. You can figure out what was inside when they unrolled it. It took the city about seven hours to come take it away. I can attest that it is all true.
In retrospect, the transition of Columbia College from all-male to coeducational proceeded remarkably smoothly. Socially, the College experience really did seem to change overnight. Columbia was more than ready and the College community embraced the change. So much hard work, thought and planning by the College administration contributed to the smooth transition. Dean Robert Pollack '61; Associate Dean Michael Rosenthal '67 GSAS; Dean of Students Roger Lehecka '67, '74 GSAS; Associate Dean of Students Karen Blank; Assistant Dean of Students Ben Lieber '72, '74 GSAS; and too many others to name deserve thanks. They worked tirelessly and made it happen.
It is hard to describe the appreciation I feel for having been a participant at the inception of coeducation at Columbia College. It is a feeling of gratitude that returns whenever I come back to campus or talk about Columbia with family and friends. Coeducation at Columbia, and the College's success as a coeducational institution during the nearly past three decades, is a story about a great college becoming even greater.
Brian C. Krisberg '81, '84L is a member of the Columbia College Board of Visitors and past president of the Columbia College Alumni Association.