Alumni Profiles
Leilah Broukhim '00 Brings Passion to Flamenco
By Samantha Jean-Baptiste '13
From Philosophy Hall to the stages of Europe, Leilah Broukhim '00 has been entertaining audiences with the art of flamenco for 15 years. In her latest project, Dejando Huellas ("Traces"), she combines her passion for flamenco with her own heritage as the daughter of Sephardic Jews. The show premiered to a sold-out audience at the annual Jewish Culture Festival in Krakow, Poland, in June, and the U.S. premiere took place in late February at The 92nd Street Y's Resource Center for Jewish Diversity in New York City.
"It was time for me to do something more personal and to distinguish myself from other Spanish dancers," says Broukhim, who has worked as a professional dancer in Madrid for the past decade.
"Dejando Huellas is a reflection of how she has been able to discover herself — her past, present and future — through flamenco," says Broukhim's former floormate Tanjila Islam '00. "Her embodiment of an art form that allows her to express herself in myriad ways has a profound impact on all those who watch her."
Broukhim began dancing tap, jazz and ballet at 10, aspiring to be the next Paula Abdul. "I've always loved to dance, but I never truly felt comfortable in any of those forms. Ballet and jazz are for a certain body type," she says.
She became interested in flamenco when her high school Spanish teacher took her class to see a flamenco version of Euripides' Medea. "I was blown away. It felt very natural and organic. I was attracted to the rhythm," she says.
Broukhim, who grew up in Midtown, began taking flamenco classes the summer before college and continued throughout her years at Columbia, where she majored in film studies. She gave her first flamenco performance in Philosophy Hall, an event she called Noche de Flamenco ("An Evening of Flamenco").
"Leilah's performance freshman year was passionate and soulful. Even though she had only been dancing flamenco for a few months, she was captivating. The audience loved her," Islam says.
While a student, Brouk­him also participated in the benefit show Broadway Tonight with the dance organization Collaborative Arts Project 21; the performance helped raise awareness about AIDS.
Her academics en­riched her dancing as well. Classes about Persian literature and culture, taken with Hamid Dabashi, the Hagop Kevorkian Professor of Iranian Studies, helped when incorporating her Persian roots into her dancing. (Broukhim's parents emigrated from Iran to New York before she was born.) Her work with Robert G. O'Meally, the Zora Neale Hurston Professor of English and Comparative Literature, improved her understanding of how music is about culture.
O'Meally surprised Broukhim by attending one of her shows. Broukhim was "touched and honored" by his attendance. "So many professors influenced me, and in general my time at Columbia was amazing. I felt a lot of support from them," she says.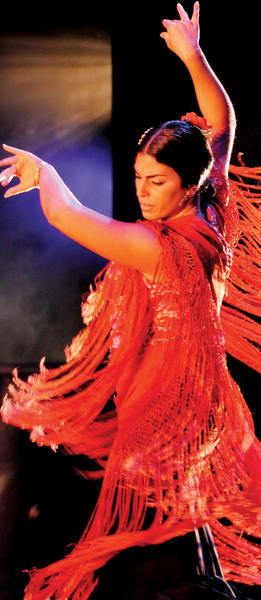 Leilah Broukhim '00 at the New World Flamenco Festival in September. PHOTO: JACK HARTIN
By her senior year, Broukhim began doing more professional work and did advanced study with teachers in New York and special workshops with dancers from Spain. After graduation, she says, "My intention was to spend a year in Spain to learn as much as I could about flamenco and then return to New York to apply to film school. But I got bitten by the flamenco bug."
So while she returned to New York and applied to graduate schools as planned, her mind remained in Spain. She felt she had too much left to learn.
"Flamenco is culturally based. It's not just about the dance or the music or the singing. All of it comes together, so one year wasn't enough to get everything in. Even now I'm still learning. It's a humbling process that is never-ending," Broukhim says.
Broukhim continues to learn from her everyday dancing experiences. One of her greater challenges has been navigating the differences between cultures. "When I arrived in Spain more than 10 years ago, there were very few foreign professional dancers working there," she says. "The first challenge was studying and working hard to feel comfortable on stage artistically. The second was feeling part of the group off-stage, understanding the daily cultural differences, accepting them and adapting to them, without compromising one's own cultural identity."
Dejando Huellas tells the story of a Sephardic woman through time, as she makes her way back to Spain. It also is a reflection of the skills Broukhim gained during her years at Columbia. "There was a lot of analyzing of visuals, sound and acting that I learned senior year that I'm applying now," she says. "My college education has helped me to synthesize all my experiences and put together this show."
Watch Leilah Broukhim '00 dance flamenco in Spain.
Samantha Jean-Baptiste '13 majors in English and African-American studies.