Alumni Profiles
Seth Flaxman '07 Wants You (and All Your Neighbors) To Vote
By Karen Keller '05J
Voting should be as easy as renting a movie through Netflix, if you ask Seth Flaxman '07."The Internet has fixed everything except for government and public services in general," says Flaxman, who was the student body president of Columbia College Student Council from 2006–07.
We can easily find our friends from college online, or order shoes and get them delivered the next day, he says, but we still can't rise to our democratic duty without having to get up off our living room couch.
Enter TurboVote, Flaxman's dummy-proof absentee voter registration service.
Here's how it works: A voter signs up for the free service online. TurboVote fills out an absentee ballot request form for the voter with his or her personal details. Then TurboVote sends the voter the form along with a pre-stamped envelope. All the voter has to do is fill in a Social Security number, sign on the dotted line and drop the envelope in the mail.
To prod even the laziest of voters when Election Day nears, Flaxman's growing venture sends voters reminder emails and text messages.
TurboVote can be used for every election — local, federal, special, primary and general, though Flaxman has a soft spot for local elections.
"All politics are local, but local politics are ignored," says the Nyack, N.Y., native, who in high school chauffeured kids of voting age in his Jeep to school board elections.
Last year, for example, Amer­ica hosted one-half million local elections for positions such as town supervisor or mayor. Historically, turnout for these elections dips to as low as 5 percent, Flaxman says, citing statistics from FairVote (fairvote.org/voter-turnout).
Flaxman came up with the idea for TurboVote while getting a master's in public policy from Harvard's Kennedy School of Government. He graduated in May.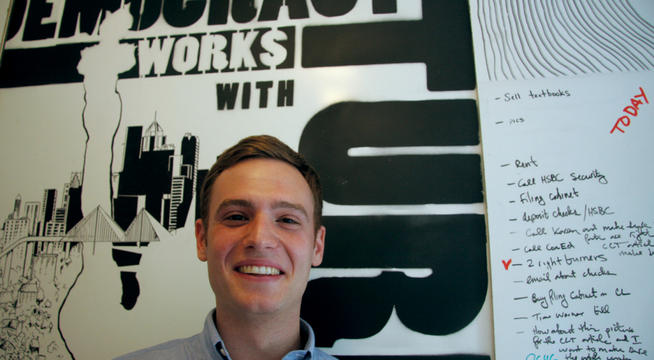 Seth Flaxman '07 works in his closet-sized home office in Brooklyn. PHOTO: KAREN KELLER '05J
"I can build [TurboVote] more easily than I can remember to vote in every election for my entire life," the pro-democracy activist recalls thinking.
TurboVote debuted in 2010 in a pilot at Boston University. After using the service in a real election, one-third of the participating students said they wouldn't have voted had it not been for his service, says Flaxman, who runs TurboVote full-time out of a closet-sized office in his Brooklyn home. Two part-time co-founders, Katy Peters, COO, and Amanda Cassel Kraft, now on TurboVote's Board of Directors, whom he met at Harvard, are helping the nonprofit grow.
By September, Flaxman wants 100 colleges and universities on board. Columbia and Harvard have signed up, and he is in talks with MIT, CUNY and Miami Dade College. Each school pays TurboVote $3,000–$4,000 for the service per year. With 300 schools TurboVote would be sustainable, which Flaxman estimates will be about three years from now. Later, TurboVote would sell its services to local election boards.
For now, Flaxman doesn't mind living on a shoestring.
"Last Friday, I took my boyfriend out for date night at a falafel food truck," he says.
Eventually Flaxman wants to expand the service to all 30 states that allow absentee voting.
So far, TurboVote has collected into a database the addresses of local election boards from the 3,810 towns and counties the service puts on its self-addressed envelopes. Flaxman says he doesn't know of any other pro-democracy group that has compiled so many election board addresses.
Making the list required "BST," he says — "blood, sweat and tears." And a lot of phone calls.
Flaxman has secured roughly $370,000 in seed money from the Sunlight Foundation, Google and Kickstarter, and he's angling for more.
"Sometimes simple ideas done right can have an incredible impact. At the Sunlight Foundation, we believe that TurboVote is one of these rare moments," the foundation says on its website.
Flaxman has always had a knack at finding ways to streamline political processes, friends say.
As a volunteer for the John Kerry 2008 campaign in Ohio, he figured out how to maximize a door-to-door campaign.
"You'd have one guy moving down the center of the street shouting addresses, 'OK, 1202! OK, 1206!,'" says Jimmy Vielkind '07, a roommate of Flaxman's at Columbia who now is a political reporter for the Albany Times-Union.
Another of Flaxman's friends from Columbia, Bari Weiss '07, says she can imagine Flaxman running for political office someday. "He's just someone people are attracted to and want to get behind," she says. "He's so likeable and humble and energetic."
Flaxman, who in 2011 was named as one of Forbes magazine's "30 Under 30" in the law and policy category, can see running for office someday, too. But right now, he's more focused on short-term goals.
"I'm hoping there are some Columbians who might have office space," he says.
Karen Keller '05J is a writer for The Daily and a freelance journalist. Her work has ap­peared in AOL News, amNY, The Star-Ledger, Fortune, Travel & Leisure and other publica­tions. She is the author of Portuguese For Dummies.