Around the Quads
Futterman Offers Students Career Advice
What better way for students to learn about a field than from people already working in it? That's the idea behind a series of dinner discussions being hosted by the Center for Career Education and the Columbia College Alumni Association Career Education Committee.
The first event took place on November 28 at the Columbia Alumni Center, where a group of College students interested in careers in the entertainment industry gathered to meet with actor and screenwriter Dan Futterman '89; his wife and co-writer, Anya Epstein; and playwriting graduate student Jason Kim '08.
"This sort of support wasn't that easy to find when I was at the College, but it's something I would have loved to have had made available to me," Futterman said. "It's a pleasure to help today's undergraduates."
Futterman has appeared on Broadway in Angels in America and in films including A Mighty Heart alongside Angelina Jolie. He was nominated in 2006 for an Academy Award for his screenplay for the film Capote.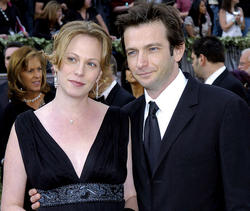 Dan Futterman '89 and his wife, Anya Epstein, pause on the red carpet prior to the 78th Academy Awards in Los Angeles on March 5, 2006. PHOTO: AP PHOTO/CHRIS PIZZELLOEpstein started out as an assistant and writer on NBC's Homicide: Life on the Street. She and Futterman were writers and executive producers for the third season of HBO's In Treatment and are currently developing a new series, T, for HBO.
The couple hired Kim as their assistant for In Treatment. He now is in his second year working toward an M.F.A. in playwriting at The New School. Kim previously was a researcher at The New Yorker.
Futterman told students to be wary of the maxim, "Write what you know," and instead suggested, "Write what you can imagine and expand the horizons of what you know." He noted that his and his wife's new series, T, features a transgender character, and that they did extensive research in preparation. They hope to draw on common experiences, such as alienation and the search for identity, in telling the story.
"Be willing to be surprised by what path you take and the opportunities that come to you," said Epstein, who added that she never thought her job at Homicide would teach her so many lessons she could apply to her work.
Kim came to playwriting after a period of indecision and an unhappy two-week stint as a paralegal. He advised students to be open to new possibilities and to "embrace the uncertainty."
The series continues this spring with discussions on public relations, health care and international development.
Karen Iorio