Columbia Forum
Jacques Barzun: Portrait of a Mind
A Rare Mind, Rarer Now
By Michael Murray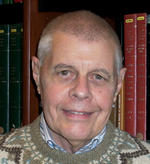 Michael Murray PHOTO: SEAN FERGUSONJacques Barzun: Portrait of a Mind (Frederic C. Beil, 2011) is the result of a long collaboration between author Michael Murray and Jacques Barzun '27, '32 GSAS, one of the most distinguished scholars in Co­lumbia's history. Barzun, a cultural historian who also was provost, was named Uni­versity Professor in 1967 and is the author of the 2000 bestseller From Dawn to Decadence: 500 Years of Western Cultural Life 1500 to the Present, among other books. Murray, editor of the acclaimed collection A Jacques Barzun Reader: Selec­tions from His Works, also is the author of Marcel Dupre: The Work of a Master Organist and French Masters of the Organ. He teaches a graduate course in library research and bibliography at Ohio State.
JACKET IMAGE OF JACQUES BARZUN BY CLEVE GREY; COLLECTION NEUBERGER MUSEUM OF ART, PURCHASE COLLEGE, SUNY, GIFT OF JACQUES BARZUN '27, '32 GSASMurray and Barzun, not surprisingly, met over a book. Murray was writing a study of Dupre, and Barzun, whose father had known Dupre's teacher, Charles-Marie Widor, started to correspond with him in 1977. The first flurry of missives grew into a decades-long friendship. Right from the beginning, the librarian and the scholar were, as Murray puts it, "in sympathy." Their rapport was strong; there was much laughter as they spoke at least once a week for years. This strong and con­stant relationship led first to their collaboration on an anthology of Barzun's work, A Jacques Barzun Reader (HarperCollins, 2001), and then to Murray's meticu­lous intellectual biography, Jacques Barzun: Portrait of a Mind.
Barzun's mind, Murray points out, is of a type that is "rarer and rarer now." In these Internet-driven times, intellectual thinking is increasingly fragmented or specialized. The type of wide-ranging scholarship that Barzun achieved during the course of his career — moving easily from Berlioz to Byron, covering science and race, art and the philosophy of education — has all but vanished. Murray calls his friend "one of the last great comprehensive minds." In the following excerpt from Jacques Barzun: Portrait of a Mind, he describes his relationship with and impressions of this legendary figure.
Rose Kernochan '82 Barnard
---
Jacques Barzun rose from his desk and ex­tended a hand, as I entered his seventh-floor office at Charles Scribner's Sons — a corner office in the old beaux-arts Scribner Building at 597 Fifth Avenue. Now retired from teach­ing history at Columbia, Barzun spent Tues­days and Thursdays at Scribners as its liter­ary adviser. We were already friends, having long corresponded, but were meeting for the first time. I found him to be taller than his dust-jacket photographs suggested, and a big man, though not corpulent. At seventy-one, he was distinguished in appearance — suit pressed, tie knotted carefully, gray hair neatly combed — and his manner was at once genial and courtly. His most striking feature was not his eyes, which showed the lively intelligence one would expect, but his voice. Its pleasant baritone carried an accent that mixed Mayfair with refined New York, and when, in explaining some point, he needed a moment to call up the right word, he would light­ly clear his throat or lightly cough — a tic observable in our scores of talks over the following thirty-two years.
That first talk, on a bright October afternoon in 1979, was jovial and se­rious by turns. It touched on music and painting, and on the difficulties of writing about the arts. For Barzun was a cultural historian, a practitioner of a discipline he had helped to create, in which the arts bulk large. Not that history with a cultural component was unknown before the 1930s, when Bar­zun began to publish. Voltaire, Burck­hardt, and Macaulay, among others, prove the contrary. But their histories differ from cultural history in subject-matter and proportioning. In Barzun's practice, cultural history was an all-inclusive synthesis: not only kings, battles, laws, and statistics, but also habits, beliefs, influ­ences, and tendencies, in art and literature, manners, morals, science, and religion, and the social setting in which these were found.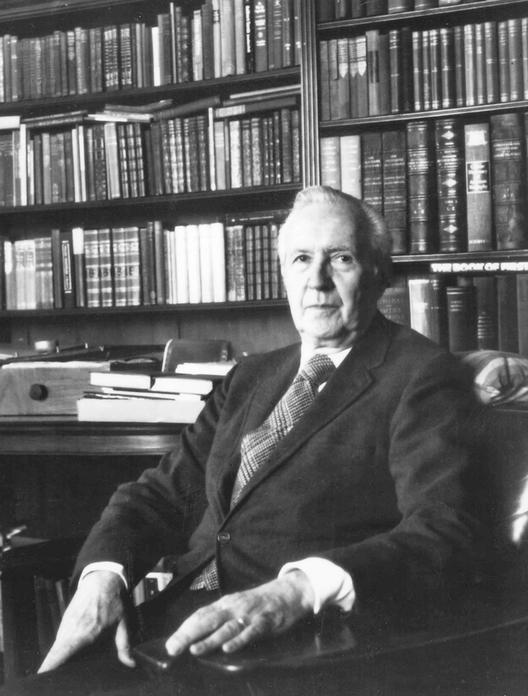 Of meeting Jacques Barzun '27, '32 GSAS, Michael Murray says: "At seventy-one, he was distinguished in appearance — suit pressed, tie knotted carefully, gray hair neatly combed — and his manner was at once genial and courtly. His most striking feature was not his eyes, which showed the lively intelligence one would expect, but his voice" — a pleasant baritone. PHOTO: COURTESY JACQUES BARZUN '27, '32 GSASBarzun was not only a cultural historian, he was also a cul­tural critic. In such books as Of Human Freedom and The Culture We Deserve, his concern with the present matches his familiarity with the past and his understanding of their connections. His un­derstanding was commensurate with his sensibility, to persons as well as to art and ideas, and commensurate with his tact. By tact I mean his fine discrimination among ideas, and also his good manners. These embodied what he thought to be the common­place duties of civilized life — good temper, serenity, yielding to others and generally refraining from self-assertion — and to­gether with his cheerful bearing, handsome features, and charm, led many people to find him affable. But others found him coldly aloof. He would have seen no paradox in this. Every personal­ity is multifaceted, and it is merely a convenient evasion to call someone a bundle of contradictions.
But the workings of his mind interested me less — early in our friendship — than some of the conclusions they led to. To the youth I then was, the times seemed ominous. Like many of my generation, I feared the future. Of recent memory were the riots and assassinations of the 1960s, the war in Vietnam and in­cursion into Cambodia, urban blackouts, gasoline shortages, and acute monetary inflation. Since Barzun had devoted a lifetime to the study of the modern West, who better to give reassurance or warning? Hence at our first talk I asked whether he thought a cat­aclysm — nuclear war, ecological catastrophe, terrorist-induced economic chaos — likely to end our civilization.
"A cataclysm is certainly possible," he replied, "in fact likely."
"You're pessimistic?"
"I've always been — I think any student of history almost inevitably is — a cheerful pessimist. That is, the evil of the day doesn't eat into you and make you go around with a hangdog look. ... Still, nowadays the powers of synthesis, of organization, of reasoned order, are outborne ... by the number of people to handle, the number of difficulties to cope with, the very size of everything. ... The interesting question in my mind is whether our greater knowledge and our ... extensive awareness of what's going on everywhere at once are going to be helpful or harmful."
"Doesn't knowledge always have a good result? Isn't truth un­der all circumstances more valuable than non-truth?"
"No. I think that's an assumption commonly made, but it isn't so. The possible harm of knowing too much is that it excludes possibilities that might work. You say: 'Oh, we can't do that! Look at the statistics!'"
In such books as Of Hu­man Freedom and The Cul­ture We Deserve, Barzun's concern with the present matches his familiarity with the past and his un­derstanding of their connections.
By the time we met, Barzun had concluded that the West was in decline. In 1957, he had lectured at Princeton on the pathology of intellect. In 1973, he had lectured at the National Gallery on the fragmentation of art. In 1974, he had lectured at the University of Cali­fornia, Berkeley, on decay in politics and morals. Shortly after our talk, he would lecture at Northern Kentucky University on the "cracks in our civi­lization." Eventually, in 2000, his conclusion reinforced by events and attitudes of the 1980s and 1990s, he would publish From Dawn to Decadence as background and summary of his views. Its sur­prising success — half a million copies bought in hard cover — suggested to some that a reversal might ensue if corrective ideas spread widely. But this was to miss Barzun's point.
Though cultural decline was nothing new, and thinkers long before Spengler or Nietzsche had deemed the phenomenon in­evitable, Barzun's decline was distinctive. For one thing, Barzun meant not an end, but only a falling off. Once the ground was lev­eled, some new idea could spur construction. In the meantime, he posited a loss of originality, of new thought about art, literature, government, morals. Even if a new idea might occasionally ap­pear, it would be lost in the disarray. The genuinely new could not stand out till the surrounding landscape was cleared.
Barzun also paid little attention to phenomena that other writers thought pertinent: the religious revivalism of the 1920s and after, the widespread interest in horoscopes, palmistry, and other necromancies and cults, the murderous violence of popular sport, the disillusionment with party politics and their corrup­tion by vested interests, and to the parallels of such phenomena with previous civilizations in decline. Nor did he suggest that the West would be overrun by the East, by force of arms or not, or that Western culture was metamorphosing into some wholly technological form. Nor did he see in the computer the cultural monolith others saw. Digital technologies pervaded daily life, but were mere adjuncts to the forces in play.
He could not decide whether the leveling required a cata­clysm. "We can't judge probabilities by historic examples," he told me, "because we know too little about former civilizations, the Medes, Hittites, Egyptians. It has happened before that a declining civilization becomes soft in the way we have become soft. But we are still inventing, especially in the scientific, techno­logical realm. There's no lack of progress there." Still, it was "per­fectly possible that mankind will destroy itself, by stupidity or other cause." Certainly "the march of mind has no ultimate goal. There is no such ultimate goal." It was an old idea and false that the race was perpetually advancing. The race was advancing in some ways, declining in others. Similarly, Western culture might well be unraveling, but it was "an endless series of opposites — in religion, politics, art, morals, and manners" — and not "a solid block having but one meaning." The historian was rash who tried to be a prophet.
His views were hardly reassuring, early in our friendship or late. I came to believe, thanks to him, that West­ern culture is less likely to die by cata­clysm than by our frittering away of its central ideas, and that civilization ap­proaches a turning-point comparable to the fall of Rome.
Serious topics notwithstand­ing, we laughed often, at that first meeting, for Barzun was always quick to see the comic side of things and laughter with him came easily. This trait served him well in his years as Dean of Facul­ties and Provost at Columbia, which followed his decades in the history de­partment. So did his knack for squaring his mind with the minds of colleagues or students. Like many an able teacher, he could grasp a student's meaning while it was struggling to take shape in words, and as quickly see deficiency and remedy. And yet, though by all accounts a superb teacher, he did not "love" to teach: he found teaching to be damnably hard work and less a pleasure than a compulsion. It was far easier to lecture, "and in symposia to point things out, and then as it were wash my hands of it, leaving the vaccination either to take, with the student, or not."
Students nevertheless found him memorable — Theodore Caplow ['40], for instance, the distinguished sociologist. As a sophomore, Caplow took Barzun's course on the historical back­ground of English literature. The class was asked to read "a long series of excerpts from notable authors, together with Trevelyan's History of England, but the class discussions took an unexpected turn. At the first meeting ... Barzun introduced Byron's irregular sonnet beginning 'She walks in beauty like the night' to illustrate the method of relating a literary work to the historical setting in which it was produced. The class ... found so much to consider in the piece that its eighteen lines and their historical background remained our topic for most of the term."
Another sophomore, Herman Wouk ['34] — who in The Caine Mutiny was to honor his teacher by naming a destroyer after him — never forgot Barzun's "humorous irony" inside the classroom and outside. Barzun was interviewing Wouk for entrance into an honors seminar in literature. He asked what Wouk was currently reading. The reply was The World's Illusion, by Jakob Wassermann. "Well, what is the world's illusion?" Barzun asked. Wouk's reply, about the futility of seeking happiness through love or power, elicited a glance that Wouk interpreted as humorous irony — the same quality he found in Barzun's quip years later that the nine hundred pages of From Dawn to Decadence were the accidental product of longevity and insomnia.
Former students concur that Barzun was interested in his students, that in class he entered into true dialogue with them, that he always seemed willing to learn from them.
And Harry Boardman ['45], who before joining the Council on Foreign Relations was to be Barzun's assistant provost, recalled Barzun's undergraduate instruction as notable for "the degree of animation it evoked from the students." Nearly always Bar­zun would begin Boardman's freshman class with "a substan­tive question that was provocative. You would answer, and your answer would cast you into difficulties — into taking a position which he would force you to defend, and which he would suc­cessfully assail. He would get you into a corner, and ... get you to think more deeply about your ideas and their implications."
Boardman adds that though Bar­zun was cordial in class, "warm, ani­mated, interested and engaged," once the bell rang "he became an iceberg." Other students also recall him as hard to approach, as unwilling to relax and be friendly. In fact Barzun believed friendship to be possible only between equals: the teacher-student relation precluded it. Still, toward the end of a student's college days he might some­times unbend, as he did with Fritz Stern ['46, '53 GSAS]. The future emi­nent historian came from a long line of physicians and had enrolled in the pre-med curriculum despite a strong interest in history. It was Barzun's very detachment from students, coupled with his obvious interest in their wel­fare, that led Stern to seek him out: "One could ask him such a deep question as 'What am I going to do with my life?' and know he would take the question seriously. And with him you needed not half an hour but five minutes. His five minutes were worth anybody else's hour."
What should Stern do? "Marry medicine," said Barzun, "and make history your lifelong mistress." A few months later, still undecided, still drawn to history and teaching, Stern again asked for advice. "All right, go ahead. I think you would make a good historian." A stint of teaching high school, Barzun added, might serve to test the vocation. "A friend of mine is head of the Lawrenceville School. Would you want to teach there?" — "Yes." But a month after Stern received his B.A., at age twenty, he began teaching Contemporary Civilization at Columbia, where he would take his advanced degrees and then teach for half a century.
Stern, Boardman, and others concur that Barzun was inter­ested in his students, that in class he entered into true dialog with them, that he always seemed willing to learn from them. Memorable above all — we learn from another student who achieved renown, the historian Carl Schorske ['36] — was Bar­zun's "riveting" ability to make "every person or element pre­sented sing its difference, its uniques, even as it was related to some larger whole."
With students, and with colleagues or friends, Barzun relished argument. The life of the mind, he said, could not exist without conver­sation — "the rarest pleasure and the finest achievement of human society." He defined conversation as Dr. Johnson did: a vehement scrimmage over ideas, new works, or philosophical positions. And his scrimmag­ing, like Johnson's, was gentlemanly as well as vehement; he de­plored the modern tendency to argue not issues but motives — a symptom of the psychologizing characteristic of the times — and to mistake contention for animus. The tone of this letter, to a lin­guist, Donald J. Lloyd, with whom he had been disputing in the pages of The American Scholar, is typical:
Your chief points seem to be that I overlook the flu­idity of language ... and that in some mysterious way I have no locus standi in discussions of language because I am not a professional philologist. That I think really reprehensible, destructive of all intellectual life. Do you sup­pose that I own History because I have taken a few degrees in it and written some essay exhibit­ing, we hope, the method and the conventional stigmata of the guild? Every subject-matter surely belongs to everyone who exhibits an interest in it. Each is greater than any one gang of professionals, and historyshows that salvation has repeat­edly come from the dauntless amateur who kept his eyes open while the initiates were sleepily chanting their old formulas …

I am looking forward to ... belaboring you once again. … I'll send you a carbon, and hope it will keep you awake nights. Meantime, warm good wishes for the New Year.
Not surprisingly, his geniality and his breadth of interests brought him friends of many kinds. With Lord Snow he en­joyed discussing the putative gulf between the humanities and the sciences. With Alfred North Whitehead he enjoyed hearing at first hand about the philosopher's esteem for William James. With Harold Nicolson he enjoyed looking at the differences be­tween British manners and American. Manners were important to Barzun — his own were urbane — and surroundings too: he enjoyed Sir Harold's club. But his view was never superficial and he was rarely fooled by appearance. Witness his esteem for such unkempt geniuses as Allen Ginsberg ['48] and W. H. Auden.
His friendship with Ginsberg began while the poet was a stu­dent and continued till Ginsberg's death. One of the secretaries in Barzun's provost's office — in the days when secretaries wore hat and gloves to work — recalled her astonishment when Barzun first took the young beatnik to lunch at the Faculty Club. Auden, too, came more than once, and she always "wanted to scrub him up." Auden and Barzun had met on some lecture platform, inci­dentally, and their bond was sealed when, in the question period, Barzun was asked when he would like to have lived. When he replied: "Around 1830," Auden spoke up: "You did! You did!" Barzun never forgot their "talk and laughter and lunching" and Auden's birthday parties on St. Mark's Place, "where the floor was so curved and flexible that everybody thought it would crack under the crowd."
The life of the mind, Barzun said, could not exist without conversation — "the rarest pleasure and the finest achievement of human society."
Other friends too bespeak breadth of interests: George Russell Shaw, an arborist who wrote an excellent book on the pine and shared Barzun's love of sailing; Polykarp Kusch, the Nobel Prize-winning scientist whom Barzun induced to write poetry and whose course in nuclear physics he audited while dean; Marjorie Hope Nicolson, an expert on the English Renaissance; the phi­losopher Susan Haack, with whom Barzun enjoyed debating the pragmatisms of James and Peirce; Hiram Haydn ['42 GSAS], with whom for decades on the editorial board of The American Scholar he fought "like cat and dog but without heat"; Irita Van Doren, whose irresistible charm was surpassed only by her competence as chief editor of the New York Herald Tribune books section; Francis Steegmuller ['27, '28 GSAS], the biographer and transla­tor, and his wife, the novelist Shirley Hazzard; Arthur Krystal ['70 GSAS], the essayist and critic; Peter Bloom, David Cairns, Joan Peyser ['56 GSAS], and Katherine Kolb, authorities on music; Mark LaFlaur, the writer and editor; Cleve Gray, the painter, and the author and critic Francine du Plessix Gray; Clifton Fadiman ['25], whose love of literature was as boundless as Barzun's and with whom Barzun shared a lifelong affection; and Lionel Trilling ['25, '38 GSAS], who for more than forty years was Barzun's close in­tellectual companion.
Not that Barzun was a paragon of amiable forbearance. His manner betrayed, in Trilling's words, an "in­tention of precision" that some took to be hauteur. Others interpreted as disdain his habit of pursing his lips and looking down his nose when examining an idea. (He made the same gesture when amused, which suggests that he may have cultivated it as a young immigrant, as an alternative to the ubiquitous American grin that Europeans regarded as silly.) And witnesses recalled that he could be an ogre, that ninety-five percent was never good enough for him, that he always insisted on order, and that at faculty meetings he would not hesitate to tell you if you were playing the fool. If you were on the receiv­ing end of his rifle, it was said, you remembered it to your dying day. He would not lose his temper or raise his voice. He would become more and more upright, more and more cold, more and more self-controlled, and the scalpel would go down to the bone.
His university career spans half a century. He entered Columbia in 1923 and was graduated in 1927. A month after receiving his B.A., he was teaching a course in Contemporary Civilization. A year later he received his M.A. and, in 1932, his Ph.D. Ap­pointed lecturer in history in 1928, he was then made instructor (1931), assistant professor (1938), associate professor (1943), full professor (1945), Seth Low Professor of History (1960), and Univer­sity Professor (1967). In 1955 he became Dean of the Graduate Fac­ulties, in 1958 Dean of Faculties and Provost. He left administra­tion in 1967 and retired in 1975, the year he began his eighteen-year stint at Scribners — where Charles Scribner called him the best edi­tor he had ever seen. Barzun became an American citizen in 1933, and twenty years later published God's Country and Mine by way of a thank-you to his adopted land "for its welcome, generosity, everything that I had encountered from the very beginning of my career" — and by way of signaling to skeptical Europeans that the United States could boast cultural riches and refinement.
He was president of the American Academy of Arts and Let­ters, member of the Council on Foreign Relations, Extraordinary Fellow of Churchill College, Cambridge, member of the Advisory Council of the University of Buckingham, Chevalier of the Legion of Honor, member of the Académie Delphinale, director of the Council for Basic Education, director of the Macmillan publish­ing company, member of the Authors' Guild Council, member of the Boston Athenaeum, trustee of the New York Society Library, trustee of the Peabody Conservatory, trustee of Bennington Col­lege, Fellow of the American Association for the Advancement of Science, president of the Berlioz Society, history consultant to Life magazine, chief literary critic for Harper's Magazine, and, with Auden and Trilling, founder and director of a book club. At Columbia a chair in history is endowed in his honor. A Jacques Barzun Prize in Cultural History was created by the American Philosophical Society in 1993. The Jacques Barzun Award was established by the American Academy for Liberal Education in 1997. In 2003, President Bush awarded him the Presidential Med­al of Freedom. In 2011, President Obama ['83] awarded him the National Humanities Medal.
Cultural historian, essayist and critic James Sloan Allen '75 GSAS has said that Barzun is "the most far-ranging, penetrating and possibly the most profound and enduring cultural critic of the second half of the 20th century." PHOTO: ALAN R. EPSTEINEminence came with his scores of articles for such magazines as The Nation, Encounter, Saturday Review, The New Republic, Atlantic Monthly, Partisan Review, The American Scholar, Life, and The Satur­day Evening Post, and with such best-selling books as Darwin, Marx, Wagner: Critique of a Heritage, The House of Intellect, and Teacher in America, not to mention two books of which he was particularly proud: Berlioz and the Romantic Century and A Stroll with William James. Moreover, in such books as Classic, Romantic and Modern, Sci­ence: The Glorious Entertainment, and Race: A Study in Superstition, as James Sloan Allen ['75 GSAS] has remarked, Barzun shows himself to be "the most far-ranging, penetrating and possibly the most pro­found and enduring cultural critic of the second half of the twenti­eth century." Little wonder his books remained in print for decades and that his readership grew vast and diverse.
His readership grew large thanks also to his conviction that history should remain a branch of literature and address the non-specialist reader, and that history could be transcendent. "History is formative. Its spectacle of continuity in chaos, of attainment in the heart of disorder, of purpose in the world is what nothing else provides: science denies it, art only invents it. ... Reading history remakes the mind by feeding primitive pleasure in story, exercis­ing thought and feeling, satisfying curiosity, and promoting the serenity of contemplation. ... It is a spiritual transformation."
To read history is also to hone one's judgment of contemporary events — "a permanent good, not because history repeats ... but be­cause the 'tendency of things' shows an amazing uniformity with­in any given civilization." This being so, "when the foundations of the republic shake under the strokes of misgovernment and world crises," history may strengthen the fainthearted. Cultural history, in any case, encompasses everything and has no method: its limits are fixed only by the practitioner's knowledge, eloquence, and tact.
In an age of specialism, Barzun was a non-specialist. In an age often given to despair, he maintained a sense of humor and of proportion.
That Barzun treats such a variety of topics may at first glance seem unaccountable: social and political theory in his earliest books, and then a defense of Romanti­cism, a life and times of a composer, several volumes of contemporary cul­tural criticism, including three books on teaching and learning, a critique of modern science, a critique of modern art, a defense of narrative history, and a re-interpretation of an American phi­losopher. In addition to his books, he penned essays by the hundred on ar­chitecture, painting, sculpture, music, biography, translation, and language — not to mention baseball, a sport he loved. But we find a guiding thread: "All I have ever done," he wrote on No­vember 29, 1984, to Professor William H. Nolte,
relates to the history of European thought and culture since 1750. My various books and many of my articles and introductions use a figure or a movement as a core around which to organize facts or perceptions bearing upon those two centuries — their art, philosophy, social thought, manners, superstitions. From my dissertation in 1932 to my latest work ... a continuous account could be fashioned, delineating the main currents of creation and opinion between L'Esprit des Lois and the Decline of the West. I admit the piecing together might be labo­rious, but I am confident that a composed panorama would emerge. As for my articles and lectures on con­temporary topics, they are obviously soundings in the same or in fresh cultural movements.
In truth, he did not write a line on any subject outside his purview.
Moreover, for all their scope and depth, his books were mere preliminaries. He had conceived as early as graduate school thesumma that became From Dawn to Decadence. Looking back, he saw that the books preceding it were "contributory." They had served his ultimate purpose by directing his research and by hon­ing his skill at narration. They built up the fund, he liked to say, on which his big book would draw.
It may seem odd that he never achieved a vogue. He was of course well known: he once appeared solo on the cover of Timeand his books sold in the millions. But usually authors who achieve a vogue stand for some single startling view, whereas his views, though sometimes startling, take in not one subject but many. Even his theme of decadence comprises disparate motifs. Further, as he once observed, everybody calls for an independent thinker, yet more often than not "the most approved authors of the day form a pair of clusters opposing each other, which suggests rather little independence." He was in fact a modern thinker not captive to modern thought. In an age of specialism, he was a non-specialist. In an age often given to despair, he maintained a sense of humor and of proportion. And in an age of skepticism, he believed in the power of mind to set right. Besides, decades of reflection gave him a broad view of the effects on modern culture of "scientific" thinking, the fall of intellect as institution and social force, the loss of direction in the arts, the bias of materialism, the ease with which our politics are directed by ill-defined labels, and the tribulations of our schools.
Accordingly, his was almost always a "third" position. For example, he was an early believer in feminist principles and throughout his life deplored gen­der bias. But he kept to the traditional use of "man," convinced that gender-neutral usages damaged prose style and did little to eliminate prejudice. Again, he admired liberal institutions, but in his politics was at once liberal, socialist, and conservative. "My poli­tics are Olympian," he once laugh­ingly declared. In any case, "there is no worse fate for a writer and thinker than to elicit general agreement," as he remarked to his friend and bibliogra­pher, John E. Adams. "It is worse than silence, because the neglected may be discovered and revived, whereas the approved are sunk in acquiescence that is forgotten the morning after."
Then too, we expect our great to fit categories of accom­plishment and Barzun is a maverick and impossible to peg. His fellow historians cannot wholly claim him, nor can musi­cologists, critics, or sociologists. He is not of the social "scien­tists," like C. Wright Mills, or the household-named literary critics, like Irving Howe, and his writings on music address music-lovers rather than the academic cognoscenti, just as his book reviews and social commentaries address the non-specialist reader. If one insists on a category, the most apt is the nineteenth-century English man of letters. That ideal man (or woman) was devoted to literature, history, poetry, or phi­losophy, and is distinct from the mid-twentieth-century intel­lectual because not linked to leftist politics, not necessarily an academic, and definitely not a pedant. Carlyle thought him a hero, and he remained a figure in English thought even while his standing declined. Though the term has fallen into disuse, the man of letters is by no means extinct, and Barzun fits that time-honored model well.
Excerpts from Michael Murray's Jacques Barzun: Portrait of a Mind/reprint­ed by permission of Frederic C. Beil, Publisher.