Cover Story
Women's Wisdom
Columbia College Women matches students with alumnae in successful mentorship program
By Shira Boss '93, '97J, '98 SIPA
Ater Sherri Pancer Wolf '90 graduated as a member of the College's fourth coed class, she went to work on Wall Street and encountered a Barnard grad with an advantage: "She had a mentor at the firm via her Barnard network, and I didn't," Wolf says. "I realized what I was missing. It adds great value to have women out there who can support you and counsel you in your career."
For the earliest coed classes, however, there were no College alumnae to call upon for advice and networking. All alumni past their mid-20s were male. Within a few years of the College becoming coed, a handful of alumnae started meeting — at the urging of the Alumni Office — as part of a new group, Columbia College Women. From the start, the group focused on staying involved with the Columbia community by developing mentor relationships with female students. "We were all early in our careers, so a lot of it was what you'd call peer mentoring," says Jill Niemczyk Murphy '87, among the first members of CCW.
After 25 years of graduating classes that have been roughly half women, the landscape has changed remarkably. The pool of alumnae has increased, many have reached leadership positions in their careers and all have life experience and wisdom to share. The CCW mentoring program, meanwhile, has grown from 35 one-on-one matches in 1993, its first year, to 180 such matches today; an additional 150 juniors participate in group events. (Before this academic year both juniors and seniors were matched one-on-one with mentors, but when the student application numbers climbed upward of 360, program leaders decided to limit the direct matches to seniors.)
"The workplace is not gender-segregated, and we're not advo­cating that in this program, but there's a value to women's communities."
"We've seen tremendous growth this academic year. Women are realizing the importance of networking and putting yourself out there," says Siheun Song '07, chair of the CCW executive board. "It's great to see the network of women support one another and make friends. It is a network that helps women find solutions when navigating a complex, modern world with many demands."
"CCW has been an amazing way for me to get to know not only alumnae but also my peers," says Negin Navab '12, an economics major. "It's created a great sense of community among women in the College and really just a great sense of pride for being part of that community."
While male alumni certainly have been helpful to graduates of both genders, many women express the desire for a network composed of other women. "The workplace is not gender-segregated, and we're not advocating that in this program, but there's a value to women's communities," says Claire Shanley '92, past chair of CCW. "Men are socialized to be networkers in their careers, and women are less comfortable looking out for themselves, celebrating their accomplishments and being more tactical in planning where they want to be in their careers. We emphasize goals, making a career plan and being pragmatic but also strategic about career goals."
Nadia Majid '02 (left) and Victoria Fox '12 take a walk around Morningside Heights.
Nidhi Hebbar '12, an economics-operations research major, says, "In only a few months, my mentor, Leora Kelman '09, has helped me figure out how to establish a work-life balance to fit my interests, my goals and my priorities, both as a woman and as a student. It's been incredibly helpful to speak with someone who's not only experienced in the professional world but who's also shared many of my own experiences as a woman at Columbia College."
The CCW mentoring program is open to all female seniors and New York-area alumnae. Applications from both sides are matched by CCW volunteers as they have been since the beginning — one by one, by hand — a careful process that ensures the most compatible fits are identified. Last year, it took six people two months to complete the job.
"I have been increasingly and pleasantly surprised by how well the matching process succeeded in pairing similar personalities," says Adria Schulman-Eyink '12, a political science major.
Often a student's career interest is aligned with a mentor's professional experience, but not always. Mary Rutledge '07, for example, works in finance for Citigroup and was matched her first year with a student interested in publishing. "We connected on so many other levels: We both grew up in the South, both love to run and have a lot of other interests in common," says Rutledge, who is also chair of the mentoring committee. "It's not just professional mentoring."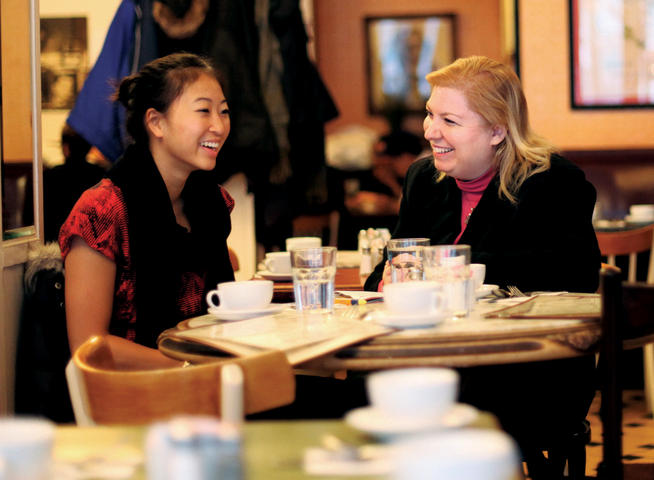 Elizabeth Chu '12 (left) and Dr. Laura Brumberg '87 meet for coffee and conversation at Le Monde. PHOTOS: DANIELLA ZALCMAN '09
Nadia Majid '02 works in digital business development for the NBA and has mentored for the past three years. One mentee was interested in film, another aspired to broadcast journalism and the third, children's programming. "All very different and not necessarily areas I've had experience with directly," Majid says. "The mentoring program is not centered on getting a job, but it's about developing the skills and having the support network that help you to get a job."
That the mentoring program does not function as a job placement service is something the CCW executive board has worked hard to clarify both to students, who can be panicky for employment, and to potential mentors, who often suppose that if they're not in a position to hire a graduate, they are not useful to the program. "We help with networking in general," Majid says. "Students don't have a grasp of how to navigate those opportunities." She adds that mentors guide students in how to build and maintain a professional relationship.
"Mentoring reminds you why you went into your field and reminds you how much you've learned and how much you have to share."
Majid didn't participate in the mentoring program while she was on campus because she hadn't known about it, an issue for many students through the years. Program participation, driven by student demand, has more than doubled in the past three years in part because CCW has enhanced its on-campus presence. Two student CCW board members help get the word out to the student body, and CCW alumnae board members, along with mentor-mentee pairs, hold information sessions on campus. CCW also uses Facebook and LinkedIn to connect with students and alumnae.
Members of the Dean's Alumnae Leadership Task Force — a 23-member alumnae group that aims to engage more women in fundraising and leadership roles — also have made it part of their mission to recruit mentors and to be mentors themselves. Through a 2011 alumni survey and other fact-finding efforts, the task force "found there were many women who hadn't returned to Columbia or hadn't stayed connected but that there are a number of ways women are interested in being involved with the school," says Julie Menin '89, chair of the task force's survey and communications committee, "and the No. 1 way is by mentoring."
Mentors and mentees meet in the fall of the student's senior year at a launch event. In the past, contact between mentors and mentees tended to fall off after that point due to busy schedules. The program was reorganized in 2009, however, to ensure more contact between students and their mentors as well as among mentors themselves. A contract lays out the responsibilities of each side — for example, that a student must respond to a phone call or email from her mentor within 24 hours. "Part of what we're teaching is responsibility and professional behavior," says Dr. Laura Brumberg '87, who has mentored for the past decade.
"Mentoring reminds you why you went into your field and reminds you how much you've learned and how much you have to share," Brumberg says. "It's interesting to come to an end point and say, 'If I'd known this at the beginning, it would have changed my life, so I'm going to tell you at the beginning.'"
One of her nuggets of wisdom: The most important thing is to attend to one's own happiness and let the rest of life flow from that, rather than the other way around. "It took me a long time to realize that," Brumberg says. "We're taught to defer happiness. But it's not peripheral, it's essential. The response I get from my mentees is, 'You're teaching me a new way of looking at things.'"
In addition to individual mentoring, mentor-mentee pairs are grouped by career interest into teams of five or six pairs. Team leaders organize group get-togethers once per semester, creating an opportunity for both students and mentors to make additional contacts.
Group events have included trips to the Tribeca Film Festival and The Daily Show with Jon Stewart, a brunch and a chef Bobby Flay-style bake-off at alumnae's apartments, an author reading, office tour and more. The legal group last year spoke with a female federal judge, and among the attendees was Nida Vidutis '12, who plans to attend law school. "Her life story, which included a plethora of jobs, made me realize just how much could await me if I used my law degree correctly," she says. "Seeing such a concrete example of success and happiness helped make my own intangible future seem a little more real, and realistic."
In the winter and spring, everyone in the mentoring program gathers again for main events. February 2011 featured "Stand Out Style" at Saks Fifth Avenue. Alumnae who are hiring managers reviewed students' resumes and conducted mock interviews, and a fashion presentation demonstrated how to dress appropriately and affordably for a variety of workplaces.
Many recent graduates are returning to the program as mentors, and many mentors and mentees stay in touch beyond the bounds of the one-year contract.
"I don't shake them. They're not my mentee for one year," says Lisa Carnoy '89, a University trustee and longtime mentor. "I've seen one, Pooja Agarwal '02, through internships, law school, working at a law firm, a move to Philadelphia, and now she's engaged. We're joking that I'm the grandmother."
Shira Boss '93, '97J, '98 SIPA is a contributing writer to CCT.