Cover Story
Den Mothers
Columbia College alumnae join ranks of legacy parents
By Karen Iorio
In the years since the Class of 1987 graduated, Columbia alumnae have excelled in fields from business and law to philanthropy and the arts. Amid their journeys, many have had children, a handful of whom now attend the College themselves. We spoke to four students, some of the first to have the College legacy gene passed down from mom, and their mothers to learn how this bond shapes their lives. While their academic and extracurricular interests may be different, the pairs share experiences from reading the same lines of The Iliad to living in the same residence hall more than a quarter-century apart.
Vivian Jonokuchi '90 and Alex Jonokuchi '14
After moving from Queens to suburban New Jersey as a teenager, Vivian Jonokuchi '90 missed the excitement of city life. When she applied to college, she says, "I knew I wanted to be in a diverse environment. And there was no better school in the city [than Columbia]."
She also couldn't believe how long it had taken for the College to accept women, a fact that was underscored when she witnessed the graduation of the first coed class during her freshman year.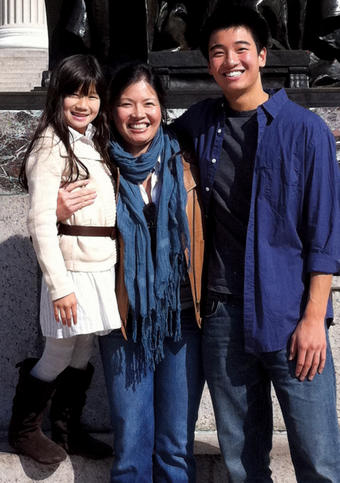 Vivian Jonokuchi '90 (center) visits campus with her daughter, Olivia, and son Alex '14. PHOTO: EVAN JONOKUCHI
Vivian took advantage of all that the College and New York had to offer, especially in the arts. "I remember singing in groups, going out to comedy clubs and seeing Broadway shows in the student nosebleed seats," she says. "Not only are you learning about the arts in class but you're also actually living and enjoying them. It was very exciting."
Now a fitness and dance instructor, Vivian never pressured her son, Alex '14, to apply to Columbia, though she saw similarities in their decision processes. Like his mother, Alex grew up outside the city — in his case, Greenwich, Conn. "His high school was homogenous in terms of cultural diversity," Vivian says, and Alex was ready for a change.
"[Diversity] is not something you know you're missing until you have it," he says of his transition to college. "You appreciate that you aren't limited to one mode of thinking anymore."
Alex also expanded his horizons by joining a fraternity, thus participating in a different social world than his mother did.
"I had no idea I was going to pledge a frat," says Alex, a member of Beta Theta Pi. "A fraternity isn't everything it's made out to be in the movies — and that's a good thing. I've formed some really important relationships that are probably the deepest bonds I have with anyone at school."
Alex works in a neuroscience lab studying neurotransmitters and social behaviors in mice and plans to become a neuroscience major. While he didn't dive into the humanities aspect of the Core like his arts-minded mother, he enjoys knowing they shared that experience. "I'm grateful to have taken those classes," he says. "I see the value in the Core. It keeps me balanced."
Batia Wiesenfeld '88, '96 Business and Yael Wiesenfeld '14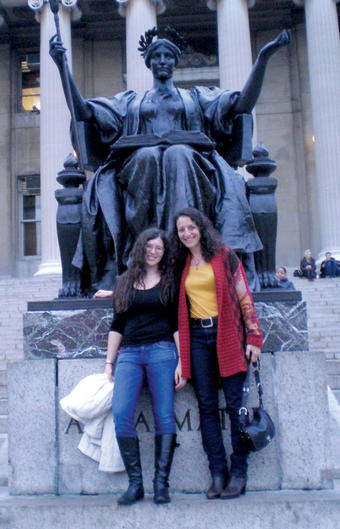 Batia Wiesenfeld '88, '96 Business (right) returns to alma mater alongside her daughter, Yael '14. PHOTO: COURTESY OF YAEL WIESENFELD '14Batia Wiesenfeld '88, '96 Business remembers feeling pride and affection for Columbia from a young age, ever since she started hearing about the experiences of her father, Raphael Mishan '61E. Born in Syria, Mishan graduated from college in Israel before coming to the United States to earn a master's in industrial engineering at Columbia. Batia says the University was her father's "first introduction to America and the first step of the rest of his life in America."
An economics and sociology major, Batia says her experience at Columbia opened her to the possibility of becoming a professor herself. "[The Julian Clarence Levi Professor in the Social Sciences] Seymour Spilerman told me I should be an academic," she says. "He was very influential."
Batia earned an M.Phil. and a Ph.D. from the Business School and went on to teach at NYU's Stern School of Business, where she has been a professor of management specializing in organizational change for 19 years. In addition, she is the Margolis Family Fellow.
Batia also met her husband, Howard Wiesenfeld '87L, on the Columbia campus. They have four children, and Yael, the oldest, never thought she would follow in her parents' footsteps: "I sorta had a desire not to go," she says.
But when she was 14, the Wiesenfelds moved from New York City to Westchester; Yael realized how much she missed living in the city and wanted to go back for college. "I had more in common with my parents than I thought," she says, adding that she always thought her mother had "the most boring job in the world." But now, Yael says, "I have to admit, I did love my macroeconomics class."
While her mother uses economic principles to solve business problems, Yael plans to use them in her own way.
"I want to be a fashion designer," she says. "I will probably pursue a double concentration in visual arts and business management, since fashion combines art and business."
The mother-daughter bond extends beyond the classroom. "We both lived on Carman 11," Batia says. "It was hugely sentimental moving her in. I knocked on the door of my old room just to see it. It's incredibly affirming that we lived in the same place."
Dr. Diane Hilal Campo '87, '91 P&S and Cynthia Campo '15
For Dr. Diane Hilal Campo '87, '91 P&S, being part of a Columbia family is nothing new. Growing up, Diane knew of the College's prestige from her late father, Dr. Sadek Hilal, who was director of neuroradiology at Columbia University Medical Center from 1975–95. "He was a big reason I went to Columbia," she says.
She matriculated with her twin, Peter Hilal '87, '91 P&S. The College quickly proved even better than she had imagined. "The administration bent over backward to make women feel comfortable," she says.
Diane took advantage of the opportunities newly open to women. As a first-year she was president of Carman Hall, and in later years was an organic chemistry TA and chair of the Student Council's Academic Affairs Committee. "Everybody was very welcoming to anything we wanted to study or get involved in," she says of her professors and advisers. And the boys? "Are you kidding? They were thrilled to have more girls on campus."
After medical school, Diane did a year-long internship in internal medicine at Columbia University Medical Center followed by her residency in ophthalmology at Mount Sinai Medical Center. She opened her own ophthalmology practice in Bergen County, N.J., in 1996. "Columbia gave me the confidence to accomplish anything I wanted to do," she says. "I never felt like there was something I couldn't do."
When it came time for her oldest daughter, Cynthia '15, to go to college, Diane didn't want to push her toward her alma mater (and that of Cynthia's father, Diane's former husband, Richard Campo '84, '86 PH). But after touring schools around the country, Cynthia chose to apply early decision to Columbia.
"Both my parents had a really good education," she says. "I was inspired by them."
Cynthia recalls standing next to her mother in an art gallery in Paris: "My mom knew all about the painting we were looking at. I asked how she knew all of this, and she said she remembered it from Art Hum." Cynthia was surprised that her physician mother also had such a strong background in the arts. "I wanted that same well-rounded education," she says.
Cynthia is enjoying creating her own Columbia experience. "I'm interested in majoring in math or science," she says. "I play the flute and I want to try out for wind ensemble." She adds that she can't help but think about her parents as she walks the same paths they once did: "It's hard to think of them being silly teenagers," she says.
As for Diane, she's revisiting her time at the College with new eyes. "The surrounding area is much nicer and safer now," she says. "Move-in was unbelievable. They had people with dollies helping out. When I was moving myself in, there was no organization and no one to help you. I'm proud of the school, and it's only gotten better."
Nicole Goluboff '87, '90L and Justin Goluboff '15
Nicole Goluboff '87, '90L grew up with dreams of attending Columbia. Her parents, Joel Belson '54, '64 GSAS and Abby Belson '56 Barnard, '59 GSAS met in school, and she attended Lions football games with them as a kid. Nicole was elated when the College became coed in time for her to apply. "I felt privileged to be able to apply as a woman," she says. "It was my first choice."
Like her parents, Nicole also met her spouse, Dr. Erik Goluboff '86, on campus — "on my first day as a freshman in my first class."
"All people who go to Columbia feel connected by the Coreclasses,and that's magnified when there are people in your family who experienced that."
As a philosophy major, Nicole was surprised her favorite class turned out to be a course on the history of science. "My professor had a lab with instruments he had recreated. They were functional replicas of ones the ancient Greeks used to study astronomy and physics," she says. "Reading the philosophy and then replicating the scientific experiments blew me away. I spent hours and hours in that laboratory."
Nicole earned a J.D. and then practiced commercial litigation. When her son, Justin '15, was born, she started litigating on a telecommuter basis and became a grassroots advocate for telecommuting. "I promote telework as a law practice management strategy and look at the implications of telework," she says.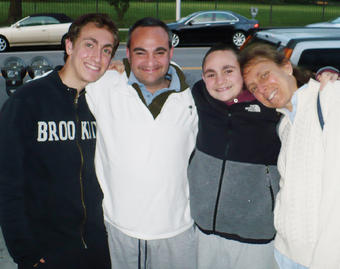 For Justin Goluboff '15, his father, Erik '86, brother Isaac, and mother, Nicole '87, '90L, Columbia is a family affair. PHOTO: HAL GOLUBOFF
For Justin, the decision to attend the College was easy. He had visited campus with his family from a young age. "I grew up knowing that I wanted to go [to Columbia] and now I'm here," he says.
Nicole enjoys seeing Justin carry on the Columbia lineage. "It was incredibly moving and powerful to see alumni deliver The Iliad to new students [at a summer advising session]," she says. "All people who go to Columbia feel connected by the Core classes, and that's magnified when there are people in your family who experienced that."
Though Justin differs from his mother with respect to his major — he plans to declare math and physics — he believes their experiences will be similar. "There's always the Core," he says. "The beauty of Columbia is that you can always talk about the Core."