Cover Story
Women at the Podium
Coeducation spurred recruitment of female faculty, though parity remains a work in progress
By Shira Boss '93, '97J, '98 SIPA
After Columbia admitted its first women students in 1983, the balance of the incoming classes shifted from all-male to a nearly equal mix, with the Class of '87 being 45 percent women. The other side of the lectern, however, remained overwhelmingly male: The Faculty of Arts and Sciences, which includes the College, counted merely 21 tenured women faculty members at the time, representing 7 percent of tenured professors. The decision to go coed inspired the administration to look into hiring and promoting more women faculty but it took a number of years for the movement to take hold, and the issue remains a work in progress at Columbia, as it is on campuses nationwide.
"When the [New York] Daily News asked me why it was necessary that we admit women to the College, I replied, 'Because half of the smart people in America are women,'" recalls Robert Pollack '61, professor of biological sciences and dean of the College at the time of coeducation. "That remains the case. My colleagues here in the Arts and Sciences and on the Commission on the Status of Women agree we have a lot of work ahead of us if the faculty who teach our students are to be chosen from the very largest pool of the smartest young aspiring professors. When that is so, I am confident that half the faculty will be women as well."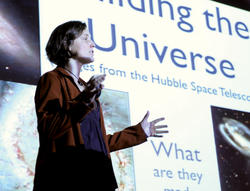 Kathryn Johnston, associate professor of astronomy, teaches Frontiers of Science.
"Reaching parity requires sustained commitment and concerted effort," agrees Andrew Davidson, vice provost for academic planning, who noted a steady increase over the past 20 years in the proportion of tenure-track and tenured female faculty members in the Arts and Sciences. "A central mission of my office is partnering with the schools across Columbia to enhance faculty and pipeline diversity."
Progress certainly has been made. Women now make up 42 percent of the tenure-track faculty of Arts and Sciences and 27 percent of tenured professors. That's a long way from the 1970s and 1980s, when women professors were so few that they networked over lunch (and didn't need a particularly big table). "Men would come over and ask, 'Are you hatching a conspiracy?'" says Joan Ferrante, professor emerita of English and comparative literature.
In a sense, eventually they did. A group of concerned faculty members from across the University formed a committee in 2004 — cochaired by Alice Kessler-Harris of the Department of History and Susan Sturm of the Law School — to advise the new president, Lee C. Bollinger, on the issue of faculty diversity. Two committee members had been involved in the University Senate's Commission on the Status of Women, which in 2001 produced what became known as "the pipeline report." It showed that except for pockets in the humanities, departments were not hiring women in numbers commensurate with their availability.
Out of the advisory committee's recommendations came a new administrative position, vice provost for diversity initiatives, in 2004, followed by a $15 million fund with which to recruit women and minority faculty in 2005 and the Office of Work/Life in 2007. "The initiatives led to dramatic improvements in diversity," says Darcy Kelley '70 Barnard, the Harold Weintraub Professor of Biological Sciences, who in 1982 was recruited from Princeton to become the first tenured female professor in the biology department. "It changed the face of the place, particularly noticeable in the sciences. All of our diversity appointments have been extraordinary."
"Hiring female faculty is wonderful, but if you're not getting the women through to the faculty level to be hired, it's a huge problem."A published account of the committee's efforts explained the importance of revamping the University's hiring practices at the departmental level: "Nothing is more important for the intellectual vitality of a university than the rigor and creativity with which searches are undertaken. To produce better diversity outcomes, every aspect of the process — from where ads are placed to how recruiting visits are structured — had to be examined," wrote Jean Howard, the George Delacorte Professor in the Humanities and former vice provost for diversity initiatives, who co-authored the account in 2007 with Sturm and two law students. To further raise awareness, a series of dinner presentations were made to departmental search committee chairs; the presentations showed how many women and minority candidates had been hired by that department in the past 15 years, compared the statistics to departments at peer institutions and discussed tools to improve outreach and recruitment among those same groups.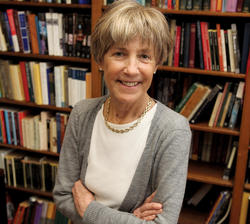 The Miriam Champion Professor of History Martha Howell '79 GSAS has been involved with hiring faculty for decades. PHOTO: MICHAEL DAMESAmong those hired in 2006 was Kathryn Johnston, associate professor of astronomy, who was recruited from Wesleyan. "I came here thinking I wanted to be somewhere that cares about encouraging diversity in academia," Johnston says. "There's always the question of whether you should take a job if it's offered under a special program. Will you be stigmatized? I came here wanting to work on these issues but not wanting to be seen as a woman who was hired for being a woman. And I have never felt that."
Johnston is among the four women professors who are teaching the Core Curriculum's "Frontiers of Science" course to first-years this academic year. The others are Kelley, Terry Plank '93 GSAS, a professor of earth science at the College and Lamont-Doherty Earth Observatory, and Virginia Cornish '91, the Helena Rubinstein Professor of Chemistry. (Eight professors total teach the course annually.) "It doesn't hurt for the entire incoming class, about 1,200 students, to be taught Frontiers of Science by [a group that's] half women — and spectacular scientists," Kelley says, pointing to her colleagues' achievements in their respective fields.
The humanities and social sciences departments are closer to parity than the natural sciences, mirroring the situation nationwide. The Miriam Champion Professor of History Martha Howell '79 GSAS, who previously chaired the history department, described a time during the 1990s when all new hires were inadvertently male, even though close to half of all the new history Ph.D.s in the country were women. "I chaired some of the committees, I was actively involved, I was watching what was happening, and we hired all men," she recalls. "One day we said, 'My goodness, our junior faculty is all male!' For me that could be interpreted as a sign that we had become gender-blind. In fact, it was a statistical bump: For a few years, the strongest candidates all happened to be male. … A few years later, the strongest applicants included women and in some cases were mostly women. And so we hired women."
Not all fields enjoy a 50-50 gender mix of graduate students, and the pipeline is a hot topic in diversity: Are enough qualified women and minority candidates available to hire, tenure and form faculties that reflect the population as a whole? "You're not going to get to 50-50 for a long time, because women weren't in the Ph.D. pools 20 or more years ago," Howard says. "You're going to approach parity very slowly. The status you want is: 'Are we hiring women now commensurate with the women available in the pool?'"
Universities develop the very pipeline that they rely on to hire faculty members, so schools like Columbia must pay attention to and promote the diversity of undergraduates and Ph.D. candidates going into underrepresented fields. "Our Admissions Office vigorously recruits qualified female applicants in sciences in an effort to continue to fill the pipeline but we also need to strengthen such collaborations as those with the Columbia Secondary School for Math, Science & Engineering in order to prepare girls for careers in science — especially academic careers," says Kathryn Yatrakis, dean of academic affairs and senior associate v.p. for arts and sciences.
More difficult to solve is the issue of retention. "In the sciences, especially the biological sciences, women drop out between the post-doc and the first academic position to do things not so draconian in their time demands," Kelley says. "That coincides with the push to start a family."
Johnston says she herself has wondered if she would have waited to have children until she was tenured, had she been at Columbia when she was starting out in academia and not at a smaller school. "That's a very tricky level," she says of women in graduate and post-doc positions. "Hiring [female] faculty is wonderful, but if you're not getting the women through to the faculty level to be hired, it's a huge problem. I'd like to see Columbia do more at the pipeline level."
Policies that help support women have been bolstered by the Office of Work/Life. "It was our parents' generation and the generation before who really had to get in the door, and now there's a substantial presence of women in all faculty. What's harder now is making life work in academia for men and women in a way that fits with everything else you want to do," Johnston says.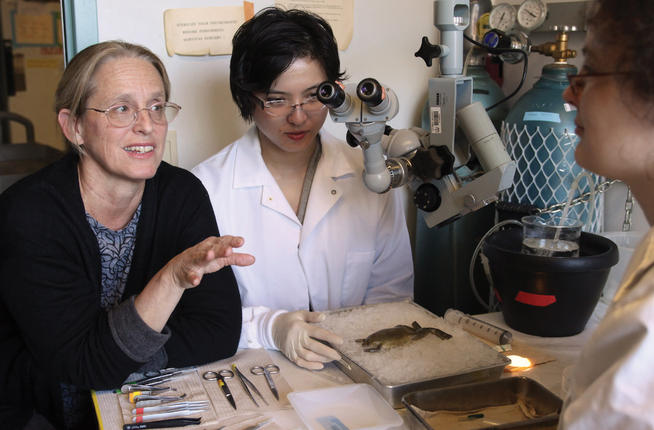 Darcy Kelley '70 Barnard, the Harold Weintraub Professor of Biological Sciences, works in the lab with Ursula Kwong-Brown '10 (middle) and Irene Ballagh '08 GSAS PHOTO: MICHAEL DAMES
Columbia has improved its parental leave policies and helps faculty navigate childcare and public and independent schools for their children. It also provides some emergency backup care and guidance regarding eldercare. Several lactation rooms around campus are equipped with hospital-grade pumps and are in high demand, mostly by faculty, staff and students who do not have private offices, notes Carol Hoffman, associate provost and director of the Office of Work/Life.
A continuing challenge is availability of affordable, high-quality childcare. As an initial step, Columbia has instituted a new annual benefit of a $1,000 grant per family for eligible faculty and staff to help cover childcare costs for children under 5. "[Affordable childcare] is a common problem across academia, and particularly in New York because New York is so expensive," Johnston says. "Paying for childcare takes an entire graduate student salary for one child, so you basically can't afford to have children."
Although work-life issues affect both men and women, they traditionally exert a greater influence on women's careers, and benefits are used more heavily by women, Hoffman notes.
"If we really want to integrate women fully into the life of the institution, we need to pay attention to these needs," Howard says. Many women faculty members, she adds, "bring enormous distinction and leadership ability to the University, the departments they belong to and the wider intellectual community."
Shira Boss '93, '97J, '98 SIPA is a contributing writer to CCT.