Features
Robby Mook '02 Works To Turn the Country Blue
By Jonathan Lemire '01
The map of the United States is a battlefield.
But instead of combat zones, there are 435 Congressional districts. Instead of air strikes, there are TV ad buys. Instead of ammunition factories, there are fundraisers. And instead of enemies, there are Republicans.
Robby Mook '02 views the 50 states in those stark terms as the executive director for the Democratic Congressional Campaign Committee (DCCC). Ap­pointed in December 2010, he has a clear mission: wrest away at least 25 Republican-controlled seats this November so the Demo­crats can regain control of the House of Representatives.
At 32, Mook is remarkably young for such a high-profile, high-intensity job — but the man who introduced him to the national stage is convinced the fresh-faced political operative is up to the task.
"He's pretty unflappable, and he's got a good personality for getting the work done. He puts the focus on the job, not himself," says Howard Dean, the former governor of Vermont — Mook's home state — who employed Mook in his 2004 presidential bid.
"I can't imagine someone doing that at his age," Dean says. "But at the same time, when it comes to Robby, I can see it. He's very, very bright and people will work hard for him."
The DCCC is the campaign arm of the House Democrats, charged with recruiting candidates, raising funds, researching the opposition and coordinating strategy in close, or politically significant, races.
"We're a booster rocket," Mook says. "We can't run a campaign from Washington. It has to be on the ground and it has to match the candidate. But we are there to help push people over the finish line."
Mook was appointed to the DCCC post 16 years after he caught the political bug. He grew up in Norwich, Vt., a town of just 3,500 that sits along the New Hampshire border. As a high school fresh­man, he joined a production of Imaginary Invalid, which was di­rected by Matt Dunne, whose day job was Vermont state legislator.
"That fall, as I ran for my first re-election, it became clear that while Robby was very talented in the theatre, he was much more interested in the political side of things," says Dunne, who remem­bers Mook as "one of the funniest people" he'd ever seen on stage. "When the production ended, he volunteered for my campaign. And, yes, he was 14."
Mook was hooked. Drawn to the College for its diversity, Mook became a classics major and while he never took a political science class ("Pretty funny, come to think of it," he says now), campaigning was in his blood.
"The winds can blow quickly in a very different direction, and when you have support, lock it in. Sometimes you learn more from losing than from winning."
After his freshman year in Morningside Heights, he returned to Vermont and Dunne hired him as the first staffer for the state legislature's Democratic caucus. Mook moved to Burlington, found a tiny apartment and dove in, going door to door and or­ganizing the first fundraisers many of the legislators ever had. He sharpened his skills back on campus, too, working for the College Democrats and jumpstarting the organization's first electronic file of voters and volunteers.
"That was a level of sophisticated voter-contact that was un­heard of on college campuses in 2000," says Sam Arora '03, who worked alongside Mook as an undergraduate.
"Robby was one of those students at Columbia you just knew was going to change the world, and you felt proud to know him," says Arora, now a Maryland state delegate. "With his powerful combination of heart and mind, I think all of Robby's friends knew he would rise quickly."
Mook returned home after graduation, working for the state Democratic Party and for Dean, the governor who made such a memorable splash in the 2004 presidential primaries. Mook ran Dean's New Hampshire campaign and helped coordinate the on­line efforts of a campaign that was among the first to fully use the Internet's ability to organize supporters.
"That was a national campaign very early on. We had to bottle lightning, as we knew there was a lot of energy and excitement in the campaign," Mook says. Even the campaign's quick implosion was a teaching moment.
"That campaign taught a very important lesson to me early on: The winds can blow quickly in a very different direction, and when you have support, lock it in," he says. "Sometimes you learn more from losing than from winning."
Mook then ran a get-out-the-vote effort in Wisconsin for nomi­nee John Kerry and, four years later, took on far more responsi­bility for Hillary Clinton. He ran her primary campaigns in three states — Nevada, Ohio and Indiana — and attracted a legion of loyal followers who dubbed themselves the "Mook Mafia." The group, a loose collection of staffers who have worked for Mook across the country, frequently meet for drinks and celebrate a bond forged in the political trenches.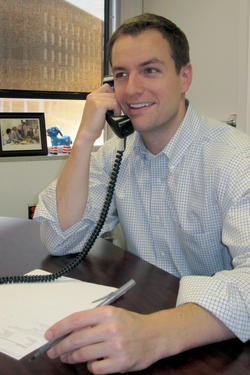 (Top) Robby Mook '02 works the phones as executive director of the Democratic Congressional Campaign Committee. (Above) Mook's goal is to put more blue on the national map of Congressional districts. PHOTO AND MAP: COURTESY OF DCCC"Robby inspires a lot of loyalty," Dunne says. "His team is willing to work hard for him."
It's going to take much of that hard work for the Democrats to win back the House, a challenge that Mook now calls his own.
"The DCCC in many ways is a thankless job, because you're invisible unless you don't succeed," says Dunne, who launched an unsuccessful bid for governor of Vermont in 2010 and now works for Google. "Robby is working against a variety of exterior variables that are challenging, to say the least. But he understands how to look at resources and navigate these waters. If anyone can do it, it's him."
Mook too, is confident. He dismisses the Democrats' September defeat in New York's Ninth Congressional District — Anthony Weiner's former seat — as a unique race that was swayed by local issues.
As November approaches, Mook will coordinate a national strategy to raise money and direct it to the candidates who have a chance to unseat Republican in­cumbents, fighting them on issues such as Medicare and tax breaks for big corpo­rations. He'll oversee it all from his war room in Washington, D.C., a far cry from a tiny town in eastern Vermont.
"Like any campaign, we move the majority of our resources late, so we'll be in constant communication with our rac­es to track progress and help push them over the top," Mook says. "Election Day itself is always one big contradiction: Ev­erything you've been pouring your heart into for two years comes to a finish, but if you've done your job right, there's ab­solutely nothing for you to do except sit and wait for results.
"So it's the most anxious," he says, "but least busy day of the entire two-year cycle."
Jonathan Lemire '01 covers politics for the New York Daily News.