Letters to the Editor
Japan After the Storm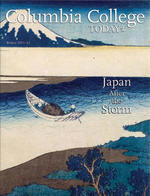 Congratulations on a brilliant and beautiful Japan issue (Winter 2011–12). Terrific work. I like your breadth and depth of editorial coverage; [it] makes CCT far more interesting, informative, intelligent and readable than just a straightforward alumni magazine. I admire the powers that be at Columbia for providing the resources to produce such an outstanding quarterly publication.
Larry Grossman '52
Westport, Conn.
Congratulations on a fine Winter edition of CCT. The article on Donald [Keene '42, '50 GSAS] was great. And it was nice to catch up with Gerald Curtis.
Wm. Theodore de Bary '41, '53 GSAS
Tappan, N.Y.
[Editor's note: De Bary, the John Mitchell Mason Professor Emeritus, provost emeritus and Special Service Professor in East Asian Language and Culture, also forwarded the following letter, which was addressed to him.]
I was a minor and fleeting student of yours at Columbia College in 1968 in the Oriental (Asian) Humanities course that you and Professor Keene taught that year. The course and your and his conduct of it opened my eyes and mind to ideas and perspectives that have continued to nourish my personal and intellectual growth ever since.
I never became an expert in the field and I did not pursue any advanced degrees in any fields related to your expertise or the content of that course. I will not appear on the list of students who have become superb scholars in their own right and successors to your groundbreaking work in the field of Asian studies. It is for that very reason that I am sending you one of the unexpected fruits and perhaps unintended consequences of your encounter with one anonymous student. The enclosed book, What the One Reveals to All People — Some Possibilities for Conversation and Action, would probably never have been produced except for the widening of perspective my contact with you and Professor Keene provided.
Paul Luther '68
Bernardston, Mass.
Professor Gerald Curtis' article "Tohoku Diary" in the latest CCT was both fascinating and inspiring. However, I find it utterly amazing that nowhere in its six pages does it mention the Fukushima nuclear meltdown.
Next to the great Kanto plain, the Sendai coastal plain is one of Japan's most important agricultural areas. The fact that this area is fast becoming a nuclear dead zone similar to Chernobyl [and] that radiation from this disaster is already having health effects on the U.S. West Coast would seem to merit some mention. The Tohoku region is only 100 miles to the north. It is not immune to wind-borne radiation from Fukushima.
Kenneth Eardley '70
Underhill, Vt.
Keene-sensei
[Editor's note: Albon Man '40 forwarded the Winter 2011–12 issue of CCT to a longtime friend, retired Bucknell history professor David Lu '54 SIPA, '60 GSAS, and received the following letter in response.]
When I finished Columbia, the community of Japanese scholars was still rather small, and I was invited to join its faculty seminar where Keene-sensei was one of its regulars.
In summer 1964, I invited him to come to Bucknell to speak about Chikamatsu Monzaemon at a summer seminar I held for high school teachers. I knew about his expertise on the Japanese Kabuki theatre, so nothing surprised me. But when his discussion veered to Shakespeare for comparison, I was impressed by his ability to cite verse after verse from different plays without any notes. He is a superb translator of Japan's literary works, because he is so well grounded in the English literature. We had quite a few Japanese students on campus that summer studying English. Keene met many of them and remembered their names well enough to call them by name the following day. As for those high school teachers in my seminar, he seemed to have had a harder time remembering their names. In a way he was more of a Japanese than an American even at that time.
His passion for things Japanese is unmistakable. Columbia College Today's article captures the spirit of this rare individual quite well.
David Lu '54 SIPA, '60 GSAS
Bell Air, Md.
Hoard, Lion, Hoard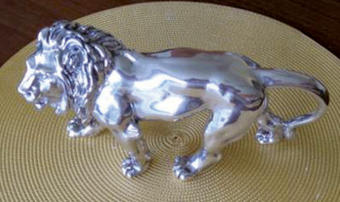 Your publication of the "Alumni Corner" article, "Hoard, Lion, Hoard" (Winter 2011–12), about my lion collection, made my holiday season a joyous one indeed. I have heard from dozens of old friends and acquaintances, two fellow lion collectors, five collectors of other things who thanked me for validating their aberrant behavior and one fellow who just wanted to assure me that I was nuts.
Michael Garrett '66, '69L, '70 Business
Brooklyn, N.Y.
I enjoyed the article about Michael Garrett '66, '69L, '70 Business' lion collection. Above is my lion, which I acquired in NYC on Third Avenue near East 60th Street. It is solid silver, 8 inches long, 4 inches tall and by an Israeli artist. I bought it in 1992 on the occasion of my 65th birthday. It's the best looking lion I've seen anywhere.
James J. Griffith '48
Sarasota, Fla.
Walter C. Langsam
Walter C. Langsam '30 GSAS may be the "Walter" whom Armen Matigan '35 is trying to recall ('25–'40 "Class Notes," Winter 2011–12). Langsam left Columbia in the late 1930s.
I wouldn't be surprised if by the time you give Mr. Matigan a choice of "Walters" he will have recalled the one he had in mind. As one gets older (I'm 94) the mind is a funny thing; whatever you can't recall at the moment pops up later. Vermont's capital stumped me; four months later at 3 a.m. Montpelier came to mind.
I congratulate you on CCT. It's a fine publication. I look forward to receiving it.
John McCormack '39, '40 Business, '48L
Dallas
[Editor's note: According to an obituary published in The New York Times in 1985, Langsam taught at Columbia from 1927–38 and later was president of Wagner College, Gettysburg College and the University of Cincinnati.]
Return of ROTC
The response of Professor Emeritus Allan Silver (one of my favorite teachers when I was an undergraduate) to my letter objecting to the return of ROTC to Columbia [Fall 2011] is in effect a roll-out of the newest model, an "improved" ROTC, call it ROTC-Lite: no uniforms, no guns, no drills; the trainees are in fact "indistinguishable" from other students. Although just how other students get "firsthand experience" of those who serve from trainees who are indistinguishable from everyone else is a bit obscure.
Silver points to Iraq war planners who "escaped" Vietnam service as a cautionary tale about "militarized" civilians making war policy, but fails to note that almost all Vietnam war planners were veterans of WWII and/or Korea, including the deviser of the infamous "strategic hamlets" program, Columbia's own Roger Hilsman. This military experience did not prevent them from expending 58,000 American lives in pursuit of objectives that accomplished absolutely nothing in the national, or other, interest.
The larger issue, entirely missed by Silver, is the enormous and increasing dominance of the Pentagon in American and international affairs, as documented by Professor Chalmers Johnson in his recent three-volume treatise on the subject, and as quantifiable in its astronomical annual budget. Inviting a "stealth" ROTC back into the Columbia community validates and re-institutionalizes the military-academic complex and sends the wrong message to the wider public as to Columbia's independence from the warfare state.
David N. Stern '66, '72 GSAS
Brooklyn, N.Y.
Professor Selig
You published a letter last fall that called attention to retired Professor Karl-Ludwig Selig, who resides in a nursing and rehabilitation facility at the corner of West 87th Street and Riverside Drive. I vacationed in Manhattan with my family this past winter holiday, and I took the opportunity to visit the professor, who devoted the better part of his life to teaching. While facing the challenges of medical problems, he remains alert and engaging. I am glad that my teenage daughter had the opportunity to meet a Columbia legend.
Professor Selig was quite insistent that I alert all Columbia alumni to the fact that he continues to welcome both letters and visitors. For those who would like to bring good cheer to his life, his address is Karl-Ludwig Selig, The Kateri Residence, 150 Riverside Dr., Ninth Floor, Room 5B, New York, NY 10024; facility phone: 212-769-0744.
Dr. Charles Markowitz '82
Ocean Township, N.J.
Correction
The publisher of Jacques Barzun: Portrait of a Mind was listed incorrectly in Bookshelf in the Fall 2011 issue. The publisher is Frederic C. Beil. CCT regrets the error. Read an excerpt in this issue's "Columbia Forum."