Message from the Dean
Alumnae Enhance the College Through Leadership, Philanthropy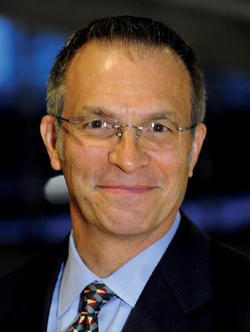 James J. Valentini, Dean of Columbia College and Vice President for Undergraduate Education (Interim). Photo: Eileen BarrosoDear Columbians,
This issue celebrates the 25th anniversary of the graduation of Columbia College's first fully coeducational class. I wasn't at Columbia in 1987, but by the time I arrived on campus four years later, it would have been impossible to imagine Columbia College without women. Female students have made up 45–50 percent of every incoming class since 1983, and as a professor of chemistry, I have taught more than a thousand women. My female students have gone on to graduate school and successful careers in a wide range of industries. And, like the members of the first coeducational graduating class, they have unquestionably left their mark on the College.
Since becoming dean, I am even more aware of the talents and accomplishments of Columbia College alumnae and their dedication to the College through their work with the Dean's Alumnae Leadership Task Force and Columbia College Women (CCW).
In 2010, the College founded the Dean's Alumnae Leadership Task Force, a group of 23 women who aim to shape the future of alumnae leadership, engage more alumnae in the life of the College and broaden philanthropy at the school. The group already has raised a significant amount of money for the College. Alumnae giving to the Columbia College Fund rose 53 percent from Fiscal Year 2009–10 to Fiscal Year 2010–11, and several task force members made large commitments for scholarships. I met with this group in the fall and was excited to hear about its many accomplishments and goals. With task force members' help, we hope to involve more alumnae as fundraising volunteers and alumnae leaders and increase awareness of the opportunities for alumnae to become more involved in Columbia College and make a difference in students' lives.
CCW was founded by College alumnae in 1989 to create networks within the alumnae and student communities and build the legacy of women at the College. Today, the group provides resources and programming for alumnae and female students through student scholarships and a successful mentoring program. This year, as I wrote in the Winter 2011–12 issue, the CCW mentoring program attracted more than 300 female students, who are matched with an alumna individually or in groups. And a survey conducted last year by the Dean's Alumnae Leadership Task Force found that more than 600 alumnae were interested in volunteering with the CCW mentoring program. We encourage more alumnae to get involved. (You can find out more about the group online or by contacting Sarah Seredych Trimmer, assistant director, alumni affairs: sst2132@columbia.edu or 212-851-7977.)
Share Your Memories of the Move to Coeducation
Were you on campus during the mid-1980s, when Columbia College made the transition to coeducation from the all-male school that it had been for more than two centuries? As the 25th anniversary of the graduation of the first coed class approaches (see special section in this issue), we invite you to share your recollections of that turning point in the College's history and let us know about the impact that Columbia has had on your life. Please submit your memories online.
As graduation approaches, we also are looking for ways to keep seniors involved. In January, at the Columbia College Class of 2012 Senior Fund Kickoff, I introduced my "3-2-1 Challenge." I asked seniors to give at least $20.12 to the College for three years, to ask two of their friends to do the same and to have their dollars matched 1:1 by an alumni donor. We've had a great response so far — 122 seniors donated and 41 signed on to the challenge as of mid-February. I hope some of that response is due to my offer to match any donations made on the night of the kickoff. An alumnus also pledged to give $5,000 when the Class of 2012 reaches 250 donors. Our goal is to reach 750 donors by the end of the semester.
I am looking forward to seeing many of you at Alumni Reunion Weekend, Thursday, May 31–Sunday, June 3. All alumni are invited to Saturday's Dean's Day, one of the many events during reunion, and I hope that you will all be able to attend. In the meantime, please continue to write to me at columbiacollege@columbia.edu.
Roar, Lions, Roar,