Alumni News
CCAA Alumni Recognition Committee Seeks To Honor Alumni Achievements
The Columbia community is rightfully proud of its College students and alumni and their accomplishments on campus and after graduation. Many Columbians have a significant, positive impact on their personal and professional communities. The Columbia College Alumni Association Board of Directors has the op­portunity to learn about many of our peers' success­es as well as to make recommendations for awards and programs.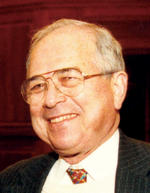 Gerald Sherwin '55
Doug Wolf '88 PHOTOS: EILEEN BARROSOSeveral years ago, in order to broaden and deepen our awareness of College alumni achievements, the board created the CCAA Alumni Recognition Com­mittee. Its goal is to support the College in tracking alumni and bringing forward those who should re­ceive recognition or who could, in turn, help alumni and students. Under the leadership of co-chairs Ger­ald Sherwin '55 and Doug Wolf '88, the committee has identified many alumni whose participation would be valued. Jerry and Doug exemplify Colum­bia College alumni who have a great impact on their community and, to our benefit, the College.
Jerry's long career in communications and mar­keting at agencies and companies such as Grey Ad­vertising, Block Drug Co., Lehn & Fink, Bozell and WINS Radio was perfect training to become the most active alumnus at the College, and he comes in contact with a large portion of our alumni. He has been a president, chair or board member of about a dozen boards and committees at Columbia, including presi­dent emeritus, CCAA; chair emeritus, Board of Friends–Double Discovery Center; past president, Varsity 'C' Athletic Winners Club; and president and CCT class correspondent, Class of 1955. His enthusiasm for connecting students and alumni is boundless. Being an avid athletics fan is part of this mix. No one is better suited for this committee.
Doug is a shareholder at the IP firm of Wolf Greenfield in Boston and chair of its Trade­mark and Copyright Practice as well as the Small Business Practice. Always grateful for his time at Columbia, giving back to the College is natural for Doug.
Alumni Recognition Committee Members
Gerald Sherwin '55, co-chair
Doug Wolf '88, co-chair
Rohit Aggarwala '93,
 '00 Business, '02 GSAS
James Brandt '79
Craig Brod '77
Camille Warmbrodt DeLaite '01
Christopher V. Della Pietra '89
Daniel Tamkin '81
Burtt Ehrlich '61, '62 Business
Michele Esposito '96
Frederick Kushner '70, '74 P&S
Andy Lebwohl '04, '07L
Stephanie Lung '04
Nat Nisonson '03
Roy Pomerantz '83
Scott Koonin '02
Genevieve Thornton '02,
 '09 Business
David Walker '80
Mark Wojciechowski '76
Alan Freeman '93, affiliate
Upon his re­turn to Boston in 1991, he interviewed prospective students as a member of the Alumni Representative Committee and participated in events at the Colum­bia University Club of New England. The natural progression was to the CCAA board, which provides a greater opportunity to interact with students, fac­ulty and administration, work with College alumni and stay in closer touch with the College. Doug also provides a valuable perspective to the CCAA as an active contributor who is not based in the New York area — including events, communications and other ways to improve our outreach. He brings fresh vi­sion and valuable experience to facilitate connec­tions between alumni and the College.
The Alumni Recognition Committee meets regu­larly to discuss ways to identify alumni, review alumni profiles and make recommendations to selection com­mittees for various awards. It also makes recommen­dations to the offices of Alumni Affairs and Develop­ment, Student Affairs and Career Education when they seek alumni participation.
With more than 45,000 living alumni, no small group can track the myriad accomplishments worth highlighting. Our committee is eager to identify more ways to learn about College alumni and what they are doing. It therefore has established a portal on the CCAA board website to take nominations and updat­ed information to add to the alumni database. We welcome input from all alumni and hope that you will use the nomination form to help Columbia acknowledge its alumni's outstanding achieve­ments. We welcome your suggestions and recommendations.
Awards, Events and Boards
The Alumni Recognition Committee welcomes suggestions from all alumni for consideration for a variety of awards and boards as well as for speakers for Columbia occasions. Following is a partial list:
AWARDS
Alexander Hamilton Award
John Jay Award
Alumni Medal (University)
AACA (Asian alumni) Award
BAC (black alumni) Heritage
 Award
LAACU (Latino alumni)
 Award
BOARDS
Columbia College Alumni Association
Columbia College Young Alumni
Columbia Alumni Association
Columbia University Club of New York
EVENT SPEAKERS
Columbia College Class Day
 (with Student Affairs)
Baccalaureate Ceremony