Obituaries
1932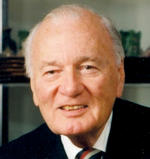 Dr. Julius Wolfram '32Julius Wolfram, physician, Dallas, on March 16, 2011. Born in Brooklyn, N.Y., Wolfram entered Columbia at 16 from Townsend Harris H.S. After earning a degree in 1936 from P&S, he joined the Army and ultimately became chief of medicine at the 5th Ferrying Command at Love Field, Dallas. He was discharged from WWII service as a major. Wolfram remained in Dallas, where he practiced internal medicine and cardiology for more than 60 years and was clinical professor of medicine at Southwestern Medical School. After his family and medicine, his greatest loves were classical music, opera, nature and ornithology. Wolfram was an avid tennis player and enjoyed golf and hiking. After retiring from private practice he traveled with his wife, Rhea, to China, Japan, Israel, Egypt and Europe. He served on the boards of the Dallas Symphony Orchestra, Temple Emanu-el, the American Jewish Committee, Jewish Welfare Federation and Jewish Family Services, among others. Wolfram is survived by his wife of 68 years, Rhea; sons, Michael, Steven and Richard; and eight grandchildren, including Matthew '01E.
1937
Bertram Fuchs, retired gastroenter­ologist, Marathon, Fla., on October 18, 2010. Born in Jersey City, N.J., Fuchs was a graduate of Hempstead H.S. in Hempstead, Long Island, and SUNY Downstate Medical Center (1949). Fuchs practiced in Mineola, N.Y., for 30 years, retiring in 1987, at which time he moved to Marathon. He was an Army veteran and served during WWII. Fuchs is survived by his wife, Sophie Schalet, whom he married in 1952; children, Marc and his wife, Betsy, and Ronnie Fuchs and her husband, Sandy; brother, Morton Fox; and four grandchildren.
1941
Douglas L. Gruber, retired talent agency owner, Sun City Center, Fla., on October 11, 2010. A 1942 alumnus of the Journalism School, Gruber was an officer in the Navy in WWII and served on both a destroyer in the Atlantic-European theater and on a cruiser in the Pacific war zone. He remained active in the Naval Reserve after the war, retiring in 1968 as a lieutenant commander. In his professional career, Gruber was associate editor of The N.Y. Sales Executive magazine and managing editor in McGraw Hill's international division before starting his own talent agency in 1955. His company serviced the advertising and entertainment fields through 1988, at which time he sold his business and retired. Gruber was a longtime resident of Purchase, N.Y., before moving to Florida in 1992. He is survived by his wife, Priscilla; daughters, Mary Elizabeth, and Cathryn Long; and two grandchildren. A brother, Harold, predeceased him in 1992.
1942
Alan E. Baum, retired radiologist, Fort Pierce, Fla., on October 10, 2010. Baum was born on July 26, 1921, in Fairfield, Conn. He earned a degree from P&S in 1945 and was a Navy veteran of both WWII and Korea. He had a long and distinguished career on Long Island, N.Y., having a private practice in Westbury, Hicksville and Huntington. Baum resided for more than 50 years in Oyster Bay, N.Y., and was a parishioner of Holy Redeemer Catholic Church in Palm City. He served as president of the New York Chapter of the American College of Radiology; as professor of clinical radiology at the State University Medical School in Stony Brook, N.Y.; and as chief of radiology at the Veterans Hospital of Northport, N.Y. Baum enjoyed golf, gardening and Civil War history. He is survived by his wife of 64 years, Cecelia Jane (née Connolly); sons, Gregory, Douglas '81E and his wife, Sally, Alan Jr. and his wife, Cathy, and William and his wife, Susan; daughter, Reyne Brezinski; 10 grandchildren, including Stephany Cecelia (Baum) Reborn '07; and four great-grandchildren.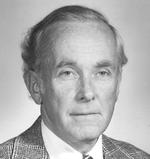 Dr. Robert E. Healy '42Robert E. Healy, physician, Amesbury, Mass., on October 16, 2010. Born on June 23, 1922, in Brooklyn, N.Y., Healy attended Xavier H.S. At the College, he was a member of Beta Theta Pi. He graduated from Cornell Medical School in 1944 and was a veteran of both WWII and the Korean War, witnessing the Japanese surrender at Truk, and was a medical officer in the occupying force. The bulk of Healy's career was spent as an internist with the Mt. Kisco (N.Y.) Medical Group. He also was s.v.p. of the Northern Westchester Hospital Center. Later he worked for General Foods and for the Joint Commission and is a past president of the Westchester County Medical Society, the Westchester Division of the American Heart Association and of the Waccabuc Country Club. Healy helped to establish the Greenburgh Health Center in White Plains, N.Y.; served on the vestry of St. Mark's Church; was a reading coach for Literacy Volunteers of the Low Country, in South Carolina; and was a trustee of the Stepping Stones Foundation. Healy's passions included golf, the New York Giants, Indian cooking and bread making. He is survived by his wife of 62 years, Audrey; children, Audrey, Tracy and Jeff; five grandchildren; and sister, Helen McLaughlin.
1943
Albert W. Cayot, sales manager, Boxford, Mass., on November 22, 2010. Cayot was born in New York and earned an M.B.A. from the Business School. He was a veteran, serving as a captain in the Army during WWII and the Korean War. Cayot was a sales manager with Kimberly-Clark Co. An active member of the St. Rose of Lima Church community in Topsfield, he served on many committees, was a lector, Eucharistic minister and taught religious education for many years. In 2010, just a few weeks before his death, he was honored by St. Rose and the St. Vincent De Paul Society as its "Man of the Year." Cayot was instrumental in the Refugee Immigration Ministry and taught math and English courses in the prison system. He was predeceased by his wife, Marydell (née Zimmermann) and sister, Mary Mihapov, and is survived by his daughter, Claire M.; sons and daughters-in-law, Albert W. and Eva, and Paul P. and Debra; four grandchildren; four great-grandchildren; sisters, Edie Ialeggio and Jane LaBella; and several nieces and nephews. Memorial contributions may be made to Refugee Immigration Ministry, 142 Pleasant St., Ste 203, Malden, MA 02148.
1947
Henry G. Burger, retired anthropologist, automated word-finding expert, Overland Park, Kan., on October 14, 2010. Burger was born on June 27, 1923, in New York. His time at the College was interrupted by WWII, and he served in three combat zones: Papua, Leyte and Luzon. He returned to the College, then earned an M.A. in 1965 and a Ph.D. in 1967, both from GSAS in anthropology. From 1967–69, Burger worked in New Mexico as the first anthropologist of the regional educational laboratories. He did fieldwork with Navajo Amerindians and was adjunct professor at the University of New Mexico. His resultant book, Ethno-Pedagogy: A Manual in Culural Sensitivity, has appeared in eight versions. In 1969, Burger was asked to establish the anthropology department at the University of Missouri-Kansas City. He remained there until retirement, when he was appointed Professor Emeritus of Education and Anthropology. Burger also was a leader in the field of automated word-finding, a branch of the emerging technology called informatics. He developed the WORDTREE, a two-way dictionary that points from a word to its meaning, as does a normal dictionary, but also from a mere meaning or part-meaning to the word best expressing it. Burger is survived by his wife, Barbara; brother, Chester; and several nieces and nephews.
Gerald S. Lesser, professor of child development, Lexington, Mass., on September 23, 2010. Lesser was a WWII Navy veteran and a 1949 alumnus of GSAS. He was a professor of child development at Harvard and one of the original developers of Sesame Street and other educational programs. He is survived by his wife, Stella (née Scharf); daughter, Nina Duprey, and her husband, Peter; son, Theodore; grandson; and niece. Memorial contributions may be made to National Head Start Association, 1651 Prince St., Alexandria, VA 22314.
1949
Perry E. Morrison, business executive, violinist, Pittsburgh, on August 24, 2010. Born on May 18, 1929, Morrison attended the Bronx H.S. of Science and earned an M.B.A. from the Business School in 1950. He was in the Army Medical Supply Corps during the Korean War, serving a year in Korea and then a year in Japan. Morrison moved to Pittsburgh in 1958, where he eventually became president and CEO of May Stern & Co. An avid amateur violinist, he underwent rotator cuff surgery in his 70s to ensure he could continue playing. He was on many classical music boards including that of the Y Music Society, the Mendelssohn Choir and the Pittsburgh Symphony Orchestra. Morrison and his wife, BeeJee, were patrons of classical music, establishing a Fine Instrument Loan Fund for PSO string musicians, underwriting Metropolitan Opera radio broadcasts on WQED-FM and supporting local chamber music initiatives. An accomplished tenor-baritone, Morrison traveled for years to officiate as a cantor on the Jewish High Holidays. He was on the board of Montefiore Hospital for many years and served on the finance committee of the United Jewish Federation. In addition to his wife, Morrison is survived by his daughters, Lesa and Abby, and two nieces.
1951
Jerome K. "Jerry" Chase, car dealership owner, Wayland, Mass., on October 29, 2010. Lee Iacocca originally hired Chase to purchase land nationwide for Ford factories and dealerships. Chase transferred to Ford's Boston sales region in 1966 and quickly moved up the corporate ladder. Iacocca offered him several promotions to bring him back to Detroit, but Chase turned him down, eventually fulfilling his own dream of owning a dealership in 1971, when he founded Framingham Ford with a partner. As the business grew, Chase handled local and state police contracts, outfitting cruisers with racks, sirens and lights; he later sold that business. Chase's son, Jerry Jr., joined his father about 22 years ago and bought the business almost 10 years ago. In retirement, Chase spent time in his garden and serving at St. Ann's Church. He is survived by his wife of 56 years Anne (née Buckhout) Chase; children, Jerry Jr. and his wife, Laurence, Nan Alphen and her husband, Paul, Clay and his wife, Karen, John and his wife, Louise, Bill, and Wini; nine grandchildren; and brothers, George and Peter. Memorial contributions may be made to Parmenter Health Center, 266 Cochituate Rd., Wayland, MA 01778 or St. Ann's Church.
Muir N. Weissinger Jr., author and poet, St. Augustine, Fla., on July 2, 2009. Weissinger was born in London, England, in 1928 and lived in many countries before settling in St. Augustine in 1998. He was the author of two editions of a well-received book, The Failure of Faith, exploring the ideas behind faith and ideology and was close to completing another book, commenting on totalitarianism, at the time of his death. He had a great appreciation of good food and wine, and never turned down the opportunity to try unusual foods. He spoke many languages, wrote poetry, was an expert in several periods of history (especially WWII), was a self-taught Egyptologist and played tennis. Weissinger is survived by his wife, Murrell; sister, Pam Crary; brothers-in-law, Richard and Hank; and a number of nieces, great-nieces and great-nephews.
1954
Thomas E. Sinton Jr., retired business executive, Mahwah, N.J., on November 11, 2010. Sinton was born in New York City on August 26, 1932. He attended Fordham Prep and earned a degree from the Business School in 1955. Sinton commenced a career with Arthur Young in New York that year and retired in 1992, as a partner, from its successor Ernst & Young. He then joined Bankers Trust as a managing director and board member of related funds management businesses until his retirement in 2005. Sinton was a longtime resident of Upper Saddle River, N.J., and a longstanding member of both Hackensack Golf Club and The New York Athletic Club. He is survived by his wife, Susan (née Creter); daughters, Jill Polansky and her husband, Ronald, Sally Sinton and her husband, Thomas Lorenzen; mother-in-law, Margaret Creter; four grandchildren; brother, Donald, and his wife, Patricia; brother-in-law, Joseph Daly; daughter-in-law, Trudy Sinton; and cousins, nieces and nephews. He was predeceased by his son, Thomas E. III, and sister, Audrey Daly. Memorial contributions may be made to the Alzheimer's Association-Greater New Jersey Chapter, 400 Morris Ave., Ste 251, Denville, NJ 07834.
1955
Alan D. Pasternak, consultant and lobbyist, Lafayette, Calif., on September 24, 2010. Pasternak graduated from the Ethical Culture Fieldston School in New York City, then earned a B.A from the College and a B.S. in 1956 from Engineering. While at Columbia he rowed on the varsity lightweight crew. After college Pasternak was an officer in the Navy from 1956–59. He earned a Ph.D. in chemical engineering from UC Berkeley. Pasternak was chosen by Gov. Jerry Brown to be one of the original appointees to the California Energy Commission, where he served from 1975–79. He previously was a member of the scientific staff of Lawrence Livermore Laboratory, where he worked on the development of new energy technologies, including coal gasification and the use of methyl alcohol for fuel. After leaving the Energy Commission, Pasternak was a consultant and the lobbyist and technical director of the California Radioactive Materials Management Forum, where he worked for the remainder of his career. In 1990 he returned to Livermore part-time to resume his work on energy policy. Pasternak is survived by his wife, Meta L.; children, Jeremy, Benjamin and Emelia; and two grandchildren.
1956
Joseph A. Parker Jr., engineer, Toms River, N.J., on November 11, 2010. Parker earned a degree in 1957 from Engineering and was then commissioned second lieutenant in the Air Force. He flew C-124s, a B-57 and a C-141. Parker was deployed in 1967 to the Vietnam conflict and flew more than 200 combat missions as an electronic warfare officer on the EB-66, earning the Meritous Air Medal. At the conclusion of his tour, he finished his graduate work at Michigan. Parker went on to fly C-5 Galaxys as a navigator, stationed at Dover AFB. He retired as a major in 1980 and continued to work for the Department of Defense at Fort Monmouth, N.J., finishing his civilian career at Ilex in 2008. Parker is survived by his wife of 53 years, Margaret "Rita"; children, Steven and his wife, Cassandra, Robert and his wife, Lynn, and Tana and her husband, Frank; sister, Ann Hogan; and six grandchildren. Memorial contributions may be made to St. Barbara Greek Orthodox Church, 2200 Church Rd., Toms River, NJ 08753.
Other Deaths Reported
Columbia College Today also has learned of the following deaths. Complete obituaries will be published in an upcoming issue, pending receipt of information. Due to the volume of obituaries that CCT receives, it may take several issues for the complete obituary to appear.
1935
Norman F. Ramsey Jr., physicist and professor, Wayland, Mass., on November 4, 2011.
1941
Dante A. Bove, retired engineer, Toms River, N.J., on January 4, 2012.
Arthur C. Kragen, retired ob/gyn, South Orange, N.J., on October 7, 2011.
Albert Rosenblum, Yonkers, N.Y., on October 7, 2011.
1942
Elliott C. Levinthal, physicist, inventor and professor, Palo Alto, Calif., on January 14, 2012.
William A. Mazzarella, retired IRS employee, Oceanside, Calif., on January 2, 2012.
1943
Edward M. Buyer, electrical engineer, Adamstown, Md., on February 4, 2012.
1944
Allen M. Fisher, dentist, Brookfield, Wis., on January 11, 2012.
Peter G. Rozakis, retired insurance sales representative, financial planner and consultant, Greenville Junction, Maine, on October 9, 2011.
John T. Williamson, geologist and travel agency executive, New Smyrna Beach, Fla., on November 3, 2011.
1945
Robert C. Hehn, retired purchasing manager, Yonkers, N.Y., on September 18, 2011.
Eric Jenett, retired engineer, Houston, on October 20, 2011.
1946
Harry W. Fritts Jr., physician, professor and chair emeritus, Northport, N.Y., on April 22, 2011.
George H. Pretat, engineer, Bowdoin, Maine, on July 26, 2011.
1947
George W. Haefelein, retired economist, Newark, N.J., on January 6, 2012.
1948
George W. Carey, professor, Old Chatham, N.Y., on January 10, 2012.
Stanley L. Johnson, engineer, Uxbridge, Mass., on January 20, 2012.
Mace Siegel, Beverly Hills, on October 26, 2011.
1949
James R. Condina, retired data processor, Carmel, N.Y., on December 21, 2011.
Richard W. DeBruin, retired editor and financial executive, Quincy, Mass., on December 16, 2011.
George Sayer, engineer, Hillsboro, Ore., on October 9, 2011.
1953
Richard "Dick" Gershon, retired advertising executive, Milan, N.Y., on November 15, 2011.
Carl T. Witkovich, savings and loans executive, San Mateo, Calif., on May 3, 2011.
1955
Philip D. Bleser, Bonita Springs, Fla., on October 28, 2011.
1956
Donald R. Nunziato, civil engineer, developer and contractor, Amherst, Va., on December 22, 2011.
1957
Walter C. Rabe, Floral Park, N.Y., on January 10, 2012.
1958
Howard V. Dubin, dermatologist, Ann Arbor, Mich., on October 16, 2011.
1960
Louis G. Gladstone, social services worker, Menands, N.Y., on February 13, 2009.
Donald S. Keller, sheet metal fabrications executive, Wayland, Mass., on November 6, 2011.
Robert R. Morgan, retired teacher, New York City, on December 10, 2011.
George E.B. Morren Jr., anthropologist and professor, Rocky Hill, N.J., on September 29, 2011.
1961
Joel J. Karp, international tax and estate planning expert, Washington, D.C., on January 16, 2011.
1962
John E. Zucker, allergist, Washington, D.C., on December 27, 2011.
1963
James F. Brogan Jr., Charlestown, Mass., on December 26, 2011.
1964
Alan B. Reis, attorney, New York City, on March 30, 2010.
1968
Nathaniel M. Semple, political staff member, Washington, D.C., on January 3, 2012.
1969
Dean P. Dark, consulting geophysicist, Tyler, Texas, on November 8, 2011.
1972
Richard B. Kaplan, dentist, Caldwell, N.J., on November 30, 2011.
1977
Damien C. Bona, Academy Award expert, writer, New York City, on January 29, 2012.
1980
Jordan Pfister, Brooklyn, N.Y., on February 26, 2011.
1981
Raymond E. Morrison, financial planner, Detroit Lakes, Minn., on November 26, 2011.
1958
Donald Festa, retired colonel, Oakland, N.J., on October 14, 2010. Festa was born in Paterson, N.J., on September 5, 1932. He enlisted in the Air Force and was stationed as a radar operator in the Korean War for four years. He graduated from the College with honors. Festa graduated first in his class with the rank of 2nd Lieutenant from the Marine Corps training center and received a Bronze Star for leadership during a conflict in the Dominican Republic. In 1966, Festa and his Ninth Marines landed in Vietnam. He commanded the Alpha Company, labeled "The Walking Dead" by Ho Chi Minh. Festa was commended for his leadership with the Gallantry Cross, the Purple Heart and the Silver Star. He went on to have a long and distinguished career in the military; among other assignments, he served at the Pentagon, in Denmark as an operations officer for NATO and in Okinawa as a senior planning officer for the U.S. Pacific Command Center. Festa was predeceased by his wife, Yoko, and a brother, Nicholas. Survivors include his brothers, James L., Charles C. Jr., Robert P. and Peter; sisters, Rose DeLisi and June Leonardi; and nieces, nephews, grand-nieces and grand-nephews. Memorial contributions may be made to the ASPCA, 424 E. 92nd St., New York, NY 10128-6804.
John J. Rothschild, cardiologist, New York City, on November 4, 2010. Born in Cologne, Germany, Rothschild came to New York as an infant. A graduate of SUNY Downstate Medical School, he dedicated nearly five decades to providing patient care and medical education at Mt. Sinai Medical Center. Rothschild is survived by his wife, Barbara; children and their spouses, Andrew '92 (Barbra), Spencer (Julie) and Juliet (Matthew Weissman); mother- and father-in-law, Fannie and Albert Kishter; and eight grandchildren.
1960
William V. Borden, playwright, novelist, poet and English professor, Rockwall, Texas, on October 23, 2010. Borden was born in 1938 in Indianapolis. He was a professor of English at the University of North Dakota for 27 years, the fiction editor of the North Dakota Quarterly from 1986–2002 and received the Chester Fritz Distinguished Professor award. Borden's inventiveness is seen throughout his work, including his comic novel Superstoe, published in 1967, and his 2008 novel, Dancing with Bears. Borden produced many short stories, appearing in more than 30 literary magazines and winning the PEN Syndicated Fiction Prize and the Writers Voice Fiction Contest. His poems appeared in more than 80 literary magazines and 20 anthologies. Borden also was a successful playwright, writing more than 37 plays. He is survived by his wife, Nancy Lee-Borden; a brother; three children; and seven grandchildren. Memorial contributions may be made to the Authors Guild Foundation or the Global Polio Eradication Initiative.
1961
Donald G. Roesch, retired attorney, Woodside, Calif., on September 19, 2010. Roesch was born in Kansas City, Mich., and grew up in the Midwest. His family settled in the San Francisco Bay Area, and Roesch graduated from Sequoia H.S., Redwood City. He developed a love for the outdoors as a member of the Boy Scouts of America. Roesch earned a law degree from Hastings University Berkeley in 1965 and became an attorney in 1966. He served with the county's Public Defender Program, was temporarily a judge and taught a law class at the College of San Mateo. Roesch was a longtime member of Kiwanis International, San Mateo County Trial Lawyers Association, the American Bar Association, Kings Mountain Art Fair Board of Directors and the Kings Mountain Association. He served as lieutenant governor of Kiwanis International from 1995–96 and was president and legal counsel for KMA. His favorite hobbies were reading and home projects. Roesch is survived by his wife, Kari; daughter, son-in-law and granddaughter, Anna, Alan and Emily Tubbs; and brother, sister-in-law and nephew, Warren, Peggy and Whit Roesch. He was pedeceased by his daughter Lisa Marie. Memorial contributions may be made to the Kings Mountain Elementary School KMAP, 211 Swett Rd., Woodside CA 94062.
1962
Eugene V. "Vic" Wolfenstein, professor, psychoanalyst and writer, Beverly Hills, on December 15, 2010. Wolfenstein was born in Cleveland on July 9, 1940. He earned a Ph.D. in politics from Princeton in 1965; his dissertation formed the basis of his first book, The Revolutionary Personality: Lenin, Trotsky, Gandhi. Wolfenstein went to UCLA in 1965 as an assistant professor of political science and became a full professor in 1979. He spent his entire academic career at UCLA, where he had a prolific writing career, including eight books and numerous articles. His final work was Talking Books: Toni Morrison Among the Ancestors. In 1991, Wolfenstein received the UCLA Mortar Board Faculty Excellence Award and in 1994 UCLA's Harriet and Charles Luckman Distinguished Teaching Award. Wolfenstein also was a practicing psychoanalyst. He earned a second Ph.D., in psychoanalysis, from the Southern California Psychoanalytic Institute in 1984 and taught there from 1988–2002. He is survived by his wife of 42 years, Judy; children, Laura (Karl Shalliker), Leonard (Lyla), Gabriel and Moses; four grandchildren; uncle, Lincoln (Wilma); and half-siblings, Marlene (Bruno) Borghi, Robert and Karoline (Cyril) Postel-Vinay. Memorial contributions may be made to UCLA's Department of Political Science for an award to be established in his name.
1971
Paul C. Jamieson III, former attorney, amateur chef, Stamford, Conn., on October 8, 2010. At Columbia, Jamieson was a member of the ice hockey team, crew and Alpha Delta Phi. After graduating, he and his future wife, Pam, traveled around Europe for a year. Later Jamieson attended The New England School of Law, graduating in 1976. When his children were born, Jamieson left the practice of law to stay home. He took pains to invest with equal ardor in each and every meal, shopping daily. He also donated his cooking skills to the community; for The Long Ridge School, which he attended at 5 and with which he maintained a lifelong connection and was board secretary, he hosted a Teacher's Appreciation Luncheon annually. He also loved to sail. Jamieson is survived by his wife of 39 years, Pam; daughter, Katie; son, Andrew; and brother, Matthew. Memorial contributions may be made to The Long Ridge School, 478 Erskine Rd., Stamford, CT 06903-1599 or The Cancer Institute at St. Joseph's Medical Center, 7601 Osler Dr., Towson, MD 21204.
1979
Jonathan M. Kayes, chief learning officer, Vienna, Va., on August 5, 2010. Kayes earned a degree in 1981 from SIPA and also studied at Middlebury and in Taiwan. His career included 27 years of service in the CIA. In the decade before his death, Kayes focused on his passion for learning, including serving as the CIA's first chief learning officer and later the chief learning officer of the Learning Consortium. A gifted linguist and manager, he spent a distinguished career with the Operations Directorate at the CIA, for which he was honored with several medals. He enjoyed long weekend morning walks with the family dogs, music, reading, the Chinese language and Chinese food. Kayes is survived by his wife of 24 years, Karen; daughters, Lauren and Alison; mother, Barry; brothers, Matthew and Ethan; and nephews and nieces.
1987
Edward S. Fettman, ESL teacher, Bridgeport, Conn., on June 21, 2010. Born in Bridgeport on May 31, 1965, Fettman graduated from Central H.S. A scholar and educator, Fettman has been memorialized with a scholarship in his name at Rockland Community College in New York, where he taught ESL for 20 years. He is survived by his children, Victoria and Steven; brother, Eric; and cousins, Sally Colon, Gordon Winer and Jeffrey Winer. Memorial contributions may be made to RCC Foundation, Attn.: Lillian Piskun, ESL Department, Rockland Community College, 145 College Rd., Suffern, NY 10901.
Lisa Palladino