Alumni News
CCYA Builds Engagement Among Newest Alumni
Message from CCAA President Kyra Tirana Barry '87
Where can you find almost 2,000 Columbia alumni in one place? At the Young Alumni Party on the U.S.S. Intrepid during Alumni Reunion Weekend. This is no surprise: CCYA is Columbia's strongest, most vibrant alumni program. It is a constantly evolving alumni organization with a tradition of passionate leaders and a calendar of multi-class events tailored to the interests of young alumni.
The Columbia College Alumni Association (CCAA) can learn from CCYA's success and develop programming that reflects former students' ever-changing interests and needs, in order to increase connections within the general alumni population.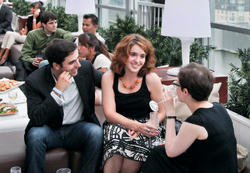 Social events such as the happy hour at NYC's Sky Room on July 26 have long been a popular part of CCYA programming.Photo: Scott Rudd PhotographyCCYA creates a community for alumni from graduation through the 10th reunion through programs such as
summer rooftop cocktail parties,
a wine and chocolate tasting,
career-focused events that bring together students and young alumni,
networking events and
community service events.
Like previous CCYA leaders, President Calvin Sun '08 and V. P. Robyn Burgess '10 have considerable experience as Columbia student leaders and a passion to keep CCYA on track and growing to serve our newest alumni.
Sun was V.P. of his class and president of the Columbia University Asian American Alliance. Now a medical student, he is on the Board of Directors for the East Coast Asian American Student Union, the oldest and largest ethnic-interest collegiate organization in the country. Sun says the key to CCYA's success is its "continual shift in emphasis to respond to the desires of the newest alumni and in helping graduates make the transition from college life by continuing the close community that existed on campus."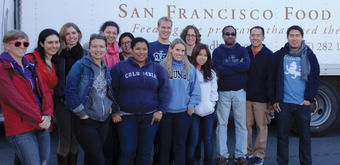 Young alumni in the Bay Area volunteered with the San Francisco Food Bank, one of CCYA's growing number of community outreach efforts. Burgess, who works in client services for email marketing company Experian CheetahMail, was a leader of the Black Students Organization and v. p. of campus life for the Columbia College Student Council. She sees her role in CCYA as related: "When I got involved I noticed that there wasn't enough multicultural representation at alumni programs, so I wanted to help tie my network to the organization. CCYA offers a space for young professionals to interact with people from different professional backgrounds, leading to greater creativity in all of our pursuits. That's why even our frequent happy hours help young alumni to become stronger adults and stronger alumni."
During the past two decades, CCYA has expanded from a series of networking events to the multifaceted organization it is today. The recent creation of its Community Service effort is one example. Since 2011, CCYA has been working with organizations including the Bowery Mission, Paddle for Autism, A Better Chance, Let's Get Ready, the San Francisco Food Bank, Toys for Tots and the NYC Parks Department.
This year, CCYA will participate in Columbia Community Outreach Day on Saturday, April 6, which is organized by the student organization Columbia Community Outreach. CCYA Community Service Chair Christina Macchiarola '10 encourages everyone in our young alumni network to go out and serve their communities on that day (columbia.edu/cu/outreach). We hope other CCAA members will get involved as well.
CCAA is very interested in adapting CCYA's approach of connecting classes and interacting with current students. Alumni of all ages tell us that in addition to class reunions they would like more opportunities to get together with the other classes that were on campus when they were there.
Dean's Day, which occurs during the Saturday of Alumni Reunion Weekend, is one such opportunity. And we are excited that the Society of Columbia Graduates has moved its Great Teacher Awards celebration to Dean's Day so a broader group of alumni can come together for a communal celebration. This luncheon brings together faculty, students and former students — three of the College's greatest assets — to honor our most inspiring and supportive teachers.
CCYA is a good model for CCAA and for College Alumni Affairs as we continue to think about building ever-stronger relationships with our alumni. Please continue to write to me about what interests you (ccaapresident@columbia.edu).
I hope to see all alumni — not just those in reunion years — on campus at Alumni Reunion Weekend, Thursday, May 30–Sunday, June 2.