Alumni Profiles
Rachel Nichols '03: From Math Whiz to Model and Movie Star
By Yelena Shuster '09
Like she did on most days during her junior year, Rachel Nichols '03 walked past the ads outside the Broadway gates on her way to class. This time, however, she stopped at an image of a sun-kissed, blue-eyed blonde staring from behind a 26"x50" GUESS poster. "You should buy this one", a street vendor said. "This girl goes here".
Little did he know that "this girl" was staring right at him.
Since being spotted by modeling agents as a sophomore, the Maine native has starred in high-profile ad campaigns, television series and feature films. You may recognize her from her role as Rachel Gibson on ABC's Alias or her appearances in the films Alex Cross (which also featured Matthew Fox '89), Star Trek, G.I. Joe: The Rise of Cobra and Conan The Barbarian. Today, Nichols has reached a place where fan sites document her every stilettoed step. Yet unlike most starlets, the economics major does her own taxes, tweets with proper punctuation (@RachelNichols1) and speaks in SAT-worthy sound bites.
Despite studying algorithms instead of acting, Nichols credits alma mater with fueling her meteoric rise. "Coming to New York and going to Columbia really helped make me the person who was able to get into the career that I have now," she says. "It's funny, but I was really shy in high school and I know you hear a lot of actresses say,"—here, she does a spot-on nerd impression—"'Oh, I was dorky', but it's true. My high school yearbook prediction would've been most likely to live in a small shell under a rock. But at Columbia, for the first time in my life, I was on a campus with like-minded people and I felt as though I belonged."
Nichols met her best friend, Albert Lee '02E, '07 Business, at orientation her first day on campus (she entered with the Class of '02). "It was such a nice first impression," Lee, an investment banker at Barclays, recalls. "Objectively, she's stunning, but when you speak to her, you see she's just a down-home Maine girl who didn't seem to be tainted by the apathy New York is known for."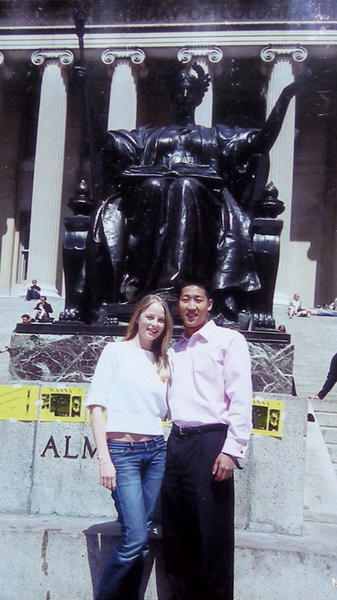 Rachel Nichols '03 met her best friend, Albert Lee '02E, '07 Business, during orientation. Photo: Courtesy Albert Lee '02E, '07 BusinessIn fact, if the math-whiz-cum-model hadn't been discovered, she likely would have been a suit-sporting banker. "When I was a freshman, all the seniors were reading Liar's Poker. Everyone wanted to get into banking after that," Nichols says, noting her original motivation for modeling was to pay for an M.B.A. (at Columbia, naturally).
But fate had another plan.
While meeting a friend for lunch, Nichols had a chance encounter with a Next modeling agent, who snapped Polaroids of her on the spot. From there, she began modeling in New York during her sophomore year, then went on leave to pursue her career in Paris full-time. She cat-walked in runway shows and posed in major campaigns for the likes of Abercrombie & Fitch.
Despite her success, dropping out of school never was an option. Nichols returned to Columbia eight months later and finished her degree by scheduling classes for two days a week, often from 9 a.m.—9 p.m., modeling the rest of the time and doing homework during photo shoot breaks. "Much to the dismay of my bookers, I was very strict about not working when I had school," she says. "I loved being here. At the first sight of spring, when everyone was on the Steps, I didn't want to be anywhere else."
"She was just another class­mate sitting at Tom's having black and white milkshakes, talking about our upcoming psych midterm," says Lee. "She was a total dork who took meticulous notes. She always made sure she understood concepts and would be the one person who went to the TAs office hours. She was who you copied class notes from."
The transition from still camera to live action was only a matter of time — and talent. Nichols had acted only once, by accident, in an eighth-grade play where she was a last-minute substitute for a football player with stage fright. Despite her inexperience, she nailed her first audition — for Sex and the City, no less — and the rest is IMDb history.
Nichols has developed a cult following as a sci-fi siren who can beat up bad guys and look good doing it. Her oft-admired silhouette can be attributed to celebrity trainer Valerie Waters, who was recruited to turn her model body into a muscled one on Alias. Nichols gained 15 pounds of muscle for G.I. Joe, for which she also underwent six weeks of weapons training along with co-star Sienna Miller. For Conan, the quick study mastered swordplay and horse riding.
The belle of the battle gets her close-up in her current lead role. She's starring in the second season of the sci-fi crime series Continuum, where she plays a detective from 2077 who's stranded in present-day Vancouver, trying to stop criminals from the future. The show was an immediate hit; with almost one million viewers, Continuum's first episode was the most-watched premiere for Canadian channel Showcase. Other networks caught on and stateside fans can now watch both seasons on the Syfy channel.
Despite her success, Nichols is happy to be one star in a constellation of many. "I like to be a working actor," she says, "because I can go outside and take out my trash without makeup, with dirty hair and wearing sweatpants, and nobody is taking my picture."
Watch an interview with Nichols discussing Continuum.
Yelena Shuster '09 writes for Cosmopolitan, New York and Manhattan magazines. Follow her on Twitter @YelenaShuster.