Around the Quads
Alumni Reunion Weekend and Dean's Day 2013
By Lisa Palladino
Fourteen classes will gather this spring for the College's biggest event of the year, Alumni Reunion Weekend. The four-day celebration, Thursday, May 30–Sunday, June 2, offers the chance for alumni to connect with old friends and make new ones, and to rediscover the campus and the city where they spent so much of their time. Celebrating are alumni from classes ending in 3 and 8, from 1943–2008. Reunion and Dean's Day events (the latter take place on Saturday, June 1, and are open to all alumni) will occur on campus and throughout New York City all four days.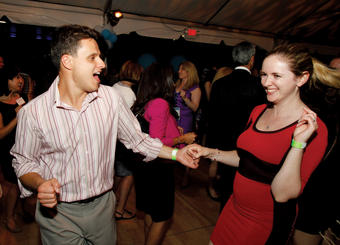 Two attendees get into the swing of things at the Starlight Reception. Photo: Eileen BarrosoHighlights of the weekend will include:
class-specific events planned by each class' Reunion Committee;
cultural options such as the New York Philharmonic, New York City Ballet, Broadway theatre and art gallery tours;
the Young Alumni Party aboard the U.S.S. Intrepid, featuring a champagne salute to veterans and alumni on active duty;
Dean's Day Public Intellectual Lectures and "Back on Campus" sessions featuring some of Columbia's best-known faculty and alumni;
the presentation of the Society of Columbia Graduates' 64th Annual Great Teacher Awards;
all-alumni Affinity Receptions for the Columbia Alum

ni Singers,

Columbia Daily Spectator,

varsity

athletics, and veterans and al

umni on active duty;
the new and improved Camp Columbia with separate programs for kids (ages 3–12) and tweens and teens (ages 13–17); and
the all-class Wine Tasting and Starlight Reception with dancing on Low Plaza.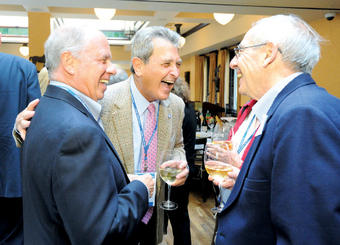 Members of the Class of 1962 share a laugh at their 50th reunion class dinner. Photo: Eileen BarrosoThis year's reunion activities and lectures will build on last year's concept of innovation by exploring the "Wonders of Discovery." Columbia's world-renowned faculty and prominent alumni will present the latest thought-provoking research and understandings, demonstrating how discoveries in fields both old and new have changed our historical perspective.
"Reunion and Dean's Day are venues for generations of College students to come together to renew friendships, extend their intellectual connections to Columbia and revisit the campus that they remember so fondly," says Dean James J. Valentini. "I look forward to seeing many of you then, particularly on Dean's Day, when I invite all alumni and parents, including those in non-reunion years, to come to campus for thought-provoking lectures."
Alumni who attended last year's reunion noted how wonderful it was to be back on campus with classmates, whether for a 70th reunion or a 25th.
Dr. Melvin Hershkowitz '42, one of six Class of 1942 alumni who attended, says, "We met for a luncheon in Hamilton Hall 74 years after we entered in 1938 for Humanities and CC classes. All of us were happy to return to and thank our beloved alma mater for what it has meant to us for so many years."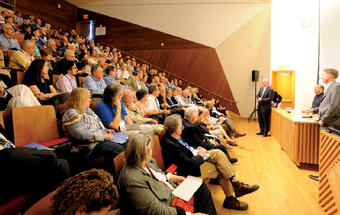 "Students" hear fresh perspectives at a Dean's Day Public Intellectual Lecture. Photo: Michael DiVito"My 25th reunion exceeded my expectations," says Cathy Webster '87. "I caught up with friends from my freshman floor, from the Marching Band and Glee Club, and incredibly also met some classmates with whom I had never spent any time at the College. I did not think I'd be out until 2 a.m. on a Saturday, or visiting with alumni from many other classes, but both turned out to be memorable occasions."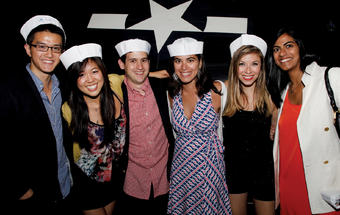 Young alumni party aboard the U.S.S. Intrepid. Photo: Michael DiVitoWebster's classmate Ron Burton '87 agrees: "Great time, that 25th reunion! The echoes were awoken!"
Some alumni share the Columbia bond, and a reunion year, with their children. Ralph Schmeltz '63 says, "I am planning to be at Columbia to celebrate not only my 50th but also my son Andrew '93's 20th. Will be great to see whoever shows up. … Fifty-year grads are 'old guys' but my mind still seems 18."
Little Lions have fun at Camp Columbia. Photo: Eileen BarrosoFor details on all events, refer to the Alumni Reunion Weekend materials you will receive in the mail, go to the reunion website (reunion.college.columbia.edu) or refer to the box at the top of your Class Notes column in this issue for staff contact information. For an idea of what to expect during the weekend, check out the "2012 Reunion Highlights" on the website.