Around the Quads
Alumni in the News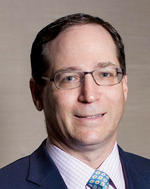 Jonathan Lavine '88Jonathan Lavine '88 received the 2012 Distinguished Community Service Award from the Anti-Defamation League at a dinner in Boston on December 5. The award is the highest honor bestowed by the ADL in New England. Lavine, a University trustee who is managing partner and chief investment officer of Sankaty Advisors, was honored for his "civic leadership and influence to affect positive change in our community," according to an ADL statement.
"It is fitting that we commemorate ADL's centennial in New England by honoring Jonathan Lavine, who embodies the very principles that have defined ADL since 1913," said ADL National Director Abraham H. Foxman. "He is a champion for those who need support, and for those who may be bullied or discriminated against."
Jennifer Medbery '06 was listed among the winners of Marie Claire's third annual "Women on Top Awards" in October, honoring "the up-and-comers leading thought-revolutions, creating businesses and making names for themselves in fields from the military to the arts," according to the magazine. Medbery is the founder and CEO of Kickboard, an educational software company that captures and analyzes students' academic progress, skills and weaknesses and which was used by 150 schools in 15 states last fall. "In 2009, I was working at a high school in New Orleans, but I didn't have a way of tracking students' grades, learning habits, behavior and family contacts, so I sat at my computer and built Kickboard that summer," said Medbery.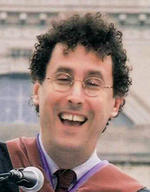 Tony Kushner '78 delivered the 2004 Class Day address. Photo: Eileen BarrosoTony Kushner '78 was nominated for the Academy Award for Best Adapted Screenplay for Lincoln, which stars Daniel Day-Lewis and was directed by Steven Spielberg. Although the Oscar went to Chris Terrio for Argo, Kushner won the Critics' Choice Movie Award for Best Adapted Screenplay and was honored by the National Society of Film Critics and the New York Film Critics Circle, among others, for Best Screenplay. Kushner — who co-wrote the screenplay for Spielberg's 2005 film Munich — won the 1993 Pulitzer Prize in Drama for his two-part play, Angels in America: A Gay Fantasia on National Themes, as well as Tony Awards in 1993 for its first part, Millennium Approaches, and in 1994 for its second, Perestroika.
Stephen Sagner '88 has become the co-president and chief strategy officer of College Summit, a college and career readiness organization. Sagner, a longtime nonprofit executive, formerly was s.v.p., foundation and corporate relations, at Local Initiatives Support Corp. College Summit works with approximately 50,000 students at 180 high schools across the country to help them complete high school and prepare them for success in college. "I cannot think of a better place for me to have a positive impact on the economic future of our kids, their families and communities than with this extraordinary organization," said Sagner.
Ben Jealous '94, president and CEO of the NAACP since 2008, was listed on Fortune's "2012 40 Under 40" list in November. Under Jealous, a fifth-generation NAACP member and its youngest president, the organization's revenue has grown 10 percent annually and its donor base had grown nearly tenfold. With black unemployment at record highs, Jealous has expanded the NAACP's programs to include economic literacy training as well as taking education, health and environmental justice initiatives national.
Frances Bodomo '10's short film, Boneshaker, was shown at the 2013 Sundance Film Festival in Park City, Utah, in January. Boneshaker, which stars 2013 Academy Award nominee Quvenzhané Wallis, was one of 65 short films that were selected from more than 8,000 submissions, organizers said.
Also at Sundance: Valentine Road, on which Yana Gorskaya '96 was consulting editor, competed in the U.S. Documentary category, and Daniel Radcliffe, of "Harry Potter" fame, starred as Allen Ginsberg '48 in Kill Your Darlings, a film about the birth of the Beats and the killing of David Kammerer that was directed by John Krokidas.
Katori Hall '03 was a finalist for the inaugural Edward M. Kennedy Prize for Drama Inspired
Katori Hall '03 Photo: Xanthe Elbrick by American History for her play Hurt Village, which was produced by the Signature Theatre Company in New York. The winners were Dan O'Brien for The Body of an American and Robert Schenkkan for All the Way.
The prize, which carries an award of $100,000 and was announced on February 22, is given to a new play or musical that "enlists theater's power to explore the past of the United States, to participate meaningfully in the great issues of our day through the public conversation, grounded in historical understanding, that is essential to the functioning of a democracy."
For more about the prize, go to kennedyprize.columbia.edu.
Jason Griffith '92 now is the global head of trading at Sanford C. Bernstein, reporting to Chairman/CEO Robert van Brugge. "As a 20-year industry veteran, Jason brings extensive experience in global equities and will play an integral role in helping us to better serve our clients," said van Brugge. Griffith was most recently at Jefferies & Co., where he was global head of equities, responsible for overseeing cash and electronic trading, equity derivatives, convertibles and prime brokerage as well as sales and research. Prior to Jefferies, Griffith was the global head of the hedge fund investors group and equity-linked solutions at Bank of America, and later at Societe Generale.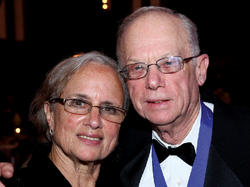 Alan Press '56 and his wife, Hanna Alan Press '56, s.v.p. and past CEO of the Wealth Advisory Group, a general agency of the Guardian Life Insurance Co. of America, was awarded the Huebner Gold Medal by The American College of Financial Services, its highest honor. The award, presented annually since 1975, recognizes individuals whose support of the college and its programs and whose dedication to education and professionalism have been of particular meaning to the mission and progress of the institution. Press joined Guardian in 1956 and has more than 55 years of experience in financial services.
Beau Willimon '99, whose play Farragut North was made into the 2011 movie The Ides of March starring George Clooney and Ryan Gosling, has written another political drama: an American remake of the 1990 British mini-series House of Cards. Directed by David Fincher, the series stars Kevin Spacey as an ambitious Washington politician who trades secrets with an equally ambitious reporter, played by Kate Mara. It's the first major original programming effort for Netflix, the video streaming and DVD-by-mail giant, which broke the mold by releasing all 13 episodes of the show's first season at one time, on February 1. "It's fully in the audience's hands to decide what their own experience is, the same way that you read a novel," Willimon said. "You can read Anna Karenina in two days, or you can read it over a year. And I think that's better because it personalizes the experience."
Alex Sachare '71