Around the Quads
Campus News
GLOBAL CENTER: On January 14 Columbia opened its eighth Global Center, in Nairobi, Kenya — the first Global Center in Africa. Global Centers are designed to promote and facilitate international collaborations, research projects, academic programming and study abroad. In addition to Nairobi, Columbia's network of centers that have opened or have been announced includes Amman, Beijing, Istanbul, Mumbai, Paris, Santiago and Rio de Janeiro.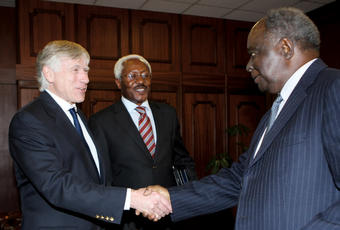 President Lee C. Bollinger greets Mwai Kibaki, president of Kenya, at the dedication of the Columbia Global Center in Nairobi. ZUCKERMAN GIFT: Mortimer Zuckerman, the Canadian-born co-founder and chairman of Boston Properties, chairman and editor-in-chief of U.S. News & World Report and publisher of the New York Daily News, has pledged $200 million to endow a Mind Brain Behavior Institute to support interdisciplinary neuroscience research and discovery by scholars across the University. President Lee C. Bollinger announced the gift on December 17.The Mortimer B. Zuckerman Mind Brain Behavior Institute will be located within the 450,000-sq.-ft. Jerome L. Greene Science Center, currently under construction on the new Manhattanville campus. It will become the hub of cross-campus research on brain science, bringing together researchers from the Medical Center and Arts and Sciences as well as from Engineering and other schools to collaborate on pioneering research in the neural sciences and an array of academic fields involving human behavior.
APPLICATIONS RISE: Columbia received 33,460 applications for the College and Engineering Classes of 2017, an increase of 5 percent from a year ago and the second-highest total in school history. The Class of 2015, the first that had the option of using the Common Application, received nearly 35,000 applications, a record 33.4 percent increase from the previous year. It's not unusual for applications to spike in the first year of the Common App but after last year's dip of 9 percent, the number of applications for the Class of 2017 continues an upward trend that goes back to the 1990s.