Around the Quads
Bryan Terrazas '13 Pursues Fascination with the Cosmos
By Nathalie Alonso '08
With the goal of one day shedding light on some grand questions — "Why is the universe expanding? What is the 96 percent of matter and energy we can't see right now?" — Bryan Terrazas '13 has taken an ambitious approach to his undergraduate work in astrophysics.
Terrazas, a John Jay Scholar, spent summer 2011 at the renowned European Organization for Nuclear Research (CERN) in Geneva, Switzerland, which aims to understand the workings of the universe through particle physics. Funded by a Columbia Undergraduate Scholars Program Summer Enhancement Fellowship, Terrazas plotted data resulting from the incredibly high-energy proton collisions within the Large Hadron Collider, the world's most powerful particle accelerator. He then compared the results against how current theories state subatomic particles should interact. The aim: to find discrepancies that would signal the existence of previously undetected particles or forces.
Terrazas, who stayed in an apartment in the town of Saint-Genis-Pouilly in France and rode a bike across the border daily to CERN's facilities, relishes having been part of that groundbreaking experiment, known as ATLAS. "It was amazing to feel the need, the urgency, the drive throughout everything that I was doing at CERN," he says.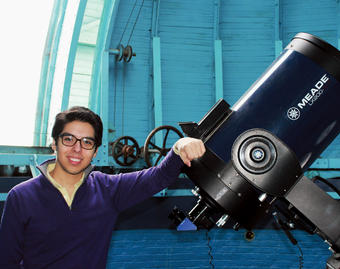 Bryan Terrazas '13, shown here at the Rutherford Observatory atop Pupin Hall, has spent his undergraduate years sampling various aspects of astrophysics.Photo: Kristen StrykerAt CERN, Terrazas also realized that he prefers astronomy to pure physics. And so, last summer, he spent two months at the Harvard-Smithsonian Center for Astrophysics in Cambridge, Mass., where he created computerized models to simulate the evolution of radio lobes — perpendicular plumes of matter that rise from black holes at the center of galaxies and are believed to heat the atmospheres around them. The project was funded by the National Science Foundation's Research Experiences for Undergraduates program, which covered Terrazas' expenses. "It was a very difficult project," Terrazas says. "My adviser, astronomer Paul Nulsen, was amazing. He gave me a lot of tough things to do, which I had worked with before, but not to that extent."
Just prior to leaving for Cambridge, Terrazas spent a week living at the MDM Observatory on Kitt Peak in Arizona, which is partly owned and operated by Columbia. He slept by day and spent nights learning how to use telescopes to observe changes in the brightness of cataclysmic variables — binary stars in which a dense white dwarf star tears matter from a normal star. Cataclysmic variables, Terrazas explains, allow astronomers to study the relationships between different types of stars.
Through his undergraduate work, Terrazas has narrowed his interests to extragalactic astronomy, which studies phenomena outside the Milky Way Galaxy. For his senior thesis, he is working with Associate Professor of Astronomy Greg Bryan to update models of how the universe's first stars came into being. "As Bryan learns, he is clearly trying to put all of this information into some sort of coherent structure; he's trying to piece together a big picture," says Bryan. "Like the best scientists, he is forming models in his head and using these models to make predictions about new situations."
Born in Los Angeles to Bolivian immigrants, Terrazas was 3 when his family moved to northern Virginia. He traces his love of astronomy to a fourth-grade field trip to the local planetarium, and now tries to instill that same sense of awe in others. One night a month, through the Harlem Sidewalk Astronomy project, Terrazas and fellow students from the astrophysics department set up telescopes in Federal Plaza in Harlem and invite passersby to take a look at planets and other celestial bodies. "It's not like they are going to an event where they are expecting to learn about science. I have to be able to engage them just like that," Terrazas says. "It's interesting to try to explain the concept as well as create wonder and get them enthralled with the subject. It's a challenge, but it's really fun."
Given his scientific bent, few would guess that Terrazas also is an accomplished clarinetist. He began playing at 10 and, through Columbia's music department, takes private lessons at The Metropolitan Opera. He also performs with the Columbia University Orchestra.
At press time, Terrazas was awaiting responses from several research fellowships and graduate programs. As he considers his next move, he finds himself motivated not by what he has learned thus far but by the many questions in his field that remain unanswered.
"It's really not about being perfect at calculating what is already known," Terrazas says. "It's about pushing the boundaries of what you know. That's really what research has taught me. Every single project that I've been a part of has incorporated this."
Nathalie Alonso '08, from Queens, is a freelance journalist and an editorial producer for LasMayores.com, Major League Baseball's official Spanish language website.