Around the Quads
In Memoriam
Karl-Ludwig Selig, professor emeritus of Spanish and Portuguese and a Cervantes scholar, died on December 1, 2012, on the Upper West Side. He was 86.
Selig is regarded as one of the world's foremost experts on Cervantes' Don Quixote. Known for his course "The Novella: from Boccaccio to Cervantes," Selig passionately made the case that the modern novel is dependent on Cervantes' picaresque work. He also taught "Masterpieces of Western Literature and Philosophy II," also known as "Super Lit Hum."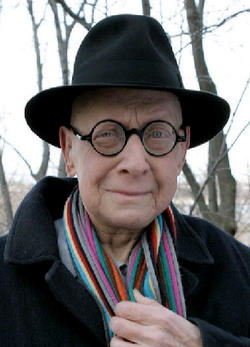 Photo: Lori Grinker / Contact Press ImagesThose who took Selig's class "could never get the books, or the professor, out of [their] mind. Fifty years later, people can recite his lectures," said Christopher Allegaert '78 in a recent Spectator article.
Selig was born into a Jewish family in Wiesbaden, Germany, in 1926. He and his parents fled to the United Kingdom in 1939, before the start of WWII, relocating to Erie, Pa. Selig earned a B.A. from Ohio State, where he also swam; an M.A. from Ohio State; and a Ph.D. from the University of Texas, where he later taught. He received his United States citizenship in 1948 and taught at the University of Minnesota, Johns Hopkins, North Carolina and Cornell before joining Columbia in 1966. Selig was presented Columbia's Mark Van Doren Award for Teaching in 1974. After leaving Columbia in 1989, he taught at the University of the South (Sewanee) and at the University of Greifswald, Germany.
Selig wrote or co-authored 45 books, many of which have been translated into multiple languages.
Selig always was willing and excited to speak with his students, and dozens attended his 86th birthday celebration last August.
Harper's Magazine Publisher John Mac­Arthur '78 referenced Selig last year in his Class Day address: "He wanted you to embrace the text, to read it with rigor, but also with pleasure. However, like all of my best professors, Selig insisted that reading text was a fundamentally serious endeavor, that text must be respected."
"He was resolved to fight as only a devotee of Don Quixote could," said another former student, Dennis Klainberg '84, "by staying optimistic, fighting to live another day and keeping in close touch with all his friends, colleagues and especially, his beloved students."
Selig had an appreciation for the rowing team, which named two sculls after him. A remembrance will be held for him this spring at the Columbia Class of 1929 Boathouse.
Former students may share memories of Selig on the "Fans of Karl-Ludwig Selig" group on Facebook. Several of Selig's former students have taken up a collection for his caretaker, Gilbert Adiaba. For information on how to donate, contact Dennis Klainberg '84 (dennis@berklay.com) or Ted Allegaert '87 (tallegaert@hotmail.com).
Karl Daum '15

Nicholas J. Turro, the William P. Schweitzer Professor of Chemistry; professor of chemical engineering; and professor of earth and environmental engineering, died on November 24, 2012. He was 74 and lived in Tenafly, N.J. Turro chaired the chemistry department from 1981–83 and co-chaired the chemical engineering department from 1997–2000.
Turro graduated summa cum laude from Wesleyan in 1960 with a B.A. in chemistry and in 1963 earned a Ph.D. in organic photochemistry from Caltech. He joined the Columbia faculty in 1964 following a year as a National Science Foundation (NSF) Postdoctoral Fellow at Harvard.At 43, Turro was elected to the National Academy of Sciences and the American Academy of Arts and Sciences, two of the most prestigious scientific academies. According to an obituary for Turro in Chemical & Engineering News, "throughout his career, Turro was recognized for laying the foundations for modern organic photochemistry, supramolecular photochemistry, and spin chemistry through his pioneering research." He received multiple awards from the American Chemical Society, among them the 2011 Arthur C. Cope Award in Organic Chemistry, the 2000 Willard Gibbs Medal Award of the ACS Chicago Section and the Award in Colloid & Surface Chemistry in 1999. Turro also authored several influential books, including Molecular Photochemistry, and was selected as one of the most highly cited chemists for the past two decades, with more than 900 research papers.
Turro was honored in 2002 with NSF Director's Award for Distinguished Teaching Scholars and in 2004 with ACS' George C. Pimentel Award in Chemical Education. In January he was honored posthumously with the inaugural George S. Hammond Award by the Inter-American Photochemical Society.
Turro is survived by his wife of 52 years, Sandra (née Misenti); children, Cynthia Turro Harty and her husband, James, and Claire Turro Styrbicki '87 and her husband, Thomas; sisters, Joanne Inferrera and her husband, Robert, and Marilyn Kmetz and her husband, John; and five grandchildren. Memorial contributions may be made to The Lustgarten Foundation (curepc.org).
William J. Willis, the Eugene Higgins Professor of Physics Emeritus, died at his home in Dobbs Ferry, N.Y., on November 1, 2012. He was 80.
Born in Arkansas, Willis received both his undergraduate and graduate degrees from Yale. He worked at Brookhaven National Laboratory (BNL) before joining the Yale faculty in 1964. In 1973 he moved to the European Organization for Nuclear Research (CERN), where he worked until joining the Columbia faculty in 1990. He also was head of the Center for Accelerator Physics from 1990–91 and assistant director at BNL from 1994–2010.
Willis was a towering presence in the development of particle physics, with a career encompassing nearly the entire history of the field. His contributions ranged from pioneering studies of parity violation at the Brookhaven Cosmotron in 1957 to last year's discovery of the Higgs boson at the large Hadron Collider (LHC). He is the author of 357 publications and worked in particle physics, nuclear physics and accelerator physics.
Wills' work was characterized by insight into both the outstanding scientific questions of the day and the advances in instrumentation necessary to investigate them. One example was his early advocacy of hermetic detectors relying on precision electromagnetic and hadronic calorimeters. Early efforts in this direction led to the first observations of jets at the CERN Intersecting Storage Rings in 1983. His continual involvement in the intervening years led to the development of the ATLAS experiment at the LHC, one of the most sophisticated and powerful scientific experiments ever built, which shared in the discovery of the Higgs boson last July.
In addition, Willis established the case for and the methods to investigate collisions of heavy nuclei at relativistic energies as a means of searching for new forms of matter. He worked with current University Professor Emeritus and Nobel Laureate T.D. Lee to promote this new field of physics, both in early investigations at BNL and at CERN, and in building the case for the Relativistic Heavy Ion Collider (RHIC). The discovery in 2005 of a new form of matter at RHIC, the strongly-coupled quark-gluon plasma, is traceable to Willis' scientific guidance as chair for the RHIC Technical Committee in the 1980s.
Willis twice served on the U.S. High Energy Physics Advisory Panel, was a member of the Panel on Particle Physics of the Organization for Economic Cooperation and Development and was a member of the Scientific Policy Committee of the Russian Ministry of Science. In 1993 he was elected to the American Academy of Science, and in 2003 he received the W.K.H. Panofsky Prize of the American Physical Society.
Willis is survived by his wife, Lindsey; daughter, Catherine Willis Gildor; sons, Christopher, Thomas, Andrew and David; and four grandchildren. Memorial contributions may be made to Student Advocacy (studentadvocacy.net/support-us/donate) and Phelps Hospice (secure.phelpshospital.org/community_giving/secure_donate.php); please indicate "Hospice – Tree of Lights."
Compiled by Elena Hecht '09 Barnard