Around the Quads
Dean's Scholarship Reception 2013
Nearly 500 named scholarship donors and student recipients filled Roone Arledge Auditorium on February 7 at the annual Dean's Scholarship Reception. Each year, nearly 1,200 Columbia College students receive named scholarships as part of their financial aid package, and this event allows the students and donors to meet one another and share their College experiences.
Dean James J. Valentini welcomed attendees, saying, "We have, by all measures, the most diverse college among selective schools in the country. Financial aid is a tool that allows us to create the Columbia that we have."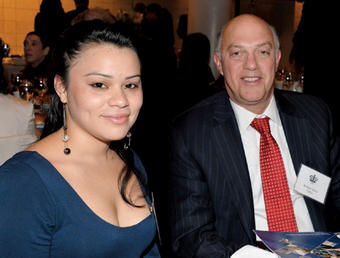 The reception allows scholarship recipients and their donors to meet. Photo: Chris Balmer '07The evening's donor speaker, James T. Brett '84, '90 Business, echoed the sentiment: "We are all here today because we are invested in the future of Columbia College," he said. "We want to remain competitive, and named scholarships allow us to do so."
Brandon Lewis '13 spoke on behalf of the scholarship recipients. "What can I possibly say to thank you for this opportunity?" he said, addressing the donors in the room. "The day I received my letter of acceptance was a happy one but I wasn't truly elated until I received the financial aid package that allowed it to become a reality."
View a video from the reception and the 2012–13 Scholarship Directory.