Features
Faculty Find Lit Hum Challenging, Fulfilling
"The course is a marriage of methodologies and the idiosyncrasies of the individual instructor."
By Shira Boss '93, '97J, '98 SIPA
The year-long Literature Humanities seminar is in many ways an exercise in ambition: Take 22 first-year students through 21 or so foundational texts of Western literature — by Homer, Plato, Dante, Shakespeare, Dostoevsky, Woolf — at the rate of about one book per week. The purpose isn't only to focus on plot points and comprehension but also to change how these 17- and 18-year-olds read, think, see the world and, in the years to come, reflect upon their own life dilemmas.
"Lit Hum gives students a couple of dozen models of how to think about a problem — the problem of being human," says Margo Rosen '11 GSAS, a lecturer in Literature Humanities based in the Department of Slavic Languages and Literatures. "You get Homer's world — it's a great way to start; he works by repetition and juxtaposition. Plato does it dialogically. St. Augustine goes inside the individual — it's an inward journey versus an outward journey. Every approach gives you more tools, and by the end students have so many ways to deal with this problem of life."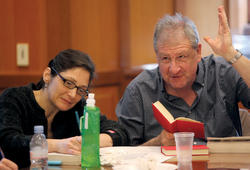 Margo Rosen '11 GSAS, a Core lecturer, compares notes with Richard Sacks, an adjunct associate professor of English and comparative literature and one of the a corps of mainstays who have taught Lit Hum for decades. Photo: Bruce GilbertA crown jewel of the Core Curriculum, Lit Hum was founded in 1937 as Humanities A. Its goal: to explore major works of literature as a companion course to the existing Contemporary Civilization, which features philosophic works. The syllabus has included The Iliad, Oresteia, Oedipus the King and Inferno every year since its debut, with a slightly shifting cast of other classic works. All are chosen for their enduring relevance to modern life. "We talk about injustice, rage, family ties, identity, power — so many issues we deal with today come up over and over again in the Lit Hum readings," says Jo Ann Cavallo, associate professor of Italian, who has taught the course continually since the early '90s. "Even though the texts are very far from us in terms of a time period, they're very close to us in life experience."
"There's a collegial aspect," says Joanna Stalnaker, associate professor of French, who has taught Lit Hum for seven of her 11 years at Columbia. "Everyone is reading the same works at the same time. There are very few colleges where that's taking place, and that's the most valuable thing I can think of. This course sends a message that literature matters and is central to a college education, and that's something that's endangered right now."
"That's what we do at Columbia: Lit Hum and CC," says Michael Seidel, a retired professor of English who taught Lit Hum for 30 years after coming to Columbia from Yale in 1977. "There's really nothing like it in the country, because of its history, its intensity, that it's a seminar and because it's Columbia students. I read those books with the same intensity the last time I taught it as the first time." Seidel adds that he misses Lit Hum and sometimes wakes up longing to teach a class.
Lit Hum's teachers hail from humanities departments such as English and comparative literature, philosophy, theater, classics and anthropology. The course includes about 65 sections, which puts it in constant need of those willing and able to take on the rigors of teaching it. (The aim is for the faculty to be evenly divided with a third tenured faculty, a third junior faculty and a third graduate student preceptors.) Many instructors read the assigned text before class, and not just the first time they teach the course, but every time. "Anybody who reads books for a living never feels it's the same thing over and over again," Seidel says. "The books reveal themselves over time, with new insights and new ways of reading."
Elisabeth Ladenson Ph.D. '94 GSAS, professor of French and comparative literature and chair of the Department of French and Romance Philology, reads each work itself plus as much as she can get her hands on about the work. "I'm old-fashioned, so it's not Wikipedia I'm going to rely on," she says. "It's The Cambridge Companion to Virgil, dictionaries of mythology and things like that. It's not just the work; it's the context of the work, the author's life, the influences of the work, mythological references. I prepare for class surrounded by dictionaries and reference works and critiques of the work."
Another challenge to teachers is inherent in the nature of the course: With such a range of works, many are bound to lie outside the scope of individual expertise. "Some people only feel comfortable teaching material they know intimately. Putting yourself in front of the major works of civilization is intimidating," Seidel says. "You can teach the course only one way, and that's with humility. The works are so much greater than any of us. You don't really teach it — you read the books alongside a lot of smart people, both people teaching the course and the Columbia students."
"You can teach the course only one way, and that's with humility. The works are so much greater than any of us."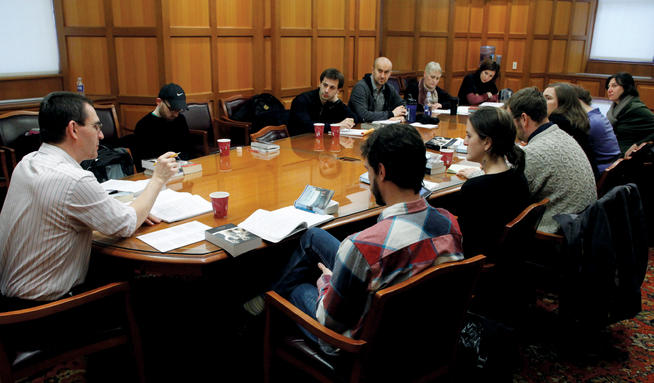 Gareth Williams, the Violin Family Professor of Classics and chair of Lit Hum, conducts a weekly seminar for graduate preceptors who are teaching the course for the first time. Photo: Michael DiVitoFor first-time and any veteran instructors who choose to attend, a Wednesday lunch forum, with a guest speaker on the upcoming text, helps them prepare for the week ahead. The Witten Center for the Core Curriculum, meanwhile, maintains a library of resources online and at its office in Hamilton Hall. And the Lit Hum chair keeps materials — notes, articles, hand-outs — that have been passed down through the years.
"The first year is an Iliad," Rosen says. "You barely have time to read the work yourself before you're with the students teaching it. It was life-saving that I had generous colleagues who shared their Lit Hum notes and offered guidance."
Though she has taught the course four times, Rosen still attends every Wednesday presentation. "I love thinking about the work in the company of other people who also want to think about these texts," she says.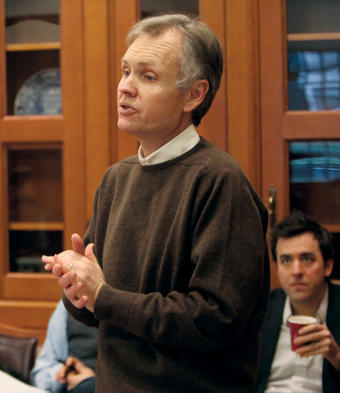 Andrew Feldherr, a professor of classics at Princeton, visited one of the weekly Lit Hum staff meetings to offer an expert presentation on Ovids Metamorphoses, which was the featured text that week. PHOTO: BRUCE GILBERTSeidel attended the Wednesday discussions every week for decades and found them one of the most enjoyable aspects of teaching the course. "They were always fruitful, with fascinating insights that were invaluable to the health and vitality of the course," he says, adding that he especially enjoyed getting to know colleagues from other departments — historians, anthropologists, philosophers, sociologists — who brought their own perspectives. "That had a tremendous impact on my work through the years and in the way I approached the whole academic experience."
The greatest challenge (and sometimes an enticement) for first-timers lies in developing even a basic knowledge of all the books. "These are towering works. One could spend one's life studying any one of them," Stalnaker says. "I'd never read Homer or Virgil or the Bible. I was coming into it with complete ignorance and loved the idea of reading these books myself. I now think it's crazy to work in literature and not have any knowledge of the Bible [for example], because it's so influential in the history of Western literature and in our language."
In addition to the Wednesday talk, first-time graduate preceptors are required to attend a Friday seminar series, led by the chair of Lit Hum — currently Gareth Williams, the Violin Family Professor of Classics and chair of the Department of Classics — on how best to teach the course. Still, aside from the required readings and a standardized final exam, the faculty is given a good deal of free rein in how to approach their classes. One's approach might lean toward the historical, classical, philosophical, anthropological or textual. The discussion might be more student-driven or teacher-led. So although Lit Hum is a shared experience among students and faculty, individual sections tend to differ in trajectory, character and interpretational emphasis.
"One of the most important commodities is themselves: life experience," Williams says of the teachers. "Lit Hum is a marriage of methodologies, on which we agree, and idiosyncrasies of the individual."
Lit Hum's precise content is continually debated by faculty and students. A common complaint from students in recent decades has been that the Western-centric syllabus is exclusionary (the "Why are we reading the works of dead white males?" argument). Faculty are more likely to argue the merits of one individual text over another, and parse differences in translations to decide which should be the required versions.
The syllabus is reviewed formally, usually every two years, by current Lit Hum staff and those who have taught the course in the previous five years. It's a popular meeting. "A lot of debate takes place, often before the meeting. Discussion of and reflection about what texts should be taught go on all the time," Williams says.
He emphasizes that no text earns its place in the course by default: "It's not a bunch of people who worship the Western canon. Nobody is treating these as museum pieces. We're asking what aspect of the human experience these authors articulated that draws readers over time and strikes a chord with generation after generation. It's not an act of text worship, it's an act of text interrogation."
Currently, Boccacio's Decameron is off the syllabus, Goethe's Faust is on. Pride and Prejudice has been suggested for the chopping block, perhaps in favor of an alternative Jane Austen novel such as Mansfield Park. Several years ago, in an effort to be more inclusive, the Mesopotamian poem The Epic of Gilgamesh was added but it was removed after just one year.
In addition to the required work, professors can add one or more texts of their own choosing. Popular selections include Toni Morrison's Beloved, Ralph Ellison's Invisible Man and Anthony Burgess' A Clockwork Orange. Ladenson adds Margaret Atwood's The Penelopiad — the story of the Trojan War from Penelope's point of view — to the Fall syllabus, following The Odyssey. In the Spring, she asks the class to vote on an additional text. "They suggest things like One Hundred Years of Solitude; I propose things like A Portrait of the Artist as a Young Man," she says. "When we narrow it down, every single time they've voted for Lolita. It's a surefire hit, and it alludes to the entire tradition we've read."
Stalnaker doesn't assign additional reading and instead gives her charges breathing room to read and absorb the required texts. She says there's an ongoing concern among faculty about whether the students can and do read all of the works versus skim, skip or rely on SparkNotes, and "whether the ambition of the syllabus inspires superficial reading. My experience is that the vast majority of them do read and get a lot out of the experience."
Students are known to contact their professors weeks, even years, after the course to tell them how much it meant to them.
Ladenson has discovered the same: "It's a huge amount of reading — it's astonishing anyone does it all — but I've been impressed by how many students do most or all of the reading and come to class prepared," she says. "And even if they don't, it's good for them to be exposed to it."
The reading list always has been daunting, for nearly any student, but Williams thinks today's students are challenged more than ever due to technology. "The act of reading is not what it was 20 years ago. The Internet is a technological marvel in so many ways but it perhaps has had considerable consequences for traditional reading practices," he says. "These books presuppose a thoughtfulness about life and self-reflection, which are challenged by the speed of information retrieval in the Internet age. The students are as bright and committed as they ever were but now are used to instant access to information and a sense of speed. Books are slow burners. The character development and time frames are much slower than what the students are often used to, and that requires a recalibration."
The first-year students are largely divided between those who can't wait to delve into the venerated Core courses, starting with Lit Hum — for many, the Core is what attracted them to the College in the first place — and those who possess little innate interest in what they initially see as dusty, irrelevant or just plain hard-to-get-through books. "Sometimes you get somebody horrified by the Core, who says, 'I'm a science guy' or whatnot, and then they find they love it," Ladenson says. "That's a very gratifying pedagogic experience."
Anne Holt, a first-year graduate preceptor, takes notes at one of the weekly Lit Hum staff meetings. Photo: Bruce GilbertStudents are known to contact their professors after the course — sometimes weeks later, sometimes years — to tell them how much Lit Hum meant to them and the impact it has had on their lives. Cavallo cites a student who returned to his home country of India and started a vocational training company he named after Athena. "It really touches me when students are inspired in their life choices by Lit Hum," she says.
Not everyone is so converted of course. Some students don't complete all the readings or participate actively in the discussions. "Not all of them care or pay attention or have a good time," Ladenson says. "With Lit Hum, as with everything, what you get out of it reflects what you put into it."
Cavallo says the romantic ideal of students debating the books in dining halls and residence halls turns out to be true. She wasn't sure until her two children came to the College and reported the phenomenon first-hand, which she was grateful to hear.
Although the course is billed as life-changing for students, faculty often get as much out of teaching it as the students do taking it. Intimacy with the texts informs the professors' research and writing in their own fields and enriches their personal lives as well. When Hurricane Sandy flooded much of Cavallo's home in Toms River, N.J., in October, she spent the night on the kitchen counter watching the tidal surge reach the windowsills and reflecting on Herodotus. "I was thinking of how Solon warned Croesus that you never know what's going to happen in life," she says. "It was a confirmation of the wisdom that can be found in ancient texts."
"If I could teach one course forever, it'd be Lit Hum," Rosen says. "But Lit Hum wants you to move on and do other things and come back to it, and each time you do, the books are different, the students are different, you're different."
Ladenson, too, enjoys being pushed out of her comfort zone and, in fact, values the experience of teaching Lit Hum so much that she's considering expanding her horizons. "I'm toying with taking CC — oh, that's a huge slip! — I meant teaching CC, or Art Hum. It'll be a stretch for me, which is why I want to do it."
Shira Boss '93, '97J, '98 SIPA is contributing writer to CCT. Her last feature was a profile of filmmaker, faculty member and Center for the Study of Ethnicity and Race Director Frances Negrón-Muntaner in the Winter 2012–13 issue.