Features
Lit Hum for Life
"I left Columbia with an understanding of the power of asking the right questions."
By Alexis Tonti '11 Arts
On the day after his college graduation, the last thing Chuck Callan '78 did before leaving Morningside was visit Professor Karl-Ludwig Selig at his office in Hamilton Hall to ask for a reading list. "I did not want the power and pleasure of the Core to end," recalls Callan, who majored in economics. "Literature Humanities was transformative for me."
Selig obliged. Among the books were a trio by Mann (Confessions of Felix Krull, Confidence Man; Death in Venice; and Doctor Faustus) and two each by Flaubert (Sentimental Education; Madame Bovary) and Joyce (Dubliners; A Portrait of the Artist as a Young Man). He also advised the short stories of de Maupassant, Faulkner's The Sound and the Fury and Forster's A Passage to India; Defoe's Robinson Crusoe and Crane's The Red Badge of Courage; and García Márquez's One Hundred Years of Solitude. All told, there were about 30 titles.
In 2010, Callan visited Selig a second time, this time at an assisted living center on the Upper West Side, to tell him he had finished the list and to ask for more recommendations.
"Read them again," said Selig.
It is fair to say that, in 75 years, no student has left Literature Humanities untouched by the experience. Some are relieved to have made it through — and no looking back, thank you very much. Others come away with a sense of satisfaction, and the confidence that the course has in some essential way contributed to their becoming educated, well-rounded individuals. And many, many more experience Lit Hum as a kind of opening out: It increases their appetite for reading and broadens their other interests, attunes them to an ongoing and long-lasting conversation about the world and equips them with new ways of engaging with others and with themselves.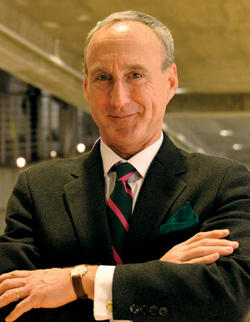 "Literature Humanities was transformative for me," says Chuck Callan '78.Photo: Chris Balmer '07"The Core is about great, enduring truths that neither I nor, I dare say, humanity, can live without," Callan says. (His literary adviser, Selig, died on December 1, 2012. See Around the Quads.)
"Before taking the course I thought the subject matter of many of the books would never apply to me because of the differences in times," says Dana Mondesire '14. "On the contrary, by the end of each class I was thinking about the questions posed in the works and how they may have applied to my own life; I found that the themes we discussed in class were just so relatable."
"It led to reevaluations of my own worldview. How much of what I believed was simply the result of our cultural tradition?" says Michael Carter '14. "Paradoxically, by examining the conventional, Western tradition, I became much more open to alternate ways of thinking. Everybody always tells you that college is a place to 'find yourself,' to develop your opinions, to understand who you are. And Lit Hum is a great way to do that."
"Perhaps one of the most important lessons I took from Lit Him — and from the Core in general — was a feeling of empowerment to search and to question," says Scott Koonin '02, an investment adviser and a member of the Columbia College Alumni Association Board of Directors as well as a Class Agent for the Columbia College Fund. "I left Columbia with an understanding of the power of asking the right questions and now, in my professional life, thoughtful questions have revealed a deeper understanding of my clients' needs, fears and desires. Questions have been a differentiator."
"These books are masterpieces because they relate to
everyone and incite a different feeling in each person."
The College's incoming students fall at many points along the Lit Hum spectrum. At one end there are those who arrive with reservations of some kind — they may be intimidated or disinterested — and at the other end are those who are eager to dive into the course. With the former, conversion stories are common. And with the latter, the seminar experience serves only to amplify their enthusiasm.
"I came to Columbia largely because of the Core Curriculum and more specifically because of Lit Hum," says Zoe Wood '16. "As someone who grew up without once opening a bible, the fact that the first semester of Lit Hum studies the New and Old Testaments was hugely appealing. The course is about creating a base of knowledge, about having a point from which you can go in any direction and, as you go about your career in neuroscience or programming or Russian literature, maintain with you a basic understanding of the most important voices in Western thought."
"I was really daunted by the idea of engaging with the texts," says Anna Couturier '10. "I came from a middle-class California public school and, while I really enjoyed European literature, ancient texts seemed completely above my head." She adds that, through Lit Hum, she gained confidence in her analytical abilities. "It set the pace for the next four years, in which I grew both as a critical thinker and an individual. Lit Hum made me understand that we are not alone in our creations."
Kathryn Reggio '14 admits she'd always been more interested in science, "with English being the most intimidating class on my schedule. And then when I found out that I'd been assigned to the chair of Lit Hum's class" — then Christia Mercer, the Gustave M. Berne Professor of Philosophy — "I was definitely going to switch.
"But on the first day that changed. Christia was a great professor with such a kind and accepting personality. Class was never intimidating; it truly felt like a sanctuary where all thoughts were heard and encouraged. And although the books were challenging, I got much out of them. Most interesting were the interpretations we made during class about the texts … these books are masterpieces because they relate to everyone and incite a different feeling in each person."
As with Reggio and Mercer, many students credit their seminar teachers for shaping the experience.
"My instructor, Nancy Workman, [adjunct assistant professor in the Department of Slavic Languages and Literatures], knows how to run a seminar. She took — and takes, every year — a class of wet-behind-the-ears first-years and makes readers out of them," says Conor Skelding '14. "And students met her challenge and behaved intelligently. We weren't dutifully raising our hands once per class to ramble on about nothing for a 'class participation' grade; we were discussing literature."
Some first-years embrace Lit Hum, others are more skeptical, but none are unaffected by the course.Photo: Matthew Septimus"I have to give full credit to my instructor, Professor Richard Sacks, [adjunct associate professor of English and comparative literature], who taught me how to be both a more critical reader and a more emotionally invested one," says Claire Sabel '13. "He constantly impressed upon us that all of these books are asking fundamental questions about what it means to be human, and that they're usually undermining their own premises rather than offering substantial answers."
Patrick McGarrigle '86 recalls his experience with James V. Mirollo, now the Parr Professor Emeritus of English and Comparative Literature. "He brought the varied collection of classics to life with energy, humor and passion. I recall his 'juxtaposition' — one of his favorite words at the time — of Confessions and Inferno and how fortunate I was to hear this titan's love for Dante." McGarrigle adds that the class both prepared him for and encouraged him to pursue other literary challenges at the College, including a Quixote class with Selig and an Eliot, Joyce and Pound class with the now-deceased Wallace Gray '58 GSAS.
"Looking back and connecting the dots from Mirollo to Selig to Gray, the veritable Tinker to Evers to Chance of CC's English and comp lit department, it's clear that Lit Hum doesn't really end that first year, or ever," McGarrigle says.
Students also sound appreciation to their teachers for directing them to the resources of the University as well as New York City at large.
"We visited the Met to see Greek and Roman art, attended a Medea reading at Miller Theatre and watched Oresteia at the Broadway Theatre," recalls Caroline Shang '13E. "These experiences added another dimension of appreciation for these works, and I will never forget them." She notes that as an engineering student with the option of taking Lit Hum, it was no contest: "I was ecstatic about sinking my teeth into the classics."
Of course, the books themselves are at the heart of any Lit Hum experience. When asked, most every student — past or present — can cite one (or more than one) that had particular impact.
"The Histories, Don Quixote and Pride and Prejudice had the greatest impact on me," says Valerie Comenencia Ortiz '14. "One of the greatest things about Lit Hum is that, while it makes no assumptions about your previous knowledge of the texts, it takes books and authors that you already seem to know and shows you an entirely different side of them"
Ramon Giron-Melendez '14 also points to The Histories: "It shows that even 'recorded events' are triangulated through the evaluation of a variety of perspectives. I learned that although our own introspection is an indispensable leap forward to figuring out life, a variety of examining voices is still needed to discover an entire truth."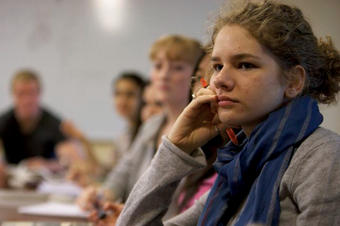 Lit Hum provides a unifying experience for first-years, who read the same books at the same time. Photo: Matthew Septimus"I distinctly remember discussing a particular section of Virginia Woolf's To the Lighthouse that opened up the novel for me in a way that deeply touched me and has remained with me since, and which led me to explore her other novels and discover her genius," says Lena Moffitt '05, who majored in environmental biology.
"Before coming to Columbia, I got my Iliad and thought, cool, I'm gonna read the book that the movie Troy is based on," Mondesire says. "But after reading it and discussing it in class, I realized that the epic was so much more than what Hollywood portrayed it as."
Wood cites Lysistrata. "I found it incredible that the people of 411 BCE were making essentially the same jokes that we make nearly 2,500 years later. I guess that could be seen as disheartening — should our collective sense of humor have made some more progress? — but I found it to be life-affirming, unifying, just funny."
With so many texts, it's not surprising that many current students speak to the difficulty of taking in what amounts to a book a week. But some see benefits to the pace.
"We go from Homeric poems to psychoanalytical 20th-century fiction — and, instead of feeling your way through the texts, you have to take the plunge and let the texts confront you," says Amir Safavi '14, a 2011 Core Scholar. "This is both a necessity — there is simply no time to leisurely muse about your reading — and a blessing, as it encourages us to trust our instincts and heightens our senses."
Sarah Fakhry '14 says the pace was both surprising and enjoyable. "I did not think it would be possible to do each book justice, but I was surprised at how much we covered. As a result, I am now probably one of the best speed-readers! It also was exciting when we found connections and similarities between the texts, such as the theme of friendship in The Iliad and The Aeneid."
Significantly, Lit Hum creates a sense of community on several levels. It provides, first, a point of connection for first-year students as they get to know each other and, later, a reliable source of debate. Many also speak to the comfort that comes from being in the trenches together through late-night study sessions.
Hannah Rosner '14 says one of her favorite memories is camping out with friends in John Jay's lounge to study for the Lit Hum final. "All the freshmen were walking around with these huge boxes of books, trying to remember what happened in book six of The Iliad three months ago, and the lounge was full of other groups doing the same thing."
Wood echoes the sentiment: "It was nice to be able to come out of my room at 1 a.m. and say to anyone who happened to be out at that time, 'I'm only on book four,' and receive their much-needed empathy. It's not that we all constantly discussed Medea's plight or Odysseus' pig-headedness, but the books really do come up in conversation sometimes, and when they do, everyone has something to say."
"There is always an opportunity to encounter someone who is contemplating the readings and engage in a discussion," says Justin Brathwaite '14. "As everyone is reading the same books, we are all aspiring to understand the themes at a much deeper philosophical level. … The course captures the essence of what it means to be a Columbian, which involves being part of an intellectual community where all its members debate ideas like suffering, truth and life's meaning."
In addition to forging bonds among first-years, Lit Hum connects all students — current and former — to each other and to the College.
"Lit Hum is the great unifier for Columbia alumni, not because of the conclusions that we arrived at through the texts but by the act of searching for answers in the words," Couturier says. "I have been lucky enough to meet and work with Columbia alumni from many different generations and, while we often differ in our interpretations and takeaways, we share the camaraderie that comes from the hard work of critically engaging with the great texts."
As Reggio puts it, "If anything, talking about Lit Hum is one conversation I know that I can have with any alumni."
Alexis Tonti '11 Arts is CCT's managing editor.