Obituaries
1930
Malcolm S. Mason, attorney, Earlysville, Va., on November 1, 2011. Mason was born in the Bronx in June 1910. He was a 1934 graduate of the Law School and had lived in the Earlysville area since 2003. Mason was an expert in federal grants law and was legal counsel in several federal agencies, including the National Labor Relations Board, the Office of Economic Opportunity and the Department of Health, Education, and Welfare. Up to the time of his death, he was serving as a senior fellow to the Administrative Conference of the United States. Mason was predeceased by his wife, Irma; brother; and sister. He is survived by his daughter, Jan, and her husband, Ed Freundschuh; son, Mike; and two granddaughters.
1931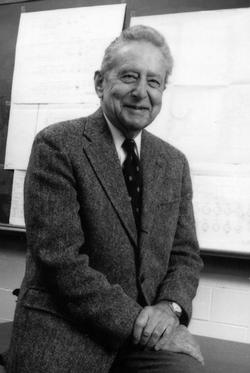 Paul E. Queneau '31Paul E. Queneau, Hanover, N.H., on March 31, 2012. Queneau was born on March 20, 1911, in Philadelphia. He earned a B.A. as well as a B.S. (1932) and Ph.D. (1933), the latter two at Engineering, and began work at International Nickel Co.'s (INCO) Huntington, W.Va., alloy plant. Queneau graduated from the Army Engineer School and was deployed to Europe with the U.S. Army Corps of Engineers. He was awarded the Bronze Star Medal, the Army Commendation Medal and earned five battle stars on his ETO ribbon. In 1945 he returned to the Reserve as a lieutenant colonel. In 1949, Queneau explored, mapped and photographed the Perry River region of the Arctic. He retired from INCO after 35 years and in 1971 joined the Thayer School of Engineering at Dartmouth, teaching there for 25 years. Queneau and his wife, Joan (née Hodges), spent their free time on their farm near Cornish, N.H. She predeceased him. Queneau is survived by his children, Paul and his wife, Jean, and Josie; six grandchildren; seven great-grandchildren; and brother, Bernard '30, '33E, and his wife, Esther. Memorial contributions may be made to the Queneau Scholarship Fund, Town of Cornish, 488 Town House Rd., Cornish, NH 03745, or the Fry Fund, Kendal at Hanover, 80 Lyme Rd., Hanover, NH 03755.
1932
Leonard S. Bases, otolaryngologist and surgeon, Sarasota, Fla., on January 25, 2012. At the College, Bases was elected to Phi Beta Kappa. At the depth of the Great Depression he and his brother, Joe, won his first year's P&S tuition by betting on a long shot at the races. He earned the rest of his tuition by working as a shoe salesman and selling his blood. Bases graduated from P&S in 1936 and was elected to the Alpha Omega Alpha Medical Honor Society. He was an intern, resident and house surgeon at Mount Sinai Hospital, a diplomate of the American Board of Otolaryngology and a fellow of the American College of Surgeons. During WWII, he served in the Army Medical Corps. After the war Bases was a Special Fellow in head and neck surgery at the Memorial Sloan-Kettering Cancer Center in New York City. He served chiefly during the next 30 years as an attending otolaryngologist at the Northern Westchester Hospital in Mount Kisco, N.Y. He also devoted 10 years to teaching and practicing medicine in Afghanistan and Java as a volunteer with CARE/Medico. Survivors include his wife of 71 years, Ann; sons, John and Terry; daughter-in-law, Deborah; two grandsons; and two nephews.
1939
Thomas P. Armstrong, retired business administrator, Russell, Mass., on April 15, 2012. Armstrong and his two brothers were raised on the Columbia Stock farm, a thoroughbred horse operation on Long Island, N.Y. After the College, he studied Japanese at Penn while serving in the Army during WWII. Armstrong's career included sales, business ownership and finally business administration with Gowanda State Hospital in New York. He retired in 1983. Armstrong loved the outdoors and remained active for years after retiring. He was preceded in death by his first wife, Grace Elizabeth (Bette) Cornell; second wife, Carma Goodrich; son, Robert; and son-in-law, Robert Apolant. He is survived by his wife, Jean Walther; sons, Thomas, and Steven James Walther; daughters, Pamela Armstrong Apolant, Carma Lynne Goodrich Uhrich, Royanna Goodrich Law, Cynthia Goodrich Cowan, Emily Walther Golinski and Karen Walther McCann; 17 grandchildren; and 23 great-grandchildren. Memorial contributions may be made to Hilltown Community Ambulance Association, Box 353, Huntington, MA 01050; American Red Cross, Westfield Chapter, 48 Broad St., Westfield, MA 01085; or The United Church of Christ, Second Congregational Church, 487 Western Ave., Westfield, MA 01085.
Edward C. Biele, retired attorney, apple farmer, Seattle, on November 3, 2012. Biele was born on June 29, 1917, in Hackensack, N.J., and grew up in Yonkers. He earned a scholarship to Columbia and upon graduation entered the Law School. He applied for and was accepted into a naval officers program during his second year of law school, which led to four years' service in the Navy during WWII. Biele served as lieutenant commander on the submarine U.S.S. Sea Devil during four patrols in the Pacific during 1944 and 1945. After the war, he returned to the Law School, graduating in 1946. In 1950, Biele moved to Seattle, where he practiced admiralty law until his retirement in 1982. He had a second career as an apple farmer, which began in the mid 1970s when he partnered with his oldest son to acquire and operate orchards in Eastern Washington. Biele was predeceased by his wife of 61 years, Mary. He is survived by his sons, John '69 and Alec '71; daughter, Polly Lenssen; five grandchildren; and five great-grandchildren.
1940
Gilbert H. Glaser, retired medical school professor, North Haven, Conn., on January 21, 2012. Glaser, a 1943 graduate of P&S, trained in neurology at The Neurological Institute of New York at NewYork Presbyterian Hospital/ Columbia University Medical Center and then served at Brooke AMC from 1946–48. He was recruited to Yale as head of the neurology section, beginning a 45-year career at Yale. Glaser became full professor in 1963 and was named chairman when neurology became a department in 1971, a position he held until his 1987 retirement. Glaser was internationally known for his clinical expertise and research in epilepsy and also was a leader of a new generation of physician-scientists committed to disease-oriented laboratory research as the basis for understanding basic disease mechanisms as a prerequisite to developing novel therapies. Glaser was president of the American Epilepsy Society in 1963 and president of the American Academy of Neurology from 1973–75. He was editor of the journal Epilepsia and on the editorial boards of many other journals. Yale honored him in 2006 by establishing the annual Gilbert H. Glaser Lectureship and in 2010 by creating the Gilbert H. Glaser Professorship.
1941
Richard H. Kuh, retired attorney, New York City, on November 17, 2011. Kuh was briefly the Manhattan D.A. in 1974, serving between the resignation of Frank S. Hogan '24, '28L and the election of Robert M. Morgenthau. Kuh was born in Manhattan on April 27, 1921. He served as a combat infantryman in Europe in WWII and graduated magna cum laude from Harvard Law in 1948. Kuh went into private practice in New York in 1948 then was an ADA from 1953–64, serving as chief of the Criminal Court Bureau and as Hogan's administrative assistant. Kuh's role in the 1964 obscenity trial of stand-up comedian Lenny Bruce brought him to public attention. In 1980 Kuh, then in private practice, was hired by the family of Martha "Sunny" von Bülow to prosecute her husband, Claus, on charges that he tried to kill her with insulin injections. As D.A., Kuh established the sex-crimes unit. He authored Foolish Figleaves? Pornography in — and out of — Court (1967) and contributed to other periodicals. Kuh, who lived in Greenwich Village, was a founder of the Village Independent Democrats. He is survived by his wife, Joyce Dattel Kuh; son, Michael; and daughter, Jody. His brother, Joseph '39, '43 P&S died on November 16, 2012.
Other Deaths Reported
Columbia College Today also has learned of the following deaths. Complete obituaries will be
published in an upcoming issue, pending receipt of information. Due to the volume of
obituaries that CCT receives, it may take several issues for the complete obituary to appear.
| | |
| --- | --- |
| 1938 | Leo D. Kellerman, ophthalmologist, Douglaston, N.Y., on November 18, 2012. |
| 1939 | Joseph R. Kuh, retired physician, New York, N.Y., on November 16, 2012. |
| | William J. Stibravy, Foreign Service officer, Norwalk, Conn., on January 5, 2013. |
| 1940 | Francis H. McCullough Jr., retired orthopedist, Centralia, Wash., on January 15, 2013. |
| 1942 | Morris Grossman, retired philosophy professor, Fairfield, Conn., on December 12, 2012. |
| | William J. Scharffenberger, retired business executive, New York City and Ghent, N.Y., on December 12, 2012. |
| | Anthony E. Ventriglia, retired professor of mathematics, Bronxville, N.Y., on August 28, 2012. |
| 1943 | Cleomenes Generales, physician, La Jolla, Calif., on December 31, 2012. |
| 1944 | Gordon Cotler, author, musical producer, New York, N.Y., on December 20, 2012. |
| | Robert A. Fishman, neurologist and retired hospital chair, Tiburon, Calif., on December 4, 2012. |
| | Robert L. Rosenthal, hematologist, Flushing, N.Y., on February 1, 2013. |
| 1945 | Alan A. Grometstein, retired mathematician, Stoneham, Mass., on November 4, 2012. |
| 1946 | Eugene Bruck, musicologist, New York, N.Y., on December 8, 2012. |
| 1947 | William H. Hayes Jr., retired philosophy professor, Santa Cruz, Calif., on August 27, 2011. |
| 1948 | Grant B. Dellabough, family physician, Dumont, N.J., on November 21, 2012. |
| | James St. Andrew, retired, Mooresville, N.C., on December 13, 2012. |
| | Paul P. Woolard, business executive, New York City, on January 10, 2013. |
| 1949 | Frederick W. Scholl, Hendersonville, N.C., on April 11, 2011. |
| 1950 | John L. Maracle, retired insurance executive, Irondequoit, N.Y., on January 3, 2013. |
| 1951 | Herbert H. Beardsley, Episcopal priest, Cutchogue, N.Y., on January 26, 2013. |
| | Myron "Mickey" Winick, physician and nutrition expert, New York City, on November 1, 2012. |
| 1952 | Salvatore J. Capone, retired ophthalmologist, Staten Island, N.Y., on December 16, 2012. |
| 1954 | John W. Brackett Jr., retired pulmonologist, Oxford, Conn., on December 8, 2012. |
| | Leon H. Frey, Delray Beach, Fla., on July 8, 2012. |
| | John J. McGill, consultant, Sandestin, Fla., on February 17, 2012. |
| | David R. Williams, retired music professor, Memphis, on December 6, 2012. |
| 1955 | Ihor Koszman, chemical engineer, Montgomery, Texas, on August 9, 2012. |
| | Raymond D. Panetta, retired urologist, Seaside Park, N.J., on December 25, 2012. |
| 1956 | Stephen Forstein, retired rabbi, Topeka, Kan., on December 19, 2012. |
| 1959 | Michael Marks Cohen, former naval officer, former Law School professor, New York City, on December 1, 2012. |
| 1960 | Michael J. O'Connell, engineer, New Bern, N.C., on August 11, 2012. |
| 1961 | John C. Leonardo Jr., retired computer executive, Ketchum, Idaho, on December 18, 2012. |
| 1962 | George M. Abodeely Jr., West Boylston, Mass., on June 30, 2012. |
| 1963 | Robert E. Dyson, Sarasota, Fla., on July 30, 2011. |
| | Henry A. Sellner, retired ob/gyn, Danbury, Conn., on January 25, 2013. |
| 1964 | Frederick H. Levine, physician, Amherst, Mass., on September 18, 2012. |
| 1968 | Barry Deutsch, attorney, Brooklyn, N.Y., on December 29, 2012. |
| 1969 | George S. Eisenbarth, medical executive, professor of pediatrics and diabetes researcher, Golden, Colo., on November 13, 2012. |
| 1972 | Richard A. Arcaro, retired electrical engineer and computer analyst, Laurens, N.Y., on January 9, 2013. |
| 1984 | Richard G. Anderson, art dealer and maritime preservationist, Nyack, N.Y., on January 21, 2013. |
| 1985 | Robert Z. Mesko, development executive, Denver, on November 16, 2012. |
| 1992 | Andrew Littell, financial executive, Boston, on December 17, 2012. |
| | Kevin B. Pratt, architecture professor, Ithaca, N.Y., on February 19, 2013. |
| 1993 | Tania E. Gregory, homemaker, Berkeley, Calif., on December 11, 2012. |
| | Suzanne M. Weber, neuroscience researcher and lab manager, Tempe, Ariz., on January 7, 2013. |
1942
Elliott C. Levinthal, physicist, inventor and professor, Palo Alto, Calif., on January 14, 2012. Levinthal was born in Brooklyn on April 13, 1922. He earned an M.S. from MIT in 1943 and a Ph.D. from Stanford in 1949 under the direction of Felix Bloch. His dissertation, on the magnetic resonance of the hydrogen atom, was part of Bloch's Nobel Prize-winning discoveries. In 1948, Levinthal joined Varian as a founding employee and was research director and director of the company. In 1953, he founded Levinthal Electronics Products, developing some of the first defibrillators, pacemakers and cardiac monitors. In 1961, Levinthal joined the genetics department of Stanford School of Medicine. During a two-year leave Levinthal was director of the Defense Sciences Office at the Defense Advanced Research Projects Agency. He returned to Stanford, becoming a research professor in the mechanical engineering department and director of the Stanford Institute for Manufacturing and Automation, then associate dean of research at the School of Engineering. Levinthal was active in philanthropy and politics and traveled to all seven continents. He is survived by his wife of 67 years, Rhoda; children, David and his wife, Kate, Judith and her husband, Randall, Michael and Daniel; and seven grandchildren.
William A. Mazzarella, retired IRS employee, Oceanside, Calif., on January 2, 2012. Mazzarella was born in Oakland on December 31, 1919. He served in China and Korea with the Marine Corps in WWII. Mazzarella was a life member of the 1st Marine Division Association, the Chosin Few, the China Marine Association and the Veterans of Foreign Wars. He retired from the IRS in 1978 after 30 years. Mazzarella also gave more than 3,000 hours as an auxilian for the Tri-City Medical Center. In 2006, he received a Diamond Trophy from the Tri-City Hospital Foundation and an award as a charter member of the Towers of Faith from the St. Thomas More parish. An avid hunter, shooter and ammo maker, he was a patron member of the NRA and a life member of the California Rifle and Pistol Association and the North American Hunting Club. Mazzarella was predeceased by his wife of 57 years, Rita, and daughter, Judith. Surviving him are his companion, Marguerite Moore; children, Rita M. Gray, Patricia C. Larson, William Nicholas and Wendy; son-in-law, Timothy Nichols; six grandchildren; and six great-grandchildren.
1943
Sidney Warschausky, retired educator, Ann Arbor, Mich., on April 9, 2011. Warschausky grew up in the Bronx and earned a B.A. (Phi Beta Kappa) as well as an M.A. (1949) and Ph.D. (1957), the latter two both in philosophy from GSAS. He served as a lieutenant in the Army Air Forces, 1943–46. Warschausky's last 10 months of service were spent in the Occupation Force in Japan, where he taught English to the villagers. He later taught at Illinois for three years, at Mount Holyoke for two years and at Michigan for 33 years, where he chaired the humanities department several times. After retirement Warschausky was a weekly volunteer discussion leader of a literary group at the JCC for 18 years. He was a member of the Chaverim B'Shirim choir at the JCC. Poetry also was a passion and he was collating his for publication. Warschausky is survived by his wife of 57 years, Lorraine Nadelman; children, Seth and his wife, Sandra Finkel, Judith and her husband, Gary Childrey, and Carl and his wife, Laurie McCollum; sister, Thelma Solomon; and eight grandchildren.
1948
Robert B. Mellins, physician professor emeritus, New York City, on December 12, 2012. Born in Brooklyn, Mellins earned an M.D. from Johns Hopkins and subsequently returned to Columbia to be trained in pediatrics, cardiology and pulmonology. He was an internationally recognized authority on childhood asthma. Mellins established the Pulmonary Division of the Department of Pediatrics at P&S and was president of the American Thoracic Society, the Fleischner Society and the Louis Augustus Jonas Foundation as well as v.p. of the American Lung Association. He received the Physicians and Surgeons Distinguished Service Award in 2012. Mellins also was an accomplished musician, skier, figure skater and gardener as well as an avid reader. He is survived by his wife, Sue; children, Claude Ann and David Rustin; son-in-law, Michael Conard; and three grandchildren. Memorial contributions may be made to the Louis Augustus Jonas Foundation in support of Camp Rising Sun or the Arnold P. Gold Foundation in support of Humanism in Medicine.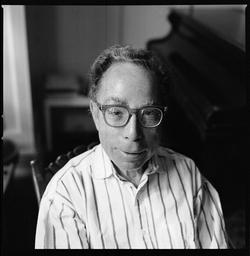 Richard Stang '48 Richard Stang, professor emeritus, St. Louis, on December 14, 2011. Stang was born on July 3, 1925, in Brooklyn, N.Y. At 18, he joined the Army, fighting in the European Theater. He then earned a bachelor's in chemistry and biology as well as a master's (1949) and Ph.D. (1958), both in English literature, studying under Lionel Trilling '25, '38 GSAS. Stang specialized in 19th-century English literature, particularly the Victorian period. He was an instructor at the University of Washington from 1953–54, a lecturer at the City College of New York from 1954–58 and an assistant professor at Carleton College from 1958–61. He joined the faculty of Washington University in St. Louis in 1961 as an associate professor of English, was named full professor in 1964 and became professor emeritus in 1997. Stang's publications include The Theory of the Novel in England 1850–1870 (1959) and Discussions of George Eliot (1960). He also co-edited Critical Essays: Ford Madox Ford (2002). In addition to his wife, Susan Hacker Stang, he is survived by a daughter, Elizabeth Anton; sons, David and Sam; and three grandchildren. His first wife, Sondra, died in 1990.
1950
Richard D. Cushman, retired v.p. and general manager, Auburn, Calif., on November 9, 2011. Cushman was born February 14, 1929, in Norwich, N.Y. Drafted into the Army, he served from December 1952–June 1954, receiving an honorable discharge as a first lieutenant in the Finance Corps. He remained on reserve duty with the Army until 1964. In 1957, Cushman began a 28-year career with Diamonds International Corp., retiring as v.p. and general manager of the Western Retail Division. In 1988, he began a second career as a volunteer with the AARP Foundation Tax-Aide program, helping seniors fill out their tax forms. A year later, he became the program coordinator and also joined the Literacy Support Council as a tutor. He also helped the program achieve nonprofit status and acquire grants. Cushman was named the 962nd Point of Light by President George H.W. Bush in 1992. He is survived by his wife of 57 years, Pamela; daughters, Cynthia Louise Hickman and Melissa Cushman Banczak; sisters, Sara Bouchonville and Cynthia Whited; and five grandchildren. Memorial contributions may be made to the Literacy Support Council, PO Box 5291, Auburn, CA 95604-5291.
1955
Philip D. Bleser, sales manager, Bonita Springs, Fla., on October 28, 2011. Bleser was born on May 6, 1933, in Schenectady, N.Y. He earned a B.S. in 1956 from Engineering and was a member of Sigma Chi. Bleser traveled abroad and lived in Mexico and Venezuela. He was a founding member of the Naples Columbia University Club as well as an avid fisherman and boater. Bleser is survived by his wife of 56 years, Ellen (née Hadley); children, Philip and his wife, Carol, Steven, Susan Copeland, Scott and his wife, Sally, and Laura; brother, David, and his wife, Gail; and seven grandchildren.
Stuart M. Kaback, retired scientific adviser, Cranford, N.J., on February 13, 2012. Kaback was born in Elizabeth, N.J., and moved to Brooklyn, N.Y., where he spent his childhood. He earned an M.A. (1956) and a Ph.D. (1960), both in chemistry and from GSAS. Kaback joined Esso Research and Engineering Co. in June 1960 and retired in 2002. He held numerous patents, was published frequently and was internationally recognized as an expert in his field. Kaback is recognized for his significant contributions in polymer science and engineering patent information with the American Petroleum Institute, Chemical Abstracts Service, Derwent Information, Questel-Orbit and the Kirk-Othmer Encyclopedia of Chemical Technology. Kaback was a member of the American Chemical Society and won many awards for his work in patent information, including the prestigious Herman Skolnik Award. He had been a member of Temple Beth-El since moving to Cranford in 1966, serving as its president, chair of its board of education and in a number of other capacities. Surviving are his wife of 56 years, Marilyn; children, Robin and her husband, Jim, and Gilbert and his wife, Deborah; and five grandchildren.
1968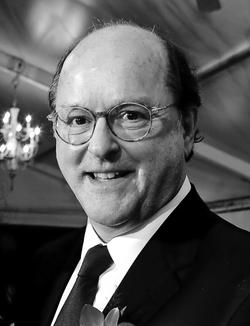 John R. Tait '68 John R. Tait, attorney, Lewiston, Idaho, on February 1, 2012. Tait was born in Toledo, Ohio, and was an Eagle Scout before winning a full scholarship to Columbia. He was class treasurer and a reporter for WKCR. Tait was a counterintelligence special agent in the Army and graduated from Vanderbilt Law. He was an expert in worker's compensation law and was special deputy attorney general for the Bureau of Child Support. Tait also was Clearwater Bar president, Idaho State Bar Committee on Ethics and Professional Responsibility chair and a board member of the Workers Compensation Section of the Idaho State Bar, Idaho Trial Lawyers Association and the State Board of Idaho Legal Aid Services. He received the Pro Bono Award from the Idaho State Bar and in 1994 was nominated by President Clinton to serve as federal district judge. Tait's career was dedicated to winning complex worker's compensation cases for little remuneration. He is survived by his wife, Christina Bjornstad; brother, Paul; daughters and sons-in-laws, Gretchen Bjorn­stad and Alastair Gemmell, and Mary Tait and Nathan Abraham; and a granddaughter.
1985
Nicola Tanelli, attorney, North Caldwell, N.J., on January 4, 2013. Born in Italy, Tanelli was raised in Verona, N.J. In high school, he excelled in basketball and track but his true passion was soccer. As a member of the Columbia team from 1981–83, Tanelli experienced three Ivy League titles. The 1983 squad became the first Ivy League program to compete in an NCAA Division I men's soccer national championship contest. According to Columbia's 1982 men's soccer media guide, Tanelli's sophomore season, he was listed as the team's swiftest man. Tanelli earned a law degree from New York Law and was an attorney with JPMorgan Chase in New York City for the past two years. Prior to that, he was employed by Citigroup in New York City for 15 years. He is survived by his wife, Beth (née Holmes); children, Matthew and Isabella; parents, Orazio and Franca; and brother, Pasquale, and his wife, Mary Ann.
Lisa Palladino