Obituaries
Daniel J. Edelman '40, '41J, Public Relations Pioneer
Daniel J. Edelman 40, 41J, a pioneer in the public relations field and chairman of the international public relations company Edelman, died in Chicago on January 15, 2013. He was 92.
Edelman was known as a staunch advocate of the public relations profession who established high standards and a code of ethical practices, many of which now are standard in the field. He also was active in public service, working for such causes as Global Business Coalition on HIV/AIDS (now GBCHealth) and Save the Children.
Edelman was born in New York City on July 3, 1920, and attended DeWitt Clinton H.S. He graduated Phi Beta Kappa from the College and, after earning an M.S. from the Journalism School in 1941, became sports editor and reporter for a Poughkeepsie, N.Y., newspaper. He was drafted into the Army in 1942, and while in the service produced a daily newspaper that reported on the latest war developments. He later served as an analyst of German propaganda, after which he earned a commission in Germany and served in the U.S. Army Information Control Division in Berlin.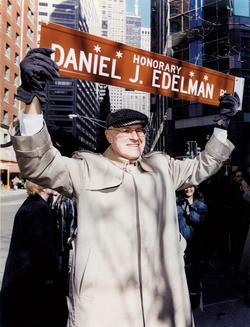 Daniel J. Edelman 40, 41J holds his street sign during ceremonies honoring him in Chicago in 2000. After leaving the service, Edelman was a news writer for CBS and a publicist at Musicraft Records in New York before moving to Chicago in 1947 to become PR director of the Toni Co., which sold hair styling products. He expanded on the company's successful advertising campaign, which used twins to compare its product to those of competitors, by conducting the first modern media tour and sending six sets of twins to 72 U.S. cities.
In 1952, Edelman launched his eponymous company in a small office in the Merchandise Mart in Chicago. Toni became his first client, followed by brands such as Sara Lee, KFC, Microsoft, Pfizer, General Electric, Wal-Mart Stores, Abbott Laboratories, Samsung, Royal Dutch Shell, Kraft, Johnson & Johnson and Unilever. Some of Edelmans greatest marketing successes were establishing the Butterball Turkey Talk-Line and helping Advil to switch from prescription to over-the-counter medicine. Edelman also is known for creating the Mail Preference Service, an opt-out list for people wishing to avoid marketing solicitations, in 1970.
Today, Edelman is the worlds largest public relations firm; it encompasses 66 offices and more than 4,500 employees worldwide, with affiliates in more than 30 cities. It has earned numerous awards for being a top agency, including from magazines such as Adweek, PRWeek and Advertising Age.
Edelman was presented one of the College's John Jay Awards for distinguished professional achievement in 1990 and the Journalism School's first annual Deans Medal for Public Service in 2005.
He is survived by his wife of 59 years, Ruth Ann Rozumoff Edelman; sons, Richard and John; daughter, Renee 80L; niece Cornelia S. 86L; and three granddaughters.
Karl Daum '15