Obituaries
Peter B. Kenen '54, Economist, Former Provost
Peter B. Kenen '54, a leading international economist and University Provost from 1969–70, died on December 17, 2012, at his home in Princeton, N.J. He was 80. Kenen, who was an expert on the Eurozone, taught economics at Columbia from 1957–71, chairing the department from 1967–70.
Born in Cleveland, Kenen moved with his family to New York, where he attended Bronx Science. He graduated summa cum laude and Phi Beta Kappa with a B.A. from the College and earned an M.A. (1956) and a Ph.D. (1958) from Harvard. From 195657 he was a research student at the London School of Economics.
Kenen was appointed provost after the protests of the late 1960s. He opposed the Vietnam War and was an alternate delegate for Eugene McCarthy at the Chicago Democratic National Convention in 1968 but also opposed the student occupations of Columbia campus buildings and took part in a small faculty counter-protest. Nonetheless, he strongly opposed the use of police force to remove the students and helped tend to injured students at a hospital near campus. In 1977, Columbia awarded Kenen the University Medal for Excellence. After leaving Columbia he taught at Princeton from 19712004, and continued to teach part-time until 2011.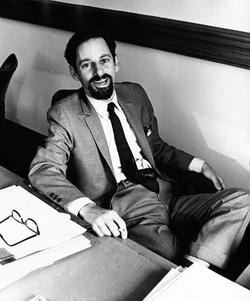 PHOTO: COLUMBIA DAILY SPECTATORKenen authored and co-authored numerous books and monographs, including British Monetary Policy and the Balance of Payments: 1951–57, winner of the David A. Wells Prize at Harvard for 195859. His textbooks International Economics and The International Economy were standards for generations of undergraduates entering the field. He was a founding member of the Group of Thirty, an organization that seeks to deepen understanding of international economic and financial issues, and a member of the Bellagio Group, an international group of academics and public officials from finance ministries and central banks. He also was a member and former fellow of the Council on Foreign Relations as well as a consultant to the Council of Economic Advisers, the Office of Management and Budget, the Federal Reserve, the International Monetary Fund, the U.S. Department of the Treasury and the Economic Advisory Panel of the Federal Reserve Bank of New York.
Kenen is survived by his wife of 57 years, Regina H.; children, Stephanie, Joanne and her husband, Ken Cohen, Judith and her husband, Jim Gordon, and Marc and his wife, Leslie Fisher-Katz; and five grandchildren, including Zachary Natan Cohen 13 GS/JTS. Memorial contributions to benefit undergraduate financial aid may be made to the Columbia College Fund, Columbia Alumni Center, 622 W. 113th St., MC 4530, 3rd Fl., New York, NY 10025. Donations also may be made to Secure@Home of the Jewish Family & Childrens Service of Greater Mercer County, 707 Alexander Rd., Ste 1-A, Princeton, NJ 08540.
Elena Hecht '09 Barnard