Roar, Lion, Roar
Squash Opens Doors for Reyna Pacheco '16
For Reyna Pacheco '16, squash has been far more than a sport. An immigrant from Mexico, Pacheco's discovery of squash was a defining moment in her life.
"I came to the United States with my mom and my brother when I was 4. That was hard because we were here, knowing that we could be kicked out any day," Pacheco says. "Because of that, I didn't feel like I could dream very far. I felt like I was limited. But when I was introduced to squash, that completely changed my life."
Scoreboard
5
Stories.
144
Seats in theater-style meeting room.
5
Conference rooms.
6,400
Square feet in strength and conditioning center.
For the latest news on Columbia athletics, visit gocolumbialions.com.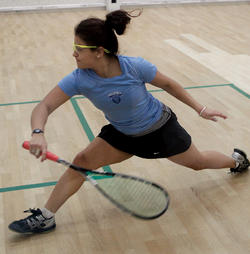 Squash helped Pacheco gain the self-confidence to succeed in school and become a Gates Millennium Scholar. Photo: Gene Boyars / Columbia Sports InformationPacheco discovered the sport in her early teenage years at a program in San Diego similar to the one that the Columbia men's and women's teams volunteer with at their home facility, the SL Green StreetSquash Center in Harlem. At a time when she was struggling in school and the thought of attending college was daunting, squash was something that Pacheco enjoyed and could pursue with vigor.
"When I got into the program, I just fell in love with everything about squash," she says. "It taught me things I couldn't learn in a classroom: respect, commitment, dedication and hard work."
Pacheco's dedication to squash led to success in school as well. She and her family began the process to gain documentation, and she applied both to Columbia and the Gates Millennium Scholars program. "I was sitting down with lawyers at the same time I was sitting down to do my college applications," Pacheco recalls.
With the necessary paperwork in hand and her applications complete, Pacheco received word soon after that she not only had been accepted to Columbia but also was one of 1,000 recipients of the Gates Millennium Scholarship, which provides students with financial aid, leadership programs and academic support.
"I just feel so lucky every day of my life and so blessed to have the opportunity to be here," Pacheco says of her time at Columbia. As one of the top recruits out of an urban squash program, Pacheco played as the primary No. 2 for Columbia as a first-year, winning five of her first eight matches.
Seeing that her hard work has paid off and wanting to give back, Pacheco is happy to volunteer in the squash community. "Our team here volunteers every week at StreetSquash and I keep in touch as much as I can with the kids in San Diego," she says.
Save the Date!
| | |
| --- | --- |
| April 6 | Lightweight Rowing D.C. event |
| April 13 | Baseball alumni weekend |
| April 18 | Women's Leadership Council spring event |
| April 26 | Fencing team banquet |
| April 30 | Varsity C Celebration |
| May 6 | Football golf outing |
In December, Pacheco was a member of a four-person delegation representing the World Squash Federation that went before the International Olympic Committee in Lausanne, Switzerland, to make a case for squash's inclusion in the 2020 Olympic Games. She was joined by WSF President N Ramachandran, CEO Andrew Shelly and the No. 1 ranked men's player in the world, Britain's James Willstrop.
While the other three presenters were there to inform the IOC of the global reach of squash and the technical aspects of the game, Pacheco provided a human and emotional element to demonstrate the impact squash can have on an individual.
"My role was to show what squash has meant to my life," Pacheco says. "If you look at Olympians, their stories are very impactful in the way their sport made it into their lives. We wanted to show that squash is real and that it is touching a lot of lives."
A second meeting with the IOC is planned for May, which will focus on the technical aspects of the sport. A decision is expected in the fall.
"It was such a unique experience," Pacheco says of her trip to Switzerland. "Meeting all the people behind the whole movement, the president of the World Squash Federation, the CEO and the world No. 1 now — it was very impressive to be a part of that committee and to present to the Olympic Committee."