Around the Quads
Alumni Reunion Weekend and Dean's Day 2014
By Lisa Palladino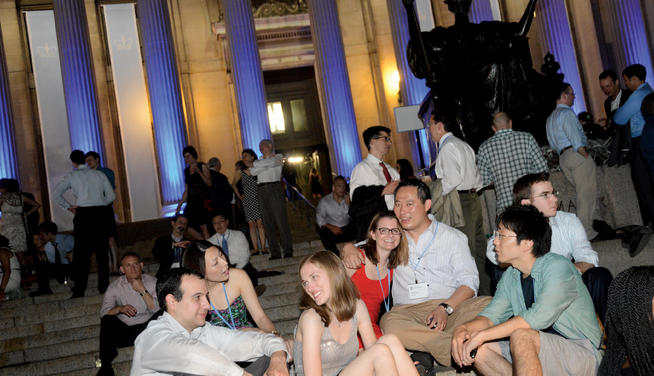 Catching up with friends on the Low Steps — just like old days — is one of the many things Alumni Reunion Weekend attendees can enjoy while back on campus. Photo: Elieen Barroso
Fourteen classes will gather Thursday, May 29–Sunday, June 1, for Alumni Reunion Weekend. The celebration is a chance for alumni to connect with old friends and make new ones, and to rediscover the campus and the city where they created memorable and meaningful moments. Celebrating this year are alumni from classes ending in 4 and 9, from 1944–2009.
Highlights of the weekend will include
class-specific gatherings planned by each class' Reunion Committee;
cultural outings such as the New York Philharmonic, American Ballet Theatre, Broadway theater and an art gallery crawl;
intellectual classes featuring Mini-Core Courses given by Columbia faculty members;
the Dean's Day keynote lecture with Eric Foner '63, '69 GSAS, the DeWitt Clinton Professor of History;
affinity receptions for members of Columbia Daily Spectator, varsity athletics, veterans and alumni on active duty, and student leadership;
Camp Columbia for Kids, an all-day Saturday program for Lion cubs ages 3–12; and
the all-class Wine Tasting and Starlight Reception with dancing on Low Plaza.
"Reunion and Dean's Day are opportunities for generations of alumni to return to campus, see classmates and friends, and renew connections with the College," says Dean James J. Valentini. "I look forward to celebrating with former students who graduated in years ending in 4 and 9 throughout the weekend and invite other alumni, along with parents and friends, to join me on Dean's Day for thought-provoking lectures on topics ranging from science to art to literature and to engage with the Core Curriculum, the common intellectual experience that connects all current and former Columbia College students."
Alumni who attended Reunion 2013 noted how wonderful it was to be back on campus with classmates.
"My 60th reunion was a remarkable experience. I reconnected with old as well as long-term friends. The Mini-Core was a step back into heaven," said Bill Frosch '53, voicing the sentiments of many attendees. And for those who helped to plan their class' reunion, seeing their work come to fruition was especially rewarding: "Reunion was a wonderful experience both for me and my classmates who returned to campus, some for the first time since graduation," said Rachel Mintz '93. "From the cocktail parties to the Dean's Day talks to the barbecue to the class dinner to dancing under the stars on Saturday night, Alumni Reunion Weekend allowed me to catch up with old friends and meet new ones. It was excellent, and I am so glad to have been a part of both planning and participating in it."
---
Thursday, May 30–Sunday, June 2
reunion.college.columbia.edu
college.columbia.edu/deansday
ccalumni@columbia.edu
212-851-7488
---
If this is your reunion year, watch for Alumni Reunion Weekend materials by mail and email, go to the reunion website to register for reunion and Dean's Day events and to get event details or refer to the box at the top of your Class Notes column in this issue for staff contact information. Dean's Day is open to alumni of all class years but if it is not your reunion year, you need to register on the Dean's Day website or by calling the Alumni Office (212-851-7488). Dean's Day information, with lecture and registration details, will be sent to those in non-reunion years.
For an idea of what to expect from reunion and Dean's Day, check out the "2013 Reunion Highlights" on the reunion website.