Columbia Forum
Dr. Arnold A. Hutschnecker in Paradise
By Tony Kushner '78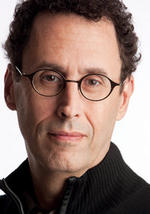 PHOTO: JOAN MARCUS
Tony Kushner '78, a playwright and screenwriter, is the author of Angels in America: A Gay Fantasia on National Themes, Homebody/Kabul and Caroline, or Change, among other major theatrical works. Two of his screenplays, for Steven Spielberg's Munich and Lincoln, have been nominated for Academy Awards. He has won the Pulitzer Prize for Drama (1993), two Tonys (1993 and 1994), an Emmy (2004) and the 2012 National Medal of Arts, among other honors, and received numerous nominations.
The play that follows, Dr. Arnold A. Hutschnecker in Paradise, is excerpted from a collection of short works, Tiny Kushner: Five One-Act Plays, to be published by Theatre Communications Group later this year. The real Dr. Hutschnecker, who died in 2000 at 102, was President Nixon's psychiatrist for many years.
Rose Kernochan '82 Barnard
The setting is a beautiful room in a pre-war, Upper West Side-type apartment building in Paradise: rococo sculpted plaster ceiling, a small chandelier at its center, a handsome marble fireplace with Egyptian and Greek tchotchkes on the mantlepiece, books in oak bookcases and an old Turkish carpet covering a worn leather divan. This is the office for the psychoanalytic practice of Metatron, the Recording Angel, a vast fiery being with a million eyes.
Metatron is seated in an Eames chair at the head of the carpet-covered divan. Sitting, not lying on the couch — this is a supervisory session — is Dr. Arnold Hutschnecker, best-known during his lifetime as the psychotherapist of Richard Milhous Nixon.
Dr. Hutschnecker died in 2000. The play takes place the year after that.
METATRON: And how are we feeling this morning, Arnold? In saying "morning" I am of course lapsing into poesy, since Time doesn't exist in Paradise.
DR. HUTSCHNECKER: I feel lousy, frankly. I stayed up all night watching The Sopranos on DVD.
METATRON: Again?! Again with The Sopranos?
DR. HUTSCHNECKER: I know, I know, I can't stop myself, I am obviously attempting some sort of negotiation: will the sexy lady analyst cure the gangster sociopath with narcissistic tendencies? It's that episode with the nympholeptic soccer coach, you know, Tony resists the impulse to whack the guy, her treatment is working! Oh, it's so tantalizing, so excruciating! She comes so close! He is borderline, not unreachable, I believe had Dr. Melfi employed Pavlovian techniques, it reminds me of the early '70s, right around the Cambodia bombings, I, I .... (Silence).
Oh forget it. It's not worth our time. My neck and my back are killing me.
METATRON: I would suggest that these pains are psychosomatic.
DR. HUTSCHNECKER: You always say that, but...
METATRON: In this case my proposal gains strength from the fact that you are dead and hence you have no body.
DR. HUTSCHNECKER: I'm not arguing, I spent my life contemplating the psychosomatic, especially as expressive of the narcissistic personality under duress. But my back hurts.
METATRON: Speaking of the narcissistic personality under duress, how is your patient doing?
DR. HUTSCHNECKER: Who? Milhous?
METATRON: Who else?
DR. HUTSCHNECKER: He told me in session yesterday that he doesn't believe he's dead.
METATRON: Interesting that you say discussing this television show — and I agree, it is superb, I watch it all the time, well I watch everything, I am the Recording Angel, it helps having a million eyes, I never have to channel surf — you say it isn't worth our "time", immediately after I have mentioned the fact that we are in Paradise and there is no Time here. Are you perhaps manifesting a denial of your own mortality, Arnold?
DR. HUTSCHNECKER: Oh please, I lived to 102, in Connecticut, for pity's sake don't you think I was ready to go?
My leg hurts, and don't say I've got no leg. Look, it's swollen. And I have hay fever, my face is throbbing, oddly I never had it in Connecticut, with all those trees.
METATRON: The neck and back pains, these were his presenting problems, were they not?
DR. HUTSCHNECKER: Yes.
METATRON: Let's talk about counter-transference, then, shall we?
DR. HUTSCHNECKER: Dear Lord, that scarcely describes it! When I was alive I saw him once, twice a year. Up here, it's five days a week up here, five days a week of Milhous, Milhous, Milhous!
METATRON: He still insists you call him —
DR. HUTSCHNECKER: Milhous. MMmmilhous. Muh Muh — It's so obvious I want to giggle, he wears his psyche on his sleeve, it's always been endearing to me, it saves me so much work, every day he comes in and he says these remarkable things ... Well, you know, his mouth, oral sadistic, a few days ago he was thinking of changing his name to M., just M., the initial he dropped when he became President, and of course we know what he's really dropping or rather who he's really dropping or rather trying, still trying to drop after all this ...
METATRON (singing): "M is for the many things she gave me..."
DR. HUTSCHNECKER: That mother. Her dying words to him were "Richard don't give up. Don't let anyone tell you you are through." I am afraid he has taken this literally — he cannot die, mommy told him not to. He has to obey, he must preserve The Idealized Mother, the Saint, formed as he abreacts the depressed controlling woman who couldn't stop him crying, who breast-fed a cousin, a rival, when Dick — I mean Milhous — was six months, who abandoned him for mastoid surgery when he was 9 months, who gave birth to Donald right after that, more betrayal, more abandonment, who left him in his remarkably awkward adolescence for two years to go nurse the dying brother Harold, more abandonment, more guilt, well is it any wonder? What's amazing is he did as well as he did, forget the Plumbers and the tapes and the Checkers speech, what's amazing is he didn't blow up the planet. (Silence.)
I think perhaps in Hannah's obsessional, controlling personality may lie the explanation of the fact that Nixon was the last Republican President who believed in Regulation.
So she says "never die" and he can't afford to disbelieve her, ambivalent mommy — combined of course with his paranoia — and given her obsessive-compulsive personality, paranoia's a ... given. And his religiously-inflected grandiosity, well he always believed he was immortal —
METATRON: Masking of course a terrible fear of —
DR. HUTSCHNECKER: Of course! (He sneezes) AAAAAAHHHHH-CHOOOOOOOO!
METATRON: Gesundheit.
Metatron hands Dr. Hutschnecker a box of Kleenex.
DR. HUTSCHNECKER: Are you handing me this box of tissues because you are suggesting that I am resisting? That I should be needing them not to blow my nose but to wipe tears away? That I am provoked by my provocative patient rather than moved by him, I'm maybe taking refuge in anger to staunch the inner pain towards which this counter-transference is leading me: my refugee roots, the rejection I felt by my motherland in 1936 when I fled Berlin? An idealized mother, of course, Berlin, Germany, my real motherland was — blech — Austria.
METATRON: Why are you sneezing? You can't really have hay fever, here where neither pollen nor sinuses nor —
DR. HUTSCHNECKER: I know I know. He has a sinusitis flare-up every year, starting September 5 on the nose, as it were, and ending October 1. His father died September 4, his mother September 30. Ba da bing! Remarkable, as I said, I used to wonder if he'd read Freud.
METATRON: Have you ever asked him if he had?
DR. HUTSCHNECKER: He'd say yes, but he would probably be lying, he lies easier than breathing — AAAAAAAAAHHHH-CHOOOOOO.
Well of what President could that not be said? They all lie, he's just so transparent, endearing, like I said, at least he wasn't overdosing on Halcyon, like Bush the First, at least he didn't upchuck on the Japanese Prime Minister, at least he speaks in complete sentences, he doesn't have a language disorder like the scary little stugatz they got in the White House now, and anyway I wouldn't mention Freud to Milhous because it could trigger an association that could lead him to one of his anti-Semitic tirades, I have a lot of trouble with that, it really interferes with my ...
Did you know that Bush and Nixon, I mean Milhous, are actually related? They're both cousins to the Stewart family, in Virginia, American aristocracy — One of the Stewarts, get this, Gladys I think her name was, she's the mother of —
METATRON: Yes, I know, she's the mother of Geraldine, the Queen of Albania. But speaking of associations, interesting that you bring up mothers just now, right after you —
DR. HUTSCHNECKER: Nixon and Bush are cousins of the fascist Queen of Albania! You can't make this up! But where was I?
METATRON: Associations, Freud, you —
DR. HUTSCHNECKER: Yeah, right, but Freud — Who has the time? I tried Pavlov, I tried using Pavlovian techniques to get him to stop the war. Conditioning, behaviorism, that's what works with these frenetic, overly-literal retentive guys, if Dr. Melfi would use Pavlov on... But he went out in the '60s, it got all touchy-feely and drugs were in and... The Manchurian Candidate. Have you ever seen it?
METATRON: Of course. Angela Lansbury, I'm a fan of —
DR. HUTSCHNECKER: Great film. I tried to get Milhous to forge an association: "Mom", "Quaker", "Peace." It never took. I used to think Kissinger was thwarting me. Now I see it was just the wrong series of associations. That mother.
Oh am I depressed. And I ache all over. Did I mention my leg? Aaaah-Choo! Five days a week! Watergate, Lincoln, that guy in the arena with the dust and the sweat and the blood, undaunted etcetera and so forth, you know, that Teddy Roosevelt quote? Jesus wept I could sing you the — expletive deleted — thing, he's been on my couch reciting it for fifty years, and NOW! Milhous! Full-blown stops-out week long psychoanalysis with Nixon! Are you sure this is Paradise and not the Other Place? AAAAAAAAHHHH-Choooo!
(He reaches for a Kleenex. He begins to weep copious tears.)
METATRON: His father was no picnic either.
DR. HUTSCHNECKER (through his tears): No, but that mother.
He moves me, of course he moves me. Poor Milhous! His mother couldn't stop him crying, when he was an infant, she didn't comfort him, she'd stand over his crib and say "He's not sad he's working on his lungpower, listen to that strong voice, he's born to be a leader!" Hence all the speechmaking, Madonn'!, the mortifying rambling speeches, all the, the graphomania — he's writing more books, did I mention that? — the sweaty upper lip, I mean talk about psychosomatic! — and what were all those words? Tears! Weeping! Milhous crying, crying for the mother, crying out for hard-hearted Hannah, crying out for mother love, for America, the Idealized Mother, which heard but would not love him and would only say "cry more, Milhous, cry more, you are ...."
Dr. Hutschnecker blows his nose and wipes his eyes.
METATRON: Interesting, Arnold, what you said about Germany being your idealized mother, while your real mother, the bad mother — I believe you said "Blech" — is Austria, where you were born.
DR. HUTSCHNECKER: Na, und? I mean, what's your point?
METATRON: Well, Arnold, I mean, talk about transparent. German ideal, Austrian roots, whom else might you be describing?
DR. HUTSCHNECKER: I don't — Oh.
Him.
METATRON: Ja! He always referred to Germany as Vaterland, nicht Mutterland.
So perhaps here, the cause of your persistent refusal to consider the bad father introject inhabiting like a shadowy Cronus the cave of Milhous's unconscious.
DR. HUTSCHNECKER: Huh. That's god, I mean good.
METATRON: So we may perhaps want to ask, in our next session, when you first elected to treat this man,this powerful leader, grandiose, paranoiac, anti-Semitic, often described as having a Napolean Complex ...Who is it you have really been trying to treat, Arnold, whose anti-social impulses and abuses of power are you really trying to control? Who is your real patient, Milhous ... or someone else? The one who drove you from your motherland in 1936? Are you perhaps attempting to rewrite history through your treatment of a less-malelovent surrogate who ...
Dr. Hutschnecker has fallen asleep, sitting up.
METATRON: Arnold?
Dr. Hutschnecker snores.
METATRON (in a voice like seven thunders): ARNOLD!
Dr. Hutschnecker jolts awake.
DR. HUTSCHNECKER: Whoah! I must've ... dozed off. I got to get more sleep, I think, it's the — expletive deleted — Sopranos, I can't stop watching them. That mother!
METATRON: Oh yes, Nancy Marchand!
DR. HUTSCHNECKER: She's just the best! Isn't Nancy Marchand here now? I'd love to meet her. What an actress! What a role! That mother! David Chase is a genius, I can't wait for the new season!
METATRON: I've seen it. I've seen all the seasons. Of everything. Marvelous.
And I think our time is up.
END

DR. ARNOLD A. HUTSCHNECKER IN PARADISE by Tony Kushner '78 is part of a collection, TINY KUSHNER, to bepublished by TCG. Originally produced by the Guthrie Theater; Joe Dowling, artistic director.