Cover Story
Varsity Show Endears and Endures
By Thomas Vinciguerra '85, '86J, '90 GSAS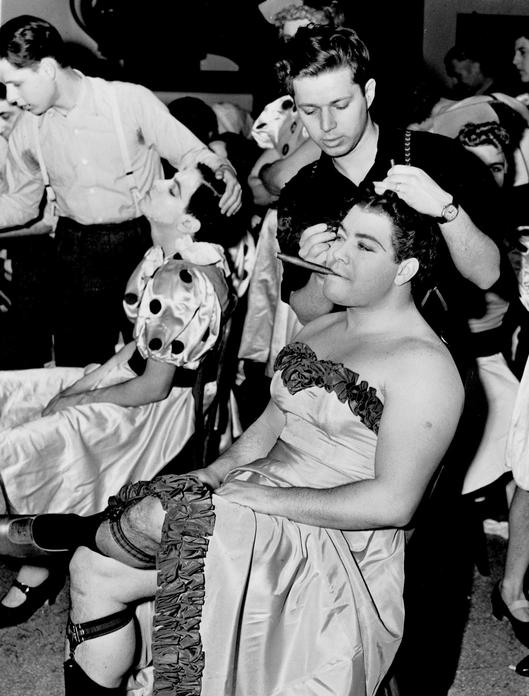 John Bateman '38, '39 GSAS, captain of Columbia's 1937 football team, smokes a cigar while being made up prior to 1939's Fair Enough.PHOTO: WIDE WORLD PHOTOS, INC.
In a world of planned obsolescence and the latest Internet meme, some things do last. Every year, the Varsity Show delights the Columbia community with a witty, razor-sharp reminder of what really matters in these parts. The production is a rite of spring, a heady respite before dreaded finals. It's also the savviest take on the undergraduate experience around. If you want to know what's uppermost on the student mind, buy a ticket. All will be revealed in the two-plus hours that send up everything from devilish administrators to micro-trends, from Plato to libido.
Why, though, do such adolescent shenanigans endure? And make no mistake; endure they do. The Varsity Show has been around for 120 years. That makes it one of the oldest things on the Morningside campus — older than the campus itself, in fact.
It's too easy to explain the show merely by thundering, like Tevye, "Tradition!" After all, plenty of our rituals have gone the way of mandatory Latin. Most aren't missed. Can anyone describe the Cane Spree? What was the Goodwood Cup given for, anyway? Is there a single person who cares?
Quite simply, the Varsity Show is still with us because we need it. From time to time, every young woman and man in the College, confronting the triple threat of adulthood, the Core Curriculum and the greatest city in the world, requires some kind of affirmation. The Varsity Show offers it in the best possible way — by mocking what's driving them nuts and celebrating whatever instills confidence. If the show offers up an earful about the aesthetic (and nomenclatural) horrors of the Northwest Corner Building or a particular class creep, fear not. It won't be long before Alma Mater herself arises from her throne and appears on stage before you, ready to reassure and inspire.
Now, the show is hardly unique. Just about every outfit of higher learning worth mentioning has its loopy annual musical comedy. Columbia itself has several. A certain J.D. program here offers The Law Revue. Over at Uris, they unwrap the Columbia Business School Follies not once but twice a year.
Nonetheless, the Varsity Show is nonpareil. Any effort that can attract such wildly diverse talents as John Erskine (Class of 1900), Herman Mankiewicz (Class of 1917), Jacques Barzun '27, I.A.L. Diamond '41, Sorrell Booke '49, Terrence McNally '60, Howard Kissel '64, Jon "Bowzer" Bauman '68, Jeanine Tesori '83 Barnard, David Rakoff '86, Eric Garcetti '92, Brian Yorkey '93, Tom Kitt '96, Jenny Slate '04, Greta Gerwig '06 Barnard and Kate McKinnon '06 has earned bragging rights. Whenever the kids in Cambridge smugly mention Hasty Pudding, or Old Nassau types pile it on about the Triangle Club, all you have to do is say, "Rodgers and Hammerstein." If that doesn't shut them up, just add, "And Hart."
Not that it's an unbroken lineage by any means. In 1895, a bare year after its founding, the show's leading lights, acting out of pure ego, refused to mount a follow-up. WWII pre-empted the proceedings in 1943. Creative bankruptcy and insufficient funds were at fault, respectively, in 1962 and 1965. The unpleasantness of 1968 seemed, at the time, to be the final blow.
Yet as the campus regrouped, in the four years from 1978 to 1982 precisely as many efforts to revive the show arose. The last one, Columbia Graffiti, was a modest cabaret that wasn't even called a Varsity Show. Nonetheless, the crew that produced it galvanized the Class of 1920 into donating its treasury the following year to ensure that never again would the production languish. And for a generation, it hasn't.
It's that unspoken ethos, transcending the years, that defines the Varsity Show as more than a theatrical. It's part of the student DNA. Put it this way: In 1906, the audience for The Conspirators was implored to clap its hands and cheer to save Tinker Bell and the football team alike. You could drop that same shtick into the show today and get the same uproarious result.
Talk about spirit. As surely as South Field will always have scuff marks, and as surely as there is a College on Broadway, every year a distinctly Light Blue reality check of gags, ballads, show stoppers and, of course, pony ballets can be counted on to lift us out of our academic doldrums — and, for a while at least, leave us humming.
Former CCT acting editor Thomas Vinciguerra '85, '86J, '90 GSAS directed, performed and wrote — in ascending order of competence — portions of the Varsity Shows Columbia Graffiti and Fear of Scaffolding. He is the author of "Sing a Song of Morningside," a history of the show that appears in the 110th anniversary book The Varsity Show: A Celebration.