Cover Story
How well do you know the history of one of Columbia's great traditions?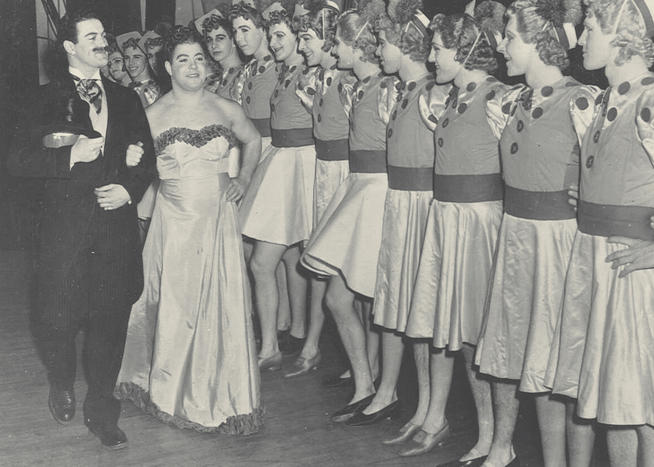 1. What was the name of the first Varsity Show, which was staged in 1894?
2. This four-time Tony winner wrote 1960's A Little Bit Different. Name him.
3. The writer of 1916's The Peace Pirates collaborated with Orson Welles on the Oscar-winning screenplay for Citizen Kane. Name him.
4. Dead to Rights, performed in 1947, was composed by what noted jazz pianist?
5. When the College was all-male, one of the regular features of the Varsity Show was a chorus line of students in women's outfits and makeup. What was this VShow staple called?
6. The writer of 1928's Zuleika achieved fame as an educator and author. Name him.
7. Three Broadway legends collaborated on 1920's Fly With Me. Name them.
8. True or false: The Varsity Show always has been staged on the Columbia campus.
9. What Hall of Fame quarterback, wearing suit in photo above and escorting former Columbia football captain John Bateman '37, '38 GSAS, appeared in 1939's Fair Enough?
10. Only one man has written four consecutive Varsity Shows by himself. He later teamed with Billy Wilder to pen screenplays for classics such as Some Like It Hot, Fortune Cookie, Irma la Deuce and The Apartment. Name him.
Bonus: When did women first appear in the Varsity Show?