Features
Another Opening, Another Varsity Show
Since 1894, the theatrical tradition has satirized Columbia in song and dance
By Nathalie Alonso '08; photos: Char Smullyan
The cast and creative team behind this spring's Varsity Show pose in John Jay Lounge.
A reporter assigned to write about the 120th Varsity Show runs into an immediate access problem. In a friendly but firm email, the producers, Allie Carieri '15, Ally Engelberg '15 Barnard and Renee Kraiem '14 Barnard, decline a request to observe a rehearsal. Having consulted with the cast and other creative team members, they cite a historic policy of keeping the details of the show secret from the press and public.
In its business of satirizing Columbia in song and dance, little is off-limits for the Varsity Show. The popularity of the student-produced musical stems precisely from its penchant for commenting on sensitive issues with a humorous eye. The response from the producers for V120, however, make it clear that if anything remains sacred for the Varsity Show, it's the traditions and collaborative spirit that have come to define it.
Except for a hiatus following the 1968 student demonstrations and three other one-year interruptions, the Varsity Show has taken place annually since 1894, when it was founded as a fundraiser for Athletics. More than 100 undergraduates — the show is open to participation by College, Engineering, Barnard and General Studies students — devote long hours each year to perpetuating this oldest of Columbia's performing arts traditions.
The process begins anew each fall, when the creative team from the previous show chooses its successors. (Seniors who graduated the previous year are expected to return for this purpose.) Consisting of a director, producers, writers, composers, lyricists, a choreographer and an artistic director — nine to 10 students in total — the new team's first task is to audition and select a cast of 10–15 students. In a deviation from conventional theater practices, Varsity Show characters and songs are tailored to the actors' stage personalities and vocal ranges. "It's really nice to have someone write material for you," says V117 cast member and V119 director Chris Silverberg '13.
And then there is the way actors are notified of their selection: with a pie to the face. In a quirky community-building tradition that yields some emotionally intense moments, the creative team startles newly minted cast members in their dorms, often late at night, with tins of whipped cream. "I was in pajamas, my hair was wet, and I wasn't wearing shoes," recalls Carieri, an ensemble member for V118. "I remember bursting into tears because it was a dream of mine. It was just the coolest experience."
V116 cast member and V120 director Emily Feinstein '14 Barnard calls "pieing" a fellow student "the biggest rush" of her life, adding: "Initiating someone into the Varsity Show is more than just this funny thing of putting a pie in their face. You are inviting them into a [more than] 120-year-old tradition."
It is common for a student to be involved with multiple Varsity Shows. Feinstein and Silverberg, both cast members turned directors, agree that having been on stage proves useful in the moments of frustration that inevitably arise over the course of a semester-long production. "It gave me an understanding of when things are going to be rough and the ability to encourage the creative team and the cast at those moments and say, 'Hey, I know that we are not comfortable with this scene or this song right now but it is going to work out,'" says Silverberg.
After selecting a cast, the creative team goes on a weekend retreat during winter break — in recent years, these gatherings have taken place at a team member's home on Long Island and a suite in East Campus residence hall — to develop a plot and scene-by-scene breakdown of the show. "We all bring this Columbia experience with us and what we've felt at Columbia and noticed that year and want to bring out in our show," says Solomon Hoffman '14, the composer for V118 and V120.
Though each member has specific responsibilities, the Varsity Show is distinguished by a hyper-collaborative creative process in which it is typical — and expected — for the choreographer (in the case of V120, Lauren Wingenroth '15 Barnard) to make suggestions about set design, or for the composer to solicit feedback from the writers and director. "It's a unique situation where everyone has input about everything," says Eric Donahue '15, co-writer for V119 and V120. "Final decisions on a matter are left to [the creative team member who's in charge] but, for example, I came up with a song idea last year. Other [creative team members] would pitch us jokes and things would come up in conversation; we came up with the set ideas together."
In recent years, those sets have been constructed at Prentis Hall on West 125th Street, which offers the convenience of a loading dock. Though Jiin Choi '14, the artistic director for V119 and V120, also calls the Varsity Show "one of the most collaborative processes I've been a part of," one of the set pieces she is most fond of is something of her own design: a cardboard sink she created for a V118 scene that took place in a student's room in Wien. "Though it felt like a minor detail, a lot of people in the audience were able to see that sink and say, 'That's Wien Hall,'" she says. "It really reminded me to think of details like that."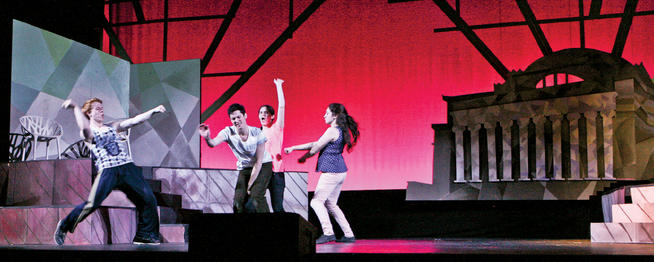 Last year's Varsity Show, The Great Netscape, centered around a storm-induced Internet outage on campus.
Mounting a full-length, entirely student-driven musical is, by all accounts, a lofty and demanding endeavor. The stakes are magnified by the show's rich history — Varsity Show alumni include the likes of Oscar Hammerstein II (Class of 1916), Richard Rodgers '23, I.A.L. Diamond '41 and Terrence McNally '60 — and its prominence in the Columbia community. "There is an immense amount of pressure to create something unique and hysterical and touching and relatable to every person in the theater," says Engelberg, who also was a producer for V119. "Once we get it right, we know it's going to be fantastic, but throughout the process it's really on your shoulders, knowing that this is a large event and people are watching."
As Engelberg notes, chief among the creative team's challenges is crafting a show that resonates with Columbia's various undergraduate constituencies. "Students need to feel that the person they are watching sing or act or dance on stage is a part of them, a character that could be one of their friends or someone they know," says Nick Parker '14, the lyricist for V119 and V120. "The issue is that there is not one thing that makes Columbia, Columbia; there aren't just four or five things. What you might think is a very Columbia thing, like the Core, is only specific to CC, and to some extent, SEAS."
Coming up with a plot specific to Columbia can also be a challenge, as Donahue learned from writing V119, The Great Netscape, which featured a storm-induced Internet outage on campus. While he thinks that the show succeeded in giving the audience an opportunity to simultaneously laugh and feel proud of their school, this time around, he and co-writer Rae Binstock '15 are looking to develop a plot in which the stakes hit closer to home. In that regard, Donohue praises V118, The Corporate Core, in which a CC student and self-proclaimed Renaissance man named Phineas takes on an administrator who abolishes the Core in favor of a business curriculum. "The Internet going down in this day and age lent itself to a lot of funny situations. There was a lot of humor in that," says Donahue. "But bringing the Internet back up wasn't Columbia-specific and not something that the audience would care about as much as, for example, replacing humanities with corporate training."
Save for the West End Preview in February, when a selection of scenes and songs are unveiled to the Columbia community at what is now Havana Central at The West End, the premise of any Varsity Show remains a mystery until opening night. The secrecy amps up the excitement and suspense that surrounds the show but it is also a by-product of more practical concerns: the show typically undergoes adjustments right up until the curtain rises.

The creative leaders behind V120 lifted their veil of secrecy just long enough for CCT to photograph a dance rehearsal in John Jay Lounge.A key moment in that regard is Turkey Day, a longstanding tradition in which the cast and crew perform a full show for an audience of Varsity Show alumni — the event is open to all former participants — who then offer constructive criticism. It takes place the week before Spring Break, leaving a window of fewer than six weeks for show members to digest and implement feedback. Changes can range from making minor tweaks to scrapping an entire scene to gutting the entire show.
The Internet outage that was the main conflict of V119, for example, was introduced after Turkey Day. V116 and V117 were rewritten in their entirety. In the latter, Silverberg originally played what he describes as a "morose SEAS computer programmer." But at Turkey Day, "they asked, why are you making this silly, exaggerated performer do this heavy, unenthusiastic character?" says Silverberg. "So [the creative team] went back and came up with something that played more to the silliness I brought as a performer." The new part was a male student enrolled at Barnard.
"After Turkey Day, you have all of these different opinions in your head: what people have said to you, what numbers people liked, what numbers fell flat. Making sense of all of that and putting in into the final product can be a challenge," says Hoffman, who had to pen a few songs from scratch in the run-up to V118. "It's certainly a crunch, but it's also really exciting to get to develop better material, and by that point you've had more practice so it tends to happen more easily."
Hoffman's post-Turkey Day responsibilities also include arranging the music for the show's pit orchestra, which has expanded under his watch to feature more than 20 musicians from various student music groups. "It joins musicians from the classical, jazz, rock and pop communities here at Columbia," says Hoffman.
Following the final performance of each year's Varsity Show, the set is struck and parts of it become, as Choi puts it, "souvenirs" for the cast and the crew. Carieri kept the foamcore pizza she donned for "Natural Selection," a tap dance number in V118 that extolled the virtues of the unusually large slices served by Morningside Heights institution Koronet. Engleberg has a 110th Street sign from V119 that came apart during that year's Saturday show. "I will have that sign in my room for life to remind me that things are sometimes uncontrollable and you just have to roll with it," she says.
For Kraiem, taking apart the set was bittersweet. "Everything you put effort into is dismantled at a speed that is incomprehensible compared to the amount of work you put in," she says. "There is something dramatic about it, but then there is also something really important — the reminder that the actual product that we put out is only so much of what we take away from this. The family and the experience you get is so much more than those four shows."
Close bonds often develop among the cast and creative team of a single production, which is hardly surprising given the amount of time they spend together. V120 calls for rehearsals all semester long, Monday through Thursday 8–11 p.m., and for three hours on Sundays. Extra rehearsals are usually scheduled right before the West End Preview and Turkey Day, and during the week leading up to opening night, known as Tech Week. "You forge a bond of, quite frankly, shared suffering because when you do a Varsity Show, there is barely time to do homework and you don't sleep," says Silverberg. "It takes over your life."
Among the Varsity Show alumni who have developed lasting bonds are Tom Kitt '96 and Brian Yorkey '93, creators of the Pulitzer Prize- and Tony Award-winning Broadway musical Next to Normal, who worked together on V100 and V102. [See feature in this issue.] More recently, Silverberg, Carieri and other Varsity Show alumni have collaborated on the production of Lydia and Tom, a musical by Hoffman and Parker about two childhood friends growing apart as they become adults; it was accepted for the 2013 New York International Fringe Festival after premiering at the Austin E. Quigley Blackbox Theatre in Lerner Hall in fall 2012. "We were working with actors who had worked on the Varsity Show, so they knew what it was like to handle original material, and our director, designers and producers also were able to guide us using their Varsity Show experience," says Hoffman.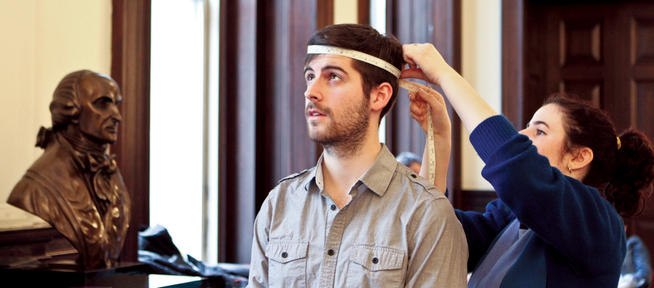 Costume designer Isabella Rosner '14 measures the head of actor Alex Donnelly '14 in preparation for V120.The Varsity Show, which Feinstein describes as a "rare and all-encompassing" experience, also fosters camaraderie across generations of participants. Each year, a group of its alumni perform songs from shows past — called Class Act — during the New Student Orientation Program. The repertoire often includes "Roar, Lion, Roar," Columbia's fight song, written for the 1923 Varsity Show, and "The Stroke," a song from V102 that pokes fun at the swim test.
Another event that builds camaraderie is the presentation of the I.A.L. Diamond Award for Achievement in the Arts, held prior to a Varsity Show performance. The award, instituted in 2004, goes annually to a Columbia graduate for continued commitment to and success in the arts. Among the recipients are Kitt and Yorkey, and fellow Varsity Show alumni Kate McKinnon '06, a current Saturday Night Live cast member, and Jenny Slate '04, a prolific comedian and creator of the animated short film Marcel the Shell with Shoes On.
With such distinguished alumni, the Varsity Show has developed a reputation as a springboard for careers in entertainment. "Producing the Varsity Show was something I always wanted to do because it was the closest thing to a professional experience that I could get in my college time," says Carieri, who chose Columbia as much for the show as for the Core Curriculum.
While some participants certainly continue to reap the benefits of belonging to the Varsity Show family long after they have graduated, for most, the rewards are much more immediate. Says Silverberg, "It is a very cool way to participate in a Columbia tradition and to be involved in something that the entire student body is interested in and everyone is going to have an opinion about."
The 120th Varsity Show is scheduled for Friday, May 2–Sunday, May 4 in Roone Arledge Auditorium. For more information, visit thevarsityshow.com.
Watch past performances of the Varsity Show.

Nathalie Alonso '08, from Queens, is a freelance journalist and an editorial producer for LasMayores.com, Major League Baseball's official Spanish language website. She writes "Student Spotlight" for CCT.