Features
The Marriage of True Minds
A freewheeling conversation with the Broadway team of Tom Kitt '96 and Brian Yorkey '93
By Jamie Katz '72, '80 Business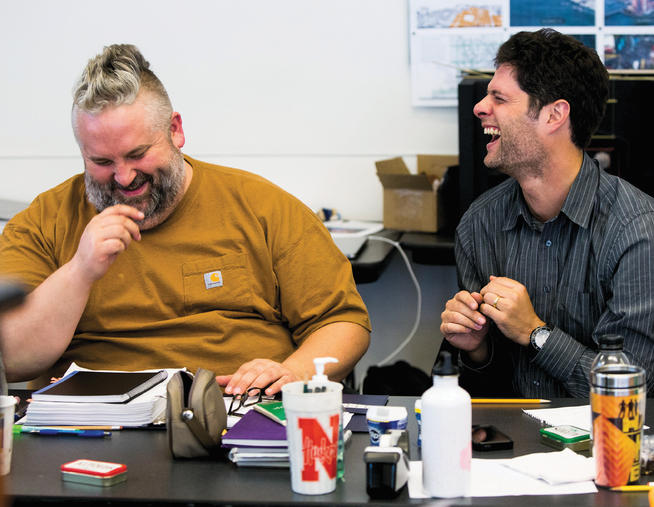 Brian Yorkey '93 (left) and Tom Kitt '96, who won Pulitzer and Tony Awards for Next to Normal, share a laugh as they prepare their latest show, If/Then, for Broadway.PHOTO: MATTHEW MURPHY
Gilbert and Sullivan. George and Ira Gershwin. Rodgers and Hammerstein. Dorothy Fields and anybody. Let's not forget Mozart and Lorenzo Da Ponte, who wrote the libretto for Don Giovanni and, much later, became Columbia's first professor of Italian.
It's too soon to say whether the creative partnership of Tom Kitt '96 (music) and Brian Yorkey '93 (book and lyrics) will someday join that pantheon. But they're off to a good start, having won the 2010 Pulitzer Prize for Drama for their first Broadway collaboration, Next to Normal, which was also nominated for 11 Tony Awards and won three. This was no happy-times stage show: It explored the searing anguish of a suburban American family with a manic-depressive mother at its center. Ben Brantley of The New York Times called it "a brave, breathtaking musical," writing, "No show on Broadway right now makes as direct a grab for the heart — or wrings it as thoroughly — as Next to Normal does."
Angels at Columbia: Centennial Approaches, the 1994 Varsity Show, was Kitt and Yorkey's first collaboration on a musical. The experience played a pivotal role in their lives and careers. They were introduced by Rita Pietropinto-Kitt '93, '96 Arts; it was not the only partnership forged among them — Kitt and Pietropinto-Kitt, an actress and drama teacher at the Marymount School and Barnard, were married in 2000 and now have three children. "I often say that I met both of my spouses at Columbia," Kitt says.
Born on Long Island, Kitt was raised in Armonk, N.Y. His many Broadway credits include Green Day's American Idiot (which won a Tony Award for Best Musical), High Fidelity, Debbie Does Dallas, Urban Cowboy and 13; he also has written music for the Public Theater's New York Shakespeare Festival and TV's Sesame Street and Dawson's Creek.
Yorkey was born in Omaha and raised there and in Issaquah, Wash., about 20 miles east of Seattle. An alumnus of the BMI Lehman Engel Musical Theatre Workshop, he was associate artistic director for seven years at Village Theatre in Issaquah and Everett, Wash., one of the nation's leading incubators of musicals. Yorkey wrote the book for Sting's The Last Ship, which opens on Broadway later this year, and has three screenplays in development. His other theater credits include Making Tracks, the musical adaptation of Ang Lee's The Wedding Banquet, and the country musical Play It By Heart.
The composer and lyricist took time out to speak with CCT as they prepared for the Broadway premiere of their latest musical, If/Then, another psychological work of feeling and wit, examining the different paths life can take based on a single decision. The lead character, a 40-year-old professional woman in New York, is played by the Tony Award–winning actress/singer Idina Menzel (Rent and Wicked); the director is Michael Greif (Rent), who also directed Next to Normal.
If/Then resonates personally for both Kitt and Yorkey. "Every day we make choices," Kitt says. "Sometimes they're just small choices and sometimes they're bigger ones. But we often wonder about the power of those choices and whether our life would have turned out the way it did. Are we meant for something? If you find that person whom you love, are you meant to find that person no matter what road you take? What if I hadn't gone to Columbia?" Yorkey agrees. "If we look back to where we met, there was an awful lot of chance involved," he says. "What if Tom had not been home when Rita knocked on his door?"
If/Then opens at the Richard Rodgers Theater on Sunday, March 30.
Herewith are edited excerpts of the conversation.
CCT: You have joined a distinguished line of collaborators in the performing arts — Rodgers and Hart, Nureyev and Fonteyn, Bialystock and Bloom. [laughter] When did you realize that your creative partnership was something special?
Yorkey: Telling our story, it may seem like we went running to each other in a field full of pianos. But when I met Tom at The West End over a pitcher of beer, I thought he was sort of a stupid frat boy sitting there with his backward baseball cap. My first instinct was to not like him. But then Tom and I started to write songs together. I wrote some lyrics to the first song that he wrote for the Varsity Show. And it was pretty solid. Then we wrote a song for a dance number called "The College Walk." It's kind of a classic show tune in structure. I remember watching thatsong be rehearsed and watching the choreographer put the dance to it, and realizing that Tom and I had done something special. And it hadn't felt effortful. It had felt as natural as breathing. That was the moment when I knew that we had something kind of remarkable. It's hard to explain exactly what that is. But you know it.
Kitt: I was very intimidated by Brian at first, especially because the Varsity Show people were rock stars on campus. It was kind of like hanging out with the cast of Saturday Night Live. They were all dynamic, they all were comfortable with each other. So when I was a lowly freshman going to that table, sharing a pitcher of beer, I was intimidated. But when Brian and I began working together, I felt very quickly like I belonged, and I was just blown away by his intelligence, by his wit. For the whole semester that we wrote our first show together, I was obsessed with what we were doing. It lived in my head every day. I would go into class and constantly think of new ideas. Up to that point I hadn't written with anyone else and I hadn't written for the musical theater. Yet it came so easily to me, working with Brian. I just always felt inspired, and I immediately knew that it was something that I cared deeply about and wanted to pursue. The experience of writing with Brian, the satisfaction that those songs gave us, felt as important as anything I was doing. So I had to believe that it was something that I wanted to preserve and protect.
Kitt: I was very intimidated by Brian at first, especially because the Varsity Show people were rock stars on campus. It was kind of like hanging out with the cast of Saturday Night Live.
CCT: Now that you've been working together for some 20 years, what would you say makes your collaboration work so well? What is its genius?
Kitt: I think we trust each other, and I think we both bring out really wonderful things in each other. I know that Brian's lyrics and ideas always challenge me and keep me honest in the most wonderful way. There are times where I wouldn't necessarily go to a certain place but for his lyrics that push me in new directions. Brian just looks at the world in a way that I find so beautiful and surprising, and yet familiar, because it's a way that I want to look at the world and the way I want to write about the world. And when I do write about it, I trust him completely, both good and bad. Sometimes with any marriage, with any collaboration, there will be hard moments where you're not completely on the same page or one person is challenging the other. But those challenges always bring out the best and we always come at it from a stronger place afterward.
Yorkey: For my part — well, first of all I was realizing, Tom, that you shouldn't expect to find your two spouses in the Varsity Show, and then expect a sort of even-keeled life after that. [laughter] That said, and this sounds very basic, but I love Tom's music. The music that Tom writes touches me at a very deep level, emotionally. It's full of meaning, and it's full of feeling, and it's probing, and questioning, and romantic and yearning, and all those things that Tom is himself. The ability to truly put yourself into your writing, I think, is what makes a great writer. And Tom's music embodies him in a way that continues to knock me flat all the time, and to make me want to dig deep, and really be truthful, and be honest, and emotional, and not just try to be clever. Really to try to write something that matters and that is personal to me and to the two of us. And I think that we do that to each other.
(Left to right) Kitt, Yorkey, Rita Pietropinto-Kitt '93, '96 Arts and Laura Pietropinto '00 attend a pre-reception on the night of the 2009 Tony Awards. Next to Normal won three, including best original score.
I also think part of the reason we've managed to survive this long, and not always through good times, is that we balance each other out well. We have very different but compatible ways of looking at the world. We also are pretty good at giving each other a ribbing, keeping each other honest and not letting either person tip too far into the places that writers like to go, which include self-pity and resentment and anger and those things. They're a part of life, but we're I think pretty good at pulling each other back from the brink. We had an assistant on Next To Normal who observed that we have a talent of never both being in a bad mood at the same time. [laughter] I think that's pretty true, and it has stood us in good stead.
Yorkey: Tom's music embodies him in a way that continues to knock me flat all the time, and to make me want to dig deep, and really be truthful, and be honest, and emotional, and not just try to be clever.
CCT: That talent helps keep a lot of marriages alive, too.
Yorkey: It's very much a marriage. We understand that whatever individual bumps or hills or valleys the road may have, we're in it for the long haul. And the most important thing is to just keep moving forward.
CCT: The Varsity Show played such a crucial role in both of your lives. Were you aware of it before you applied to the College?
Yorkey: One of the reasons that I went to Columbia was the writers who had been there before me. And obviously, being a pretentious high school senior, Kerouac ['44] and Ginsberg ['48] were high on that list. But also being a musical theater kid, I knew that that's where Rodgers ['23] and Hart [1918J] wrote their first stuff together, and Rodgers and Hammerstein [1916] met. It just seemed like Columbia was the place where musicals were made. I actually didn't know about the Varsity Show, but I did know about that tradition. That it drew me to Columbia in the first place, and played such a role in how my life played out, is kind of incredible to me.
Kitt: I didn't know about the Varsity Show before I came to Columbia. My dream then was to be a singer-songwriter in the mold of Billy Joel and Paul Simon and James Taylor and Elton John and Bruce Springsteen, to name all my heroes. It wasn't until I worked on the Varsity Show that I realized how much I wanted to pursue composing for the musical theater. And as I started to realize the history of the show, it became even more exciting that I was involved in a show that counted, as Brian said, Rodgers and Hart, Rodgers and Hammerstein, Terrence McNally ['60], Jeanine Tesori ['83 Barnard] as alumni. So I became really aware of the rich history of the show. And again, it's really the reason that I started writing for the theater.
CCT: Apart from the Varsity Show, what had the greatest impact on you at Columbia?
Kitt: I was a bit of a mess when I got to Columbia. I procrastinated a lot. I didn't have a great work ethic. I think what I really got out of Columbia aside from the wonderful education was just the people who were there. Everybody was striving for something and was in their own way doing important things. And that really rubbed off on me.
Yorkey: I think that I chose Columbia in part because it didn't have a theater major at the time. I knew somehow — and I'm pretty amazed that I knew this at 18 — but I knew that I needed to study everything but theater. That if I really was meant to do theater, I'd find a way to do it anyway. But if I had gone to study theater, that might be all I ever studied, and I needed to become a more well-rounded person than that. And that's exactly what happened at Columbia — though I think that I took the Core Curriculum maybe not as seriously as I wish I had. I'd like to go back and take those classes again.
CCT: Quite a number of alumni feel that way.
Yorkey: That's good to hear. At the same time I got a lot out of the Core, an awful lot. It really was about becoming a citizen of the world and a person who has a life of the mind of some sort. I double majored in English and religion, which I think most people might think of as two of the least job-specific majors you could pick. But I actually ended up in a job where I use both of those majors every day. And that's pretty remarkable. The things I'm able to do in my work, I know are very much a part of the education that I got in the classroom and outside of it at Columbia.
Kitt: It's the same for me, and I was an economics major. It's really a people science. You're studying people's choices and tastes and what they value. Learning about that science was very important for me. I also took a number of really wonderful music classes that opened me up and certainly brought me back to classical music. I was a classically trained pianist from the age of 4, but I hadn't been serious about studying it again. I took [the Anne Parsons Bender Professor of Music] Elaine Sisman's Beethoven and Mozart classes. I'll never forget the day I walked in and she put the Requiem on — it had such an impact on me. And I just wanted to devour everything that he wrote.
Yorkey: We balance each other well. We have very different but compatible ways of looking at the world. We also are pretty good at giving each other a ribbing, keeping each other honest.
CCT: In the greatest Broadway musicals, and in opera for that matter, there is a beautiful integration of the music and the lyrics and the story — they are braided almost seamlessly. Is that an important goal for you? And how is it achieved?
Yorkey: I think it's absolutely a goal. The music and the songs need to serve the story, and I think that the integration of words and music is the thing that Tom and I strive for most. There are three things that have really made it possible, for instance, on Next to Normal, for us to achieve that, to whatever extent we did. The first is that we're not precious about material. If something doesn't work as well as it can, we'll write something else until we find the thing that really does work. The second factor is that we keep going — we don't stop and say, "That's good enough." We keep going until we get the best thing we possibly can, until we've exhausted every option that we can think of. And the third thing is we have people like Michael Greif, our director, and David Stone, our producer, who really hold us to a standard of integration and a standard of making the music and the text a seamless whole, and help us figure out how to do that —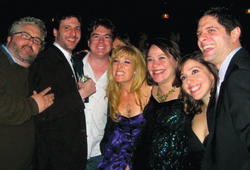 Varsity Show alumni Yorkey; Noah Cornman '96; Matt Eddy '94; Joy Gorman '96 Barnard; Rita Pietropinto-Kitt '93, '96 Arts; Laura Pietropinto '00; and Kitt celebrate at the after-party following the Broadway opening of Next to Normal.certainly with Next to Normal and with the new show, If/Then. Michael's sense of how to tell a story and how to keep what's essential and cut away everything else continues to teach us lessons.
Kitt: The other thing I want to add is that Brian is actually a wonderful musician. He's very knowledgeable. And even though he may not want to sing, he writes lyrics with a very strong musical sense. So when I get lyrics from him, most times they kind of just sing off the page. He structures them in a way that it's very rewarding to write music for those lyrics. If things aren't clicking, he always has wonderful things to say musically about other ways to go. And even though I don't write lyrics, I think my knowledge of lyrics and scanning and where rhymes want to go also helps serve what we're doing. So I think the great thing about our collaboration is that even though we trust each other in our departments, we have real knowledge of what the other person is doing, so we can write work that will hopefully arrive at the other person's doorstop feeling fully formed and feeling like you can be intuitive and write without much complication.
CCT: How powerful is it for you when all that work culminates in an actual production, where all of it is sung and acted and lit and danced?
Yorkey: I really marvel at it every day of a rehearsal process or a tech process. I'm amazed that people are speaking lines that I wrote and singing songs that I wrote the words to. It never fails to blow me away. Especially with some of the people we get to work with, it's astounding and incredibly humbling. It never gets old.
Kitt: I think that Brian and I still get such a rush out of just hearing someone sing a song that we came up with it. And especially when you have the Idina Menzels and Alice Ripleys and Anthony Rapps and La Chanzes of the world singing those songs, it's a pinch-me kind of feeling.
Yorkey: One example: We had struggled to write a song for a very emotional and important part of If/Then, late in the show. It's called "Always Starting Over." We had gone back and forth on it and had not agreed and just weren't having a good time writing it. Finally Tom went away and just wrote something really full of feeling, and sent it to me. I poured out every last ounce of emotion I had into the lyric. It really felt like a last gasp for us. We brought it into rehearsal and we were both sort of exhausted and just a little bit down. And Idina Menzel learned it and sang it. I think we both started to cry because what she did with it was so amazing.
Kitt: Brian and I still get such a rush out of just hearing someone sing a song that we came up with, especially when you have the Idina Menzels and Alice Ripleys and Anthony Rapps and La Chanzes of the world singing those songs, it's a pinch-me kind of feeling.
CCT: Let's talk about your winning the Pulitzer Prize for Drama in 2010. How did that go down, for you?
Kitt: I'll never forget it. I was in tech for American Idiot on Broadway — I was the music supervisor and I did the orchestrations and arrangements — and I was sitting in the audience just talking with Tom Hulce, the show's producer. My phone rang and it was David Stone, who informed me of the news. I walked up the aisle and down the aisle of the St. James Theater going, "No f---ing way! No f---ing way!" [laughter] Then it was announced on the "God mike" and the whole cast came up and hugged me. It was a really, really emotional, wonderful moment, and unexpected. I don't think that was even in our universe, the idea that something like that could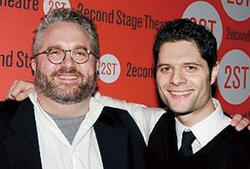 Yorkey and Kitt, at the Off-Broadway opening of Next to Normal at the Second Stage Theatre in 2008, say they don't settle for "good enough" but "keep going until we get the best thing we possibly can." happen. It felt like such a privilege because it's an award for writing. That was so clear when we went to the luncheon and sat with journalists and writers of fiction and nonfiction. I felt a little bit like, "What am I doing here?" People are writing these important articles about this and that. I felt privileged to be included in that company.
Yorkey: My story's a little bit less romantic. I had just gotten back from a trip overseas and was still sort of jetlagged. And our publicist, Tom D'Ambrosio, called me and said, "You guys are in the mix for the Pulitzer, and so if it happens, we're going to have to jump right into some interviews. Can you come down to the office?" And I said, "Well, I would need to take a shower." "Well," he said, "can you shower now just in case?" So I said, "Yes, I'll shower now, Tom." But then I got off the phone with him and I thought, "I don't want to shower and be sitting around here all clean and have nothing happen, 'cause then I'll be all clean and sad." So I didn't actually shower. And David Stone called and I picked up the phone and he said, "Is this Pulitzer Prize-winner Brian Yorkey?" And the first thing I thought was, "Oh man, I should've showered." [laughter] I don't know if Tom ever knew that, because I did shower very quickly and I made it to the office in pretty good time!
CCT: Once lightning struck, how did your life change?
Yorkey: I think a Pulitzer is not a prize for mortals. Tom and I certainly dreamed of winning a Tony, as I think anyone who writes for musical theater does. But no one dreams of winning a Pulitzer because it just seems like something that happens to gods like Edward Albee and August Wilson, not to people like us. It certainly felt like a bolt out of the blue. The combination of the Pulitzer and the fact that Next to Normal was a hit on Broadway changed our lives probably forever. You do sort of realize that you could do not one more damn thing and you'll still be a Pulitzer Prize winner! [laughter] Not that that's my plan.
CCT: Anything you'd like to add?
Yorkey: One thing I wanted to say — I don't know if I can put this into words, ironically — but the thing that was great about Columbia, which made the Varsity Show possible, and made so many things possible, and really sort of helped me form my outlook as a human being, is that Columbia never takes itself too seriously. Or at least it didn't in my time. And if anyone did, there would always be someone there to take them down a peg. No one at Columbia is really all that comfortable with orthodoxy or with authority. It makes for a campus that can be kind of difficult to manage sometimes, but it also makes for really, really sharp and funny and smart and skeptical individuals who look at the world and want to question the received wisdom and want to shake up the foundations of the establishment a little bit. There's a long, long history of that. I hope and believe it's still alive there — absorbing that ethos and looking at the world in a smart and generous way, but also a way that's questioning and wants to find out the truth and wants to upend the apple cart a little bit. That's something that feels to me unique to Columbia and very much an important part of who I am and what I get to do today.

Former CCT Editor Jamie Katz '72, '80 Business has held senior editorial positions at People and Vibe, and now writes for Smithsonian magazine and other publications.