Features
Theater District
Columbia's many theater groups give students a chance to watch, and perform, everything from Shakespeare to opera to student-written plays
By Shira Boss '93, '97J, '98 SIPA
The Varsity Show isn't the only ticket on campus. Student theater groups are flourishing and perform regularly, from Shakespeare to musicals to student-written works. There are opportunities for students of every theatrical skill level and inclination, and the shows can pack venues from Lerner's intimate Austin E. Quigley Black Box Theatre to its huge Roone Arledge Auditorium.
The following round-up offers an introduction to 10 groups that can be seen around campus. All also belong to the Columbia University Performing Arts League, an umbrella organization that encourages the sharing of resources and expertise and serves as an advisory board for new groups. CUPAL also sponsors one special project per semester — for example, a multimedia event, fundraiser, or theatrical, music or dance performance — as well as a spring showcase of student work that includes selections from the most successful or highly anticipated productions of the academic year. This year's showcase was scheduled for March 8.
Black Theatre Ensemble
MISSION: "We seek to promote minority playwrights and actors, thus giving students of color on campus, and in NYC, an outlet for creative expression that was previously void."
FOUNDED: 2002
MEMBERSHIP: Open to everyone at Columbia, with the
occasional non-Columbia cast member; average 10–12 participants, about 80% College
PERFORMANCE SCHEDULE: One show per semester; an annual Spring Student-Written One-Acts Festival; this spring, a second show in collaboration with Columbia Musical Theatre Society
RECENT PRODUCTIONS: Funnyhouse of a Negro, Bulrusher, Fucking A
NOTEWORTHY ALUMNI: Playwright Katori Hall '03
WEBSITE: "Black Theatre Ensemble" on Facebook
CURTAIN CALL: "Something I like to stress to those inquiring about BTE is that we are a group that is dedicated to creating community," says president Bintu Conteh '14. "Since I have been a member of this organization (since my freshman year), I have always felt like I was part of a beautiful, crazy, loving family. And I am sure anyone who does at least one show with us will feel the same way."
Columbia Musical Theatre Society
MISSION: "We pride ourselves on producing original takes on musical revivals. We strive for these types of productions and not just carbon copies of Broadway shows/revivals."
FOUNDED: 2000
MEMBERSHIP: 100–150 participants, about 60% College
PERFORMANCE SCHEDULE: Average of two musicals per semester and a special project
RECENT PRODUCTIONS: Bloody Bloody Andrew Jackson, Carousel, The Rocky Horror Picture Show
NOTEWORTHY ALUMNI: Nina Pedrad '11, currently a writer for the FOX show New Girl
WEBSITE: "CMTS" on Facebook
CURTAIN CALL: "We attempt to include as many people as possible to expand our musical theater community and provide opportunities for anyone excited to perform musical theater," says v.p. Sam Mickel '14. "Our special projects have included musical theater karaoke nights, miscasts (where students sing songs from roles/shows they would never be cast in) and cabarets (students sign up and choose a song to sing) for students."
Columbia University Players
MISSION: "The performance of straight plays, providing the opportunity for students to propose and present nearly any theatrical work that is non-musical and non-Shakespeare."
FOUNDED: 1906 (as Barnard College Musical Theatre)
MEMBERSHIP: 40–50 participants per semester, about 25% College
PERFORMANCE SCHEDULE: Four per year
RECENT PRODUCTIONS: Playgrounds, The Maids
NOTEWORTHY ALUMNI: Cody Holliday Haefner '12,
Thomas Kapusta '12 and Brian LaPerche '12 founded The Brewing Dept., a theatrical collective in NYC, along with three Barnard alumnae
WEBSITE: "CU Players" on Facebook
CURTAIN CALL: "CU Players offers students with relatively little theater background the chance to dive into the world of theater here at Columbia," says treasurer Danitra Campbell '15. "Whereas some of the other groups can be rather intimidating for newcomers, CUP manages to feel welcoming."
King's Crown Shakespeare Troupe
MISSION: "King's Crown Shakespeare Troupe exists to bring outstanding free theater to the Columbia Community and to create an awesome experience for everyone involved."
FOUNDED: 1995
MEMBERSHIP: Approximately 50 participants per year; roughly 60% College
PERFORMANCE SCHEDULE: Generally two shows in the fall semester (though not necessarily Shakespeare, they can be anything except musical theater). Large-scale show spring semester (always Shakespeare, outdoors and staged at multiple locations around campus) and usually also a smaller production.
RECENT PRODUCTIONS: Cymbeline; The Complete Works of William Shakespeare (Abridged); Henry IV, Part 2
NOTEWORTHY ALUMNI: Ezra Koenig '06 and Rostam Batmanglij '06 form half of the band Vampire Weekend
WEBSITE: kcstumbles.tumblr.com and "King's Crown Shakespeare Troupe" on Facebook
CURTAIN CALL: All performances are free; every Columbia student who auditions for the spring show is cast.
Latenite Theatre
MISSION: "We have a simple purpose: to offer our playwrights the opportunity to see their work on stage, giving them a freedom to experiment, to take artistic risks, and above all, to have fun in a non-competitive environment."
FOUNDED: 1995, "by a group of theater and English majors who wanted to produce their own original works," says Hannah Ceja '14 Barnard, co-president with Taha Wiheba '16. "These works were to be performed at 11 p.m., long after other events on campus had ended and prudent
artistic sensibilities have gone to bed for the night — hence the name Latenite Theatre."
MEMBERSHIP: About 45 participants per semester
PERFORMANCE SCHEDULE: One anthology of student-written, one-act plays per semester
RECENT PRODUCTIONS: Amor Escandaloso by Noel Gutierrez-Morfin '15, The Hanukkah Elf by Rachel Chung '15E, Love, Approaching the Station by Madison Seely '16, Nick at Nite by Emilia Lirman '16, Goldfish by James Rodrigues '14
WEBSITE: Latenitetheatre.com and "Latenite Theatre" on Facebook
CURTAIN CALL: "We have four performances, the last being a prank show, where, really, anything could happen," Ceja says. "The actors and/or directors come up with various ways to prank their respective shows, ranging from adding a few props or extra jokes, to altering an entire script."
The Mechanicals
MISSION: "We seek to provide the Barnard/Columbia community with a place for students to develop their acting skills in a collaborative, low-pressure peer workshop environment. We are not professionals, nor are we teachers — we are simply a group of students passionate about acting, and dedicated to helping each other improve."
FOUNDED: 2014
MEMBERSHIP: Just launched in spring semester; about 50 people have expressed interest
PERFORMANCE SCHEDULE: No performances; the group is an acting workshop, with meetings every other Sunday
WEBSITE: thecumechanicals.wordpress.com
CURTAIN CALL: "The Mechanicals is a way to open up the theater community. It can be unbelievably rewarding to do theater but also incredibly daunting," says co-founder Maddie Ghillany-Lehar '16. "The Mechanicals aims to isolate acting from the stress of performance so you can really focus on the fun stuff — that is, trying to form meaningful, believable connections onstage."
New Opera Workshop
MISSION: "Our goal is both to provide opportunities to classical singers on campus and to push the frontiers of opera by generating new works and engaging new audiences. We hope to rekindle the legacy of Columbia's Opera Workshop, the campus opera company that from 1941–58 commissioned and performed groundbreaking new opera."
FOUNDED: 2013
MEMBERSHIP: Spring 2014 production has 38 participants, about 50% College
PERFORMANCE SCHEDULE: One production per semester
RECENT PRODUCTIONS: Opera Untapped, featuring scenes from Mozart, Bizet, Gilbert and Sullivan, and more
WEBSITE: "Columbia University New Opera Workshop" on Facebook
CURTAIN CALL: "Many audience members have come to us, telling us they've never seen opera and were pleasantly surprised," says co-founder and financial officer Hannah Rose Gorman '16. "I think the fun, collaborative nature of this project shines through in performances, and makes the art form approachable to new audiences."
NOMADS
MISSION: "NOMADS (New and Original Material Authored and Directed by Students) gives a home to the creation of unique, experimental and provocative original work by artists from across the Columbia University community. Combining full-scale theatrical projects with multi-media installations, dance, music, playwriting workshops and 'live artwork,' we provide a safe, professional and exciting space where any member of our community can develop their creative ideas — however wild, wacky or wondrous — from page to stage (or any other venue we can find!)."
FOUNDED: 2003
MEMBERSHIP: Around 60 participants per semester
PERFORMANCE SCHEDULE: One student-written, full-length play per year, usually in the Fall semester; an annual festival of student work each spring; Word Play, an annual writer's workshop, where undergraduate playwrights are mentored by a School of the Arts student and that culminates in a staged reading of their work.
RECENT PRODUCTIONS: The Gift by Anika Benkov '16; Grieving for Fish by Elyse Pitock '15 Barnard
WEBSITE: "NOMADS Columbia" on Facebook
CURTAIN CALL: Some productions have been presented off-campus at Theatre Row, Cherry Lane Theatre and the New York International Fringe Festival.
V-Day at Barnard College of Columbia University
MISSION: "V-Day is a global activist movement to end violence against women and girls. We seek to enlighten and inspire our community through performances of The Vagina Monologues as well as to raise money for existing anti-violence organizations."
FOUNDED: Late 1990s
MEMBERSHIP: Around 35, about 30% College
PERFORMANCE SCHEDULE: Up to three performances of The Vagina Monologues in February/March
WEBSITE: "Columbia University V-Day" on Facebook
CURTAIN CALL: "The work done by V-Day at Barnard College of Columbia University extends beyond the campus gates," says producer Anita Warner '14 Barnard. "Our group donates 100 percent of the proceeds from The Vagina Monologues to NYC-based organizations working to end violence against women and girls."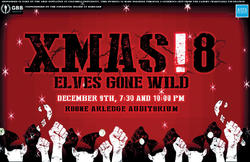 XMAS!
MISSION: "To create an original student-written, satirical musical, parodying the holiday season. XMAS! is for everyone!"
FOUNDED: 2006
MEMBERSHIP: 70 cast and crew in the December 2013 show, about 50% College
PERFORMANCE SCHEDULE: Two performances annually, at holiday time
RECENT PRODUCTIONS: XMAS!8: Elves Gone Wild
WEBSITE: "XMAS8" on Facebook
CURTAIN CALL: "In its eight years, XMAS! has grown from a variety show in a residential hall lounge to a full-fledged musical in Roone Arledge Auditorium," says co-producer Jeremy Stern '15. "As everything in XMAS! — from the scripts to the set, from the score to the posters — is created by students, XMAS! is truly a collaborative labor of love."