Obituaries
1939
Thomas H. Dawkins, retired plumber, artist, Middletown, Conn., on April 30, 2012. Dawkins was born in Fort Worth, Texas. He opened a plumbing business in Manchester after serving in the Army Air Corps during WWII. After retiring, he turned to art, forming the plumbing materials with which he was comfortable working into a variety of sculptures, many with religious themes. He traveled into his 90s and remained active, including as a member of the Talcottville Congregational Church. Dawkins is survived by his son, Thomas, and Thomas' fianceé, Catherine Rohrbach; daughter, Elizabeth Poreba, and her husband, John; brother, John; four grandchildren; four great-grandchildren; and many nieces and nephews. He was predeceased by his sisters, Joan and Christine; and brother, Richard. Memorial contributions may be made to The Nature Conservancy.
1943
Cedric C. Philipp, retired pharmaceutical representative, Audubon, Pa., on July 18, 2013. Philipp was born in Iquique, Chile, on July 3, 1922. Philipp entered the Army in December 1943. Commissioned at Fort Benning, Ga., he is in its OCS Hall of Fame. Philipp was in the Rhineland Campaign and toward the end of the war he joined a team in Spain to capture Hitler if he escaped there. Philipp was U.S. representative on the Quadripartite Property Control Secretariat in Berlin. Leaving the Army in October 1946, he drove a Jeep from Venezuela to Chile, the first trip by vehicle the length of South America, totally overland. He attended the Woodrow Wilson School of Public and International Affairs at Princeton and then joined the Department of State Office for Inter-American Affairs. For 30 years Philipp was an executive of Wyeth International and worked in 44 countries. On retirement, he headed a consultancy to the pharmaceutical industry and was a volunteer for the International Executive Service Corps. He lived in Radnor, Pa., for 39 years. Philipp is survived by his wife, Sue; children, Tad '80 Business, Christopher and Julie; and three grandchildren.
1948
Paul H. Gerst, surgeon, Tenafly, N.J., on September 29, 2013. Gerst earned an M.D. from P&S in 1952. He completed training in general surgery and cardiothoracic surgery at NewYork-Presbyterian/Columbia University Medical Center and joined the attending staff in 1962. In 1964, he was appointed department chair of surgery and surgical residency program director at the Bronx Lebanon Hospital Center and professor of surgery at the Albert Einstein College of Medicine, a position he held until his retirement in 2003. Gerst had a distinguished career as surgeon and educator and in 2003 received the Parker J. Palmer Courage to Teach Award from the Accreditation Council for Graduate Medical Education for outstanding direction of The Bronx Lebanon Hospital Center Surgical Residency Training program. During the Korean War, he served as a medical officer with the Army in Korea. Gerst is survived by his sons, Steven '81, '86 P&S, '87 PH, Andrew and Jeffrey; and a granddaughter. His wife, Dr. Elizabeth C. Gerst, a former assistant dean at P&S, died in 1994.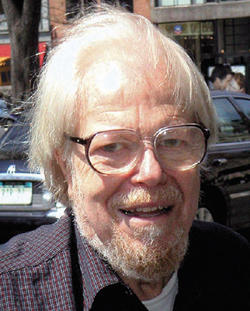 Leonard Ornstein '48Leonard Ornstein, cell biologist and professor emeritus, White Plains, N.Y., on May 7, 2013. Born in 1926, Ornstein served in the Navy as a hospital corpsman during WWII. He earned an M.A. (1949) and Ph.D. (1957), both in biological sciences, from GSAS. He taught and conducted research in Columbia's biology department 1949–64. Ornstein joined Mt. Sinai Hospital in 1954, where he was director of its Cell Research Laboratory, and was a professor of pathology in its School of Medicine 1966–92. That year, he retired and became a professor emeritus. Ornstein had a long and distinguished career in cell biology and cytochemistry, with technical specialties in flow cytometry, electrophoresis, bioengineering, biophysics, electro-optics, optical and electron microscopy and automated medical diagnosis. He also researched and wrote about information theory and meaning, pattern recognition and artificial neural networks, epistemology, agricultural irrigation and global warming. Ornstein held 26 patents in the fields of histochemistry, bioengineering and agricultural irrigation. He is survived by his wife of 68 years, Theresa Roller Ornstein; sister, Norma O. Goldstein; sons, Avi and Tad; daughter, Cindy; son-in-law, Charles Johnson; daughters-in-law, Bernice Nowak-Ornstein and Lyanne LaBelle Ornstein; nine grandchildren; and six great-grandchildren. A second daughter, Rani Simoff, preceded him in death.
1949
Herbert F. "Smokey" Stover, retired pilot, Laconia, N.H., on May 26, 2013. Stover was born in Brooklyn, N.Y., on January 8, 1925, and graduated from Brooklyn Tech. He enlisted in the Navy and trained as an aviation electrician's mate. After graduating from Columbia he was hired by Eastern Air Lines and served in various capacities for 37 years, finishing his career as No. 1 senior captain while based in Boston. In 1975, Stover met and married Joni (Ballard) Dow; they were married 38 years. After mandatory retirement from Eastern Air Lines at 60, Stover filled his time with building projects, a run for the city council, a brief stint in real estate and several terms on the YMCA Board of Directors. Twenty-five winters were spent at the couple's retirement home in Fort Myers, Fla., and golf remained a favorite pastime. Stover is survived by his wife; children, Lorinda Steadman and her husband, John, and Herbert F. "Ricko" III; stepchildren, Brenda Daniels and her husband, Dennis, John H. Dow, Linda Hayes and her husband, Todd, and Mary K. Dow and her companion, Leigh Studley; and five grandchildren and step-grandchildren. Stover was predeceased by a brother, Arthur; and a son, Scot.
1950
Harry W. Pauley, professor emeritus, Newburg, Pa., on February 3, 2014. Pauley was born on April 6, 1921, in Spring Hill, Pa. He enlisted in the Navy in WWII and rose to the rank of chief radioman. He entered the College on the GI Bill ("the best thing the government ever did, which should be expanded to include everyone who can get into college"). Pauley revered the Core, and was grateful to study with professors including Mark Van Doren '21 GSAS and Joseph Wood Krutch '24 GSAS, and classmates who encouraged him to think. Pauley earned an M.A. in English from GSAS in 1952 and taught at the New Hampton School, the University of Minnesota Duluth and Stephens College. He earned a Ph.D. from Missouri in 1965, then taught English at Shippensburg State College (later University), specializing in Shakespeare. He wrote Shakespeare: The Main Story and a play, The Rocking Chair. Pauley is survived by his wife of 57 years, Evelyn M. (née Green); son, Christopher '84, and his wife, Barbara; daughter, Ingrid LaBarbiera '81 Barnard, and her husband, Leonard LaBarbiera '82 Business; and five grandchildren. Pauley was preceded in death by five siblings and one granddaughter.
1951
Chester M. "Chet" Edelmann Jr., professor of pediatrics, Bronxville, N.Y., on September 19, 2013. Edelmann earned an M.D. from Cornell and completed his residency in pediatrics as chief resident at BMHC. During his 57-year tenure at the Albert Einstein College of Medicine, Edelmann held many prestigious positions, including senior associate dean and Distinguished University Professor of Pediatrics. He authored 43 scientific abstracts and was a member of 25 national and international medical societies. Edelmann was a lover of languages and their usage; a concert level pianist; and a faithful patron of opera, the theater and the Philharmonic. He also created fine furniture and was a loyal Mets fan. Edelmann is survived by his wife of 60 years, Norma; children, John, Christopher and Kathy; sister, Maida Heitner; and one granddaughter. Memorial contributions may be made to Concordia College, Greenwich Hospital Inpatient Oncology Unit or the Sierra Club.
1952
David A. Braun, attorney, Montecito, Calif., on January 28, 2013. Braun was born on April 23, 1931, in New York City. He earned a degree from the Law School in 1954 and began his career in New York in the television industry before recognizing an opportunity in the late 1950s to represent singers and songwriters in the emerging world of rock 'n' roll. Braun was president and CEO of PolyGram Records in the United States in the early 1980s before returning to representing artists. Known as a tough negotiator, he led a move in the industry to demand higher royalty rates for artists. Braun worked with, among others, Bob Dylan; Peter, Paul and Mary; and Gordon Lightfoot. He also taught at UCLA and USC, and helped found the Rock and Roll Hall of Fame and Museum. Braun served on the College's Board of Visitors, was presented a John Jay Award for distinguished professional achievement in 1981 and was an Alumni Medalist in 1988. He practiced in New York until 1974 and thereafter in California. Braun is survived by his wife of 57 years, Merna; sons, Lloyd, Kenneth and Evan; daughters-in-law, Lauren, Joana and Shauna; and eight grandchildren.
1956
Seymour J. Mandelbaum, professor, Philadelphia, on January 23, 2013. Mandelbaum was born in Chicago and raised in New York before settling with his family in Philadelphia in the mid-1960s. He earned his graduate degrees from Princeton, and his Ph.D. thesis on New York City in the 1870s led to his book Boss Tweed's New York. Mandelbaum's interest was in the development of human communities, the moral orders that shaped them and the flow of individuals and information through them. He was the volume editor of Explorations in Planning Theory and served on several editorial boards. Mandelbaum taught briefly at the Carnegie Institute of Technology and Penn's Annenberg School for Communication before joining Penn's School of Design as a professor in 1967. He taught planning theory, communication policy and planning, international comparative planning, community design and urban history; he became professor emeritus in 2004. Mandelbaum enjoyed vacationing with his family on Long Beach Island, N.J. Surviving him are his wife, the former Dorothy Rosenthal; sons, David and Judah; daughter, Betsy; a sister; and six grandchildren. A brother predeceased him. Memorial contributions may be made to the Parkinson's Disease and Movement Disorders Center, University of Pennsylvania, 330 S. Ninth St., Philadelphia, PA 19107, or to the National Parkinson Foundation, 1501 N.W. Ninth Ave., Miami, FL 33136.
1957
Sheldon S. Hendler, scientist, physician, musician, San Diego, on November 12, 2012. Hendler was born May 12, 1936, in Brooklyn, N.Y. He earned a Ph.D. in biochemistry from GSAS in 1969, then conducted post-doctoral studies at UCSD and the Salk Institute, where he made seminal discoveries on the structure of the nucleosome and contributed to the development of the first antiviral drugs. After helping found the Medical School at Universidad Autónoma de Baja California, Tijuana, and chairing its first Department of Biochemistry, Hendler completed an M.D. at UCSD and a medical residency at Scripps Mercy Hospital, San Diego. He was a leading authority on micro nutrition, human physiology and the impact of diet and lifestyle upon health and disease. He authored more than 50 peer-reviewed manuscripts and a number of books on nutrition, and was the founding editor-in-chief of the Journal of Medicinal Food. The world's first description and biochemical characterization of a new human disease, elastoderma, was described by Hendler and his colleagues in the New England Journal of Medicine in 1985. A concert-level jazz trumpet player, Hendler composed the original musical score for the 1973 television series The Ascent of Man. He was preceded in death by his son, Seth, and is survived by his wife, Joyce, and their son, Ross.
OTHER DEATHS REPORTED
Columbia College Today also has learned of the following deaths. Complete obituaries will be
published in an upcoming issue, pending receipt of information. Due to the volume of obituaries that CCT receives, it may take several issues for the complete obituary to appear.
| | |
| --- | --- |
| 1934 | Millard L. Midonick, attorney, New York City, on January 18, 2014. |
| 1938 | George W. Sferra, dentist, Gulfport, Fla., on November 6, 2013. |
| 1942 | John A. Persson, retired engineer, Cranberry Township, Pa., on October 15, 2013. |
| 1943 | Ernest E. Tucker, physician, Morristown, N.J., on December 16, 2013. |
| 1945 | Norman J. Selverstone, physician, New York City, on November 5, 2013. |
| 1947 | Jules L. Gladstone, physician, Monroe Township, N.J., on November 2, 2013. |
| 1948 | Harvey C. Gardner, editor and actor, Nyack, N.Y., on December 11, 2013. |
| 1949 | Albert E. Koska, retired insurance underwriter, Jersey City, N.J., on December 12, 2013. |
| | Lewis Kurke, retired psychiatrist, Scottsdale, Ariz., on May 29, 2013. |
| 1950 | Joseph A.M. Mehan, communications executive, Fort Myers, Fla., on December 18, 2013. |
| | Harry W. Pauley, professor, Newburg, Pa., on February 3, 2014. |
| 1951 | George E. Chase, real estate broker, Atlanta, on September 16, 2013. |
| | Allan W. Robbins, retired Navy officer and librarian, Alexandria, Va., on March 3, 2013. |
| 1952 | Thomas E. Federowicz, retired physician, Binghamton, N.Y., on November 27, 2013. |
| | Robert C. Schwegler, certified life underwriter, North Tonawanda, N.Y., on June 25, 2012. |
| 1954 | Enno W. Ercklentz, international corporate lawyer, New York City, on January 24, 2014. |
| 1955 | Thomas L. Chrystie, retired investment banker and executive, Charleston, S.C., on December 24, 2013. |
| | Jay P. Joseph, Merrick, N.Y., on November 23, 2010. |
| 1956 | Leslie Y. Rabkin, retired clinical psychologist and professor, Seattle, on January 7, 2014. |
| 1958 | Martin F. Stein, physician, Bronxville, N.Y., on November 11, 2013 |
| | Charles A. Swenson, retired software developer and editor, Alpharetta, Ga., on September 21, 2013. |
| 1959 | Evan Juro, marketing and advertising executive, Matamoras, Pa., on November 13, 2013. |
| | George H. Semel, plastic surgeon, Los Angeles, on December 4, 2013. |
| | Richard J. Stepcick, retired design and merchandising executive, Dallas, on January 29, 2014. |
| 1960 | Earl B. Hathaway II, corporate banker, Falmouth, Maine, on October 18, 2013. |
| 1961 | Kenneth C. Edelin, physician, Sarasota, Fla., on December 30, 2013. |
| | Victor Hao Li, executive consultant and professor, Oakland, Calif., on September 18, 2013. |
| 1962 | Ralph B. Dunn, attorney, Aventura, Fla., on December 29, 2013. |
| 1965 | Geoffrey M. Horn, editor and writer, Red Bank, N.J., on November 25, 2013. |
| 1967 | John W. Elsberg, retired editor and poet, Arlington, Va., on July 28, 2012. |
| 1969 | Arthur Schoengold, physician, Derwood, Md., on April 20, 2013. |
| | Conley E. Ward, attorney and politician, Kuna, Idaho, on October 28, 2013. |
| 1970 | Anthony J. Rock, Eastchester, N.Y., on January 28, 2014. |
| | Richard G. Smolev, retired attorney and novelist, Kintnersville, Pa., on January 25, 2014. |
| 1972 | William A. Pencak, professor and editor, Coburn, Pa., on December 9, 2013. |
| 1981 | Louis J. Brindisi III, consultant, Jamaica Plain, Mass., on June 11, 2011. |
| 1987 | Karin M. Higa, art curator, Los Angeles, on October 29, 2013. |
1958
Myron Bander, professor of physics and astronomy, Newport Beach, Calif., on December 19, 2012. Bander was born in Belzyce, Poland, on December 11, 1937. In 1939, his father moved the family to what is now Ukraine. The family spent the remainder of WWII there, part of the time in a ghetto and for many months hidden by two Polish families, before being liberated in 1944. The family relocated to displaced persons camps in Austria and Germany before immigrating to the United States in 1949. Bander attended Brooklyn Tech and earned a bachelor's in physics as well as a Ph.D. from GSAS (1961). His principal field of research was quantum field theory and elementary particle physics, in particular. After a year as an NSF Postdoctoral Fellow at CERN, the University of Copenhagen and the University of Paris, Bander became a research associate at the Stanford Linear Accelerator Center. In 1966 he joined the faculty of UC Irvine, where he spent the last 46 years of his career. He chaired the Department of Physics and Astronomy 1978–80 and 1992–95, and was the third dean of the School of Physical Sciences, 1980–86. Survivors include his wife, Carol.
1967
Alan Candiotti, university dean and professor, Madison, N.J., on August 19, 2013. After graduating as valedictorian of Francis Lewis H.S. at 16, Candiotti earned a B.A. in mathematics and then a Ph.D. in mathematics from Harvard (1973). He was the interim dean of Drew University's College of Liberal Arts in Madison, N.J., and a professor, since 1980, of mathematics and computer science. Candiotti earned the President's Award for Distinguished Teaching in 1992 and was the chair of the mathematics and computer science department. In 1994, he was named assistant v.p. for university technology. Candiotti published many academically acclaimed articles on number theory. He was also deeply involved in teaching New Jersey's top high school students as director of the New Jersey Governor's School in the Sciences in 1986 and again 1988–90. Candiotti was his family's historian, an active member of Congregation B'nai Israel in Basking Ridge, N.J., and a lifelong Yankees fan. He is survived by many cousins, colleagues, students and friends. Memorial contributions may be made to Drew University and sent to its Office of Annual Giving, 36 Madison Ave., Madison, NJ 07940.
1969
Mark L. Drucker, professor, St. Louis, on August 12, 2013. Drucker attended Mount Vernon H.S. At the College, he was president of the senior class and active in many University activities. He and his then-wife, Pamela D. Lathrop, moved to Boston, where Drucker attended Harvard Business School. While there, he wrote articles for one of the Harvard Business School publications. Following his HBS graduation, Drucker taught in New York City at the New School for Social Research. The family moved to St. Louis in 1975, where Drucker taught at St. Louis University and then Southern Illinois University Edwardsville. He enjoyed movies, TV, reading, history, talking and trivia. Drucker and his companion, Carita, were in many trivia contests in the St. Louis area. He was also an avid Cardinals fan and attended as many games as he could. Drucker is survived by his children, Michael and Hilary; and six grandchildren.
1981
Alan J. Saffran, otolaryngologist, Winter Park, Fla., on September 27, 2013. Saffran was born in New York City on July 30, 1960. He graduated from Bronx Science, the College and P&S (1986). At the College, Saffran was a founding member of the Roach Motel League, considered the oldest continuously operating fantasy baseball league. As an alumnus, Saffran was an active member of the Alumni Representative Committee. Saffran did his residency at Virginia and in 1990 relocated to the Orlando area and began his practice. He was ENT chief at both Orlando Regional Medical Center and Florida Hospital. Saffran also was devoted to humanitarian causes, taking trips to Mexico to treat needy children with cleft palates. Back home, Saffran was an active volunteer at Park Maitland School, which his children attended, serving as a science-fair judge and speaking to parents and students about nutrition and health. His wife of 19 years, the former Pamela Thompson, survives him, as do their children, Miles, Nathaniel and Ella; his mother, Dolores; and brother, Bruce, and his wife, Elaine. Memorial contributions may be made to an organization to combat cancer established by Saffran's daughter, Ella: Cross Out Cancer, 471 Virginia Dr., Winter Park FL 32789.
Jonathan Taffler, business executive,Wilton, Conn., on September 13, 2013. Taffler was born on October 27, 1959, in Brooklyn, N.Y. He was the founder and president of Programmed Solutions and more recently president and co-founder of Spitfire Product Management System. He also developed software. Taffler was a pilot, a flight instructor and an avid sportsman, and he loved to travel. Taffler is survived by his daughters, Brooke and Lindsay; parents, Sy and Elaine; sister, Robin, and her husband, Dick Dougherty; nephew, Casey Dougherty; and former wife and mother to his children, Randi Shamitz.
1992
Meredith A. Norton, author, Oakland, Calif., on August 2, 2013. Norton was born on January 10, 1970, in Berkeley. She earned a degree in fine arts and film studies from the College and spent part of her college junior year in Milan studying fine arts. Norton worked variously as a hymnal editor with the Anglican Church Center in New York, Hollywood assistant talent agent, Sorbonne zoology student, junior high school American history teacher, CEO of Norton Whittaker, graduate engineering student (in preparation to be an astronaut) and a radio sports editor in Paris before finding her métier as an author and editor after marrying, having a son and developing breast cancer. Her book, Lopsided: How Having Breast Cancer Can Be Really Distracting, published in 2008, was hailed as a wickedly funny, unique addition to the genre of breast cancer memoirs for its insightful observations and skewering of cultural attitudes and medical behavior. Norton is survived by her husband, Thibault J. Jousse; son, Lucas; sister, Angela; brother, Douglas,and his wife, Ashante; parents, John and Eloise; grandmother, G. Alexandria Edwards; uncle, Edward; a niece; and three nephews. Memorial contributions may be made to the American Cancer Society.
2003
Shannon K. Smith, grant management specialist, Jamaica Plain, Mass., on June 5, 2013. Smith was raised in South Weymouth, Mass., and recently lived in Jamaica Plain. She was a 2011 graduate of the University of Wisconsin in Milwaukee, where she attended a master's program in English and library science and was a teaching assistant. During the last two years of her life, Smith was employed in the oncology research department of the Dana-Farber Cancer Institute. Prior to entering the University of Wisconsin, she taught English as a foreign language in Leszno, Poland, and Daegu, South Korea, and had worked at the Harvard School of Public Health in the grants research department. Smith loved music and had performed both in groups and as an experimental soloist. She was also an accomplished fiction writer. Smith is survived by her parents, Richard W. and Mary Jane Sullivan Smith; sister, Deirdre; and brother, Patrick. Memorial contributions may be made to Dana-Farber Cancer Institute, PO Box 849168, Boston, MA 02284 or via dana-farber.org/gift.
Lisa Palladino