Obituaries
Arnold A. Saltzman '36, Diplomat and Presidential Adviser
Arnold A. Saltzman '36, a diplomat, businessman and presidential adviser, died in Sands Point, N.Y., on January 2, 2014. He was 97.
Saltzman, who worked until a week before his death, was involved in many aspects of business, public service and diplomacy. He worked on foreign and economic policy under five U.S. Presidents.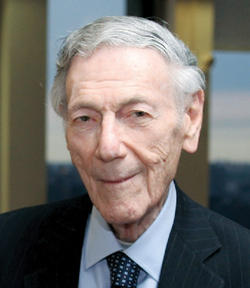 Photo: Courtesy Arnold A. Saltzman Institute of War and Peace StudiesEmigrating from Russia, Saltzman's family settled in New York City, where Saltzman was born on October 1, 1916. He attended Samuel J. Tilden H.S. At Columbia, Saltzman majored in economics and government. He was the president of his fraternity, Beta Sigma Rho, and a member of the tennis team and the Debate Council.
After graduating at 20, Saltzman left his family business, Premier Knitting, to work on economic policy for the Roosevelt administration during the Depression, serving on the Industrial Mobilization Commission and with the Office of Price Administration. He also served in the Coast Guard as an officer, 1943–45. In 1961, Saltzman became CEO of Seagrave Corp. (later Vista Resources), which made fire engines.
Saltzman continued to work on policy in the 1960s, first under the Kennedy administrationas a troubleshooter and then as an adviser for numerous committees and agencies. He also participated in diplomatic envoy work in Eastern Europe under the Johnson administration, worked with the U.S. Agency for International Development and advised the Office of Economic Opportunity. Saltzman helped negotiate the Nuclear Non-Proliferation treaty in Vienna in 1967–68, for which he received a Presidential Commendation.
In 1992, while chairman of the investment firm Windsor Production Corp., Saltzman was hired by the former Soviet Republic of Kyrgyzstan as its chief negotiator for contracts to develop the nation's mineral resources. Acting as the middle-man between Kyrgyzstan and western companies, Saltzman had the authority to sign contracts on Kyrgyzstan's behalf. In a 1992 New York Times article, he said that despite his age, working in foreign policy and development was "better than taking a vacation."
While negotiating policy and managing corporations, Saltzman remained an active member of the Columbia community, establishing a number of scholarships, including the Arnold A. Saltzman Scholarship Fund. Saltzman was awarded the Alumni Medal in 1964. In 1965, he helped to found the Double Discovery Program (now the Double Discovery Center). In 2003, the Institute of War & Peace Studies— founded by President Eisenhower during his tenure as Columbia's president —was renamed the Arnold A. Saltzman Institute of War & Peace Studies. Saltzman endowed two professorships at SIPA: the Arnold A. Saltzman Professor of War and Peace Studies and the Arnold A. Saltzman Professor of Professional Practice in International and Public Affairs. Saltzman chaired the Columbia College Board of Overseers, the University Trustees, the Columbia College Fund and the John Jay Associates.
Inspired by an undergraduate art history class, Saltzman had a lifelong passion for collecting art. He was a generous donor to galleries and museums; he assumed direction of and revitalized the Nassau County Museum of Fine Arts and was a trustee of the Baltimore Museum of Art. Saltzman is survived by his wife, Joan,whom he married in 1942; sons, Robert '67 and Eric '69; daughter, Marian; five grandchildren;and two great-grandchildren.
Karl Daum '15