Obituaries
Richard D. Heffner '46, '47 GSAS, Host of Public Television's Open Mind
Richard D. Heffner '46, '47 GSAS, host of public television's current-affairs program Richard Heffner's Open Mind, a communications professor and the former chair of the Classification and Ratings Administration, died on December 17, 2013. He was 88 and lived in New York City.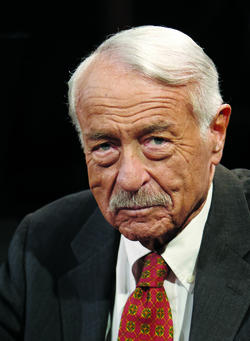 Photo: Randy MonceauxNobel Peace Prize laureate Elie Wiesel once described Heffner as "one of the most intelligent, sensitive interviewers" who with "every subject that he chooses — war, politics, literature — manages to humanize it and bring it up rather than bring it down." First broadcast in 1956, Open Mind examined then-controversial topics: homosexuality, alcoholism, McCarthyism, segregation and anti-Semitism. Heffner's guests included writers, activists and politicians, from Martin Luther King Jr. and Malcolm X to Isaac Asimov '39, '41 GSAS and Gloria Steinem.
Heffner was born in New York City on August 5, 1925. He graduated from DeWitt Clinton H.S. in the Bronx and majored in history at the College. Heffner was one of the earliest on-air voices for the Columbia University Radio Club, where he delivered weekly current events reports. He earned an M.A. in history under Richard Hofstadter '42 GSAS. In 1952, Heffner published the first of many books, A Documentary History of the United States, a collection of primary documents of American history.
After graduation, Heffner taught briefly at Sarah Lawrence but left to pursue broadcasting. In 1953, he visited radio stations throughout New York City to pitch an interview with Eleanor Roosevelt on the eighth anniversary of President Franklin D. Roosevelt's death. Accepted by WMCA, Heffner's interview marked the beginning of his broadcasting career with the weekly half-hour show History in the News.
A year later, Heffner moved on to Man of the Year, a public affairs show, and in 1956 he launched Open Mind, which he produced and hosted from its inception until his death, with unaired episodes to air posthumously.
Heffner joined the editorial board at CBS in 1959. In 1961, he helped negotiate the acquisition of Channel 13, a failing commercial station in Newark, N.J. The station became New York's first public television station and today's WNET, with Heffner its founding general manager. He left in 1963 over a disagreement over the channel's direction.
Heffner was the University Professor of Communications and Public Policy at Rutgers from 1964 until his death. He also founded the consulting firm Richard Heffner Associates, which served such clients as American Airlines and Time, Inc.
In 1974, Heffner became the sixth chair of the Classification and Ratings Administration of the Motion Picture Association of America, serving until 1994. Under his leadership, CARA added two new ratings: PG-13 in 1984 and NC-17 in 1990.
Heffner published his book As They Saw It: A Half-Century of Conversations from The Open Mind, in 2004. The book brings together decades of historic and exclusive interviews conducted by Heffner, who was described in his New York Times obituary by John Corry as a man who "would sooner dive under the tablecloth than needlessly interrupt. When he does interrupt, it's because he has something to say."
Heffner is survived by his wife, Elaine '51 SW, '86 TC; sons, Daniel and Andrew; and four grandchildren.
Karl Daum '15