Roar, Lion, Roar
Boretti Builds Upon Lions' Baseball Legacy
By Lee Lowenfish '63
Columbia baseball has enjoyed its share of success through the years both in team and individual accomplishments, and coach Brett Boretti hopes to add to that legacy when the Lions defend their Ivy League championship this spring.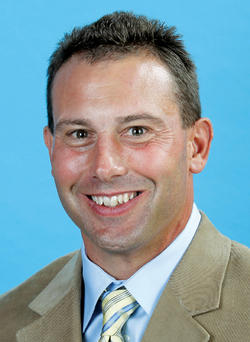 Brett Boretti has led the Lions to an 89–71 record in eight seasons as head coach.PHOTO: GENE BOYARSColumbia's most famous baseball alumnus was Lou Gehrig '25, who slugged home runs on South Field for two seasons before launching a Hall of Fame career with the New York Yankees. Earlier, Eddie Collins (Class of 1907) shone at shortstop for the Light Blue and went on to a Hall of Fame career as a second baseman with the Philadelphia Athletics and Chicago White Sox. More recently, Gene Larkin '84 stroked his way into baseball immortality with his extra-inning, pinch-hit single that won the 1991 World Series for the Minnesota Twins. And don't forget speedy outfielder Fernando Perez '06, who scored the winning run in the only game the Tampa Bay Rays won in the 2008 World Series.
There have been periods of team success as well. Columbia won consecutive Ivy League titles in 1933 and 1934, took three of four crowns from 1960 through 1963 and captured consecutive titles again in 1976 and 1977. Last year's Ivy championship was the 11th for the Light Blue and their second since Boretti arrived on campus prior to the 2006 season.
Fresh from five outstanding years at Division III Franklin and Marshall, where his teams compiled a 116–82 record, Boretti did not take long to establish a winning program. In just his third season he led Columbia to the 2008 Ivy League title, the Lions rallying to beat Dartmouth 7–5 in the deciding game of the best-of-three playoff in Hanover, N.H. Captain Henry Perkins '08 moved over from second base to save the game with four innings of stellar relief and also belted a big insurance home run.
There were no Gehrig Division (Columbia, Cornell, Penn and Princeton) or league titles the following season but for the first time Columbia did beat Division I powers in Texas (Lamar) and California (Cal-State Fullerton). In 2010, Columbia won the Gehrig Division, but Dartmouth turned the tables by winning the rubber game of the best-of-3 playoffs at Columbia. Thus, it was sweet revenge for the freshmen from that team when, in front of a record-setting crowd of more than 1,000 at Columbia's Robertson Field at Satow Stadium last May, the Lions swept a doubleheader from the Big Green 6–5 (10 innings) and 12–5 to earn another trip to the NCAA tournament.
Boretti's 2013 Lions were not satisfied with just winning the Ivy League title, setting a regular season record of 16–4, and leading the league in batting average and ERA. To cap off their memorable season, the Lions won an NCAA tournament game for the first time in school history. Trailing 5–0 against New Mexico in the eighth inning, first baseman Alex Black '13 got Columbia on the scoreboard with a two run homer that sparked a rally that tied the game. After Columbia took the lead in the top of the 13th inning on second baseman Nick Crucet '13's RBI single, Black moved to the mound to earn the save.
One of the charms of college baseball is that talented position players like Black are often asked to contribute as pitchers. "The more your best athletes are on the field at important moments, the better your chances will be," says Boretti.
After Columbia's season ended with a loss to Arizona State, Black was selected by the Kansas City Royals in the 29th round of Major League Baseball's free agent draft. Working exclusively as a relief pitcher, he made an impressive pro debut with a 2–2 record and 3.24 ERA. He joins in pro baseball two other drafted Lions who played for Boretti: Pat Lowery '12, the 2010 Ivy League Pitcher of the Year who has two years under his belt after being drafted in the 21st round in 2012 by the Los Angeles Angels of Anaheim, and outfielder Dario Pizzano '14, the 2012 Ivy League Player of the Year who was selected by the Seattle Mariners in 2012. Since he was drafted, Pizzano has hit .324, slugged .482 and — impressively in this age of swing-and-miss baseball — has walked seven more times than he has struck out.
Boretti, with trophy, and assistant coach Dan Tischler leave Robertston Field at Satow Stadium after the Lions swept a doubleheader against Dartmouth on May 4 to win the 2013 Ivy League Championship.PHOTO: MIKE McLAUGHLIN
Boretti, 42, a native of Beverly, Mass., who was named Ivy League Coach of the Year last season, came to Columbia with a solid baseball pedigree. He was a four-year starter at catcher for Davidson — yes, the same Davidson that ruined the NCAA hopes of Columbia's great 1968 basketball team. Boretti played for and later was an assistant coach for the highly respected Dick Cooke, who has been on NCAA rules committees and was an assistant coach for Team USA at the 2000 Sydney Olympics and the 2008 Beijing Olympics. During his junior year, in 1993, Boretti made the Southern Conference all-star team and followed it up during the summer by being selected to the all-star team of the prestigious Cape Cod League, where he competed against such future major league players as Nomar Garciaparra, Matt Morris and Jay Payton.
A learning experience that summer proved instrumental in Boretti's development as a coach. "I struggled with failure as a player. I was a helmet-thrower," he admits. A Cape Cod League coach called him aside and told him sternly that tantrums had no place in baseball; they hurt both the player and the team. He absorbed the lesson and passed it on after he turned to coaching, and now one of his greatest attributes is his ability to convey to players his hard-earned knowledge about baseball's inevitable struggles.
"This game eats you alive," says Mike DeFazio '06, a catcher on Boretti's first team, in 2006, which won only six Ivy League games. "I learned from coach Boretti that baseball is a game of failure, but you're always one pitch away" from making something good happen. DeFazio now coaches for the KIPP charter high school in New York City. Boretti is pleased that the coaching bug has also bitten Jon Eisen '13, a player he describes as "the greatest overachiever I ever coached" and who is now working for the RBI (Restore Baseball in the Inner City) program in his hometown of Nashville.
Boretti, whose Columbia teams have compiled an 89–71 Ivy League record in his eight seasons, welcomes many voices to explore the subject of the mental game of baseball. He appreciates input from Brett Walker, Columbia's new director of peak performance and a former college pitcher, who organizes regular seminars for the team. For winter break reading this year, Boretti distributed to the team copies of Heads Up Baseball, a book and tapes by sports psychologist Brian Cain.
As usual, the Lions will spend the early part of their season in warmer climes against opponents like South Florida and Texas before they open defense of their Ivy title on March 29 with a doubleheader against Brown at Robertson Field at Satow Stadium.
Leading the Lions will be their tri-captains, durable catcher Mike Fischer '14, ace lefthanded pitcher David Speer '14 and steady shortstop Aaron Silbar '14. Boretti looks for a big season from Speer, whom he says "has increased his velocity from the low 80s [miles per hour] to the mid-80s, and he has a chance to pitch at the next level."
Outfielder/designated hitter Joey Falcone '16 GS, a former Marine medic and veteran of tours of duty in Iraq and Afghanistan and son of former major league pitcher Pete Falcone, is back after hitting .331 and compiling a .520 slugging percentage last season. Nick McGuire '16 may get a chance to fill Black's big shoes, and Jordan Serena '15, Gus Craig '15E and Robb Paller '16 will vie for playing time in the outfield.
In addition to Speer, who was 6–3 with a team-leading 2.34 ERA last season, another pitcher to watch is Joey Donino '14, who was 7–0 with 69 strikeouts in just 56.2 innings last season. Kevin Roy '16 and Zack Tax '14, who contributed important shutdown innings in 2013, and newcomer Ryan Marks '17 are also expected to see mound action.
Boretti and his staff are well aware that a target will be on Columbia's head in 2014 — the respected national publication Baseball America has picked the Lions to repeat as Ivy League champion — but they relish the challenge. As associate head coach Pete Maki puts it, "Guys want to win for Boretti not just for themselves or their teammates. They want to win for him because he is so tremendously competitive."
Lee Lowenfish '63 is the author of the award-winning biography Branch Rickey: Baseball's Ferocious Gentleman, and is a member of the national board of the College Baseball Hall of Fame.