Within the Family
All the Columbia World's a Stage
I never got to see a Varsity Show when I was a student. My freshman year was 1967–68, and the Varsity Show was one of many things at Columbia — just about everything, actually — that fell victim to that spring's demonstrations. After buildings were occupied beginning on April 23, 1968, and especially after the police bust in the early hours of April 30, what passed for normal activities on campus came to a screeching halt.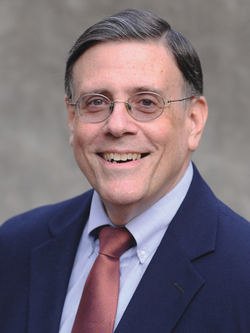 Photo: Eileen Barroso
Classes were canceled, although some faculty chose to continue meeting with their students either outdoors on campus or in faculty apartments. There were plans for a 1968 Varsity Show based on Erskine Caldwell's Tobacco Road but it was never staged. And it would not be until 1978 that the Varsity Show was revived with The Great Columbia Riot of '78.
The first Varsity Show I saw was in 2001, a few years after I began editing this magazine. Sex, Lions, and Videotape also happened to be the first Varsity Show to be staged in Roone Arledge Auditorium of the newly opened Alfred Lerner Hall. I've attended several since then, and hope to be in the audience when this year's edition takes place Friday, May 2–Sunday, May 4.
The Varsity Show is not Columbia's only student theatrical production — far from it. As you'll learn in the roundup that appears in this issue, there are many other groups that stage performances during the school year. But the Varsity Show, which was first staged in 1894, is Columbia's oldest performing arts tradition and, arguably, one of Columbia's oldest traditions of any kind.
Now, as Thomas Vinciguerra '85, '86J, '90 GSAS points out in the essay that introduces this issue's theme , many of our peers have their own versions of the Varsity Show — an annual musical comedy, created by students, that satirizes life at their school. So what's so special about our Varsity Show?
For one, its alumni. Some of the most prominent names in Broadway history cut their theatrical teeth on the Varsity Show. Composer Richard Rodgers '23 ranks as one of the creators of the modern Broadway musical, yet before he collaborated on shows like South Pacific and The Sound of Music with Oscar Hammerstein II (Class of 1916) and on Babes in Arms and Pal Joey with Lorenz Hart (Class of 1918J), he worked with them on the Varsity Show. Ed Kleban '59, lyricist for A Chorus Line, and Terrence McNally '60, who won Tony Awards in consecutive years for writing Love! Valour! Compassion! and Master Class, worked together on the Varsity Show. More recently, Tom Kitt '96 and Brian Yorkey '93, the duo who won Tony and Pulitzer awards for Next to Normal and created this spring's If/Then, met and had their first collaboration on the Varsity Show.
The success of Varsity Show alumni extends beyond the stage — way beyond. Herman Mankiewicz (Class of 1917), who with Orson Welles wrote Citizen Kane, and Herman Wouk '34, the Pulitzer Prize-winning author of The Caine Mutiny and many other novels, are Varsity Show alumni. I.A.L. Diamond '41, Billy Wilder's co-author on The Apartment and The Fortune Cookie, wrote four Varsity Shows, the only person ever to do so. When the MGM movie studio needed a logo, publicist and Varsity Show alumnus Howard Dietz (Class of 1917J) thought of the Columbia mascot and came up with the iconic roaring lion. Cultural historian Jacques Barzun '27, '32 GSAS and Pro Football Hall of Fame quarterback Sid Luckman '39 were Varsity Show alumni, as are singer Jon "Bowzer" Bauman '68 of Sha Na Na and comedian Kate McKinnon '06 of Saturday Night Live.
But a roster of famous alumni is not enough. What makes the Varsity Show an enduring treat for Columbians is the creativity and dedication of the students who gather each fall to begin the process of producing the latest edition and spend countless hours crafting it into the production that is seen during performance weekend.
Naturally, some Varsity Shows are better than others. The writing may be better in some years than others; same for the music and the acting and the staging. Despite the best efforts of the Admissions Office, not every class contains a writer like Diamond, a composer like Rodgers or a lyricist like Hammerstein. And sometimes even the best talent produces a show that falls short of the mark. Will this be one of those years when it all comes together? At least today's students will have a chance to find out for themselves.
We hope you enjoy our look behind the scenes at preparations for this year's Varsity Show, at the visual history of this longstanding tradition, the conversation with Varsity Show alumni Kitt and Yorkey, and the snapshots of the many other talented theatrical groups on campus. And we urge you, whether you happen to be on Morningside Heights or are planning a visit, to check out one of their productions.