Alumni Corner
Why I Love Columbia Football
By Bruce Black '76
I remember an autumn afternoon in my first year at Columbia. I was an 18-year-old freshman trying to make my way through the thicket of existential questions that awaited me in my classes in Hamilton Hall and elsewhere on campus.
It was Saturday, and I was sitting alone in my dorm room on the sixth floor of Carman listening to the AM-FM radio on my desk. The raspy voice of a WKCR sports announcer was giving a play-by-play of the football team's progress up and down the gridiron at Baker Field.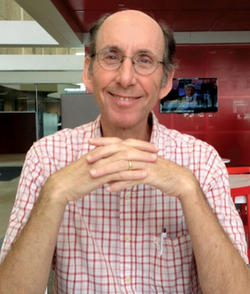 Bruce Black '76 Every 10 minutes or so, I turned off the radio in an attempt to write a paper for my Contemporary Civilization class. I don't remember the paper's topic, but I'm sure it involved Plato, Aristotle, Augustine or Hobbes and, most likely, the meaning of existence. I remember thinking a lot about the meaning of existence in my student days (and in the many days since then, thanks to my Columbia education). If you read the Great Books, you had to think about the meaning of life and your role in the grand scheme of things. You had to ask questions with no apparent answers. And, if you were like me, you often felt fearful and defeated for not knowing those answers.

The CC paper was due on my professor's desk on Monday morning. When I could no longer bear those uncomfortable feelings of defeat, I reached for the dial on the radio again and listened to another few minutes of the game. The disappointed sound of the announcer's voice revealed how the game was going for the Lions. That Columbia's football team was still on the field, still playing, helped put my questions about existence into perspective.

It wasn't the final score that inspired me to root for the Lions but, rather, the refusal of Columbia's players to give in to defeat.

Columbia might have lost that day. I don't remember, nor can I tell you what their win-loss record was that season or in any of the seasons while I was a student in the mid-1970s. But I became a fan of Columbia football, nonetheless. It wasn't the final score that inspired me to root for the Lions — or for any of Columbia's other teams, for that matter — but, rather, the refusal of Columbia's players to give in to defeat. That kind of determination and courage inspired loyalty.

As an 18-year-old, I wanted Columbia to win as much as anyone and dreamed of victories that would lead the Lions to an Ivy League Championship like the one that the football team had captured in 1961. Instead, what I learned from rooting for Columbia week after week was the difference between dreams and reality, and how to face discouragement, disappointment and fear yet keep going despite these feelings.

On that Saturday afternoon, I felt a deep kinship with the Columbia players who had the guts to take the field despite, I imagine, knowing the odds were stacked against them. They still wanted to play the game and were still curious about how the plays in their playbook might unfold. They still had the desire to take the field and experience the game in ways that might be new to them and that might open up new ways of understanding the meaning of the game. Their courage inspired me to keep asking the hard questions my CC professor demanded that we ask, even when I felt the questions seemed pointless or unanswerable.

In each of the Great Books that my classmates and I read — from Homer and Descartes to Marx, Tolstoy and Woolf — we studied how men (and women) struggled with questions about existence and the meaning of life, and what it meant to live a good life. That same struggle played itself out on the football field each weekend.

Columbia football taught me as much about the meaning of existence as any of the Great Books that I read in my classes. It taught me the principles on which I've built a life — that a meaningful existence didn't need to rely on winning; that success isn't determined by how much money a person might earn in a lifetime; and that the deeper meaning of existence is to be found not in one's outward trappings but rather in the way one faces life's challenges.

As I listened to the team grapple with its Ivy League opponents each week, I learned from the players who suited up in Columbia blue how to find the patience, courage and stubbornness to face whatever challenges life might present to me. "You gain strength, courage and confidence by every experience in which you really stop to look fear in the face," wrote Eleanor Roosevelt, who lived in New York with her husband and future U.S. president, Franklin, while he attended the Law School from 1905 to 1907. It was at Columbia that I learned the truth of Roosevelt's words so that, like Columbia's players and coaches, I could look fear in the face and meet the next challenge, and the next.

Some of my fondest memories of Columbia are those Saturday afternoons when I turned on the radio in my dorm room and listened as the Lions lined up for another play in the rain or snow or wind that blew off the Harlem River, and kept lining up until the final whistle sounded. I loved listening to the games. I loved that the team — my Lions — kept lining up, regardless of the score, until the final whistle sounded. I loved how the players gave everything they had and kept trying, week after week, because that's what the game demanded and what they had learned as Columbia student-athletes to demand of themselves.

It's what life demands, too — to give our all, to tackle tough questions rather than run from them, even if there are no apparent answers; to seek a new idea, a new way of viewing the world, despite opposing viewpoints and other obstacles that might stand in our way.

The players in Columbia blue keep trying, striving, seeking. Each year, each game, they face their fears and they do not give up.

That's why I love Columbia football.

Bruce Black '76 majored in English literature and earned an M.F.A. in writing in 1999 from the Vermont College of Fine Arts. The author of Writing Yoga: A Guide to Keeping a Practice Journal as well as stories for children that have appeared in Cricket and Cobblestone magazines, he lives with his wife in Sarasota, Fla., where he continues to face his fears about writing while working on a mystery novel for young adults.